BYE BYE JOHNNY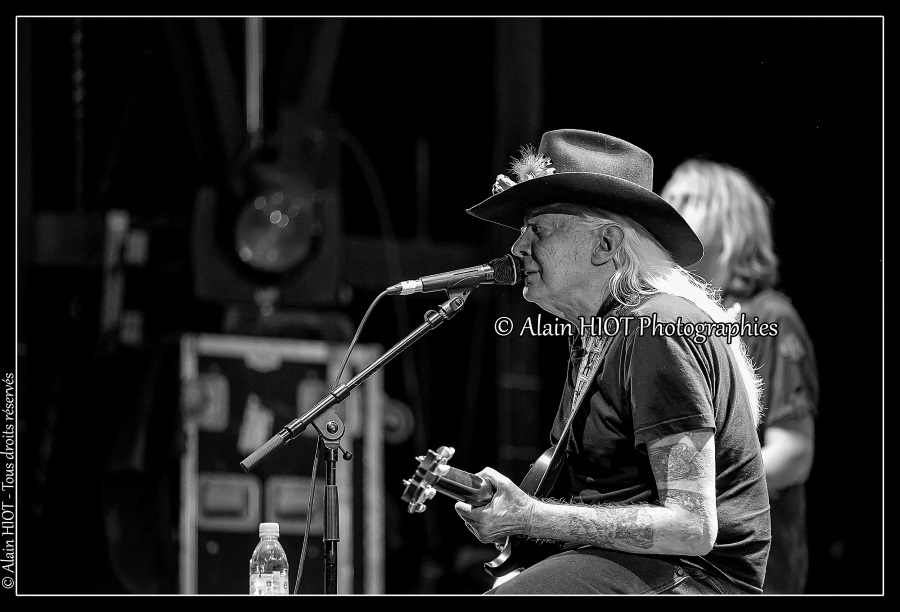 (Photos de Alain Hiot contact alain.hiot@wanadoo.fr )
The news took me with full force like a right hook from Mike Tyson, letting me in a strange state of mind, mixing sadness and fatalism.
The 16th of July 2014, Johnny Winter passed away in an hotel room from Zurich, step of his European tour. He was 70. Not so old. Either not so young, considering the past excesses and the state of health of the man. We really feared the worst at one time. A few years back, we even thought that he wasn't here for a long time (Johnny carried out his shows in wheelchair). And then he refreshed and dropped us again some Cds, admittedly less smonking than in the past, but still with a good quality. And even if he wasn't so much at the top anymore on stage, we could sensibly think that Daddy Winter had passed the hurdle again. Tough luck, the Grim Reaper was waiting to catch him out, careful and implacable, having so many times missed our favourite guitarist.
Not easy to pay tribute to such a legend. Where shall I begin ? By his biography ? Everybody knows it, or almost. He is born in 1944 in Mississippi (aha) but grew up in Beaumont, Texas. He is albino, just like his brother Edgar, himself also a musician. He knew the crazy trips of the 60's, jammed with Jimi Hendrix and lived a short love affair with Janis Joplin. He was part of the Woodstock festival despite he always denied to have played there, probably to stone that day (he had to face reality in front of the film tapes recently recovered). He crossed the neck with the great Muddy Waters, his lifelong idol, and produced his albums from 1977 to 1981, bringing back this huge artist under the spotlights (Muddy himself shouted loud and clear that Johnny was his spiritual son). He completely cracked during an American huge tour and stayed many monthes in enforced rest, just to see a guitar put him in an extreme rage (he smashed the instrument against the wall). He survived to the dope and getting high, crawled in the dark of oblivion then reemerged, the body covered by tatoos, to sign by Alligator Records at the beginning of the 80's, disseminate a Blues-Rock burned by the Texas sun, and really blow us away during his unforgettable shows (amongst others, 1987 at the Olympia and the two successive concerts in February 1989 at La Cigale).
That's where I leaved him. That's true, I have to confess it, I let down a little my Jeannot l'Hiver. He released a great record in 1992, followed by a lunacy show in the Olympia then nothing. No news anymore (Internet wasn't yet developed in France at that time). A few years later, the release of a live album filled me with joy but I was greatly disappointed as I listened to it. Johnny's playing was a good quarter slowed down. No more flood of inspired notes or unrestrained solos. Did the illness catch again Johnny ? Apparently, as the 2000 years showed our hero being in a very bad way. So, I decided that I won't never go and see him again in concert. Why ? Quiet simply because of my cowardice, my égotism. I would never be able to accept to see one of my favourite guitarists, what am I saying ?, my favourite guitarist, in such a condition (in 2010, a mate of mine leaved the hall in tears). Even, over the last few years, every time Johnny was in the capital, I always fought an horrible pang of emotion as well as a severe crisis of faith (Should I go ? Should I stay ?). And the arguments that cascaded (it's a little part of Texas in Paris… he really needs support… it's your idol… aso…). But I always sticked to my initial decision. And now, it's over ! He's dead ! HE'S DEAD ! Difficult to write that and much more to believe it. And yet, in the bottom of my mind, I'm not surprised. In the turbulence of those crazy decades, Johnny almost passed at least ten times. Here it's done. It's a pity for him, it's a pity for us. He belongs from now on to the legend. The specialist press, that ignored him such a long time, will allow itself to write some lines, even some pages (for any self-respecting magazine). Does it matter ? We are sad, devastated, miserable. Who will come and stimulate our ears with this so particular guitar playing, as infernal than inspired ? Who will bring us pleasure and happiness at every release of a new record ? Who will deluge us with those magnificent solos, glittering diamonds, mixing high-level skill and incredible feeling ? Who will give us the wish to hang up our guitar on the wall after a memorable concert ? Who ?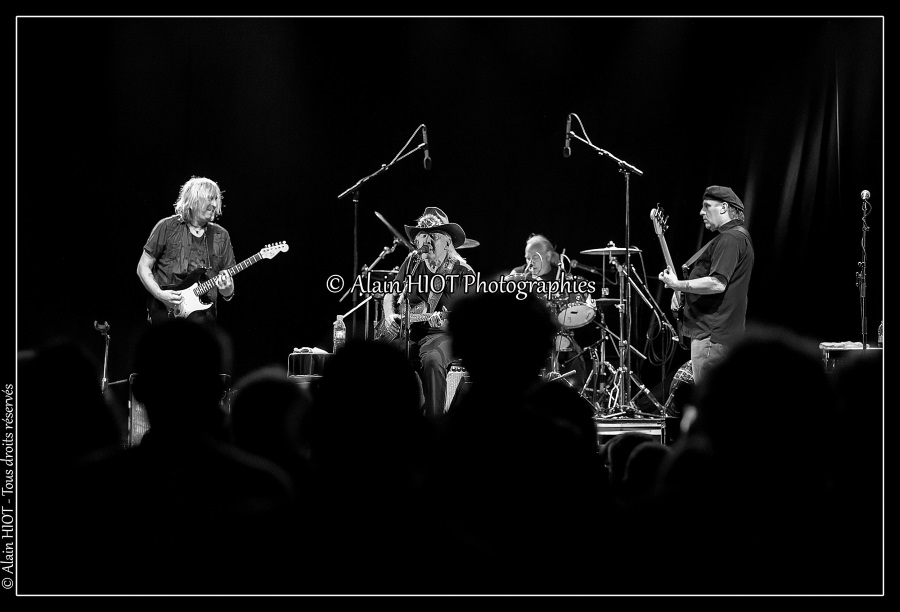 A few people will realise it but a genius of the six string left us. This superb guitarist passed away as a true rocker : on the road, the axe in the hand (or almost).
About Johnny, we all have our own emotions and memories. For my part, I will always remember him, the Stetson glued on his head, his long white mane waving in the spotlights, singing the refrain of « It's all over now » a fag in his mouth. And when he let his Firebird fall down before starting « Mojo Boogie » … the axe wasn't even out of tune. And when he jammed with Dr John… And when he blew us away during the solo of « It ain't just like a woman » on the stage of La Cigale… And when… And when… Curtain !
Indeed, "It's all over now". Tout est bien fini. We won't go to the Olympia anymore, our idol is gone… With a part of our youth.
Bye Bye Johnny ! We will never forget you !
Olivier Aubry

Copyright © 2013 Road to Jacksonville
Webmaster : Patrice GROS - THE SOUND OF CHICAGO
Tous droits reservés.
Design par Zion pour Kitgrafik.com