GOODBYE OLD DAVE.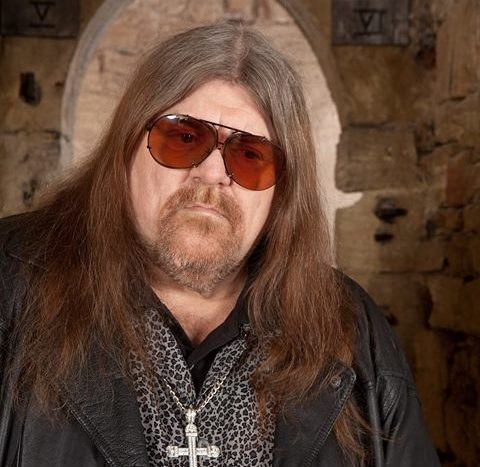 This Monday morning, I don't feel very well.
I have just heard of the death of Dave Hlubek the day before, Sunday, September 3, 2017, only a few days after his sixty-sixth birthday. Poor Dave succumbed to a heart attack.
Okay, his state of health was not the best (lately he often played in a chair) and he had doubled his weight in ten years. During the great era, he had multiplied the excesses (beer, bourbon, cocaine and even crack). We also knew his immoderate taste for fatty food (he added mayonnaise in the making of his corn bread to make it more mellow and his fried chicken became legendary in the followers of cholesterol). He continued have drags of the cigarette.

But sixty six years old, it's still young, even though it has had a busy life.
David Lawrence Hlubek was born on August 28, 1951 in Jacksonville, Florida. He discovers Hawaii at the age of five, his father officiating in the Navy. The Hlubek family then moved to Sunnyvalle in California and San Jose.

Drawn very young by the vibrations of rock'n'roll that he hears on the radio, Dave wants to play music at all costs.

Not very rich, he bought his first electric guitar, a Goldentone, at Rexall stores.
The instrument is equipped with four microphones, a vibrato rod as long as the guitar itself and a rope as a strap. Later, he bought a small Silvertone amp purchased from Sears.
Quickly, he sets up his first combo, Something Else, very oriented towards hard rock and British style (the United States suffer the full British Invasion). He saves as much as he can (and also picks up a few pennies in his brother's purse) to print business cards of the band.
Barely twelve years old, he gave his first show at the Castro Junior High School in San Jose.
Once again transferred, Papa Hlubek relocated with his family to Jacksonville in 1965.
In 1971, Dave graduated and founded a local band that would get itself talked about a few years later.

The Molly Hatchet adventure that follows, everyone knows it (those who have skipped class can benefit from a catch-up session by reading the Molly special disc to disc on our site).
Better than a long analysis concerning Dave, some anecdotes (drawn from his rare interviews and without chronological order) will help to define his musical style, his psychology but also his notoriety in the world of rock'n'roll.
Lucky coincidence, Molly Hatchet's debut album was released on August 28, 1978, the day of his twenty-seventh birthday.
In 1979, the manager of Reo Speedwagon regularly asked Dave if his friends and he could play less loud when they opened for his band. Dave invariably replied with the same kind words: "Fuck you! ".
Dave has participated in the composition of all the major hits of Molly Hatchet.
He found the title "Flirtin 'with disaster" following a car accident. The young woman who was leading her to a TV show had had a chauffeur cut the road and had broken a gate. Out of her, she exclaimed: "This asshole flirts with disaster! ". Having found original this formula, Dave made it a song. This tune has been used as soundtracks for many films such as "Monster" (with Charlize Theron), "The Dukes of Hazzard" (the TV series) or "Suspect Zero".
He composed on his own "Fall of the Peacemakers", a true hymn to the guitar and a
tribute to John Lennon.
At the glorious era, Dave played on Peavey Mace amps.
He has signed partnership and advertising contracts for major brands of instruments
(Peavey, Dean Markley, Alvarez acoustic guitars).
His photo has long been featured on the Dean Markley Magnum strings.
He was one of the first Southern rockers not to play exclusively on Gibson or Fender
by adopting the fabulous six-string Hamer.
One of his guitars stood at the Rock'n'Roll Hall of Fame in Cleveland, Ohio.
He has always argued that Molly Hatchet was not a Southern rock band, but rather a hard rock band from the Southern USA.
He is a fan of the amps turned up to 11, of the acrobatic string bendings and of the harmonics produced at the pick, and he has forged a personal and immediately recognizable style, similar to "cat strangles" (according to Jay Johnson who played with him within the Southern Rock Allstars).
With the huge success of the album "Flirtin 'with disaster", record label checks and royalty inflow, Dave became a millionaire. Unfortunately, he lost everything a few years later.
In his own words, he transformed his body into a traveling trash for thirty years of abuse of all kinds.
Dave was very proud of his two sons Kyle and Aaron. He sometimes surprised them in their classroom (after having told the professors) to take them on a ride in one of his many vintage cars.
He had a solid friendship with brothers Angus and Malcolm Young of AC / DC. The latter had even advised him to record the fourth album "Take No Prisoners" in the Compass Point studios located in the Bahamas.
He was also great buddy with Ted Nugent, another lover of amps pushed to 11.
He has given an astronomical bonus to Boris Vallejo (the illustrator of the sleeve of
"Take no prisoners") so that his fur brief gives the impression of housing a huge sex.
After leaving Molly Hatchet (early 1987), he founded the Dixie Allstars with Charlie Hargrett and Jackson Spires of Blackfoot and Billy Jones of the Outlaws. This band has experienced various changes to culminate in Southern Rock Allstars.
Curiously, he quoted Pink Floyd's "Dark Side of the Moon" as his favorite album. He also claimed to love all Cream recordings.
He has participated in numerous charity concerts as well as the famous "Jammin 'for DJB"
to raise funds to pay for Danny Joe Brown's medical expenses.
He hardly ever read and preferred to watch television. On the other hand, he greatly appreciated the paintings of Mark "Mazz" Mazzarella (an artist capable, according to Dave, of transcribing the incomparable beauty of Florida).
Dave was laughing a lot every time someone tried to pronounce Hlubek's "H" (a Czech or Polish name) when it was just enough to ... not pronounce it at all.
After all that, we can get a certain profile of the man.
Big mouth with the heart of gold, lover of fatty and crazy humor, at times he could look like a guy a bit slow on the uptake but he was much more subtle than that.
And above all, musically speaking, it was a sacred guitarist, a pioneer of the second wave of Southern rock born in the late 70s.
In turns aggressive or melodic, playful or authoritarian, his guitar was never monotonous and knew how to raise the pressure.
Having been lucky enough to see him on the Mutualité scene on March 14, 1983, only a few feet away from me, I can claim loud and clear that Dave was a true Southern rocker and an authentic guitar hero.

Never will I forget this concert or the performance of Dave that evening.
All these memories are engraved forever in my memory.
Barely entered the room with my friends, quietly seeing him sitting on stage watching
with amusement the little "Frenchies" come to Molly Hatchet.
Hearing him tell an Outlaws roadie that this amp, which snorted loudly, was a real shit and see him shirk one of his.

The amazing sound that glued us from the beginning of the show.
Dave threatened us to kick our ass if we did not applaud more strongly.
His classic solo on "Gator country". His melodic surge on "Both sides". His hyper rock'n'roll guitar spitting the three solos of "Sweet Dixie".
His introduction of the musicians and his improvised delirium on the beginning of
"Sweet home Alabama".

His infernal demonstration on "Fall of the peacemakers".
Ears whistling for three days.
The dream come true.
We saw Dave Hlubek and Molly Hatchet on stage. An extraordinary evening! For us,
Dave was the reference. The man who drove on the highway of life the pedal to the metal, brushing with the disaster at every turn.

His name was synonymous with rock'n'roll, talent and classy.
So, for all these excellent albums, for all these timeless tunes, for all these memories and for all the good moments that you have given us, THANK YOU Mister Dave Hlubek!
Sprawled in the marshes, the alligators no longer have enough tears to mourn their sadness.
Somewhere in the infinite immensity of the cosmos, one rubs one's hands. Old Molly will be born again from her ashes.
Dave has gone to join his old friends Danny Joe, Duane, Riff, Bruce and Banner.
The stars have not finished swinging.

« Flirtin' with disaster everyday ! »
Olivier Aubry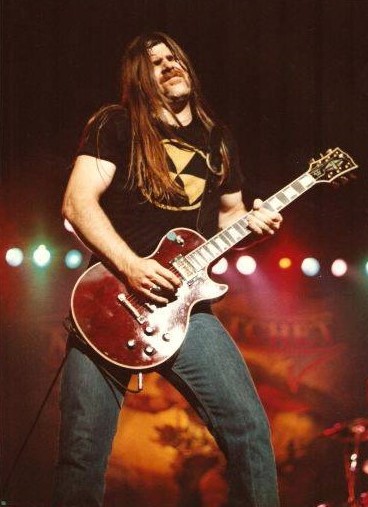 Copyright © 2007 Road to Jacksonville
Webmaster : Patrice GROS
Tous droits reservés.
Design par Zion pour Kitgrafik.com