SKINNY MOLLY


at the BIKE'N ROLL FEST MONTFERMEIL 29th of June 2013.

Bikes, beer and Southern Rock are usually the ingredients of a successful cocktail. We had it once again with the 2013 edition of the Bike'n Roll Fest with SKINNY MOLLY as main attraction.
If someone told me that one day MIKE ESTES, guitarist who crossed swords with the legendary ED KING inside LYNYRD SKYNYRD, would perform only two minutes away from my home, I would have laughed. But life has many surprises in store for us.
With an unworried heart I head toward the community centre of my town. The BIKE'N ROLL FEST organisers made the things well : Harley Davidson bikes and big American cars on exhibition on the esplanade, the unavoidable refreshment area at the entrance, a tattoo stand inside and, at the back of the hall, the stage where a tribute band dedicated to AC/DC (the WAR MACHINES) is performing. The band gets by quiet well. However, I notice that the basses of the sound effects are completely pushed, and that's not necessarily the good tuning for the Southern Rock.
The WAR MACHINES finish their set around 22h30. SKINNY MOLLY was planned for 22h00 but everybody knows that we are rarely on time in the little world of Rock'n Roll.
I'm surprised to notice that the members of SKINNY MOLLY set up their gear themselves. No roadie available. It's true that they are not « big » stars but really… MIKE ESTES is keen to sing in his own microphone. Better gear? Phobia of the microbes? One thing is sure, when one of the sound technicians comes to test the voices, MIKE ESTES informs him kindly that he will do it himself.
JAY JOHNSON also sets up his amp. Really funny to see famous musicians walk around the stage, with the hands full of wires.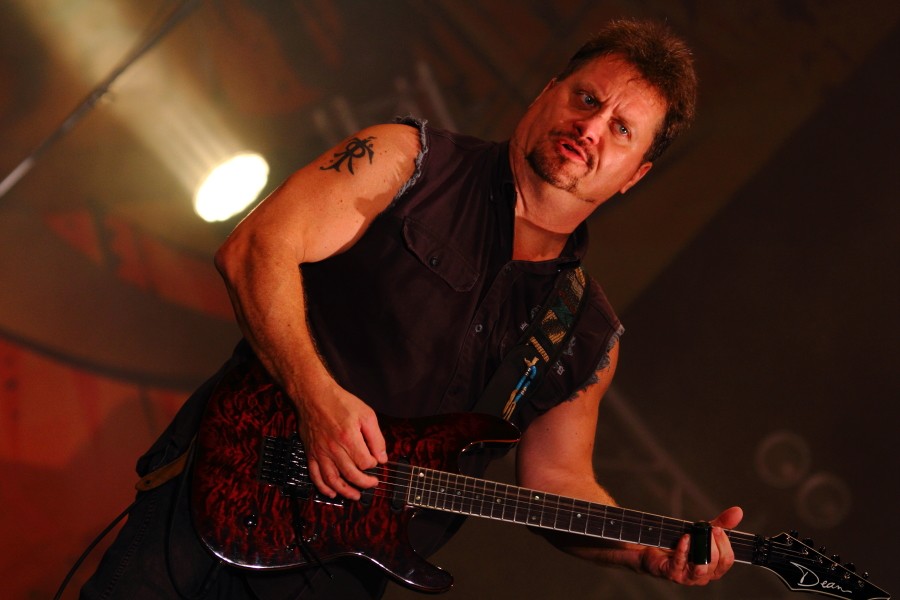 About twenty minutes later, THIERRY, the evening's presenter, announces us SKINNY MOLLY's show. MIKE ESTES shows up covered with a « gambler » hat like the one of STEVE HOLLAND on the cover's pic of the album No Guts, No Glory. It had its little effect. And that's the start !
As I feared it, the sound technicians only know one way to mix : basses forward and pushed as much as possible (anyway, on several occasions, the bassist will involuntary cause a succession of infra basses). Well, too bad! Standing just in front of the stage, I get its sound and that's for the best.
The original compositions of SKINNY MOLLY are a mix of medium tempo tunes (kind of Swamp/Southern Rock) and faster titles, flirting with the Big Rock US (a bit in the TOM PETTY style).
The band fires away, among others « Judge Parker » and « Copperhead Road ». To announce « Two Good Wheels », MIKE ESTES tells us that he owned a Harley Davidson but he never had the time to drive it, because his wife took it with her in the hurly-burly of their divorce. He also tells us that he must have come in France to drive a Harley for the first time in his life. He thanks the owner of the bike.
On stage, MIKE shows humour. He apologizes about his accent because, he says, « it's in fact from Bordeaux ». I bowl « good old wine ». He laughs.
From the technical point of view, MIKE ESTES is true to form with his style oscillating between ALLMAN BROTHERS and LYNYRD SKYNYRD. He sticks to his Gibson. JAY JOHNSON has a more aggressive style, more Hard Rock and he plays a Dean guitar. And he spends his time moving and jumping in rhythm (could the loss of some superfluous kilos be for something?).
The bassist LUKE BRADSHAW builds smiling and quietly a rhythmic wall with the drummer KURT PIETRO who still beats with the same enthusiasm.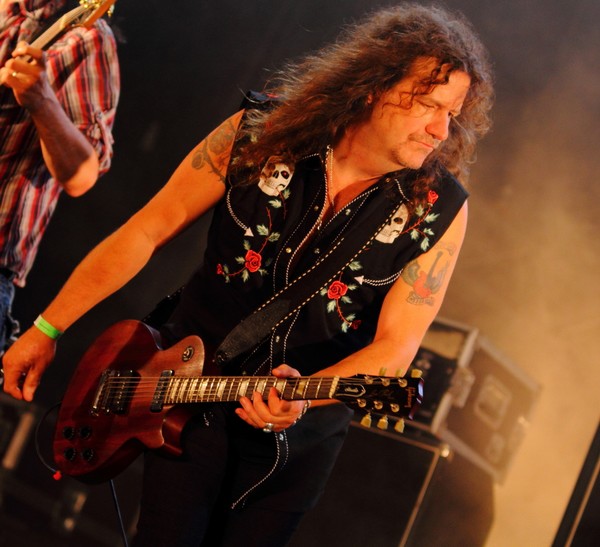 MIKE ESTES announces « Devil In The Bottle », tune that he composed when he was with LYNYRD SKYNYRD and that appears in the album Endangered Species. It's still as good as before!
But SKINNY MOLLY is also a cover band and they don't deprive themselves. « Wishing Well » (sung by JAY JOHNSON) and « Saturday Night Special » are performed masterfully. They also hit a punchy « Train Train » that the BLACKFOOT of the grand era of the late 70's and the early 80's wouldn't have disowned. MIKE let us sing the refrain in unison.
Close to the end of the show, MIKE plays one by one the chords of « Sweet Home Alabama », what triggers a light excitation in the audience. Then they follow on directly with « Free Bird ». JAY JOHNSON plays the slide solo and the final chorus is MIKE ESTES' responsibility.
As encore, we were treated to « Crossroads ». Truly, this tune was used as conclusion for more than a Southern Rock band (LYNYRD SKYNYRD, MOLLY HATCHET, SOUTHERN ROCK ALLSTARS, BLACKFOOT 2001 and now SKINNY MOLLY).
The lights come on again. It's already finished. They played about an hour and an half and I think that they really throw themselves into the show. My ears are still ringing.
I manage to shake MIKE ESTES' hand and to discuss a few seconds with him. He poses gracefully for a pic. For me, this guy seems to be most nice. As he leaves, he even thanks me for coming and seeing the show. That's sure, he isn't big headed.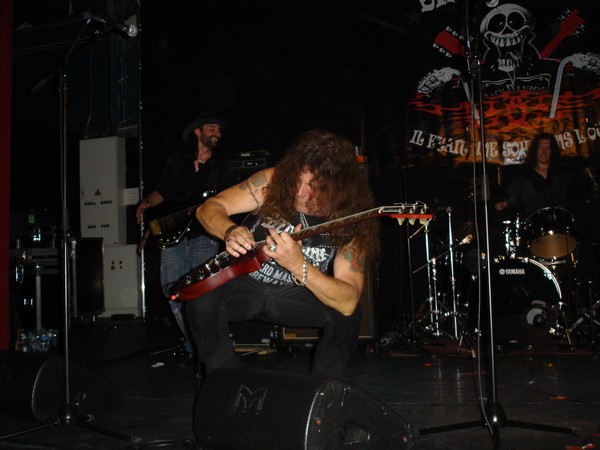 From my point of view, it was a good concert. SKINNY MOLLY delivered us a decent show, very finely crafted, although without surprise.
So I would answer in advance to criticisms of possible detractors. The lack of originality? Oh! That's still good old Southern Rock. The way of playing sometimes approximate of MIKE ESTES? Very rarely, when he gets himself carried away but we forgive him. Too much covers in concert? That's what we call the heritage!
And then those guys came from the deepest Tennessee to carry the Southern Rock's good word. So, can we ask for more in those unpredictable times?
Really, life sometimes holds good surprises in store for us.Olivier AUBRY
Translation Y. Philippot-Degand
SKINNY MOLLY Showbike Montalivet 28th of June 2013.
The team of RTJ was also in Aquitaine the day before Montfermeil to see SKINNY MOLLY. Thanks to the organisers the OUTCASTS of Aquitaine to have given us the opportunity to see SKINNY MOLLY in the South-West, because it's a true rarity. Around 22 h the Bootleggers led by Didier Céré (lead vocals) and Frédo (lead guitar) will prove on a huge stage that they really are the French favourite band of the Texans. Just come back from a tour in Texas, the Bootleggers reward us with a Sweet Home Alabama became on stage a true hallmark of the band. Don't forget that in the 80's, Didier had a Southern band called Abilène.
Some minutes of patience, and here is Skinny Molly hurtling on stage, with a thinner Jay Johnson who hops around, shortly a show that looked like the one of the day after in Montfermeil, with among others the Southern covers of Saturday Night Special and Sweet Home Alabama. Thanks to those guys for coming regularly in Europe to visit us, and we come back to the listening of their last record, waiting for their next visit in Autumn.
Philippe Archambeau
Translation Y. Philippot-Degand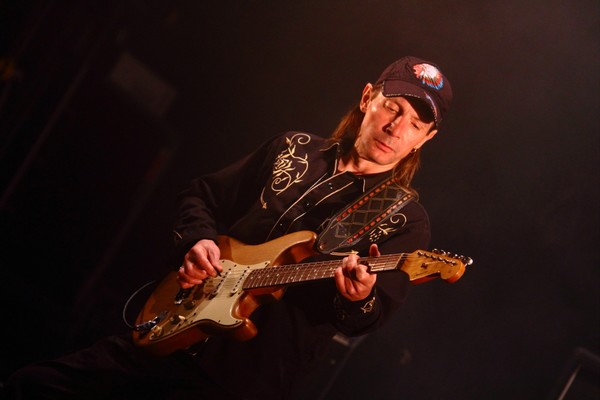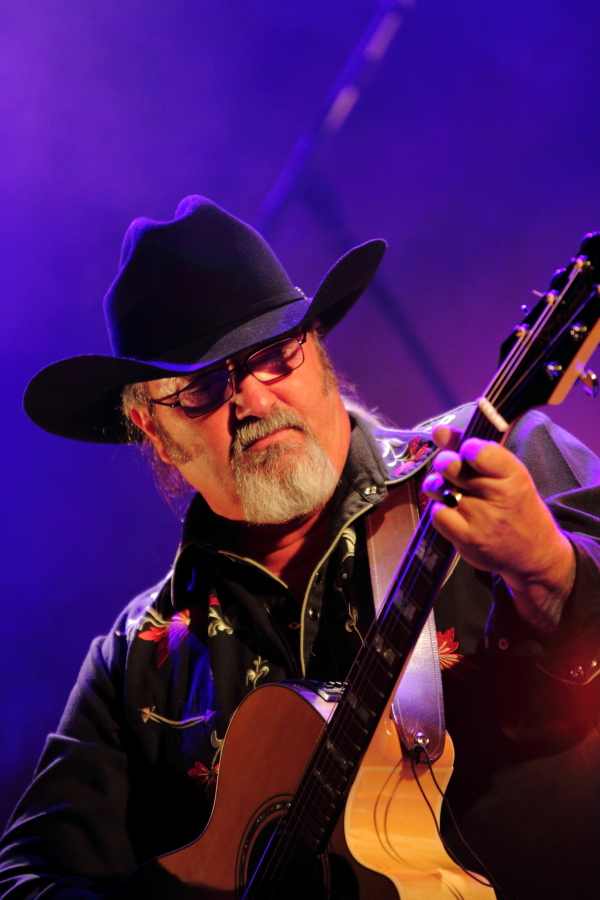 Copyright © 2013 Road to Jacksonville
Webmaster : Patrice GROS / thesoundofchicago.com/
Tous droits reservés.
Design par Zion pour Kitgrafik.com