Copyright © 2007 Road to Jacksonville
Webmaster : Patrice GROS
Tous droits reservés.
Design par Zion pour Kitgrafik.com
GOV'T MULE
APRIL 2005 THE 7th MEAN FIDDLER LONDON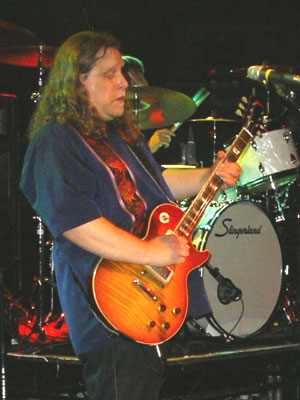 The day after the Paris show, Gov't Mule tour brings us to London where the band was playing at the Mean Fiddler. A 6pm, fans are already near the door, waiting for the opening to be the first to go inside the concert room. Andy Hess is shopping at the Virgin Stores next door, and Danny Louis is on his cellular phone. It seems that the musicians are very confident and quiet, only two hours before the show.
The Chinese food is delivered to the musicians, now we can wait one more hour under the rain. At 7.30 pm, the doors are open and we discover the room, a nice concert hall, better to play in than the Paris Trabendo. Upstairs are the VIPs seats, and the hall is full, about 600 people are present. There are persons from everywhere, coming from Holland, Iceland, Yugoslavia for instance, Gov't Mule seems to attract people from all Europe.
At 8.25pm, Warren Haynes comes on stage and we are already happy to listen to "Slackjaw Jezebel" from the last studio cd "Deja Voodoo", then first cd's "Rocking Horse", bringing a real Rock n' Roll beginning to the show. Then are "Thelonius Beck" and "Temporary Saint". The audience seems to be happy and scream between each song,
then "Bad Little Doggie" is enjoyed by everyone.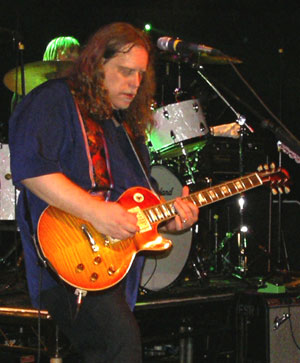 After a 15-minute break, Gov't Mule is back, and we can feel the difference between the Paris show with a real emotional and creative "Soulshine". We can see, as in Paris, than the band is mainly focused on Warren who is the real leader, the other musicians looking always at him. He's the Boss. Then there is the nice Matt Abts drums solo. Great drummer ! And we finished with the classical "Mule". For the Encore, Paul Stancey
(of Chris Robinson Band) is a guest musician and his brother Jeremy on drums on "Politician", then Paul alone with Gov't Mule on the Allmans' "Dreams". What can be said more ? The audience has really been impressed, and we'd have enjoyed to go on the tour and to be in Amsterdam the following day, when we do remember that the band has played Humble Pie "30 Days in the Hole" in Milan.
When will Gov't Mule tour again in Europe ?
Philippe Archambeau
Set List

SET 1:
Slackjaw Jezebel
Rocking Horse
Fool's Moon
Thelonius Beck
Little Toy Brain
Temporary Saint
Bad Little Doggie
Lola, Leave Your Light On

SET 2:
Something So Strong
Soulshine
Goin' Out West
No Celebration
Lively Up Yourself>
Drums
Ballerina
Game Face>
Mountain Jam>
Game Face
Mule>
I've Been Working>
Mule
ENCORE:
Politician w/ Paul and Jeremy Stacey on Guitar and Drums
Dreams w/ Paul Stacey on Guitar