Copyright © 2007 Road to Jacksonville
Webmaster : Patrice GROS
Tous droits reservés.
Design par Zion pour Kitgrafik.com
MARTY HILL of PREACHER STONE Interview
By Philippe Archambeau & Yves Philippot. ( February 2011)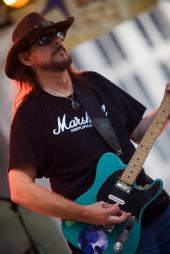 Can you tell us where your name PREACHER STONE comes from ?
I was at home watching a Clint Eastwood movie called "Pale Rider." His character was a combination of a Gun fighter and a Preacher and I then looked over at my rock fireplace
and just said Preacher Stone, That sounds cool! That's how it happened!
Can you tell us where you all come from and how the band set up ?
I was born and raised in Charlotte North Carolina, Ronnie Riddle is from Kannapolis N.C Brent
is from New Hampshire, Josh is also from Kannapolis, NC And our new guitarist Arda is
from Ankara, Turkey.
Can you speak about your musical career and how you met the music at home ?
I started playing when I was 9 years old and by the time I was 15 I was cutting my teeth on Lynyrd Skynyrd's Second helping album. Also listened to Grand Funk and Mountain albums.
Let's talk about your new record Uncle's Buck's Vittles that begins with a tune « Can't Keep A Good Man Down », typical from the southern rock tradition with its guitar stampede.
Was to fit into this tradition the aimed goal ?
I wanted to follow up our first album with a strong song musically out of the gate, Ronnie wrote these great lyrics about keeping your head up in adversity, so we used it to open the CD.
Can you tell us more about the title « Carved In Stone » ?
Military Vets from around the world have always been in our hearts and minds. With this song
we wanted to pay tribute to their sacrifices.
This title is in free downloading on your site (http://www.preacherstone.com/music.html , why do you have this approach ?
We thought it would be a tribute to them and their families to give the song as a free download, to make it available to everyone who might enjoy it. This originally came about for Veterans day and we decided to keep it up for a free download out of respect to them.
You have some tunes pretty close to Molly Hatchet with a lot of energy, do you try
to find out the mind of this band's debut ?
We grew up listening to Molly Hatchet, They have been a huge influence on our music.
In the same time, you seem to want to pay tribute to very different musical roots, very country-minded on « I'll Be Down », and very « old time rock'n roll », by your daring cover of the famous Beatles' « Come Together », more than inspired itself, only not to scream to the certified true copy, by the Chuck Berry's « You Can't Catch Me », and also a tune covered by Aerosmith that seems to be another of your great influences. Are the band's influences so much various ? Does your cover come from the influence of Aerosmith,
of the Beatles, of Chuck Berry, or of many of those artists?
All of them! The Beatles cover came about from my girlfriend wanting to learn Come Together
on the guitar. There was a slide near by so I tried adapting the original song to a more Southern approach, Also at the same time being aware of Aerosmith's version, I wanted to try and take it
to a different place. It also was recorded first as just a promo for the band.
It was not going to go on the CD, but we got so many requests to put it on the CD, we did.
Can you tell us more about the band's lyrics ? Have you some favorite subjects ?
Ronnie writes from the heart, and comes up with great lyrics. I will come up with a musical idea, sometimes a topic and he takes it from there. I think my favorite song on the new album would
be "Come on in" The funky guitar part over the bass groove works with the creepy and scary topic of home invasion. We are big on gun ownership and I collect military weapons. We also believe in the right to protect yourself from those that would choose to break in and rob us. This song touches on what might happen if someone were to try it with one of the members of this band.
I think Ted Nugent would agree!!
In the future, will you have a third guitarist, or even fourth with the singer, to become
a new « guitar army » ?
We have just added Arda, He is an expert at playing that Nashville style of guitar. We also sometimes have D.B Bryant join us, which gives us up to 4 guitars going at once if Ronnie plays! And it does sound like a guitar army!
Just for the readers of ours who are also musicians, can you tell us about the gear you are using (guitar(s), amplifier(s), also...) ?

Yes, both CD's were recorded guitar wise using vintage gear from my collection. The heavy rhythm guitar parts ran through a purple 100 watt 1971 Marshall half stack, A Marshall DSL 2000 100 watt half stack. The clean parts were a 1964 Fender Deluxe Reverb ran into a vintage Marshall 4x12 cab, A red Vox AC30 for "Come Together" a Matchless 30 watt combo and the lead parts were played through a red 1969 Marshall 50 watt with a matching 8x10 cab. I used a Browntone Electronics Hoochie Mama Overdrive pedal to boost the signal. The guitars were a Vintage
Gibson 1964 Firebird, A 61 SG Les Paul and a 76 Les Paul Custom. The acoustic guitars were
a 91 Gibson J200 and a Taylor 614 CE.

How do you work to arrange the guitar parts ? Has each one his role and his favourite kind
of gear, like in the early Lynyrd Skynyrd, for example, or is it all interchangeable and variable depending on the tunes?
I will come up with a riff and build on that and Ronnie will add the lyrics, then we take the song
to the rest of the band and see what the band might add as a whole. And other songs are written by the other members, as in Josh's tune "Judge me Not."
What are your favorite bands, and, if it's not done, for which would you like to open?
Lynyrd Skynyrd has always been my favorite band and my biggest influence. One band I would like to open for would be Gov't Mule. I dig Led Zeppelin, Mountain, Grand Funk and as far as newer bands I have come across, Big Jim Slade & Hogjaw are in my CD player.
You just come back from the Simple Man Cruise, can you tell us how you were found there ?
That was awesome, We were very surprised to be so well received, and excited to see how many fans from overseas were on board! So many great people from all over the world. I had my graduating yearbook signed by Gary Rossington of Lynyrd Skynyrd and got to meet Southern rock fans from around the world!!
Did you make the most of it to get on well with the other bands on the bill ?

It was great, every band on board was very supportive of each other, And we all enjoyed seeing each other perform!
Blackberry Smoke took totally advantage of the exposure that allowed the Simple Man Cruise, do you think that you'll be able to follow the same way ?
We sure hope so!

Do you consider you as the relief of the Southern rock ?
We just hope people enjoy our music as much as we did the classic bands when we were
growing up.

We've been said that you played many sets during the Cruise, can you detail this point ?

We were only supposed to play once during the cruise, But a lot of people wanted us to do another show and I heard they were approaching the cruise management, so they put us on
for another the very next day!
Here in France, we still speak about southern rock, and the rebel flag, do you associate
the two things ?
Southern Rock is alive and well here, as far as the flag. It represents different things to different people. Some see it as racist. My Great Great, Great grandfather fought on the Southern side,
And for me it represents the pride of the South as it was the battle flag of the Confederacy
and was most recently revived as the flag of Southern rock.

Do you think that you will come soon in Europe ?

We hope so, It is a dream of ours to play abroad and bring the music to the people there!
Do you have a DVD project for the future ?

We are working on the third CD now.
What do you think about illegal downloading ?
I think it hurts the bands, I understand why it is done, but the bands depend on the money from their music in order to be able to pay for future recordings. It cost a lot to do one of these things! It's like paying off a new car in 2 weeks! So we would hope people would support the bands by purchasing the CD's and songs.

A traditional question : if you have to finish your life on a desert island, what are
the 5 records you want to bring with you?
Lynyrd Skynyrd's "Second Helping",
Skynyrd's "One more from the road"
Mountain's "Nantucket Sleigh Ride"
any UFO, The Allman Bros, "Fillmore East" and Govt. Mule's " Life before Insanity"