Copyright © 2012 Road to Jacksonville
Webmaster : Patrice GROS / Country Music Radio Magazine
Tous droits reservés.
Design par Zion pour Kitgrafik.com
Interview of Gary Lee JEFFRIES
(October 2012 by Philippe Archambeau & Yves Philippot-Degand)
Hi GARY, many thanks for accepting to grant us this interview for RTJ,
site dedicated to Southern Rock in French and in English.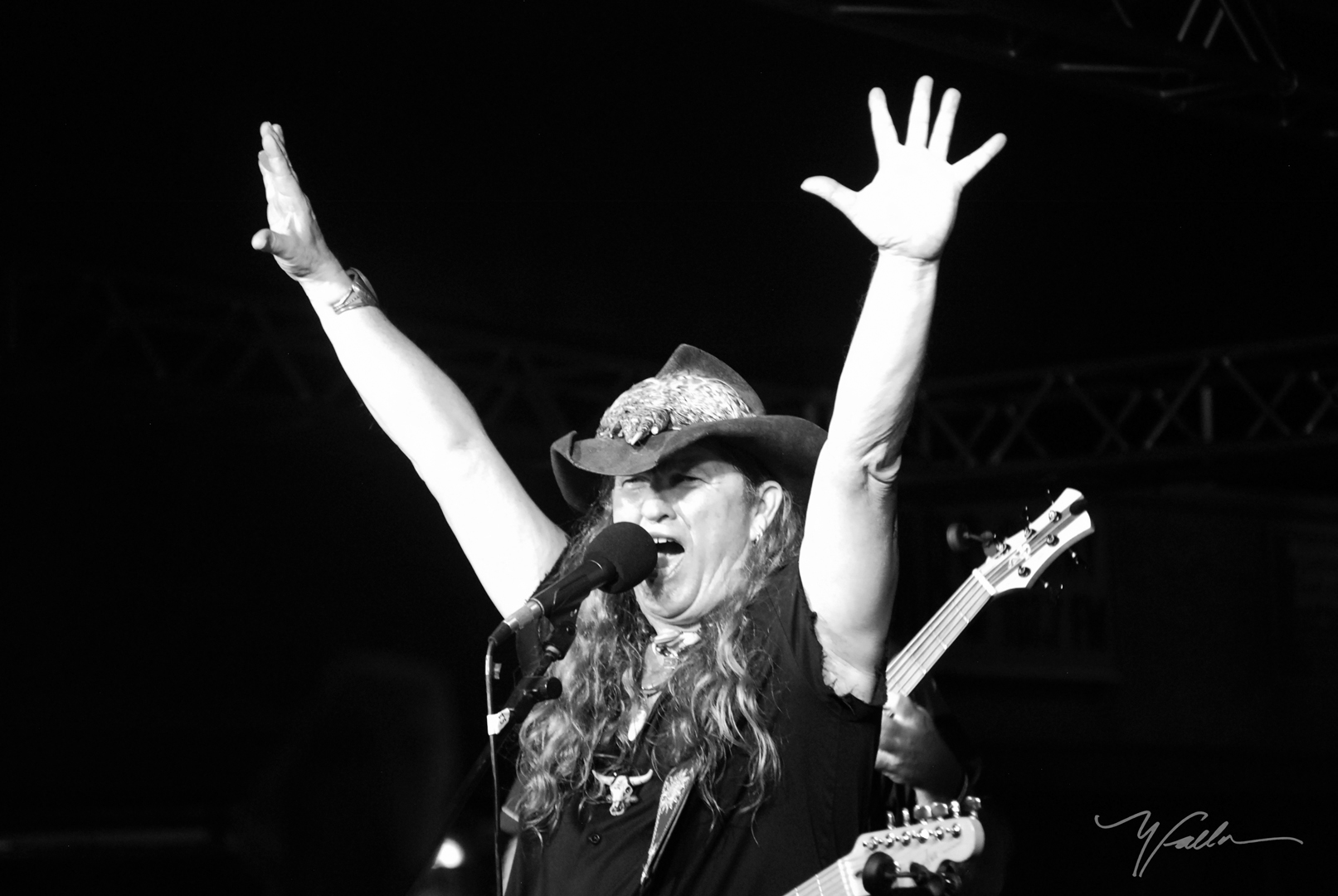 RTJ : Can you tell us where you came from and how you began the music?
GARY : Hope ya got some time here...LOL...'cause I been at this a few years. Okay. I started playing music in a very small town called Monticello, Indiana (US). I talked my parents into buying me a guitar. So, they bought me this nice Silvertone electric guitar. I was learning songs like "House of the Rising Sun" (Animals), "Shapes" (The Yardbirds), "Dirty Water" (The Standells), and "Can't Explain" (The Who). This little town drew many classic bands that came to perform at a small ballroom at the Indiana Beach resort, founded by a really cool guy named Tom Spackman. I got to help set up for bands, including The Who, back in the day of their hit song, "I Can See for Miles". I had talked Tom Spackman into letting my three piece band, Soul Inc., play this place. We opened for a band called The Blues Magoos, known for their hit song, "We Ain't Got Nothin' Yet" (check 'em out). It was from that point on that I got the music fever that ain't stopped yet.
Soon after, I started playing Top 40 clubs around the Midwest, four to six nights every week. I was getting great practice in, always throwing in our original tunes. I relocated to Monroe, Louisiana and spent several years working with bottleneck Blues players who produced a kind of swampy vibe. I loved this sound. And, livin' around the swamps and playing swampy rock made it all happen for me, naturally.
I moved to Los Angeles, California in the 1980's and played along that Sunset Strip many, many times…The Whiskey, The Roxy, The Troubadour, Gazzarri', etc. – any place that had a stage. In 1988, I hooked up with a band that later became Asphalt Ballet, and I will talk more about that as we get into this interview. Now we are here with a few things in between...
RTJ : Who were your favorite artists when you were young?
GARY : I loved The Yardbirds, Creedence Clearwater Revival, British Invasion bands, and later on Bob Seger, then Lynyrd Skynyrd, Blackfoot, The Outlaws, Marshall Tucker, Molly Hatchet, and the Allman Brothers.
RTJ : Why did you choose to play guitar?
GARY : I just loved the sound of a guitar. It just seemed the right instrument to accompany a vocal. Plus, it was just cool to sing and strum a guitar. Hey, it's like when you play 'guitar hero' as a kid, you live that Rock Star moment, LOL!
RTJ : Your first well known band was Asphalt Ballet. Can you tell us more about them
and what happened before?
GARY : Asphalt Ballet originated out of Los Angeles, California around 1988. The band name was changed from Mistreated to Asphalt Ballet after I came in for a vocal audition and was hired as lead singer. People ask, "What is asphalt ballet?" Well, imagine what happens to a motorcycle and rider when they run into an oil spill on the road. Yeah, you got it. Asphalt Ballet rehearsed almost every night of the week. We were a five piece heavy rock band, crossing Guns N' Roses with Lynyrd Skynyrd. We eventually signed to Virgin Records, had three videos on MTV and VH1 - "Soul Survives", "Tuesday's Rain", "Unlucky Mr. Lucky" – all produced by Sam Bayer who's won awards for best direction. We released a CD, "Asphalt Ballet", with hit single "Soul Survives" that did well. But, Grunge came on the scene all too soon, becoming the new 'flavor of the week' and our heavy rock style was phased off the menu.
RTJ : Asphalt Ballet got a contract with Virgin Record. How was this?
GARY : It was very interesting and very cool. Cool in the fact that we reached every musician's dream...a BIG RECORD DEAL..."WOW we are rockstars!!!!!!!!" Our big break came in 1998 when we competed on Star Search, that 1990's TV talent show, and scored Second Place to Little River Band. We were approached by Virgin Records and a financial backer out of Chicago who had seen our performance and offered us a million dollar contract. Yes...we had a cool tour bus and played all original music, 60 minute show. We performed at festivals and all kinds of cool places all across the US. We opened with bigger national acts and in front of crowds of 15,000 and more.
RTJ : What caused the band to split after the second album "PIGS",
or in other words your departure from the band?
GARY : It was a very tough departure. I left after the first CD ("Asphalt Ballet"). There were a few issues goin' on. One had to do with "Teen Spirit" by NIRVANA that was released the same day as our single, "SOUL SURVIVES". Well, Nirvana started the big movement away from our style of heavy rock music. The Grunge came in with bands, Pearl Jam, Alice in Chains, Soundgarden, Stone Temple Pilots, etc. So, pretty soon, our record label wasn't putting much money in us. For example, we would do in-store CD signings and learn that our CD was NOT in the record store. Here we are…playing that city that day and no CD's are available to sign at the local record store - a real letdown for fans! Here's another example of how Virgin mismanaged our CD distribution. I remember a gig where we were playing an intimate acoustic set and ready to sign CD's for fans, but no CD's had been shipped by Virgin – another letdown for our fans!
The second issue, despite all the notoriety, was that the money wasn't great. I'd say I made $160 a week; per diem and I sold half of my publishing for a little extra money to live on. Try livin' on $160 a week and pay for rent and basic living expenses. Not easy. Also, as a signed musician, ya gotta work off your portion of the contract. I was liable for one fifth of contract.
We toured for a year and during that time I had a new child on the way. It was tough living on that $160/week from the record label. That's what my check was per week. They took any money we made from gigs - I didn't see that or maybe we were playing for free, I guess I'll never know for sure. I asked them if I could get just $500 to help on the delivery of my child. They said "No." I told them I would have to get an outside job to support my family. They said nothin'. It was all a very rude awakening. Bottom line, ya gotta have very good legal representation that truly has your back, or ya get screwed. The music business is not all straight laced.
So I left to make enough money to live and support a family. I remind you not livin' high on the hog, but simply being able to buy diapers, food and just the basics to live. A multi-billion dollar company paying a person $160 a week to tour, that's almost insane. They can call it paying your dues or whatever, but to me, it was just crazy. I couldn't even pay one month's rent with what they gave me. I figured they weren't really into the band if they didn't want to help us somewhat in making a living. So, I opted to get a job that paid the bills. I left the band to make a living for my family who depended on me. I couldn't pay back my part of the contract, so the deal was that I could not sign with any other major label for seven years. So, I went Independent instead. I wrote "Southern Pride" the day I left Asphalt Ballet (its track 11 on "Middle Class Man"). I have no regrets what so ever and I would do the same today, although it was very tough to leave my bandmates behind; they were the best of the best and we deserved better. Hey, our video "Soul Survives" was voted undefeated winner of MTVs Headbanger's Ball. Our music was featured in the motion picture, "Beyond the Law" with famous US actor, Charlie Sheen, and on other film and TV sound scores. We were good, VERY good. So, it was both a learning experience and a stepping stone. I truly believe that if we had hit the music circuit a few years earlier, we would have gone VERY big.
Asphalt found and hired a new lead singer and recorded "PIGS"; the label wanted Asphalt Ballet to produce more of a Grunge sound and pushed the band to change from one music style to another. Ironically, the band was dropped from the label soon after "PIGS" was recorded and released. So, I'd say when the label dropped the band, it split up. This was a HUGE loss for us hard working and musicians as well as for the fans. Asphalt Ballet kicked major ass!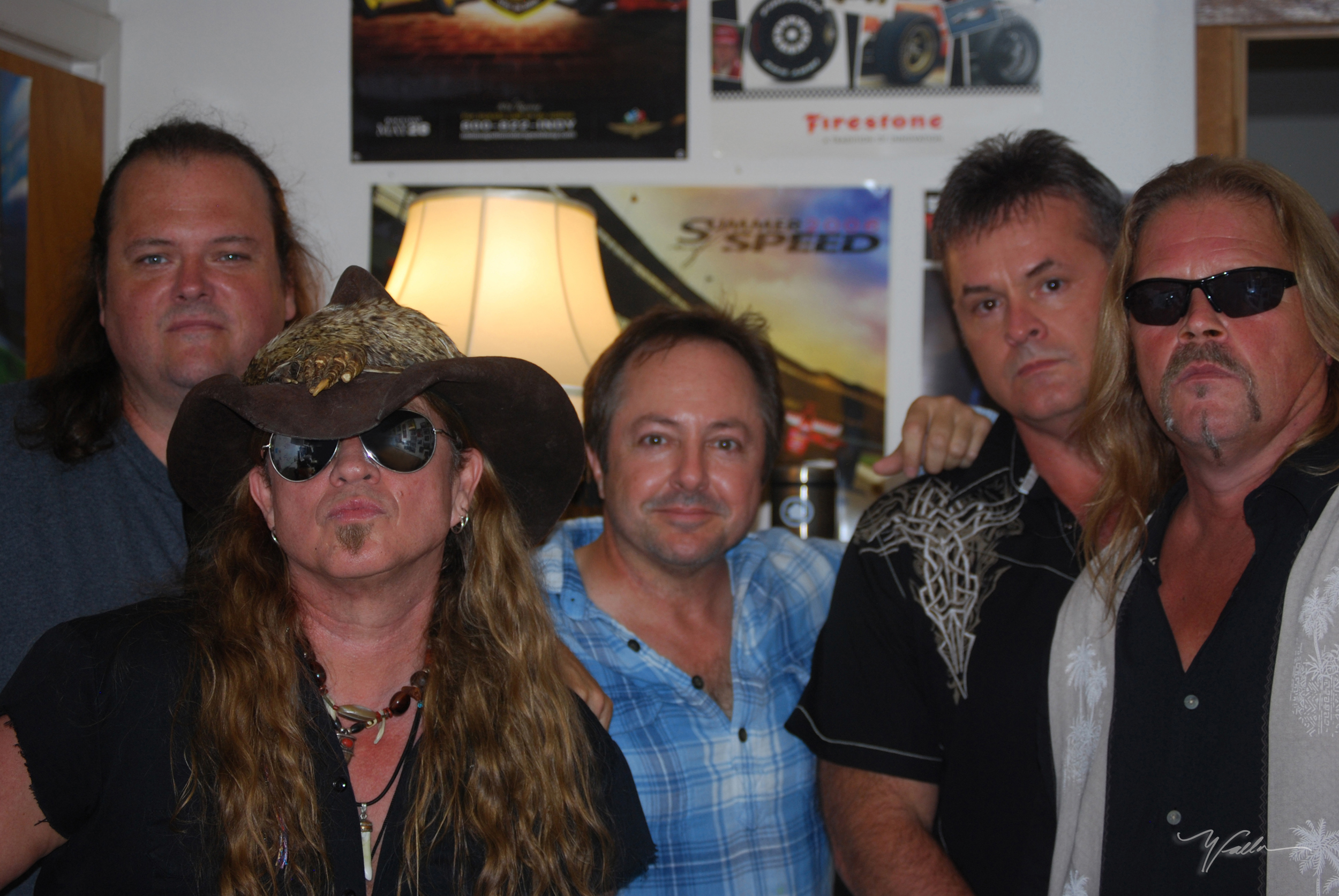 RTJ : Before speaking about your latest CD, I'd like to evoke the various projects and bands in which you took part in the past. Do you think that its a fact that you are a real Southern Rock singer and that this has led you to have many bands?
GARY : I have stayed busy and worked and performed with many bands, before releasing my latest solo CD, "MIDDLE CLASS MAN". Prior to my current work, I jammed with a garage type, Southern Rock band we called Grouchy Rooster. We recorded almost every rehearsal just for fun and jammed with no expectations. Our goal was to have a good time, creating music. We released a CD, "Real and Raw", and it was real and raw! It was during this time that I met slide/bottleneck guitarist, John Andrews and we started jamming with bassist, Doug Richardson. We later evolved into Alligator Stew, but worked off and on with The Regulators.
RTJ : By the way, do you define yourself as a singer or a guitarist?
GARY : I'd say a singer/guitarist. I started playing guitar and singing at the same time and have always carried a guitar with the exception of Asphalt Ballet.
RTJ : What is for you a Southern Rock singer? In general, we think Ronnie VanZant, Greg Allman, or God bless his soul - Ronnie Hammond. What makes a good Southern Rock singer?
GARY : To me and who am I to say what's a true Southern Rock singer, but a singer with a lot of soul, singing stories about the poor and Middle Class life struggle - molded from the styles of rhythm and blues. I think a Southern Rocker's voice is a little whiskey soaked from a few cases of brew, due to a little partyin'. I think the new Country music is sounding a little like what we have called Southern Rock. But, a great Southern Rock singer is one that sings about life and is from the heart and soul - real stories about real life...good and bad.
RTJ : After Asphalt Ballet, you joined Coup DeVille. Can you tell us more about them? Can you tell us more about the band's album, "La. to LA"?
GARY : Coup DeVille was a band I played gigs with while living in Monroe, Louisiana before I relocated to Los Angeles in hopes of becoming a big rock star, LOL! I had always kept in touch with the lead guitarist from Coup DeVille. It was a tight band that played every weekend at a 4 hour-per-night show of great Top 40 music. While in Los Angeles, I invited the band to my house to jam. They all came out with instruments and we wrote and rehearsed every night in my garage. After about a week of this, we went into a rehearsal studio for two days, then to a 24 track recording studio for four days. On the night that we finished recording, the boys were back on a plane and home to Louisiana the next day. In two intense weeks we wrote and recorded a 10 song CD that is really great bluesy/Southern rocky, with a Stevie Ray influence. It was a fun band and great CD, Coup DeVille "La. to LA."
RTJ : What does the name of the band, Coupe DeVille come from?
GARY : It comes from a name of a car out here in the US. There's a make of car in America called Cadillac. In the earlier days, there was a Cadillac called Coup DeVille, a very classy car. Google it. (Actually, the name of the car isn't "Coup deVille" but "Coupé de Ville" in the French way, sometimes changed in "Coupe de Ville" -no accent in english- and it was the name of a Cadillac high end brand from 1949 through 1993, N.dT.)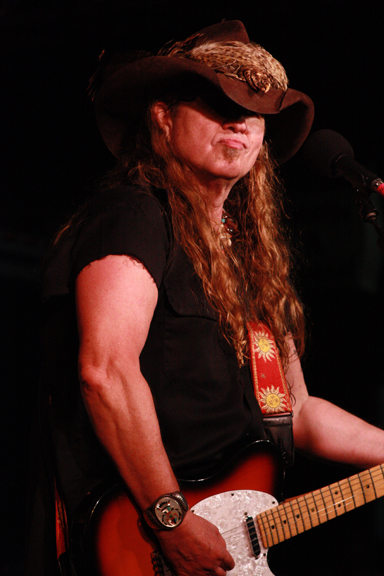 RTJ : I can't help but ask a question about The Regulators. How did you come to play with them?
GARY : This was a friend-of-a-friend deal. A buddy told me that the band, The Regulators, was a very cool Southern Rock band that was lookin' for a lead singer. I got the bass player's telephone number (his name is Randy Smith). Rand and I talked and next thing I know, I'm recording vocals to five songs for a CD called "Real Deal". The bassist from Ratt recorded it and it was real good. Great guys and a great band, but it just wasn't what I was lookin' for. I wanted to start a band from the ground up. The Regulators were pretty set in stone - a great band and even known, but it just didn't quite fit for me.
RTJ : You took part in the "Bar and Grill" CD in 1998. Can you tell us what you brought to this record?
GARY : Yes, the songs I recorded on "Real Deal", EP by The Regulators, they also added to the song list of CD, "Bar and Grill". I wasn't totally aware of this until after its release, but I'm glad they did this as it is a great CD.
RTJ : The Regulators is really an important band to us because we like its style of rock, close to Copperhead, Havana Black, etc. What made you leave this band?
GARY : As I have said, it was really a great band with great guys, but it just wasn't what I was lookin' for. I wanted to start a band from the ground up. The Regulators were pretty set in stone; they had their songs already written and didn't want many changes. I wanted to write a new set of songs for a CD with other musicians. So I chose to leave the band. I filled in until they found Ronnie.
RTJ : I was often in contact with Ray Carver, who had a site called Southbound Beat. Any news from the band?
GARY : To be honest, not at all. Ray Carver is a great person and manager who knows his business. He was the backbone to The Regulators. Great person. But, no new news. Sorry.
RTJ : Of course here in Europe we found you through Alligator Stew. How was it founded?
GARY : Well, during that time, I had been jamming with Grouchy Rooster when I met John Andrews and bassist, Doug Richardson. So we got together, just John, Doug and me. We laid music down on an 8-track recorder at John's house and it sounded really cool. We found a drummer who was looking to place with a Southern Rock band, and back in the 1990's in Los Angeles, California, this was unusual. Pretty soon we started gigging up and around Los Angeles and San Diego, CA. We decided to record our first CD as Alligator Stew and called it "First Taste of" in Europe. On that recording, we brought in a pianist that had never heard our music. He came in and recorded every song, incredibly, in one hour. I think that was 12 or 13 songs. Later, I asked this guy, Chris Turbis to join us (who was with The Regulators). He recorded "Monticello Live" with us.
RTJ : Recently the band Diesel Dust from Lyon, opening for Doc Holiday, played one of your songs called "Blood Money". Can you tell us about this song?
GARY : This is one of my all-time favorite Alligator Stew songs – and we had many popular songs that made sound tracks on episodes of HBO hit series, True Blood and Weeds. It was on the TV music video channel in America called GAC (Great American Country) and it got 'Buzz Clip of the Week'. This video won the All Access Music awards for best video in 2004. It was produced by L.A.s, KC Amos who did a first rate, kick ass job! It's just an incredible song that still fits right in style with today's sound. "Blood Money" is about those lawyers getting guilty criminals out of trouble for a fee - what we call 'blood money'.
RTJ : You got distribution in Europe with Halycon. How was that achieved?
GARY : This was very cool and interesting. Through CD Baby, I met a buyer at Baerchenrecords.de, who was buying a lot of CD's for his mail order company. He told me he knew of a guy with a distributer called, Halycon, and next thing I know through CDBaby.com, we got a distribution deal in Europe. Was that cool? Halycon was very fun to work with. I miss those guys. I think they closed shop. They had Lizard, too.
RTJ : What caused the end of Alligator Stew?
GARY : Well, I hate to say it but I was the cause. My Dad, who was living in Indiana, became very ill. It was on the other side of the US in California, where Alligator Stew was located. I moved back to the Midwest to be with my father and to help out. But, I just could keep going back and forth from California to the Midwest, it was wearing me out. I'm still here in Ohio near my Dad.
RTJ : Let's go to the reason for this interview. 2011 has seen the release of your first solo CD "Middle Class Man". Can you tell us about its genesis and how it was recorded?
GARY : I had been writing some songs and jamming to a few songs that I had always just loved. I was performing a good bit in Ohio and Indiana with various musicians and just doing a lot of original material at shows. I decided I wanted to record a CD. I had some great songs and I think every artist needs to do a solo Cd - do it your way and not worry about what anyone else wants. But, its gotta be good because your name is on it. We recorded it in a place called Refraze Recording Studio in Kettering, Ohio. It is a very cool digital or tape studio. We recorded it over a four week period.
RTJ : Can you introduce us to the musicians on 'Middle Class Man"?
GARY : Yes, on bass guitar is Steve Fletcher. Steve and I have been working together for about six years. Great guy and a real pro and friend. On drums is Randy Trent. I have been with Randy off and on for five years. Randy is a top notch, pro drummer. Randy keeps very busy and is also lead singer in a band called BOD. Randy keeps three bands going at all times. Hard worker. On lead guitar from Santa Monica, California is John Goodwin. What can be said about John Goodwin? I've known him forever and he is one of the greatest Southern Rock guitarists in the world, as far as I'm concerned. Never met anyone like him. I think he has 15 or 20 CD's under his belt. He's recorded guitar on James Blunt's first hit CD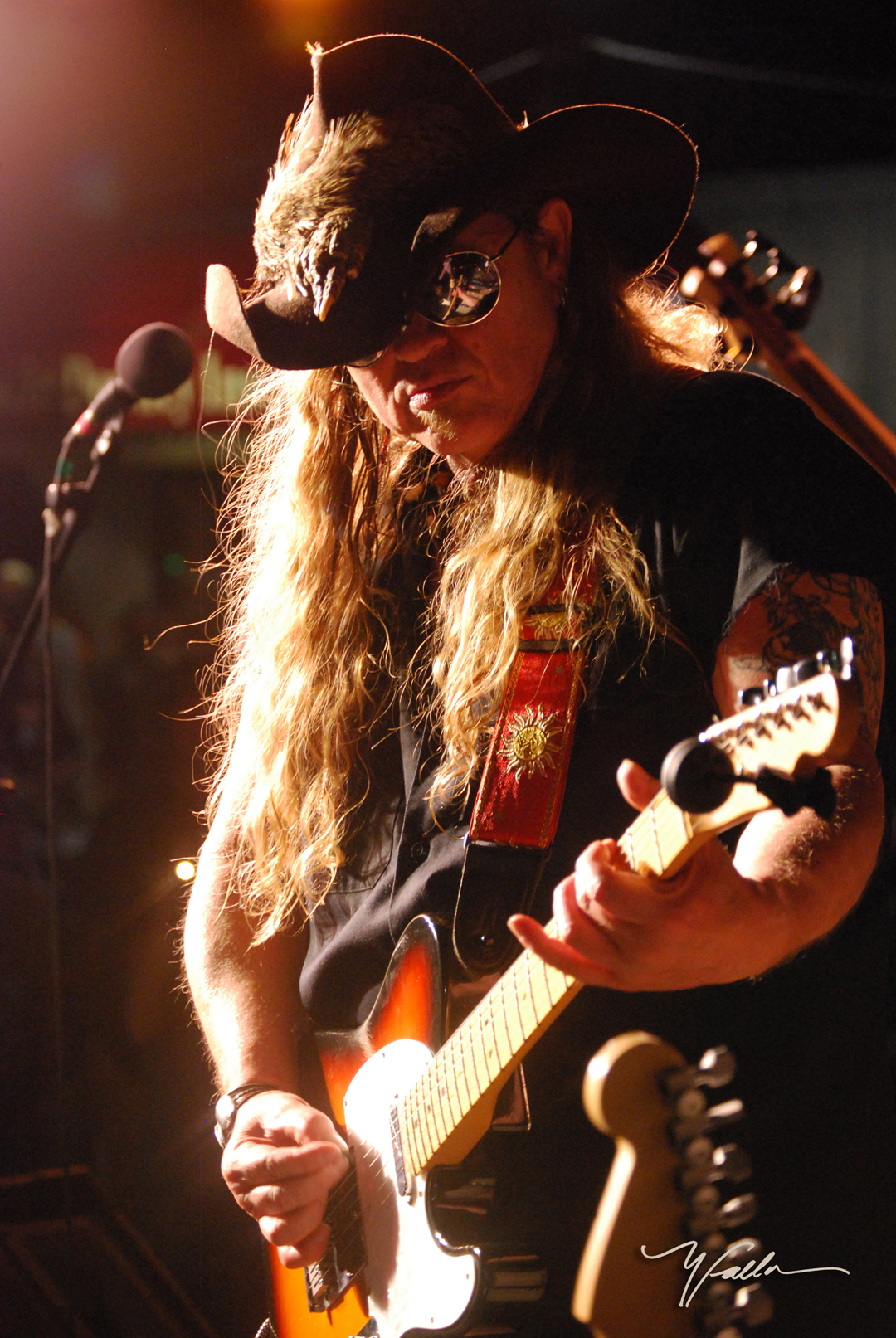 RTJ : Can you tell us more about the meaning of your title "Middle Class Man"?
GARY : This is all over the world, a lot of us work our butts off and we usually can't pay the bills or just barely get by. We are workin' in factories and low wage jobs, while others have so much money they can't hardly spend it all. We work for them. I wrote this for those hard workin' people that are the backbone of the US and the world.
RTJ : If you had to introduce your record to give someone the urge to listen, what would you tell us?
GARY : If you like songs with a story, songs that are true and from the heart, if you are a lover of such groups as Skynyrd or ZZ Top, you will love this beer drinkin', bluesy Southern Rockin' CD. Guaranteed to crank in your car stereo on your way to work every morning.
RTJ : The tunes "I KNOW YA TO WELL", "MISSISSIPPI GIRL", and "BLOOD ON THE HIGHWAY" are all Southern Rock style songs. Can you tell us more about these tunes that should please this style fan?
GARY : ABSOLUTELY...YES!!! If a fan likes those three songs, which are pretty authentic Southern Rock, with two listens that same person will love "Ash to Ashes", which is a song about an outlaw biker in a very tough club in Los Angeles, California. The biker is Tiny, his girlfriend is Chopper Girl, and Tiny had asked Chopper Girl to have him cremated into ashes if anything ever happened to him. He wanted his ashes distributed to all his brother bikers in his club, who were around the world. At a specific time, they all threw his ashes into the air. They really did this. This is a true story-song. "Southern Pride" is a great Skynyrd-type tune. "Heaven Winds Blow" has a little Marshall Tucker feel along with a new touch of today. Everyone likes the CCR cover "Bad Moon Rising", which is on this new CD. Southern Rockers will truly love this CD!
RTJ : You recorded this CD on your own label, Gatorjaw Records. How do you see the future of this musical style?
GARY : I think it's becoming big in the Country music market in the US right now. Groups like Blackberry Smoke are doin' great in Nashville, Tennessee's Country music market. I think Southern Rock is gonna do the same thing to Country music that Grunge did to Rock music in 1992.
RTJ : Among your musicians, can you tell us more about John Goodwin? We are still impressed by the number of fantastic musicians that have emerged like him.
GARY : I think John Goodwin is one of the most amazing guitarists around the US and worldwide. He is a great unknown. He can play anything musically, meaning that he is very versatile. He lives in Santa Monica, California. I worked with John before my time with Asphalt Ballet and afterwards on many recordings and jams. The tracks on CD, "Middle Class Man", we recorded by all instruments, except for lead guitar. I just couldn't find a guy locally that totally fit what I wanted for this CD. There are a lot of great players here, but just not fittin' the groove. I had a wild hunch and called John Goodwin and asked if he was interested. Next thing I know, I'm sending John the recorded tracks. He said no problem. I swear that within two to three weeks, John had written all the lead guitar parts for all 12 songs. He came out to Dayton, Ohio to put the finishing touches on the CD. This took about three days. He's UNBELIEVABLE. Check out John on Facebook. I think he has five or six solo CD's out. He played with the drummer from Megadeath and many other big name artists. Check him out.
RTJ : Do you plan a tour in the USA ?
GARY : We are working on a bigger tour of the USA. It's tough to get the support or get that opening spot for a national. We are looking into playin' a few shows in Nashville, Tennessee to see what we can do, but would love to tour the US and Europe.
RTJ : Have you a project to tour Europe?
GARY : We have been doin' a lot of talkin' about coming to Europe for two or three weeks. We do great sales in Europe and I think the fans would love our live show. So we are currently workin' on getting to Europe.

RTJ : Have you something to say to your fans?
GARY : Yes, thanks for reading my interview and taking the time to get to know me. Thanks for listening to my music and believing in me. Believe in your dreams, too. I am workin' on new music right now. I will keep you posted when I get a new CD out. Love you all!
RTJ : If you were stranded on a desert Island, what five CD's would you have with you?
GARY :
1. First Taste Of / Alligator Stew
2. Middle Class Man / Gary Lee Jeffries
3. Asphalt Ballet, debut CD
4. Any early CCR CD, and
5. Any very early Lynyrd Skynyrd with Ronnie VanZant.
Thanks for your time brother!!
Peace!
Gary Lee Jeffries
Visit me on Facebook, and YouTube