Copyright © 2007 Road to Jacksonville
Webmaster : Patrice GROS
Tous droits reservés.
Design par Zion pour Kitgrafik.com
Interview MONJI of SAVOY TRUFFLE
(By Philippe Archambeau and Y. Philippot-Degand )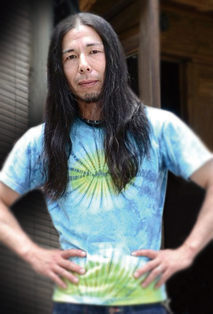 RTJ : Good evening MONJI, thanks for granting us this interview for roadtojacksonville.com webzine dedicated to the Southern Rock.
First, for our friends who read us, can you introduce yourself, where you are born, when did you begin to be interessed by the music ?

MONJI : Hello! I was born in Shimane prefecture in Japan. When I was a high school student,
I was interested in the rock music.
RTJ : What where your favourite bands ? Those that led you to become a Blues Rock vocalist ?

MONJI : I like FREE, Grateful Dead, Sly Stone, Bob Marley, Allman's, etc...
I was impressed about my vocal style by FREE.
RTJ : And how did come the desire to play harmonica ? What do you think about your level with that instrument and about what it brings to the music of Savoy Truffle ?

MONJI : I thought that blues harp will match up to Savoy's blues songs.
I think that Savoy's blues songs were better than before.
RTJ : You also play guitar, especially acoustic guitar with the band.
Do you play another instrument ?

MONJI : I sometimes play electric guitar.
RTJ : Do you think that you could add your guitar more often to the band's performances
on stage ?

MONJI : If I continued to play as Savoy Truffle ,
I would play my acoustic guitar and electric guitar more.
RTJ : To say all when I received your live the first time, it was a great surprise that a band coming from the country of the rising sun could be able to send to us a music close to Gov't Mule but within recording its own tunes. Of course, we reviewed all of your records and I think that at that time we understood that the Southern Rock music could come from everywhere in the world and not only from the U.S.A. ? How did you discover Gov' T Mule ? Did you have the opportunity to see Gov't Mule live in Japan ?

MONJI : I heard about Gov't Mule from Toshi, and we started to listen their music.
We performed as opening act for them twice in Japan.
RTJ : How went your comeback in the band ? Who made the first step ?

MONJI : I realized that I liked rock music and performing in the band.
RTJ : What did you do during this last past years ?

MONJI : I worked for my family, and I brought up children.
RTJ : Did you follow the other members' solo adventures and backing Chris Duarte ?
Did you see them live ?

MONJI : I haven't seen their shows since I retired the band.
RTJ : So you recorded those two lives for this comeback, the first, « Live in Sendai »
was in a small club, can you tell us more about the way it happened ?

MONJI : A small club :"enn 2nd" was packed. Some young fans shouted me "He is a real Monji".
RTJ : In the second live, « Live in Yokohama » you play an over 15 minutes « Brother to Brother », this tune coming from your album Take To The Sky And Fly that sounds like the best of Gov'T Mule, do you think that this title allowed your to establish your reputation ?

MONJI : This song is the longest song in our songs, and it is the greatest song, too.
If this song gave us good repute, we are very happy.
RTJ : On those lives, no cover, but on stage you used to cover tunes like « Chevrolet » (ZZ TOP), do you still do it ?

MONJI : I usually play my original songs, but I will try to play some cover songs like them.
RTJ : Another surprising thing for me, no « Give me Temptation », the title that set me on my knees as I listened for the first time « Live on Our Way », is it something you wanted ?

MONJI : Yes, of course!!
RTJ : Do you thing that you will come and tour in Europe in the future ?

MONJI : Europe is very wonderful and great area.
We love Europe, but I won't be able to go there easily.
RTJ : Have you some anecdotes of your tour, in particular in Germany ?
The Japonese bands coming in our countries to play are quiet rare.

MONJI : I don't have secret stories when we had our tour in Germany, but a German band which had tour with us was very good.
RTJ : A question that comes very naturally, do you have the project to go to a studio to record
and do you have started to compose again ?

MONJI : Yes, my new band will start to go.
RTJ : How does Savoy Truffle's composition processus usually go ?

MONJI : I don't know . Another members are doing their jobs.
If we fit our feeling, we may play as Savoy in the future, but I don't know now.
RTJ : Will we have a DVD coming (it just exist a show from April 2004 but to our knowledge
it was never released) ?

MONJI : Our DVD will be sold on JOYFUL NOISE site (http://shop.joyful-noise.net/)
around November 11th.
RTJ : Monji, I've been led to believe that you also have a project with a local band,
can you tell us more ?

MONJI : I am feeling that the world became near because of Internet. We can watch many bands in the world and vice versa people in the world can watch our performance in Internet.I want to respect to European rock music fans. You are beautiful!
RTJ : Do you have something to wish to Savoy Truffle for the future ?

MONJI : I don't know Savoy 's future, but I want to say my appreciation to Savoy's fans.
RTJ : Last and traditionnal question, if you have to stay on a desert island,
what would be the 5 records that you would bring with you ?

MONJI : Grateful Dead/ Blues for Allah, Sly and Family Stone/ Fresh, Free/ Live!, Free/ Highway, Bob Marley and The Wailers/Kaya.