Interview PAUL HORNSBY May 2017
Questions by Philippe Archambeau, Yves Degand-Philippot, et Olivier Aubry.
Hello Paul, thanks for granting us this interview for Road To Jacksonville.
Can you introduce you to us and tell us the town you're from ?
I was born in Elba, Alabama and raised in the country, just outside a little place called New Brockton, Alabama.
Do you come from a musical family ?
My Dad played the fiddle. He played a style known as Old Time Fiddle Music, not to be confused with Bluegrass.
What were your first musical influences, what did you listen to at home as a teenager ?
Up until I was 14 years old, I mostly listened to my Dad & his cousins. As I said, my Dad played old time fiddle and his cousins played guitars. Then, I also began playing guitar and I listened to Chet Atkins and anything that was playing on the Grand Ole Opry on the radio on Saturday nights. I believe the biggest thing that hit me was the first time I heard The Ventures on radio. Man, when I heard that "twanger bar" I lost it. I had a religious experience. That was the closest to Rock & Roll as I had been. About that time Lonnie Mack came out with his instrumental, Memphis. That had a huge effect on me. You can see that my music idols early on were guitar players.
What was your route of musical learning ? Did you directly begin with the piano?
When I was about 8 years old, I started taking piano lessons. I wanted to take the lessons, not because I liked piano that much, but it gave me the opportunity to get out of class at school. I soon found out that I absolutely hated piano. I had rather been back in class doing arithmetic than playing the old corny stuff the teacher made me play. I was not allowed to play by ear at all. All the piano teachers I had, stifled any real creative ability I might have had. Well, I didn't learn very much from those lessons. I think about the only thing I retained from all that was how to play a scale and the proper figuring. After piano lessons, I took up harmonica playing a little bit. I would sometimes play along with my Dad & his music. I never got that great at it but at least it was something I could do without having to take lessons. When I was about 14, I fell in love with guitars. That's when I first got serious about playing.I found out pretty quick that girls noticed guitar players. Being extremely shy, I could use that to get attention from the opposite sex. I guess I became a pretty hot guitar player for the times. I later went off to the University Of Alabama in Tuscaloosa, Alabama and played in various Rock and Roll bands. Then, about 1964 I heard Eric Burden and the Animals. Alan Price with his Vox portable organ impressed me a lot. I thought that keyboard was the coolest thing I'd ever seen. The band I was in, was already playing their House Of The Rising Sun. I thought that if I had one of those organs, I bet I could play that tune. Before long I bought a Farfisa Combo Compact organ. I remember I got it on Monday and I played my first gig with it on Friday. I played the hell out of that thing & did as much with it as was possible during the next 6 months. Then I came across a Jimmy Smith album and discovered the Hammond organ. That changed everything. That was real organ playing. I had to have one right away. So, I continued playing guitar and organ about equal amounts for the next 10 years.

Besides the piano and besides the guitar, do you play other instruments? If yes, which one?
No, only piano/organ and guitar. I've never been much of a synth. player or midi-patched keyboardist. For keyboards, I stick strictly with standard piano and Hammond B-3.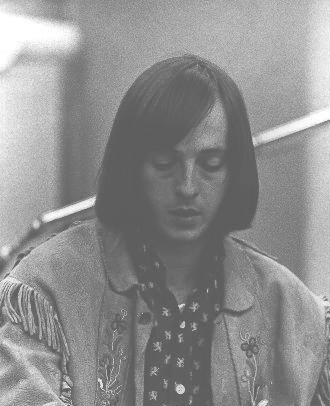 (At Hourglass recording session Los Angeles 1968)
In your opinion, what is the importance of this instrumental abilities in the training of your ear and in your producer's role?
I feel that having the ability to playis very important when producing. Its necessary to be able to communicate with the musicians on their level. As a musician, I've worked with at least a couple of producers who couldn't play a note. I didn't have much respect for them
Can you tell us how you began to play in a band with Men-Its (called previously The 5 Minutes)? What does this name mean?
Early on at college, I was in a band called the Pacers. We played a lot of university frat parties and such. By the summer of 1964 we all needed a break from school and the gigs associated with it. We got the idea to form a new band and go down and play for the summer in Pensacola, Florida. We added Johnny Sandlin on drums, Paul Balenger on keys & vocals, Charlie Campbell on sax, and Fred Styles on bass & vocals. With this group we renamed it The 5 Minutes. When we were asked by the club owner what the name of the band was, we quickly decided that we were tired of the name the Pacers. Somebody in the band said "give us 5 minutes & we'll come up with a name". That's simply how we named the band!
What was the line-up of the band ? Can you tell us more about Eddie Hinton who left us ?
After the summer in Florida, we returned to Tuscaloosa and played the usual college gigs with this same line up. At the beginning of the next summer of 1965, we reurned to Pensacola, replacing Ballenger with Eddie Hinton who played guitar and was on vocals.
At the end of the summer we again returned to Tuscaloosa and reformed the band again.This time it was me on guitar, Bill Connell on drums, Eddie Hinton, and Fred Styles. We were down to a 4 piece band. That following summer of 1966, we were back in Pensacola with Johnny Sandlin again on drums. Bill Connell had joined Duane & Gregg Allman in the Allman Joys.
You played guitar in the Men-Its, what was your style with Eddie Hinton ?

Hinton & I started playing more dual guitar parts, sometimes in harmony. I felt we were on to something with this style and we had more success with this band lineup than the ones before. That fall, instead of returning to Tuscaloosa, we decided to go on the road. Fred Styles dropped out and we added Mabron McKinney (The Wolf). We signed with an agent out of Nashville and played a string of clubs throughout the South & Midwest. It was then that we dropped the (5) from the band name & changed the spelling to MEN-ITS.
Why did you play almost no more guitar after the Men-Its?
Actually I played equal amounts of guitar & keyboards in the Hourglass which came after the MEN-ITS. The next year I became a full-time studio player and we had Pete Carr, a very able guitar player on staff at Capricorn. I was the only keyboard guy around for awhile till I started producing records.
How did you come to it to become a professional and session musician, in particular
in the Muscle Schoals studios?
I played occasional sessions in Muscle Shoals over the years before I moved to Macon to work for Capricorn. The 5 Minutes band had recorded a single up there in 1964, called "The Old Man". We got a lot of airplay in the college towns. That was pretty much the beginning of my studio work. Also, I would do occasional studio work at a studio called Boutwell's in Birmingham, Ala.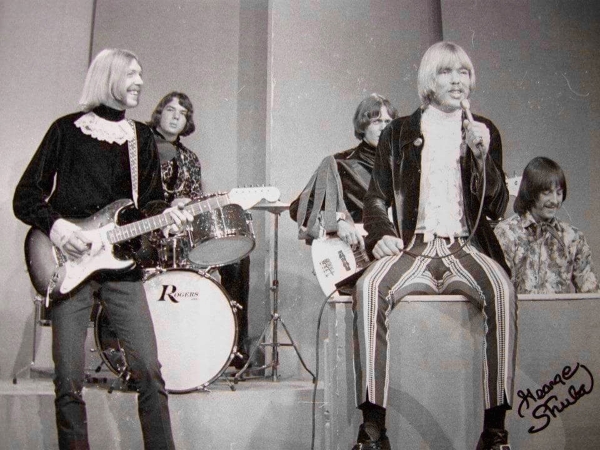 (Hourglass on set of Upbeat TV show
Cleveland, Ohio 1968 Paul Hornsby far right at piano)
You played with Duane Allman within "Hourglass". How did you meet?
In the summer of 1965, I was filling in for the weekend with a band from Tuscaloosa down at Dauphne Island, near Mobile. One of the band members had gone downtown to a local club in Mobile and came back raving about a group called the Allman Joys whom they had heard there. They invited Duane and Gregg Allman out to hear us on Sunday afternoon at the island. That was our first meeting. Shortly afterwards the Allmans started playing some gigs up in Tuscaloosa and I got to eventually hear them there. I remember Duane and Gregg coming over to my house when they were in town and me showing Gregg my Hammond organ. You could see he was taken with the instrument immediately. During this time he was playing a Vox portable.
How did the Hourglass set up ? Where does this name come from ?
After a few months on the road, the MEN-ITS broke up and so did the Allman Joys. Since we had become friends earlier on we were able to merge the two bands in the spring of 1967. After a few weeks of practice, our first gig was at a place called Pepe's-a-go-go in St. Louis. We played around St. Louis for about a month during which the Nitty Gritty Dirt Band and their manager came through town and heard us. Bill McEuen, their manager talked us into moving out to Los Angeles. By June of 1967, we had made the move to California and he became our manager. At this time the band now consisted of Duane Allman on lead guitar, Gregg Allman on rhythm
guitar and organ/piano, Johnny Sandlin on drums, myself on guitar and organ/piano, Mabron McKinney was on bass later to be replaced by Pete Carr. Gregg and I kept a hammond and a Wurlitzer piano set up side by side and traded off between those two keyboards and each also playing guitar.
What kind of music did you play in the Hourglass ?
We got signed to Liberty Records and did two albums while we were out there. Looking back on it, I guess we were the first "Southern Rock" style band. Although the term had not yet become in use. It being so different from the stuff that was being played out there, the label hardly knew what to do with us. Unfortunately, the direction they took us in wasn't successful. We disbanded a little over a year after we went out there.
Musically and humanely, what kind of man was Duane Allman?
Duane Allman may have been the only true genius I ever knew personally. He was brilliant, not only as a guitar player, but he had the ability and innovation and was truly an American original. I believe had he not become a great guitar player, he would have been somebody equally renouned.
After the split of the Hourglass, what did you do?
I moved back to Tuscaloosa, which was where I got my professional start. I fell in with some guys who mostly had a house gig at a place called the Chef Lounge. Tuscaloosa was full of great musicians back then and practically all of them revolved through that band. Every weekend had a different lineup in personnel to some degree. One version that started to stick together contained a young piano player who was only 16 at the time, Chuck Leavell. He played a Wurlitzer electric piano, I was on guitar and Hammond, and among the better known other players were Bill Stewart on drums (later a Capricorn session player) and Charlie Hayward on bass (later playing with the Charlie Daniels Band). We had the same formulation of instruments in the band (called the South Camp) that we had with the Hourglass.
How did you come to produce records in Studios Capricorn, and can you tell us more about the first one of them for the group called Sundown?
Things happened really fast during those days. During the year back in Tuscaloosa with the South Camp, I went up to Muscle Shoals to play on some demos with Duane Allman. He had moved there after the Hourglass. During this trip, I met Phil Walden who became Duane's manager. He hired me to move to Macon, Ga. to work in his Capricorn Studio in the summer of 1969. At first I was the resident studio piano player, backing various acts that Walden had under contract. Within a year I was asked to produce a local Macon group named the Boogie Chillun. During the recording of that album, the band broke up and reformed 2 or 3 times. I finally called up Chuck Leavell and some other Tuscaloosa friends of mine and asked them to come over and finish up the album. The final version of the album saw the band name changed to Sundown.
I won't make you chronicle every record you produced, but your second was the one of the Eric Quincy Tate, can you tell us a little more about it?
Eric Quincey Tate were a Texas band who relocated to Atlanta. Tony Joe White found them and brought them to Capricorn and they fell to my lot to produce them. They were a great bar band who just never broke out of that mold. The first album I did contained some great tunes that the band had worked up and played for several years. It was critically acclaimed as they say and sold respectively. However, when it came time for a follow up album, the band just could not come up with enough material to equal the former effort. Things were moving so fast in those days that the label just couldn't wait on them to come up with a follow-up.
You produced and played on several albums of the Marshall Tucker Band. What relations
did you have with these musicians?
They were my third effort at producing. To Phil Walden's credit, he really saw something in that band. They had previously recorded some demos in Muscle Shoals that nothing came of. Johnny Sandlin took them into the Capricorn Studio and nothing came of that either. Not giving up, Walden handed the group off to me and I was delighted to cut their first LP. I guess we were the right combination because their album was a smash right off.
Where We All Belong has a studio part and the other live, is it due to the fact that the band
gave its quintessence on stage?
I think most bands ultimately want to record a live album. By 1974 the Marshall Tucker Band had proven themselves to be a great live band. Their energy could not be easily contained in the studio. Yet Toy Caldwell was a prolific song writer who was turning out a lot of great songs. We decided to have the best of both worlds by doing a double album-one disc live with versions of their best of tunes from previous LP's and -a studio disc with new material hot off Toy Caldwell's pen. This album turned out to be my personal favorite and what I think is the definitive Marshall Tucker Band album out of everything they did.
Have you anecdotes concerning Toy Caldwell?
Ole Toy was like a "bull in the china shop" with everything he did. He didn't enter a room, he crashed into a room. Bigger than and full of life, Toy wasn't complicated, but was yet far from simple. A real Son Of The South. Just a hilarious individual. I miss him everyday.
Did really Toy Caldwell play only with the thumb and had he a sound as loud as it's said ?
Yes, Toy and his brother Tommy, who played bass each played with their thumbs. I was told that their father taught them to play that way.
How did you proceed in your work of producer, especially when there was numerous guests?
Well, each guest musician's role was thought out in advance. Most of the time each "guest" had already sat in live on stage and knew what they wanted to do when the studio date came up.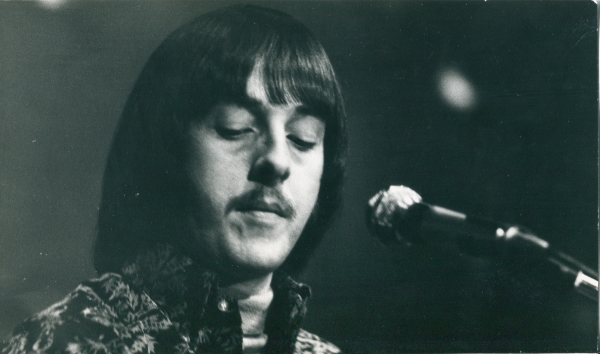 (At Whiskey A-Go-Go 1968)
What are your best memories of all these recordings?
Just the camaraderie that existed among Southern Rock musicians back then. I think it still exists today, sort of a brotherhood. Maybe its a southern thing.
You also work with Charlie Daniels and Grinderswitch, how did you meet Charlie Daniels ?
Charlie was signed to Paragon Agency out of Macon and his band were included on lots of package shows with other southern rockers. He became friends with the Marshall Tucker Band and often he would wind up jamming with them on shows. Charlie began to come in as a guest on some of the Tucker's albums. Consequently, we became friends and his music fit me like a glove.
You worked on Fire On The Mountain from the Charlie Daniels Band, Do you think that this record changed the band, in particular with the use of the violin?
In the fall of 1974, we recorded our first album together, Fire On The Mountain. That was his biggest record to that point and it turned out to be my biggest record of my production career. The first time I went to hear The Charlie Daniels Band prior to starting that album, I went over to Tuscaloosa. The band played a lot of Allman Brothers sounding material. They even had the 2 drummer thing going on. I thought they were very good but there was nothing distinctive about them until their last tune. On their encore, Charlie brought out the fiddle for the first time of the night and started playing the Orange Blossom Special. The audience went wild. I wondered why he hadn't brought it out sooner. I mentioned to him that featuring that fiddle was the thing to do. Within a few weeks, we were back in the Capricorn Studio working on what turned out to be the Fire On The Mountain album. To feature the fiddle, we did a little instrumental tune which we tentatively called "Fiddle Boogie". About the second day into the sessions, I mentioned to Charlie that it was a shame he didn't have any lyrics to it. It didn't sound strong enough to me to be a song on its own. I remember the last day of recording, and after much urging on my part, Charlie came in with a yellow legal pad. He said "cue up the tape and see what you think about these lyrics". He started singing lines such as "Ole Lynyrd Skynrd's picking down in Jacksonville" and "the Tucker boys are cooking in Caroline" etc. That's when The South's Gonna Do It was born.
What memories do you keep of these musicians? Do you still meet them sometimes for sessions or are you invited to join them on stage?
I see Charlie Daniel and Marshall Tucker occasionally. I sat in with both groups last year at the Georgia state fair. Also, I see Jimmy Hall from Wet Willie quite often and jam with him.
How were you brought to work with Two Guns?
Two Guns were a group brought in from Oklahoma by Phil Walden's brother, Alan. They had a couple of hot guitar players, hence the name. Unfortunately, they were about the last group to record for Capricorn before they bankrupted. I think they could have gone further if it hadn't been for bad timing on the label's part.
Do you know what became the members of this band?
I didn't stay in contact with them and have only spoken to them a few times over the years.
You also were the Volunteer Jams' producer, how did the recordings go ?
Those were huge projects and had the "Who's Who" of performers playing. They were a headache to try to pull some kind of live takes out of. During the early versions of those, it was pretty much 10 guitar players and 5 tambourine players going at it full tilt kind of thing... When you got the tapes back to the studio, you had to just try to pick out which one you wanted to listen to and pull up in the mix. I would have loved to have just been a member of the audience or to have played on stage rather to have been in charge of it.
From your point of view, what are the best organs and pianos you played ?
That's an easy one. I like a Yamaha or Steinway grand piano. Sometimes a Wurlitzer electric piano for a vintage "Ray Charles" sound. For a stage rig I have a Yamaha digital which I like a lot. As for organs, it's gotta be a Hammond B-3, or C-3 which is basically the same thing. A Hammond A is good too.
You play firstly the piano, rather than the organ, is it voluntary?
Do you feel more at ease with the sensory touch of the piano?
Actually, the first keys I played professionally, were organs. I always considered myself foremost as an organ player. Then I got acquainted with Dr. John, who I toured with for a while. He lit a fire under me regarding piano playing.
I come with your first record called Red Hot, Vive le Boogie !, where and how was it recorded?
A couple of years ago, I was asked to headline a blues festival down in Dothan, Alabama near where I was raised. Over a couple of months I worked up several tunes that I thought I could pull off vocally. They were pretty ambitious endeavors as far as performing piano on them too. The show went over so well that I was hyped into thinking about putting the tunes on CD. I took the reverse process in recording this time out. Instead of cutting the music tracks and then adding my keyboard parts last, as I had always done when recording other artists, I decided to cut with piano and drums first. Everything else was added later. That way the bass parts followed my left hand on the piano. That left hand is the important thing on the kind of music on this CD.
For us, this record is a real hymn of love for the Southern music, as this Ray Charles's title " Hallelujah I Just Love Her So ", or Fats Domino on "I' m Ready", is it also your feeling?
I love anything Ray Charles ever did. Also the New Orleans influence has always been in my blood. With the Creole-New Orleans-Mardi Gras feel of most of it, we came up with the subtitle of "Vive le Boogie".
Your version of « Corinna, Corinna » is slower than the one of Johnny Carroll, what directed you to it ?
It was just an old tune that had been played for 100 years. I listened to countless versions and we kicked it around until we were able to come up with a New Orleans-boogie kinda feel for it.
The furious boogie " Red Hot " (popularized by Billy Lee Riley then by Robert Gordon) sets fire to this album, can we say that you enjoyed yourself by inviting your friends, among others Bill Stewart, Lee Roy Parnell, Chris Hicks, and many others?
It was pretty much the same story with this one. We took what was a Rock-a-Billy tune and added the piano left hand and sort of made it a Rock-a-Boogie tune. Sort of a hybrid.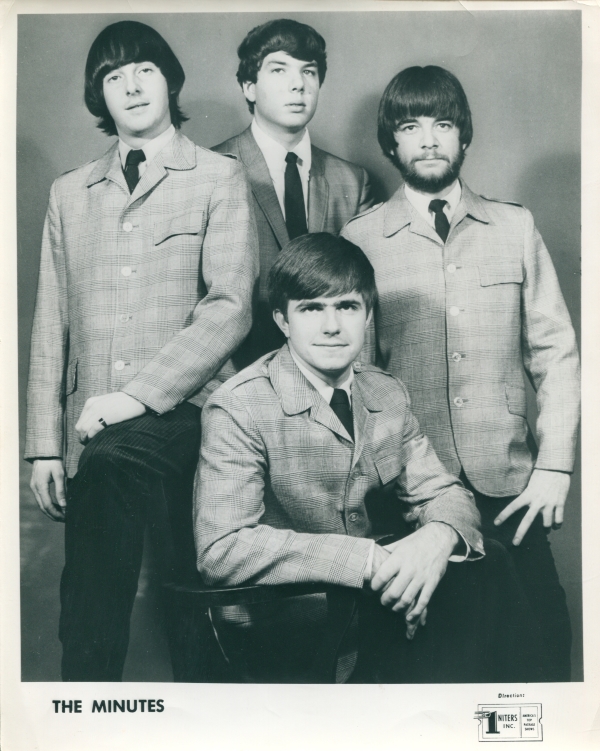 (1966 On the road with the Men-Its. - P. Hornsby left - Johnny Sandlin rear center - Mabron McKinney right
Eddie Hinton front center)
Do you know Blackberry Smoke or Whiskey Myers? Did you see them live in concert ?
I know some of Blackberry Smoke and I like them a lot. I haven't seen them live yet but have caught some of their stuff on YouTube.
If a young band comes to see you, what would you advise to it to improve in 2017? How would you help it to choose a good manager and a good producer?
I'd advise them to come up with an original sound. That's easier said than done. Its hard not to try to emulate your idols but you gotta do it. One day you'll just strike that groove and you'll know that you've found it.
Last and traditional question here, if you had to stay on a desert island, what are five records which you would take with you?
Anything by Ray Charles or Dr. John. Also Red Hot by Paul Hornsby :)
Copyright © 2013 Road to Jacksonville
Webmaster : Patrice GROS The Sound Of Chicago The best of Blues Rock in France
Tous droits reservés.
Design par Zion pour Kitgrafik.com