INTERVIEW PAT TERRANOVA(Rambler) August 2017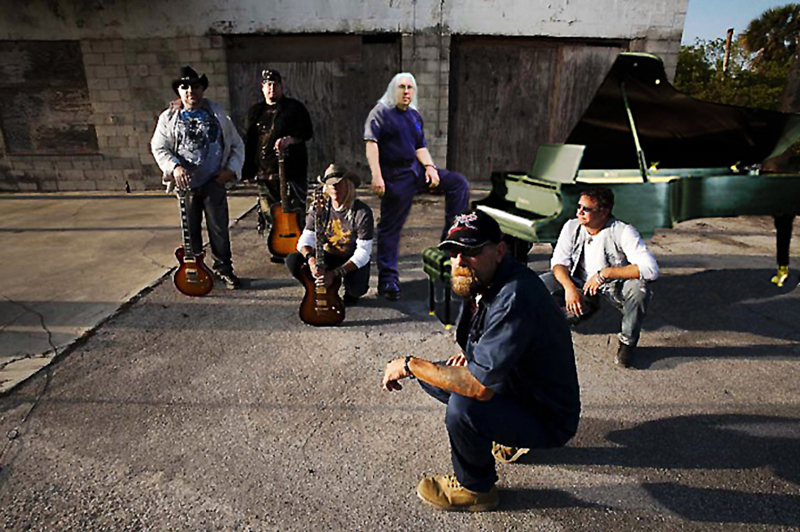 RTJ: Hello PAT, first of all thank you for accepting this interview for Road to Jacksonville, webzine dedicated to the Southern Rock since 2001 in English and in French.First of all, I would like to return on your debuts, can you remind to us where you come from in the South?
Pat Terranova : We are from Fort Lauderdale, Fl.
RTJ: Do you come from a musical family ?
Pat Terranova : Not really, I'm the first in my family to do music.
RTJ: What were your debuts in a band, which was your musical route before Rambler?
Pat Terranova : I started writing songs when I was 18 then I started Rambler.
set up Rambler? Is it really in 2003? Can you present us the members of the band, former and current?
Pat Terranova : I started Rambler in 1993.
Former members : Jimmy Quitani/ Guitar, Rick Cuccia/ Guitar/Back up vocals, Dave Baziki/ Drums, Willie Cussier/Bass - unfortunately Willie has passed away.
Current line up since 2001 : Rich Pierce /Guitar, Sam Jochananov/Guitar, Adam Jason/Guitar - Back up Vocals, John O'Brien/Bass - Back up vocals, Brian Webster/Keyboards, James Porreca/ Drums who passed away November 27th 2014. His son Johnny Calia has replaced him.
RTJ: We had already chronicled the first album of Rambler in 2004, First Things First, can you tell us more about this record, who composed the songs?
Pat Terranova : Well this album and the songs that are on it took years in the making. I composed 80% of the songs and the band and I collaborated on two of the songs "Sleeping with the Devils" and "Redneckin Witcha". "Suns a Risen" was written by Adam Uhlan.
RTJ: It seems that you played some of them before the set up of the band, is it true ?
Pat Terranova : Yes, I've played these songs as I've written them.
RTJ: What were your main influences ?
Pat Terranova : My main influences in writing songs are my life experiences and or others. Just trying to keep it real.
RTJ: What does the record sleeve of First Things First represent ? Who made the sleeve ?
Pat Terranova : Well the cover of "First things First" represents the dirty South and how I envisioned it and it was designed by Dro Simoes.
RTJ: How much records of your first CD did you sell ?
Pat Terranova : We've sold almost 100,000 copies and 55,000 I've sold single handedly hitting biker events and Nascar all over the country.
RTJ: Did you tour a lot for First Things First ?
Pat Terranova : Yes we played a lot back in the day for the first CD with some of the biggest bands in the world like Lynyrd Skynyrd, Molly Hatchet, Marshall Tucker, Blackfoot, Charlie Daniels and so on.
RTJ: Can you talk about James Porecca, your drummer disappeared in 2014 ?
Pat Terranova : Losing James Porreca was one of our biggest blows, he was not only my drummer but one of my best friends. He truly believed in me and my talent and through all the things I put my band though, he always had my back. If it wasn't for him we would've never recorded the new CD.
RTJ: Close to ten years after the first record, you released in 2015 « This Town Ain' t Pretty ». This title is the last one of the record, with magnificent acoustic guitars, about what this title talks about?
Pat Terranova : Well I wrote "This town ain't pretty" a long time ago about being heartbroken over many things in life and James and I thought that it was time to put it on a CD and also James said that if we didn't put it on the CD he wasn't going to pay for the recording. True story.
RTJ: How and where did you record this CD ?
Pat Terranova : We recorded it at the same studio that we recorded the first CD and that is because my good friend and engineer Marc Loren always has my best interest at heart.
RTJ: How do you compose your songs, alone or sometimes accompanied ?
Pat Terranova : It all depends, I mostly write alone but if we feel something in rehearsal and if it sticks we go with it. Example "Sleeping with the Devil" started off with a riff that Rich Pierce played and Sam started with another one and the band went with it.
RTJ: Who is Marc Loren ? What does he bring to the band ?
Pat Terranova : Marc Loren has been a friend for 30 years. He was the sound guy at a club I used to bounce at called the "Treehouse" where bands like Marilyn Manson and Saigon Kick as well as other bands got their start out of South Florida during the skinhead revolution back in 1989 then the early 90's. The death metal bands would play and my job was to protect the equipment, the employees and the people who came to see these bands and I've saved Marc's life more than once so he kinda owes me....lol
RTJ: About what are talking your lyrics ?
Pat Terranova : Well what I talk about in my lyrics are things that most people can relate to like drugs alcohol and heartbreak. I always say that my songs are songs that make you think about life. RTJ: « Can't you hear my heart cry » is magnificent and evokes a little Molly Hatchet's « Goodbye to love », is it a will ?
Pat Terranova : "Can't you hear my heart Cry" is basically a love song that I wrote many years ago. I don't know what you mean by, is it a will, but I am very proud of it.
RTJ: « I don't blame you » has extremely beautiful guitars at the third, Rambler seems to be one of the rare bands today to keep playing with three guitars as Skynyrd, Molly Hatchet, etc. Is it a signature for you?
Pat Terranova : Absolutely, I believe that any great Southern Rock band such as Skynyrd and Hatchet has to have at least three guitars in the band to compliment each other and it keeps the true Southern Rock sound alive. As for "I don't blame you" I basically wrote this one in Georgia on top of Red Top mountain and it is dedicated to anyone who has ever loved me and that goes from everyone from my mom to friends who had to put up with my craziness and instability through out my life and couldn't take it, so they ran away.
RTJ: How can we get your CDs ?
Pat Terranova : You can order both our CDs on any download sites such as ITunes, Amazon , CD baby and so on.
RTJ: Why did you wait such a long time to make another record ?
Pat Terranova : Well while we were out supporting the first album the band and I went through some pretty trying times throughout the years I've suffered personal issues that caused me to turn to drugs to escape the pain and reality of life, so all I can say is thank god my band stuck with me through all that and I'm clean now by the Grace of God and another thing I say is " you've gotta live it to write about it".
RTJ: Have you some anecdotes about some openings you did for well known bands ?
Pat Terranova : We've been fortunate enough to share the stage with some of our heroes and in turn are the biggest bands in the world such as Skynyrd, Charlie Daniels, Molly Hatchet, Blackfoot, Marshall Tucker, Artimus Pyle and so on and so on.
RTJ: Do you know a band that made an album in 2001 and called Mason Dixon Band ?
Pat Terranova : I'm not familiar with the band called Mason Dixon band but I will definitely check them out.
RTJ: What are the new current Southern bands that you know ? Blackberry Smoke ? Simple Southern Boys ?
Pat Terranova : I've been fortunate enough to meet a lot of bands that I'm able to call my friends such as Blackberry Smoke, Jimmie Van Zant, who I played a benefit for in Panama City with Coconut Harley (harmonica player for Charlie Daniels) before he passed away. Had the honor of having Artimus Pyle play on three tracks on our first CD including "Skynyrd Fantasy" "Whiskey Drinking Eyes" and our hit "Liquor in the front and Poker in the Rear", had the opportunity to record a song at Steve Grisham's house who is the guitar player for the Outlaws. So yeah I've had the pleasure of meeting a lot of my heroes.
RTJ: Last and traditional question, if you had to stay on a desert island, which are five records which you would take with you ?
Pat Terranova : The five records I would bring with me would be of course the two Rambler CDs, Lynyrd Skynyrd "First and Last" and "Street Survivors" and Pink Floyd's " The Wall".

Copyright © 2013 Road to Jacksonville
Webmaster : Patrice GROS
Tous droits reservés.
Design par Zion pour Kitgrafik.com