Interview REBEL PRIDE (by John Molet)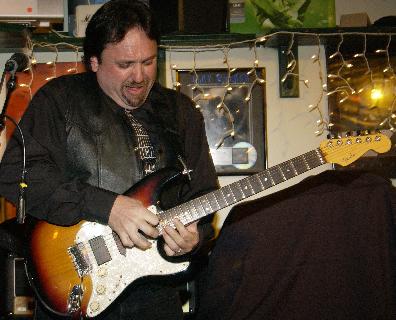 It seems that Rebel Pride maybe one of the Southern Rock music revelation of the year 2005, so we are happy you can answer to some questions for the French website 'Road to Jacksonville'!
RTJ: First, for the French fans, can you tell us Rebel Pride story?
Tom: Rebel Pride formed in 1996 as a vehicle to promote a country singer by recording demos.
The band quickly began performing in the Tampa Bay area frequently. In 2002, the band changed with the elimination of the country singer and pursued a more guitar driven southern sound. Pat Buffo and Sonny Harlan are the most recent additions to the lineup and have been a part of the present lineup for two years
RTJ: I have seen you live in Florida, at Tampa Bay, so you must know very well the Outlaws.
Tom: I have been talking to Hughie about producing our next CD on the phone these last
two weeks.
RTJ: Are they a main influence to you ?
Tom: They are one of many influences and a personal favorite.
RTJ: Can you introduce to us the guys in the band and their main characteristics?
Tom : Pat Buffo our lead singer is a great songwriter, southern style vocalist and multi-instrumentalist. Tom is also multi-instrumentalist, vocalist, songwriter and teacher.
Brian is an awesome guitarist, songwriter who occasionally will sing and play keys.
Dave is a solid provider of the low end while his partner in the 'one two punch rhythm section" Sonny, keeps great time to drive the guitar heavy sound. Sonny is also a fine songwriter
guitarist and singer.
RTJ: Do you have all in the band the same musical roots and influences ?
Tom : No we share many of the same influences, especially southern rock, but our individual tastes range from punk to jazz to heavy metal, country and folk, bluegrass jam bands,
you name it.
RTJ: I have just made your album chronicle and I have written that Rebel Pride is a kind of melting pot of Southern Rock, Blues and Country.
Tom: Am I right? And then some.
RTJ: When I first listened to 'Stomps Yer Foots', I have thought that this song was very close, in the vocal part, to Danny Joe Brown voice (sweet Dixie!), don't you think ?
Tom: Pat's vocal is reminiscent of Danny Joe to many people but not an attempt to imitate. Although Danny Joe is an influence Pat's style is all his own. You really see it in our live shows. He is quite a character; last night at our yearly New Years Eve blow out, he had me laughin' in the middle of our show making it difficult to concentrate on my parts

RTJ: I also find very well the guitars choruses (Stomps Yer Foots, Gitittion, Tampa Bay, etc…) and a great 'fuckin' sound. How did you learn and work guitar when you were young, and which are your guitars now?
Tom: I started playin' guitar at the age of seven. Allot of my musical knowledge on the guitar came from imitating southern rock records. I play all Fender stuff ( Strat trough a Cyber-twin)
Brian plays a Les Paul through a Marshall. Pat plays Chet Atkins or a Parker through a Line 6.
Dave plays a G&L Bass through a Hartke amp and Sonny plays Pearl drums.

RTJ: My favorite song is 'Getting Closer', that I find very close to Molly Hatchet's first album. ToWhat are your songs talking about?
Tom: Good times, fun, Southern music and general debauchery
RTJ: Talking about Molly Hatchet, what do you think about the difference between the original band and today's Bobby Ingram band?
Tom: Both are GREAT!!!
RTJ: What are your best souvenirs with your new band?
Tom: Big shows, good times, with the bandmates and fans, and makin'' a few dollars along the way playin' music.
RTJ: Do you earn your living with music ?
Tom: Only on a good week.
RTJ: Do you totally feel a real Southern spirit and soul ?
Tom: If you live in the South, you cannot help but feel it.
RTJ : Has the rebel flag a true signification to you ?
Tom: Only if it signifies that there is a little bit of Rebel Pride in all of us.
A rebel is "one who defies authority". We are all guilty of that from time to time.
RTJ : I guess that with 'Survive' you wanted to create a Southern classic album, like many Southern bands did at their beginnings (Skynyrd, Hatchet, Doc Hollyday, etc…and even the German band 'Street Survivors' whom we took the song 'Road to Jacksonville' for our website name). Do you still play 'Survive' in the same way or do you sometimes play it in a different version when you want to improvise ?
Tom: The solos my deviate from the original recording on a nightly basis but the structure and feel improves with every performance.
RTJ : Is your album available on the music market and where can we find it ?
Tom: CDBaby, Amazon.com, itunes, ebay, Borders Books and Music, our site www.rebelprideband.com Various online record shops in France and Germany. And many more
RTJ : From the United States, how do you consider the European and French music ?
Tom: The French music influence comes to us by way of our own New Orleans, Louisiana and we have been influenced by British bands and German bands
RTJ : Traditional question on 'Road to Jacksonville' (fans enjoy it !), if you have to end your life on a desert island, what should be the albums you take with you ?
Tom: Allman Brothers- Fillmore East and Eat a Peach, Johnny Winters -Second,, The Band, Marshall Tuckers First, Molly Hatchets First, Skynyrd- Street Survivors, and since its a desert island a taste of Jimmy Buffet. Ha-ha just kidding.
RTJ : Have you something to say for the French fans ?
Tom: We would love to come to France to play for you live. I hear ya'll make great wine.
RTJ: I thank you Tom for your answers, and I think that the French (and from everywhere) fans will sure be impatient to discover your music!!!
Keep on south rockin'.