Interview KUNIO KISHIDA
February 2008 ( http://www.kuniokishida.com/ ) Yves Philippot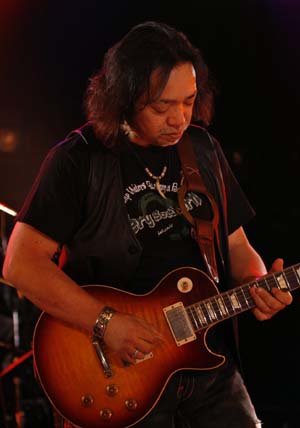 RTJ: Hello Kunio, it's a great pleasure for us to make this interview.
First, we have to describe for the RTJ readers what kind of man and what kind of artist you are, because you're not yet well known from the european people.
So, where do you exactly come from?

Kunio :I'm a Southern blues rock guitarist, singer and composer from far east Japan.

RTJ: You're a very original character: you are a Japanese, living in Japan from the business
of your guitar shop, but also composing swamp music and recording from time to time southern rock CDs in the U.S.A. with the best musicians in this style. Is it now difficult for you to lead those different lives? Did your clients have now a different look on you after your first record?

Kunio : Thank you. It's long story. Of course, I'm a Japanese. But I've been living with blues rock music since the late 1960's. I was influenced by Eric Clapton, Michael Bloomfield, Duane Allman, Dickey Betts, and other blues rock guitarists. Also I've been in the USA often since 1976.
I have many American musician friends. I had chance to play guitar with them when
I visited USA. I didn't play the guitar from 1976 to 1988 many times because I retired as a musician. I started to work for a musical instrument store. Then, in a hospital bed after a bad car accident, I decided to play the guitar again. I opened my own music store, "Nancy", in my home town Nagoya in 1988. Then I had a chance to join the Allman Brothers Band on their Japan tour
in 1991. When I was driving in my car with Dickey Betts, in my hometown, he said to me "Kunio, let's start playing your original songs." I was surprised at what he said at first, but I started writing my original songs.
A friend of mine, Jerry Wasley Jr., who lived in Birmingham Alabama, visited Japan
in June 2001 and saw our concert. Jerry called me and said, "Let's make your CD in Alabama, USA. Mr. Johnny Sandlin will help you make your CD and many famous southern musicians will come
to Muscle Shoals Sound Studio to play on your recording." So I flew to the Atlanta airport with my old guitars on May 31, 2002. It was amazing! We only took 4 days to record this CD, "Swamp Waters." We almost completed the basic parts of 12 songs in 2 days. The other days we overdubbed vocals and guitar parts. We really felt like we were a band. I contracted the CaneHedge Records Alabama. I deeply thank Dickey Betts, Jerry, Johnny and all the members.
In 2004, I could contract Japanese major record company "King Records Japan" after I finished the 2nd solo album "Alabama Boy" in Muscle Shoals Alabama again. Many Japanese music magazines interviewed me. I could do a Japan tour every 6 months. And I go to play my gigs in Dallas, Texas every 6 months as well. It is not easy. But I'm enjoying my life.
RTJ: Why did you this long way between your vintage guitar shop and the Muscle Shoals Studios, except because of their reputation? Have you ever recorded in Japan before those marvelous experiences with great musicians?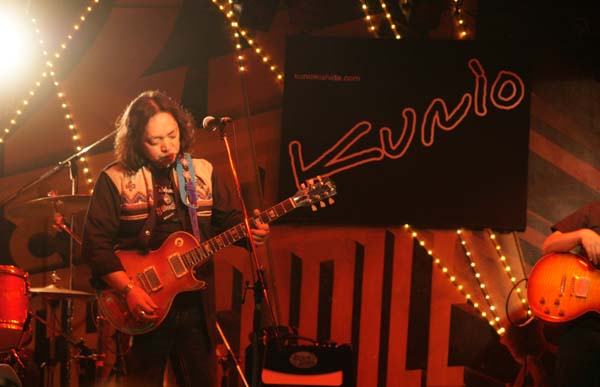 Kunio : It is simple. I wish to make the Vintage guitar sound CD for our customers. Jerry recommended to record my first solo album in the USA. Jerry's friend introduced me to Johnny Sandlin. Johnny called his friends who are famous southern rock musicians. It became such a big project. I had no experience playing with great musicians. I only played slide guitar for Japanse artists on their record during the 1970's and 80's because there were no good Japanese slide guitar players. That's why Japanese record company hire me for playing slide on new Japanese artist records sometimes.

RTJ: Is it difficult to live as a musician, and especially a southern rock musician in Japan?
Kunio : Yes, it is difficult to live not only as a southern rock musician but its also difficult for all of kinds rock musicians in Japan. There is big hip hop music boom here. Young kids are not interested in blues and southern rock music.
RTJ: How did you feel when you had your first session with those musicians?
Kunio : It was dream come true. I was excited to go to the Muscle Shoals Sound Studio in Alabama. Many famous Southern musicians helped to make my album. They were so kind to me. I did not feel any pressure. I could enjoy it.

RTJ: How did you manage them? Did you write the arrangements before coming at the Muscle Shoals, or did you give simple chords bars, letting them choice how to play?
Kunio : I did not need to manage them. They knew everything. I brought my several original songs to Muscle Shoals. Most songs were influenced by swamp or southern Rock. I've done the arrangements before I left Japan. Johnny and Jerry converted chord to Nashville number charts before I went there.
RTJ: How did you begin to play music?

Kunio : I started to learn classic guitar songs in the early 1960's.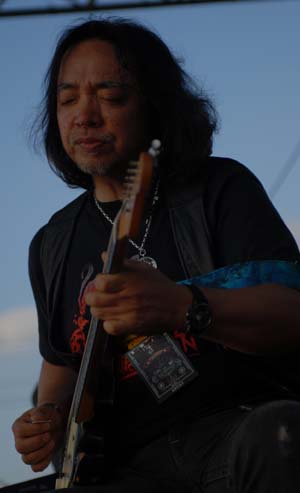 RTJ: Your instrument, I should say, your passion, is the guitar. How did you choose it,
and why is it now your great passion?

Kunio :The craftsman who always worked in a company of father played the classic guitar. I wanted to play it when I was 10 years old. My father presented me a cheap Japanese classic guitar. The Beatles boom came in Japan in 1964. I loved electric guitar. I heard Eric Clapton play a Les Paul in his Bluesbreakers day in 1965. I've never heard that kind of fat and warm sound. Then I heard Mike Bloomfield, Duane Allman and Dickey Betts play the same model.
I became a crazy Les Paul lover. Of course, I love the other guitars (Explorer, ES335,
Strat and Telecaster) too. These guitars still give me many passions, emotions and ideas.
RTJ: How did you get interested in blues, shuffles and swamp southern rock like you are?

Kunio : I was influenced by Eric Clapton at the Bluesbreakers in 1965. Then I listened Michael Bloomfield and I listened the Derek & the Dominos. I loved Duane Allman's slide guitar play. I love Dickey Betts too.

RTJ: You have a remarkable way to play slide guitar. How did you decide to add this way of playing to more "classical" ways?

Kunio : In 1969, I heard Duane's slide play. His playing knocked me out and grabbed my heart. After Duane's death, I always try to play slide guitar that sounds like a voice.

RTJ: Surely, Duane Allman influenced you, but do you have other influences in slide guitar?

Kunio : No! I was only influenced by Duane. After Duane died in 1971, I heard Ry Cooder and
other slide guitar players. They are so good. But I was not interested. I still only love Duane now.

RTJ: When we listen to some of your songs, we often think about J.J. Cale, Eric Clapton and the Allman Brothers. We know that the ABB is a great influence, but what about the other "laid back" stars? Did they influence you in your writing?

Kunio : I really love swamp and southern rock. I was influenced Delaney and Bonnie, the Cowboy (Scott Boyer and Tommy Talton), Don Nicks, Eddy Hinton and more.

RTJ: When you sing quiet, or laid back songs, you have a sweet and very pleasant voice, but it doesn't work as well with more punchy or demanding songs. Do you think that your voice will be better and better if you tour more and more, or that you need some lessons to develop it, because you have now to take care of this point, or do you think that someone else could sing some of your songs better than you do?

Kunio : Yes, I agree. I'm not a singer. I'm a blues guitarist and composer. My first plan was that I should hire another vocalist. But Jerry strongly recommended that I should sing because it is my solo album. I did not want to do it. They said Scott and Bonnie would do back up vocals. After the recording, I started going to vocal training. I believe my singing voice is getting better now.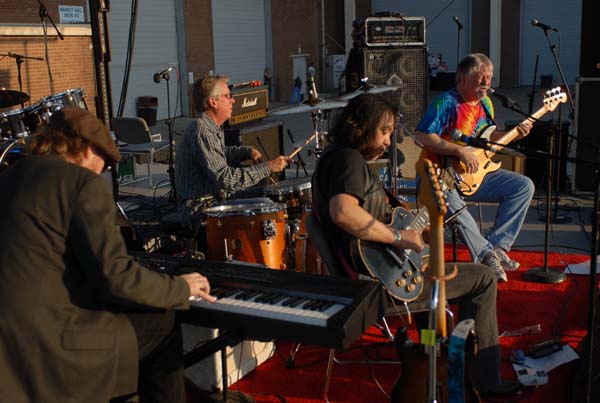 RTJ: One of my great pleasures, when I read the notes of your albums is how carefully you specify exactly the guitar you took to record this or this part of the song. Is it very important for you to be transparent on this point, or is it professionnal reflex, or simply a consequence of your love for the instruments?

Kunio :This is for my fans and other guitar lovers. I seek out how the guitar legends make their own sounds. If they like the guitar sound, I need to tell what guitar was used for them.

RTJ: Last but not least for our readers: if you have to spend the rest of your life on a desert island, what are the five albums that you would take with you?

Kunio : I can't choose. I love many good albums.
1) Duane Allman "Anthology vol.1"
2) The Allman Brothers Band "Live at the Fillmore East"
3) Gregg Allman "Raid Back"
4) Swamp Waters
5) Alabama Boy
Thanks Kunio, it was really a pleasure for us, and we hope that this interview will allow our readers to know you better and to want to buy your records.