Interview NATCHEZ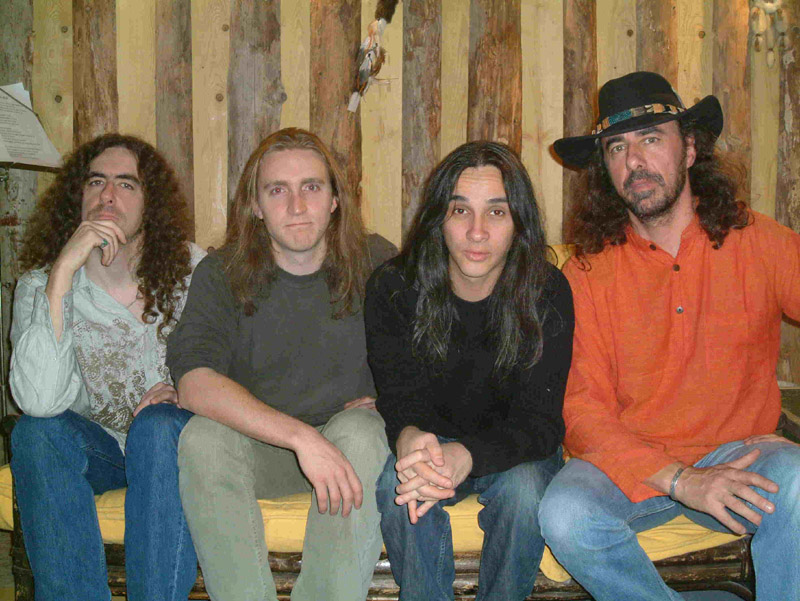 2006 begins at its best with Natchez new album. Is it necessary to introduce to you this very good band that shows year after year that they are one of the best Blues-Boogie-Rock group in France. So, even if every fan in France knows everything about our Indians from the Champagne district in France, we thought it could be interesting to talk to Thierry ("The Boss") as soon as the band left the recording studio.
Hi Thierry, so here finally is this new album. I think you'd preferred to get more time to analyse these new recordings… but sorry, as I can ask you some questions, I do it !!
So, in fact, everything's alright for you. How did all begin, how did it work, how did it end ?
Here's a nice question !
Since the first album back in 1995, we try to create a new cd every two years, and now it's been 3 years since 'Paradis avec toi'. We are a little bit late…. You know, when a new album is out, we try to create new songs, but time is really going fast… So, in January 2005 we wanted to go to the recording studio, but 'Retour à la Source' was only recorded at the autumn of 2005 and will be available in February 2006.
We went to Fred Rochette P'n'F's recording plant in Chalons-en-Champagne (near our home!) to make this album. Fred is an old friend and we already worked with him in 1998 for our 'Live' album and for our 4-songs cd 'Chaman'. We knew the man we were working with and we really were confident to do the recording. P'n'F studio is very famous in France, especially for Hard Rock music, so it was the perfect place to get a heavy sound, just like what we were looking for !
And we got real good feelings together, so perfect conditions to record ! I can tell you that it was really great from the beginning until the end, it's nice, isn't it ?
Why the title 'Retour à la source' (back to the beginnings). Does it mean something about Natchez first albums ?
Yes, absolutely. Let me tell you…
As soon as 'Paradis avec toi' was out, Natchez has lost his rehearsal room, because the town authorities told it was no more safe and for security reasons… I was really angry about that ! We rehearsed for twelve years there… It was hard for us !
The solution was to build our own rehearsal studio, and we did it at my parents'farm in a small village called Somme-Vesle where I was born. The first songs of 'Retour à la source' were created in this new place. And our band, Natchez, was born in this same village in 1987.
Nice story, isn't it ?
Before talking about this album, let's talk about your band Natchez. How did you do to play together for so long ? It is not usual in the French rock music…
I think we were lucky. You know we created the band, my brother Manu and I, and as we are brothers, it was easier. Dédé the bass player arrived in October 92, and he is like our brother too. And Ben, our drummer who arrived in October 98, is the coolest man in the world!
So, you can see, everything's perfect for us. We are never arguing and we do have the same wish to play Rock n' Roll…
Don't tell me you never have had problems with the band ?
Yes, obviously! We got eight drummers since we began, you imagine ? I must admit that I was really close to stop everything in 1998, but Ben arrived at this moment… This boy, thirteen years younger than I, had no experiment but was really gifted. We bet everything on him, and bingo ! I can tell you he is a really good drummer, easy to live with and to play with !
When we listen to that new album, I think I can tell that Natchez fans won't be disappointed. It seems that this is the best band recording, don't you think ?
For me, it is obvious ! I must admit that it is the album on which we spent the longest time, to prepare it and to record it. I have joined my heart to this album ! I believe that we enjoined our new rehearsal area… it really moved me !!!
Now the audience will judge it… I also think that fans won't be disappointed, but I know that some may prefer 'Brut' or 'Paradis'. That's always the same !
So let's talk about the songs. Do you write them alone or with Manu your bros ?
In fact, to tell everything, we rarely write together. We always do the same, someone brings an idea, we work about it and we try to play it in the studio. For this album, Manu brought four songs -one on a Ben's rhythm (I have to call him!)- and I brought the seven other songs… Always (or because) our new rehearsal studio!!!
The first song 'Tais-toi' is very hard. That's the real Natchez, isn't that ?
Manu created that song. I love it !! It is the first of the album because it is an 'easy' song, a little bit like AC/DC. 'Tais-toi' should be enjoyed by a large audience, I hope…
'Bad Boys' is one of my favourite songs, but isn't there a special message in the text ?
It is true. I think that it is about what we have seen some weeks ago in the suburbs in France ! I'm pissed off when I see some kids in the streets all night long, or smoking hashish at 12 years old, to try to do like their older brothers ! I don't want to criticize them, but where are their parents ?
I do enjoy 'Trop Fan' too. What is this song about ? Explain us…
You can think about who you want ! When I wrote this song, I talked about what I lived with Ronnie Van Zant who is a kind of god to me, and the way some fans do sometimes !
I agree with you, this is a good song. I must admit that we were afraid to record it. It was hard to be recorded, but we did a good job I think !
Often in your texts we can feel you are nostalgic because of today's life (ecology etc…).
So, tell us, who are really the Aeschbach brothers ?
Nostalgic ? No I don't think. You know, I'm just 40 years old now and it hurted me. I know it is stupid, but that's the way it was. So because I'm older now, that the kind of text I write now. Is it good or bad, I don't ask me, I write what I'm feeling but it is true that what I write is deeper that what it used to be. I simply think that I'm more sensitive than before about what happens in the world today !
I don't want to joke but I've seen that you talk a lot about drinking and about the bottles, about the pubs, etc… to write some songs ('Rouge ou Blanc', 'Coude sur le Bar', 'Bacchus te protège'…). Now you give us the song 'Encore une fois' (that looks a little bit like Skynyrd's 'Devil in the Bottle'). How do you explain you talk so much about that, is it a special inspiration for you ?

Easy to write about alcohol and pubs ? No, but it is true I often write about it. Impossible to play Rock n' Roll without talking about alcohol, don't you think ? I love that song, it is so true…
Ha ha ha, That's the real Natchez spirit. I also think that 'Hey Gringo' is about a president you don't really enjoy, am I right ?
Right ! It's hard to understand what happens in the United States when you know their president. Have you watched Michael Moore's Fahrenheit 9/11 ? I'm really frightened about it!!! It is not a special Natchez spirit song, but this is the hardest text I ever wrote, but I think I had to talk about it, we are all involved…
However I love the United States and their fuckin' good Rock n' Roll !!!
Like many Southern Bands, you talk a lot about your family. You told us before of Ian, and now you introduce Léna to us. Are you a happy father ?
Honestly yes ! I m' crazy about my kids, even if they sometimes are difficult !
I wrote 'Bienvenue' when my son Ian was born and I wanted to write a song for my daughter Léna too. I called it 'Léna' and I'm proud about this song ! When you write such a song, it is like magic !! I hope my children will enjoy them later…
So back to the recording. There are some guests on this album, tell us about them !
We got some guests because we were recording near our home. I wanted to do it for a long time now, it was cool. I'm sorry you are not on this album John, but I hope we can meet again and record another time ! So our guests : Alan and Christophe, two guitar players, and Fred, the singer, of the band Plug n' Play ; there are great musicians and our friends too. There is Manu Ducros on keyboards who was on the previous albums too, he is so good ! Dom plays a solo on 'Bad Boys', he is a gifted guitar player and a kind dude. Rital, on guitar, played on 'Rock n' Roll Susie'. This man used to play in a band called 'La Dynastie des Coyotes' where my brother Manu played some time. They played that song together and we wanted to get this great duo back ! And Iggin's made the choruses on 'Hey Gringo', he is a friend of us and a wonderful singer !
I said a lot of congratulations about our guests, but if they are our guests, it is because we really do enjoy them !!!
Rock' n' Roll Susie…this is a good cover song, and honestly I think that Pat Travers
should enjoy the way you played it !!
Thank you John ! It's right that it is a real good song. I must admit that we played it some years ago, at the beginnings of Natchez… It is the real 'Retour à la Source' !!!
There's something that always surprise me with Natchez, you never made a dvd recording even if it seems very important today ?
We obviously thought to do one, but we are not ready for the moment ! We got some ideas and some meetings… but nothing is still done.
In may 2007, it will be the 20th anniversary of Natchez, so maybe…
By the way, when and where can we find this 'Boire à la Source' (Drink at the Pub)…
I meant 'Retour à la Source' (Back to the beginnings) ?
There will be two issues, funny don't you think ? In fact we'll play at the 'Orange Bleue' in
Vitry-le-François February the 4th, so you can buy it there. Plug n' Play will play at this show too, come and see us ! The real issue in France will be at the end of February or at the beginning of march. Our label company is 'Brennus' and it will be dispatched by 'Socadisc'. Let's cross fingers you can find it easily. If you don't, just ask us directly and you can get it…
I also give you our new website address : www.natchezband.com
So, classic question on roadtojacksonville (you can't refuse to answer), if you have to spend the end of your life on a desert island and you are allowed to take five albums with you, which ones do you take ?
Hard question ! So I try :
I need Skynyrd, I can't live without them. So I take their first album and 'Street Survivors'.
Then the first Molly Hatchet, and 'The best of ZZ Top', too strong. Last one ?
OK I am an egoist and I take our new Natchez album, yes !!!!
So gringos, thank you for your availability, I hope that your answers can give the wish to all the French Blues Rock fans to buy your album and to go to your concerts !
Keep on Rockin'
John