Copyright © 2007 Road to Jacksonville
Webmaster : Patrice GROS
Tous droits reservés.
Design par Zion pour Kitgrafik.com
MAINSTREET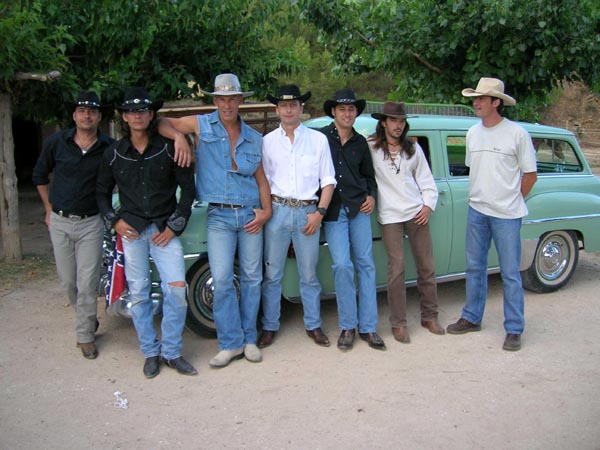 RTJ : Before talking about music, can you explain us the name of the Band ?
Laurent : Mainstreet does exist since 1991. Our first bass player, Yves, found the name as he thought about the big Harley Davidson meeting everyday in Daytona Florida on Mainstreet Road.
RTJ : Can you tell us about the members of the Group and introduce them to us ?
Laurent : From the first band, there's only Lionel the drummer and me on vocals who are still present now. Many musicians came in the band during all these years. Today, Xavier, David and Laurent are on guitars, Remi on bass guitar and Olivier on vocals too, so we are now seven on stage.
RTJ : I was very pleased to be able to listen to the first song of the album, because it is a Marshall Tucker cover. I'd like to listen to that song played live on stage. Can you tell us more about this Fire On The Mountain cover ?
Laurent : We play many MTB songs (http://perso.orange.fr/laurent.salort/pagesweb/repertoire.htm) and we wanted to have one on our album. Unhappily we couldn't play too many songs, so we didn't choice "Blue Ridge Mountain Sky" and "Searching For A Rainbow". We'll do better on our next album, I promise.
RTJ : Second surprise, You play a Little Texas cover, a band we know and enjoy at Road To Jacksonville. This band plays a three guitar Southern Rock. How did you decide to play these two songs God Bless Texas and Amy's Back in Austin ?
Laurent : Since 2003 we have the actual band, we've figured that the limit between Southern Rock and Country Rock was a very thin line. Little Texas is one of our favourite group and one of the first we have listened to. So God Bless and Amy's Back were logically chosen to be on our CD.
RTJ : Who are you favourite singers and main influences ? Doug Gray, Henry Paul ?
Laurent : My friend Olivier and I sing for more than twenty years now. We went into many different musical styles, Blues, Jazz and Hard Rock. We can't say that we have had some special influences but we have taken in every different musical style some basic and technical stuff we use today.
RTJ : You are two singers. How do you choose your vocals parts ?
Laurent : It's very easy, one sings just after the other ! No, seriously, as I told you we sing for a long time now and we are able to sing quite everything. There is no problem between us and it's nice too to be able to sing the additional vocals.
RTJ : You do enjoy Southern Rock and you play that music.
Can you tell us what does mean the Rebel Flag to you ?
Laurent : First, there is no racist signification to that flag. On my website, you can see what I think about that (http://perso.orange.fr/laurent.salort/pagesweb/racism.htm). For us, it's just our way to say to our audience the kind of music they are going to listen to.
RTJ : Your Internet website www.mainstreet.fr is on line now.
Can you tell us how can we buy your CD ?
Laurent : Just go on www.mainstreet.fr and everything's written. Just send me a mail with your name and address and you get it soon.
RTJ : Do you sometimes play in Country festivals ? Can we say you are there a
Country Rock Band ?
Laurent : We have now more than 70 songs we can play, so we can choose Southern Rock or Country Rock songs, it depends where we are playing. Now many people want us to come and play in Country festivals and we do enjoy that. We play in Bikers meetings too.
RTJ : What are your best souvenirs with the band ?
Laurent : Don't forget that in Mainstreet we all are non-professional musicians, so every one of us has another job. Music is a real passion for us, that means that every moment on stage, on the road or during the rehearsals is a moment we keep deeply in our memories.
RTJ : Can you tell us if you plan to record a CD with your own songs ? Will it be a Southern Rock or a Country album ?
Laurent : We have such a project, and we'll record it later, it depends on the money we could get for it. Our style is really new and addicted to us, in a kind of mix between Southern Rock and Country Rock, a little bit like Rockie Lynne.
RTJ : Last usual question on RTJ : if you have to finish your life on a desert island, what 'd be the albums you take with you ?
Laurent : I don't think I could finish my life on a desert island with a lot of album and nothing to listen to them. I think I'd prefer take my acoustic guitar.
RTJ : Have you anything else to say to our Readers ?
Laurent : I'd like to thank them to love that kind of Music, because it deserves our respect. Long life to RTJ and see you soon on the road. Happy new year 2007 !!!