The Outlaws
Michelle LaRose speaks with Hughie Thomasson for Road To Jacksonville
Photographs by Michelle LaRose



The Outlaws made a name for themselves with such hits as There Goes Another Love Song,
Ghost Riders In The Sky and most notably Green Grass And High Tides.
If it seem that The Outlaws have been absent on the scene, they have. Founding member
Hughie Thomasson spent nine years performing with his friends Lynyrd Skynyrd and has now
put The Outlaws back together for their triumphant return.
We were able to speak with Mr. Thomasson as he was preparing to leave for
the Arrow Rock Festival in the Netherlands.
[A phone is ringing]
Hughie: We leave tomorrow to go play a festival over in Holland so it's crazy right now.
That was my guitar tech calling me to make sure we have all the guitars that we need.
They're coming to load the bus today because when we get back from Europe we're coming straight to Clearwater on the third of July.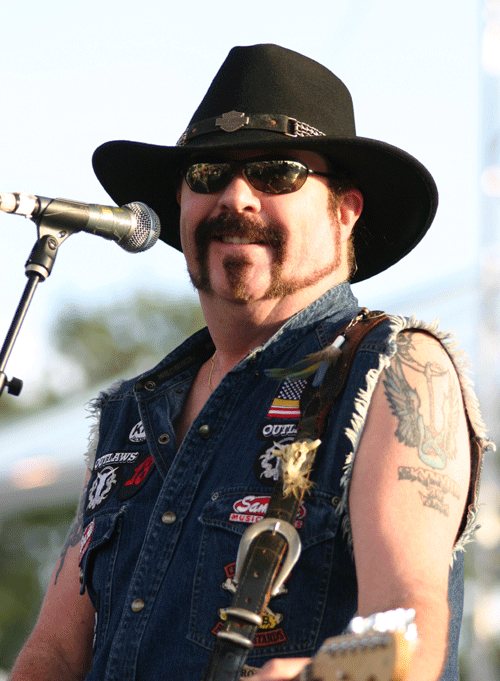 RTJ: You're going to the Arrow Rock Festival in the Netherlands.
Hughie: That's exactly where we're going. I believe we play on Sunday. It's either Saturday or Sunday. I know we're leaving tomorrow, we need a day to acclimate and then we play.
I'm pretty sure it's on Sunday.
RTJ: Have you ever done this festival before?
Hughie: No, not this one. Not that I recall I've done many other festivals between Skynyrd and The Outlaws over the years. In fact Skynyrd went over twice or three times when I was with the band. We did festivals each time we were over there. It's always great. They really appreciate
the music.
RTJ: You guys are coming right back, you're not going to have any down time to check things out.
Hughie: Nope. Not at all. We get off a plane in Orlando, the bus picks us up and we drive straight to Clearwater. We're doing a free show at Coachman Park with Starship.
RTJ: Everyone's holding their breath waiting for the new album.
When might we see the new album?
Hughie: Well I can tell you that I mastered it yesterday. It is done. We're just about done with all the packaging that goes along with it. The title of the record is Once An Outlaw then you turn it over and it's Always An Outlaw. A little play on words there. It should be a couple of months still until it hits the stores because we're not sure who we're going to sign with yet. We've got several offers on the table and I have my own record company as well. We're going to wait and see what happens but one way or another we will get this thing released. We had a lot of fun doing it, there are great songs on it and we've been working on it for about a year and a half. We wanted to make sure it was the best it could be. We're sorry for the wait but it's going to be worth it.
RTJ: So you may put it on your own label.
Hughie: Yeah. Yeah, why not? Everybody's doing it. You don't have to have a record company these days to get your product out to the people who want to buy it and listen to it. They can download it. They can buy it from Amazon, they can buy it from our web site, and we even have them at the shows. We'll make sure it's available to the masses.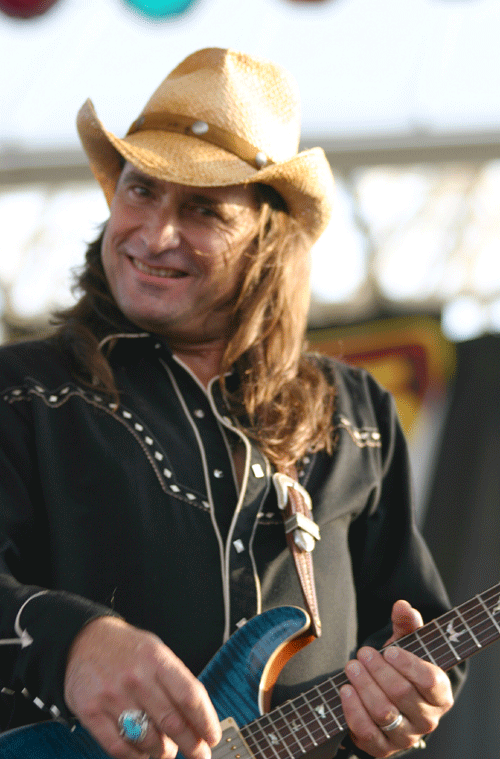 RTJ: What can you tell us about the new album?
Hughie: Well I can tell you that if you like the old Outlaws stuff you're going to love this. It's reminiscent of our first three or four records but it's got a little more edge to it. It's got a little twang to it. I feel we put a little country in the rock. There are some ballads on it; Once A Cowboy is one of the songs. There's another song that I wrote Color Em' Gone which is about Nasscar guys. Rippin' Through Kentucky is a great song. We did a song by a songwriter by the name of Jeffrey Steele, we did some of his songs and we have a lot of our own songs on there. Randy, my bass player, Randy Threet, he wrote a song, he and his wife wrote a song called Almost Home which we did which talks about the truth but in a really positive way without being, how can I put this, without jumping on the bandwagon. It was just really done well and it's written very well. I think everybody's going to get the message. Chris Anderson, my other guitar player brought me a song called Trail Of Tears that he wrote which we were doing for a while and I asked him to go back and re-write the lyrics. If he was going to sing about The Trail Of Tears we needed to be more accurate so as not to insult the Native Americans in any way. So he did. He went and did his research and came back and the song turned out fantastic. It's just great respect for Native Americans and we're proud of that. There's a little bit of something on there for everybody.
RTJ: I saw the video for Trail Of Tears on your web site.
Hughie: Yep. That's it then. You've heard it.
RTJ: That's an excellent song. Speaking of videos in a recent interview, you spoke of a possible DVD. Has this come to be yet?
Hughie: No but we've been shooting just about every show that we play for the rest of the summer. I'm hoping that we can get one while we're still on the Charlie Daniels Volunteer Jam tour. I'm hoping we can get that together. Our management is talking about that right now and trying to work things out. In the meantime we take our home cameras and video each other.
[Both laughing]
Hughie: You get a lot of good stuff that way.
RTJ: The Outlaws have two drummers.
What are the advantages and disadvantages of having two drummers?
Hughie: Well the advantage is one of the drummers is able to play percussion when needed and that's quite often. A lot of times they play together and both these guys were original drummers in the band, David Dix and Monte Yoho. So to me it's nothing but an advantage. I don't see any disadvantage as far as that goes. I enjoy having both drummers in the band. They take turns playing different songs and they play together on a lot of songs and there's percussion stuff they do back and forth they even do a drum solo on Waterhole. People seem to love it, they get a standing 'O' every time they do it. So it's a lot of fun! It's got the big band sound.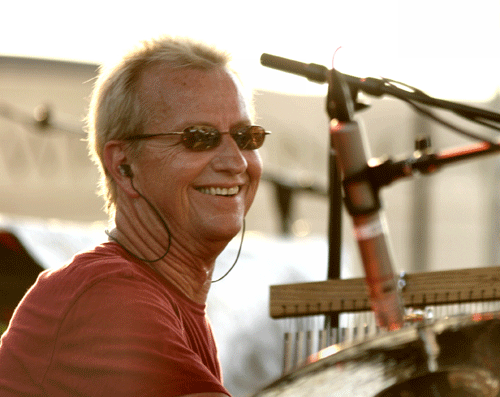 RTJ: You are re-releasing your solo album "So Low" under a new title "Lone Outlaw".
Why did you decide to re-release it and why did you change the title?
Hughie: Not yet I haven't. In fact we're still discussing that. We're probably just going to leave it the way it is because everybody knows it that way. That's probably going to be re-released about the same time as this record, Once An Outlaw. Without going into details we ended up in arms over copyrights and publishing, which we ended up coming out settling and we got everything back. To keep it from being more complicated we pulled it and left it on the shelf since that was over with a year and a half ago. We've just been waiting for the right time to re-release it and I'm even considering talking to either distributors, record company's or management and myself whoever we decide to do this product with and maybe adding that so you get two for one so to speak. I thought that might be something nice to do for our fans.
RTJ: So you're going to keep the title "So Low".
Hughie: Yeah. Why not? I thought about it and said, "Why change it?"
It's so low you can afford to buy it!
[Both laughing]
RTJ: Do you think you'll be doing another solo album?
Hughie: Oh I certainly hope so. I had a lot of fun doing that one. It was a lot of work. It was a lot of work doing this record with The Outlaws as well. A pernicious project. We did it here in Tampa. We did it at Morris Sound Recording Studio's. Two of the guys I've known for probably thirty years Jim and Tom Morris. We've always wanted to do a record here but for one reason or another companies always had us going somewhere else like Miami or Los Angeles or Atlanta. Anywhere except home. I've always wanted to record a record in the town where we live. Basically where we started, where we came from. So we finally got to do that. That's another reason that I'm really pleased with this album. It came out really, really well.
RTJ: You were in Lynyrd Skynyrd for nine years. What was the best part about being in Skynyrd?
Hughie: Oh man everything! I mean I love those guys! They're my best friends, I've known them since before… gee, probably all the way back to 1972. We played shows with them before we did our first record actually. I actually played in a band with Leon Wilkeson their bass player before they did their first record. Him and I were playing in a band together called King James Version and we were playing in Ft. Lauderdale at the Runway Lounge and it was just a gig and he happened to be the bass player and I got a call and I went down and joined in the band and played for about a week and a half there. It was kind of a house gig and then Leon got a call from the band saying look we got a deal we want you to come back. Leon came and said, "Look, my band called, I gotta' go!" So we go way back. I knew Ronnie very well, we were great friends. And of course Allen as well. I used to jam and play with them all the time. They invited me to come up and play so it was like playing with old friends. I knew them. It wasn't like walking into something that I didn't know. They made it really easy and it was a lot of fun and it was a great nine years. I look at it like I got to play with two of my favorite bands. Who's that lucky? Ya' know. I wrote thirty-two songs with those guys, multiple CD's and videos and everything else and it was a blast, it really was. Yeah hopefully some day, I'm hoping we'll get to play together again. Weather its The Outlaws and Skynyrd or whatever. I think that would be a fun package.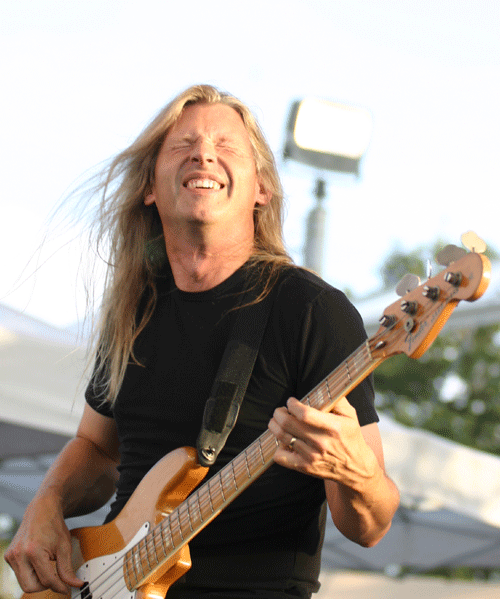 RTJ: That was my next question; do you think The Outlaws will ever tour with Skynyrd?
Hughie: I don't know. You'd probably have to ask Gary Rossington that question!
[Both laughing]
Hughie: I can only speak for us and say that we'd love to. Our favorite place to play is wherever there's an audience. We've played for five hundred, five thousand, fifty thousand. We still play the same. You don't change what you do just because it may not be as big a crowd as you want or you think your something special. You should give it all you got all the time and that's what we do.
RTJ: How has life on the road changed from the way it was way back in the early years?
Hughie: Oh in a lot of ways. We were young and crazy back then like a lot of people. We've had to grow up. Responsibility came along. We had to stop a lot of the bad things we were doing. It's a good thing. There's nothing bad about that at all. We lost a lot of friends to things that they shouldn't have been doing and we were lucky enough to survive so it was time to say, "That's it." So it's actually changed dramatically at least on my part and in the band I'm in, even when I was with Skynyrd. It's not the wild party and craziness that it used to be. It's real serious. It's about the music. It's about writing songs. It's about being on time. Making sure you meet-n-greet and say hello to your fans. Spending our time that way instead of doing' what we used to do. We're much happier, all of us are, and healthier. I have to say it's a lot better now. It feels good to be able to say that.
RTJ: Thank you for speaking with Road To Jacksonville today.
Hughie: It was my pleasure.