Interview of Phil Petty (Point Blank bass player) at Disney Village Paris France, June 2007
the 15th, John Molet and Philippe Archambeau with the help for translation
of Johnny Da Piedade (Big Cactus Country)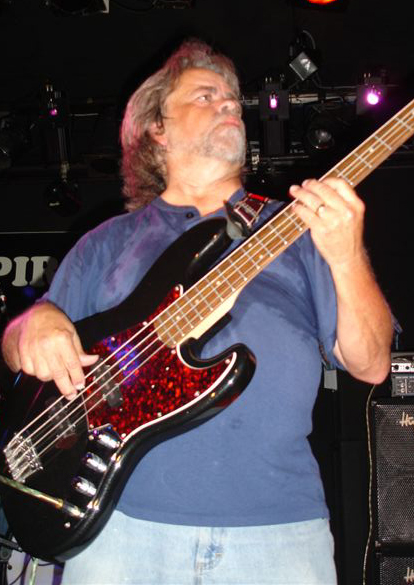 For the first time in France for a show at the Billy Bob's Café, we got the opportunity to meet Philip Petty, Point Blank original bassist, and ask him some questions !
John : Hi Philip. First I'd like to know what do you feel to be in Europe with your band ?
Phil Petty : We all have been very surprised and astonished that some people could know us in Europe and to be such great fans. We didn't imagine that some guys could enjoy our music at this point. We only figure that in surfing on the Internet and we have seen we had big fans in Europe. So obviously, all the musicians are very happy of that and want to thank the audiences everywhere we go.

John : It mustn't have been easy to join and reunite musicians that live so far away, like Rusty or John O. I think you have been the man that has been the liaison between all those guys ?

Phil Petty : In fact, everyone was involved in the reunion. Rusty it's about music, John is the one that talk to the press, and I take care of business. Everything started when a friend of the staff needed a liver transplantation, and Point Blank story started again for this special occasion. You know, to get a transplantation in the United States, it's hard and there's a waiting list, you have to wait your name is at the top of the list. And you need money to be able to wait so long, and that's why, to get that money that we decided to play again !

John : OK, but you didn't play only one time for that special event, you went back on tour with the name of Point Blank, that's not the same, is it ?

Phil Petty : In fact, we recorded the show we played for our friend's transplantation, to get a copy, just for us. But some times later, we thought we could work again together, and everything started again from that moment.

John : So you can understand that every Point Blank fan wish to get a new studio album. When will you record that album ?

Phil Petty : I think we are going to record it and it will be out in January 2008. I just talk today with Philippe Langlois, DixieFrog label manager, and it will be available in France.

Johnny Da Piedade : So it means Point Blank is back !

Phil Petty : I hope so ! In fact it's mainly because of you, John and Philippe, but now we are here and I hope we can go on and that Didier (Texas Boogie Prod) will be able to get us a tour. I just want to say to everybody that everything started because John sent me a mail, then you Philippe, and another one, and another one… and now we are on a French label… that's life !

John : I was at the Verviers Spirit 66 show last Tuesday, and I did enjoy that show. Point Blank today is a little bit different, and I was surprised of the Blues orientation that is more present now. Danny and Larry are sure great musicians, but is point Blank now definitively a Blues band, or can it play again a kind of heavy hard-boogie-blues like it used to play some years ago ?

Phil Petty : In fact, our roots are in the Blues, and we'll always play Southern Texas rock (he doesn't really answer to our question !). But I think that's all the same, I don't make any difference… Blues, Southern Rock, that's all the same to me !

John : Yes, obviously… but Buzzy Gruen and Kim Davis are no more in Point Blank.
Phil Petty : They obviously have been invited to play again with us but Kim works for Peavey and has a lot of work, and the other one… (?) … he is very busy. We have no hate for them, but we are very lucky with today's musicians !

John : Can you tell me what the words Point Blank exactly mean ?

Phil Petty : In fact, when we played for the first time with the Marshall Tucker Band in Louisiana in a place called "Wherehouse in Concert", we didn't have no name, and when we came back from the show we thought that the name Point Blank, that means a shock, a heavy shock, is faithful to our kind of music that is sharp with two heavy guitars. And that's why we have chosen that name.

John : Some years ago, I asked Rusty about the first album recording, and he answered me in a simple sentence : "It has been easy, only the time to record the songs". Did you use the rerecording on that first album ?

Phil Petty : In fact, we played together for two years at that moment and we had rehearsed all that songs which are on the two first albums. So we did know every title and we came back in the studio for the second album (Second Season) with some new songs, but most of them, like Free Man, had already been recorded live, because we used to play them about 500 times in two years !
John : Are there other songs that have never been recorded like Waxahachie Traveller ?
Phil Petty : We want to record it, and we do have many songs ready to be recorded. Rusty is going to sing some of them to remind the words !

John : In Europe and in France, we used to say that you play Southern Rock, that means songs from band like Point Blank, Blackfoot, Molly Hatchet, Lynyrd Skynyrd, etc… What do you think about this classification ? is it correct or not ?

Phil Petty : It's OK for me, but if you listen well to the vocals, there's a difference between us and the real Southern Rock !

John : I know but I wanted to ask you : Do you understand that for us in France and in Europe, you are in Southern Rock category, because you re different from traditional Classic Rock bands ?

Phil Petty : Once again, there's no problem for me. You did that categorisation, you can call it as you want (laughs). No problem !

John : Last Sunday in Cologne, you played at the Classic RockNacht for the Rockpalast TV.
I'd liked to ask you : did you get the video tapes, and what are you going to do with them ?

Phil Petty : Yes, I could get all the tapes, and I know it will be broadcasted three times in Germany. I don't how can we do to get a DVD with that tapes, but why not ? I m gonna get the Sweden Festival tapes, I know Poppa Chubby already did that, and we are going to try !

John : Maybe you already know, but since 1998 I asked Rusty if he had some videos of the old Point Blank. I searched in the USA for the last twenty years and I never could watch any film, even not a minute. How is it possible that Point Blank has never been filmed ?

Phil Petty : ……… We talk again later [they stop the interview because
John O Daniel is not going well]
Reprise
Phil Petty : We recently have found some videos at the time of Airplay. They are not in a great condition but we hope to get some images to mix with the last tour to be able to have
a DVD soon.

John : John O, Rusty and you do you enjoy today's music ?

Phil Petty : Yes, many people play very well ! I'm listening Jonny Lang for the moment.

John : Do you remember a band, that plays a little bit like you, that was called Ultra
(I think that Ultra musicians knew Point Blank musicians) ?

Phil Petty : I must admit I don't remember them. Maybe the other musicians do remember them ?

John : Talking with many fans about Point Blank, I realized that most of them enjoyed Point Blank hard-Boogie-Blues side. If you record a new album, will you still be playing in that way or will you play more in a Blues orientation ?

Phil Petty : We have written 'Down On The Bottom' during that tour, and I think this song can show how heavy we can still be. I think we'll always play guitars in harmonies and try to be always heavy and sharp, but I'm sure we'll always play songs such as 'Stars And Scars' and 'Waiting For A Change'.

John : By the way, why did you leave the band after 'Second Season' ?

Phil Petty : There was a disagreement about the musical direction on the band,
and I needed to change.

John : Do you think Point Blank is going to tour now in Texas and in the United States ?

Phil Petty : It seems that we are going to play some shows in Texas in August and September, and one or two shows with the Blue Oyster Cult.

John : Can we consider that Buddy is an official Point Blank member ?

Phil Petty : Buddy is always a musician in the Bluesbreakers, but we do enjoy
when he plays with us.

John : We were very happy to see you on stage. We just missed 'Thank You Mama' in the set list for everyone's pleasure. Why didn't you play that song ?

Phil Petty : Only because we didn't have time enough to rehearse it !

John : What will you keep in your minds from this European tour ?

Phil Petty : The best was to meet the fans at the shows. We didn't really expect
such a warm welcome.

John : Will you come back ?

Phil Petty : I sincerely hope. I know Texas Boogie is looking for a possible tour in October.
Didier and his team, as Dixiefrog and you guys, you have been incredible !

John : Thank you Phil. That's unforgettable for me too !

Phil Petty : Thanks John !