FEEL MORE BAND
Interview April 2006 http://thefeelmoreband.free.fr/cariboost1/index.html
RTJ : At the end of 2004, I've heard of a band from La Rochelle that was playing Allman Brothers Band covers. I couldn't believe it, and I got no news about this band. In the summer of 2005, at the Cognac Festival, I talked with Benoit and he told me he was the bassist of this cover band. Unbelievable ! So, let's begin at the beginning : when, where and how is born the Feel More Band ?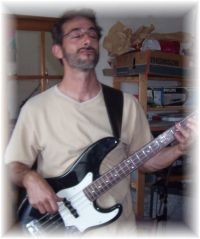 Benoit : The group began at the beginning of 2004, I was in a band with no special goal. When we found our singer, I realized my dream was going to become true. First I was surprised when I realized that I knew the singer at my job ; so we got a good feeling together. The first covers we played -Red Hot Chili Peppers, Telephone, Police- didn't really suit to Greg our singer. And I asked him if he knew the Allman version of 'Statesboro Blues' ; he told me he didn't know but he learned it very quickly and the magic began. We had understood we found the right singer. Then I insisted for the band to play more and more Allman songs. We changed some musicians too, and after two years I think that the group is ready.

Greg : In fact, I never sang in a band before. I didn't know Southern Rock and I met Benoit. We are very close now, and I think sometimes you can have good feelings with someone ; I learn a lot from him. I don't think I could be in a band without him. The name of the band is a kind of homage to the ABB 'Fillmore East Live'. The band is ready now and we are six with good vibrations. There are Ludo (guitar, lead and Slide) he looks like Dickey Betts and he really impress me. Joss on drums, who plays like two drummers. François on keyboards, the oldest but with a young spirit. Tof (guitar, lead and slide) has just arrived, but he is at the right place.
RTJ : How do you play music ? Can you earn your living with music ?
Benoit : First we have the passion ; then, we are a band with the same feelings about music.
Greg : For the moment we are just non-professional musicians, and we don't earn our living with our music… but who knows ?
RTJ : I talked with some guys of the band and I felt a lot of passion. What is your musical philosophy ?
Benoit : Band's philosophy is to share and learn together, and have a good time on stage.
RTJ : Without talking about the details, how does your group work ?
Greg : We rehearse once a week, we choose the songs and we are looking for shows.
RTJ : We'll talk later, but it's obvious that you wanted to play Allman Brothers Band covers and that's what was at the origin of the band. Can you tell me which are the Southern bands that you enjoy too ? Do you play other bands songs on stage ?
Benoit : OK Phil, I understand you want me to tell you about Lynyrd Skynyrd, but you have to know the first EP I bought was 'Grease'… Now I can tell that I enjoy Bob Seger and the Silverbullet band, Marshall Tucker, ARS, Lynyrd Skynyrd, and Johnny Winter without forgetting Charlie Daniels.
Greg : I am really into the Allman Brothers, but you sure appreciate because I enjoy Lynyrd Skynyrd, Skynyrd Fryends, Doc Holliday, and heavier bands such as Screamin' Cheetah Wheelies.
Benoit : You gonna enjoy, we are going to play 'Call me the Breeze' and 'Free Birds'.
I tried to play 'No Place to go' but it needs three years of rehearsals !
RTJ : So let's talk about this first album, just tell me about it. How did you realize it ?
Benoit : First it had to be just a recording for us. But all the people that heard it wanted to buy it… so we did it. But we wanted to record our first album live on stage, our 'Fillmore East'…
Greg : This album is only an introduction to our future Live album.
RTJ : How did you record it ?
Benoit : It was hard ! Tof was not in the band and we lost our former guitarist two weeks before the recording session. Happily, Alain, another former guitarist came and helped us. We recorded the album to our friends Biquet and Mémène at 'La Maison du Bonheur'. We played on stage in the kitchen, we recorded in the bedroom and we never played together before. But when we began we felt we were doing a good job. After one day and half a day, we had burned one amp, we got ten songs and we kept eight of them.
Greg : Thank you to Biquet for his help, his great job on the sound and his kindness.
RTJ : Ha, very important.. How can we buy your record ?
Benoit : As many people asked for it, you can buy it for ten euros on our website :
http://thefeelmoreband.free.fr/cariboost1/index.html.
RTJ : What are your favourite Allman Brothers songs ? And which are the hardest to be played ?
Benoit : 'In Memory of Elisabeth Reed', 'Stormy Monday', 'One Way Out'.
The hardest songs are the more recent ones like 'Woman across the River', 'Maydell', 'Rocking Horse', and the Best one 'Jessica', soon played on stage.
Greg : My favourite are 'In Memory of Elisabeth Reed' (I know there is no vocals…), 'It's not my Cross to bear', 'Stormy Monday'. The hardest to sing are 'Maydell', 'Whipping Post', and the impossible to sing, for the moment, is 'Hoochie Coochie Man'.
RTJ : For songs such as 'Statesboro Blues' you stay close to the Allman first generation version, different from the actual Allman with Warren Haynes and Derek Trucks version. How do you choose between the different versions of the same songs played by the Allman at different moments of their career ?
Greg : In fact, we always begin with the first versions, when Duane Allman and Dickey Betts were in the band. Then we change a little bit and we choose the way we play the songs.
Benoit : But we always stay faithful to the first versions. I don't give too much details but everyone of us brings its own feelings.
RTJ : By the way, you website with pictures, songs, concerts dates, news, etc… When will it work ?
Greg : It is done. It was hard to get what we wanted, because we did everything ourselves, and sometimes it is a little bit too long.
RTJ : I've heard about a book about you that was going to be written. Is it true ?
Benoit : We are going to do it in the same way than our album 'One', same place, during a special event called 'Le Nouvel An Togolais'. We are going to play live on stage, with Biquet at the soundboard, with all our friends, with a lot of fun and pleasure. It's later, in listening to the recording that we could know if we can get a new album.
RTJ : Traditional question on RTJ : if you have to end your life on a desert island, which 'd be the five albums you take with you ?
Benoit : ABB 'Fillmore East', Eric Clapton's 'Just One Night', Freddy King '1934-1976', Charlie Daniels 'Fire on the Mountain', Bob Marley's 'Babylon by Bus', Jaco Pastorius first album.
Greg : I don't really know… Allman Brothers for sure, Screamin' Cheetah Wheelies, our album…
RTJ : Have you anything to say to our readers ?
Benoit : You better come and see us on stage…
Greg : or buy our album !
RTJ :Thank you to have answered to our questions.