The Galloway & Kelliher Interview
by Michael Buffalo Smith http://www.swampland.com/main/section/gritz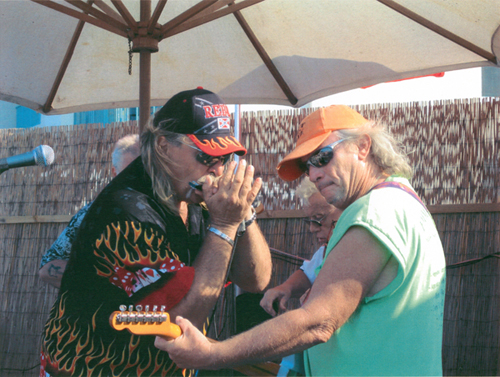 I met Mike Galloway and Timmy Kelliher, along with drummer Juan Perex, last November at The Jam 4 George in Spartanburg, SC. My friend Mark Emerick (Commander Cody Band guitarist and a Southerner trapped inside a Yankee body) had often told me about these great musicians,
but it took meeting them in person before I put the whole story together.

I was sharing a room with another friend, Sonny Edwards of Huntsville, Alabama. The night before the McCorkle Memorial concert, we all ended up in our room with more guitars than you could shake a stick at. The jamming was unbelievable, as we played everything from Marshall Tucker
to Montgomery Gentry to Buffalo Springfield, along with some of their originals and some of mine.
They told me they had recorded an album, and after witnessing Mike sing and blow harp and Timmy wail on guitar, I was more than a little anxious to hear it.

Outlaws & Renegades is one fine Southern rock album, and I am convinced the boys have a real hit on their hands. We caught up with the dynamic duo for the following exclusive interview.

Were you guys born in Florida? Tell me about your childhoods.

Mike: Yes I was born in Sanford, Florida in 1953. My childhood was great and I was raised up in a working class family with one brother and three sisters with myself being the youngest.

Tim: I was born in Swampgoat, Florida in February 11, 1954 by the old hanging tree.

When did you first become interested in playing music?

Mike: I started playing drums in the sixth grade in the school band.

Tim: I became interested in music when Elvis and The Beatles came around.
I mean, who wasn't interested in music at that time?

What were some of your first bands? Who were your major musical influences?

Mike: My first band was called Kickin' Chickin. I suppose I was mainly influenced by The Byrds,
Eric Burdon and the Animals, The Rolling Stones, The Kinks, and any of the major influential music artists of that era.

Tim: Some of my musical influences included The Allman Brothers and Buffalo Springfield.

Did you know or play with any of the well known musicians from Florida as young men?

Mike: Yes, The Nightcrawlers from Daytona Beach and The Allman Joys which later became the Allman Brothers. Another was We the People, which was Tommy Talton's pre-Cowboy band.

Tim: The most famous musician that I've played with was Bo Diddley from Gainesville. Tommy Talton was another famous musician that I played with. Tommy was always my favorite.

Tell me about your music career and also about your connections to King Snake Records?

Mike: I've been playing my whole life. I started out on drums and later played guitar and harmonica. I started writing songs back in high school. I played for King Snake for about 20 years as the lead singer and harmonica player. We were on the King Snake record label and Ichaban Records, which bought out King Snake. I was a session guy at King Snake for my stint with the band the Midnight Creepers.
Tim: I grew up playing all over Central Florida with local bands The Snooks, The Moondogs, and King Snake. I got a reputation for being in a backup band with many blues artists including Lester Chambers, Bo Diddley, Alex Taylor, Noble Thin Man Watts, Hugh Taylor, Carey Bell, and Earl King, among many others.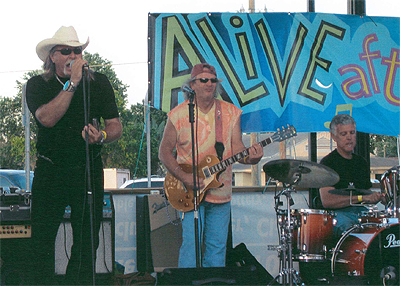 How long have you known one another?

Tim: I've Known Mike since 1978. We played in a couple of bands together
but this is the first serious project.
Tim, tell me about Mike and working with him.
Tim: Mike is an excellent musician, songwriter and has powerful
stage presence and energy. He really knows how to get the crowd going.
It's real easy, just plug in and hold on.

Didn't you tell me you guys had played with Tommy Talton?

Mike: Tommy was my roommate for three years in Orlando while I was a stunt man at Universal Studios. He is a great friend and musician to this day and I love the guy to death.

Tim: Yeah I played with Tommy in a Winter Park band The Snooks. We played a few gigs together throughout the south and played many gigs as a duo at Dubsdread in College Park, Florida. Some of the best and most memorable gigs I've ever done were with Tommy. We always enjoyed playing with him. He has a unique method for sounding a guitar, which can be explained at a later date when you have a couple of hours. (Laughs) I learned a lot from Tommy's songwriting ability. Thanks Tommy!

Tell me about my friend and cousin Mark Emerick of Commander Cody's band.
Did you guys play together before?

Tim: Mark is a great guy. It was always a great time getting together with him and playing guitar and jamming with him and his brother Dave who was a drummer. We always had similar interests in guitar and songwriting. We always hung out and played together. I introduced him to Mike when he moved to Florida. We all played in a band called the Screaming Bluejays. It was always a good time when he was around. He's the cuz, he's #1.

When did you guys decide to record the new CD?

Mike: We decided to start recording together at the beginning of last summer. We collaborated on all the songs and feel like it was a great project. We are very happy with the outcome thus far. It's been a great experience changing from rock n roll and blues to Southern rock but I think we have a great knack for it.

Tim: I fully agree with Mike. Crank it up!

Tell me about the process, where it was recorded, who was involved,
how you decided on songs. It's a killer album.

Tim: Well thanks. We recorded it at I-O studios in College Park, Florida. We already had the songs so we went into the studio laid down the rhythm tracks and recorded it periodically throughout the whole summer of 2007. It was recorded by BIll Delk and John Larosa but mixed and mastered by Brian Bassett of Foghat. Brian is a rock music veteran. He was co-founder of Wild Cherry
("Play That Funky Music White Boy. He also played in Molly Hatchet, and is currently touring the country and lead guitarist of Foghat. Brian is also an inductee of the Rock N Roll Hall of Fame for his songwriting contribution of "Play That Funky Music White Boy."

Also on the record is Florida's baddest rhythm section Juan Perex on drums, who co-wrote "She's Got the Rhythm" and we refer to as the Cuban Missile Crisis. Also Barry Dean famed bassist from the British Rock group Brian Auger's Oblivion Express, one of the most talented musicians we know. We are also happy to have BIll Delk on keyboards, and Dan Walters on keys and harmony vocals.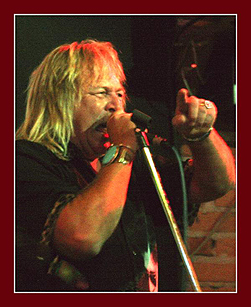 And you have already recorded tracks for a follow up CD?

Tim: We already have five new tracks in the process of being recorded which will feature guests artists Tommy Talton, Mark Emerick, Brian Bassett, and the usual rhythm section Juan, Barry,
Bill, and Dan.

What's the plan now?

Mike: Currently we are trying to shop and get a major or independent record deal. Hopefully
a major. We would also like to tour around the country and share our rebel rock love.
Do you guys have a website?

Mike. Of course we do. The baddest website on the world wide web. This ain't no museum, everything is for sale. Us, the music, everything. To find us or get in contact with us just go to www.galloway-kelliher.com

Say somebody wants to order this CD. How would they do it?

Mike: The new CD is available at our website www.galloway-kelliher.com. They are hot off the press and are going out the door like hot cakes so don't miss your chance to own a piece of soon to be Southern rock history! T-shirts will follow soon so be sure to keep checking up on us in the months to come. We hope to see you soon in a town near you.