Copyright © 2007 Road to Jacksonville
Webmaster : Patrice GROS
Tous droits reservés.
Design par Zion pour Kitgrafik.com
Interview MIKE ESTES of SKINNY MOLLY
( by Philippe Archambeau February 2010 )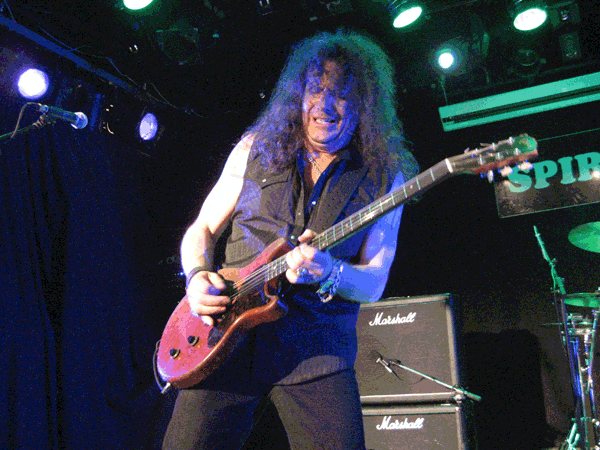 We already made an interview for Road To Jacksonville some years ago.
Thank you to allow us to do it again today.
My pleasure!
First, you are going to come in Europe with Skinny Molly in February.
Can you introduce your band that has changed a lot for the last years !
The band has changed some. But not as much as some other bands I know! hahaha
There are various reasons Skinny Molly changes members.
But it's me, Kurt Pietro, Luke Bradshaw, and my good friend Jay Johnson just joined.
I've played with Jay so much over the years it seems weird to say he's a new member.
He's was great on this last tour.
Can you remind to our readers how did the band begin and how did you reunite all the members.
It started because Dave Hlubek called me looking to do something.
He and SRA had parted ways. I tried to help them mend the fence, but it just wasn't going to happen. They have since mended that fence on their own and that makes me happy because I am good friends with both SRA and Dave. I had some work lined up and we went out and did a tour in Europe. It was supposed to be a one time tour. That was six years ago!
Spirit of 66 in Belgium is one of the famous places in Europe and many Classic
and Southern Rock groups come and play there; What do you think of such a place ?
It is surely one of my favorite places to play! Great sound and
I really like working with Francis. He's a great guy! And he always has great food
and a good hotel, and he gets down to business...
He obviously loves Americana and good music.
It's a very unique place to play. I first played there with Artie in 1999.
I've probably played there six or seven times. Maybe more.
I think I've done two acoustic sets there that I really enjoyed as well.
Is there somewhere, in the South of the United States, this kind of club where you enjoy to play ?
I like some of the House of Blues clubs. They are all over the States.
As I'm writing this interview, it is the Simple Man Cruise somewhere in Florida.
What do you think of such an event ?
I'm pretty sure the guy that started the whole cruise thing was Delbert Mclinton.
I have always thought he had a good idea there. I would like to play on the Skynyrd
one with my band. Or any of them really. I'm not that big on cruise ships, though.
But I'll do anything once!
You sure know the band Blackberry Smoke, they are on the Simple Man Cruise too and just finished a super European tour. For many fans, they seem to be the future of Southern Rock.
What do you think about this ?
I've heard one song, and I liked it! Good production on their CD. They've been touring a lot.
Can you tell us more about your new single Mr President, we can download on your website ?
What is the message you want to tell us in that song ?
It's something I felt like writing with all that's going on over here with our government.
I just want our government to remember that they are ELECTED. NOT APPOINTED.
They seem to have a problem remembering that bit of information. We just played the
song on a big TV show over here. It was a really big deal for us!
Your CD No Good Need can be found on Amazon.com.
Can you tell us how did you record this album ?
It's also on CD Baby, Itunes and our site, www.skinnymollyrocks.com
Basic tracks were recorded with Kurt and Luke in my studio, and I did some other
overdubs in the studio that I had at my mom's house when I was taking care of her.
It wasn't recorded under ideal conditions, because my mom was ill, so I just recorded when
I could. Then, she got better, but by that time I had pinched a nerve in my neck which caused my arm to go numb for a month and I couldn't even hold a guitar pick.
But it turned out OK because I ended up writing some more songs.
Chris played some overdubs in my studio when he was over here.
But the basic tracks were pretty much me Kurt and Luke.
Can you tell us about the different themes in this album's songs ?
It's a little dark, after the first song. The themes are mostly about people I know,
or even me. Some of them are just songs, but I'm not a great fiction writer.
I think that there's one song on there that I just made up with Kurt one night.
But I do like the CD. It ain't exactly how I'd planned it, but it never is! hahahaha
Will we have the luck to get a new Skinny Molly album in 2010 ?
Have you already some songs ready to be recorded ?
We will have a new CD ready in six months or less. It's not quite as dark as No Good Deed,
but in some ways it's harder edged, so far. We played one of the new songs live last tour.
It's called "Two Good Wheels" and it went down good with the crowd.
I think we have like six new basic tracks recorded.
We are recording with Simon Tillbrook, who is a good friend of mine. He's co producing it.
He's done ALL KINDS of major stuff!
I did enjoy your CD Drivin' Sideaways. Will you stay in that musical direction in the future ?
Thanks! That was a good band. But I don't know. That was a country record, to me.
I kind of left country on the back burner. I ain't even gonna get started talking on how
I feel about Nashville music today. Everybody knows how I feel about it. But I am going
to do an acoustic CD, and it'll be somewhat country, I guess. But in a different way.
I'm gonna have my dad, Jay Johnson and his dad on it, so it won't really be a solo record.
Jay and I really want to do a cd with our dads.
We have met Dave Hlubeck with Molly Hatchet recently here in France.
Are you still in touch with these musicians ?
Dave and I are still good friends. I feel really bad about what happened to his wife, Jeannie.
I have spoke to him not too long ago. I was really worried about him, and we called him
when we were on tour. I'm STILL worried about him.
The two of them were together for many years.
In the middle of 2009, we got some informations on Internet where we learned that Jeff Carlisi should have played with Skinny Molly. We didn't see anything about this. Can you explain us ?
Jeff and I have been friends for a long time! He comes out and sits in with Skinny Molly
a few times a year because we like hanging out together. He's funny as hell and we
have a great time. He's a really good player. We do some 38 songs in the set.
It's a lot of fun to play those with him!
Are you still in touch with some Lynyrd Skynyrd musicians ?
I speak to Johnny every now and then. I don't know a lot of the guys in the band now.
Have you listened to their new album Gods & Guns and what do you think about it ?
I have heard two songs, and I like the one called "Unbroken".
Have you ever seen Artimus Pyle and Ed King's Saturday Night Special Band ?
No, but I know both of those guys really well and I'm sure it's really good.
Won't you be able to convince Ed King and Jeff Carlisi to play again and do a new album with your own songs ? (joke….)
We actually DID talk about that years ago! We even had a great name for the band.
We were gonna call it " Fired Guns" Hahaha!
If you could reunite your favourite musicians in a special group,
who would you take to play with you ?
There are just too many to name. A lot of them have passed on. Jak surely.
Also Ed and Jeff would be in there. I play with some of my favorites in my band now.
There's guys here in Tennessee that you've never heard of that can PLAY!
But I have beenvery fortunate to play with some of the best in Southern Rock;
legendary guys, and I feel blessed to have done that.
I would say I am the luckiest guitar player in the world.
Thank you for answering our questions!