Copyright © 2007 Road to Jacksonville
Webmaster : Patrice GROS
Tous droits reservés.
Design par Zion pour Kitgrafik.com
STEVIE HAWKINS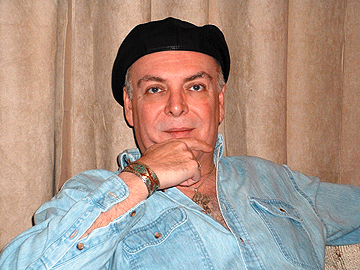 RTJ : Hi Stevie. For the readers of Road To Jacksonville, Southern Rock Webzine,
can you introduce yourself and tell us where do you come from? How did you discover and learn to play music?
Steve Hawkins : Hello Philippe. For most of you who I would venture to guess do not know me, my name is Stevie (Fatdawg) Hawkins, a drummer/vocalist from Knoxville, Tennessee. Atlanta, Georgia has been my home for
the past 24 years. Although, I am not too fat now, I still love to eat and bark!
Music has always been in my family, at least during my extended stay on this earth. Peggy, my Mother, is a retired Jazz, Pop, and Gospel singer. Mandolin virtuoso, the late Kenneth "Jethro" Burns of the famed Homer & Jethro duo from the sixties and early seventies, was my Great Uncle, as well as others musicians in the family. Music was always playing around the house when I was a young child. Early musical exposures were to artists such as, Ray Charles,
Ella Fitzgerald, Benny Goodman, Lionel Hampton, Tony Bennett, Sarah Vaughn, Louie Bellson, etc. Mainly jazz greats. The Beatles were an influence. The inspiration from their 1964 appearance on the Ed Sullivan was monumental.
I went on to teach myself for a few years, playing and singing along to records, beating on pots and pans, oatmeal boxes, carving tree limbs to make drum sticks. Formal drum lessons began around the age of 12. I studied music
(band and chorus) through middle and high school, and continued formal lessons during those school years. Began playing professionally in night clubs around the age of 14 or 15. From there, went on to play everything from hog farms, to touring bands, night clubs, colleges, to national venues with recording artists.
RTJ : You are very famous, you have played with a lot of great musicians, Gregg Allman, Leon Russell, Johnny Winter, Albert King and Rufus Thomas for instance. Can you tell us some good memories about these musicians,
how did you play with them?
Steve Hawkins : Well, Philippe, I am only famous in my own mind! (laughs) I'm a genuine product of the seventies, and due to the usage of substances during that era, the saying goes; "If you remember the seventies, you probably weren't there"! (laughs) Least I survived to tell the tale of what bits I do remember!
I have had the blessed fortune to share the stage with many musical greats such as Gregg Allman, Leon Russell,
Johnny Winter, John Lee Hooker, the memories are many, but the most fun and memorable of them all was with
Mr. Rufus Thomas. Rufus and I met at an outdoor soul review concert in Knoxville, where several artists performed to include Eddy Floyd and The Bar-Kays. The opening act was a local group named (14 Karat Black). I was filling in on drums for 14 Karat. After the 14 Karat Black set, Mr. Thomas tracked me down backstage and said; "Man, I love the way you play that funky beat". However, I did not know of Rufus Thomas at the time, nor his stature as a famous recording artist. This was 1973, and I was 17 years of age at the time. He enquired about playing some shows with him that summer. I wasn't sure at first, but after hearing and seeing his show that day, I decided quickly that, YES, I would. Rufus was a fun person to be around, always making jokes and keeping everyone laughing and happy. He lived up to his term of phrase; "The world's oldest teenager". The vibe on stage was always great, and the music was so much fun to play. "Free style funky" was what we called the uptempo dance tunes. Rufus was a master at getting the audience on its feet and dancing. Have you ever seen several thousand people doing the Funky Chicken all at the same time?
Trust me, it is a sight to behold, and will have you hysterically laughing! Of course, by Rufus being friends with Albert King, the connection there is self-explanatory. Albert heard me play on a couple of tracks I recorded with Rufus and contacted me about playing some dates with him. Playing with Albert was a great learning experience in the blues. Albert did lean more to the funky side of things during his live performances. Here again with Mr. King, I was totally unaware I was to be playing with a legend at the time.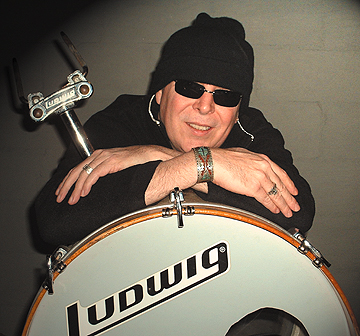 RTJ : If I come today with this interview, it's mainly because I'd like you to talk about your project Georgia Jam. It's quite incredible to see so many great musicians such as Spencer Kirkpatrick ( Hydra ), Wayne Sauls ( Eric Quincy Tate ), Barry Richman ( CDB ), or Kerry Creasy ( Jerry Garcia ). How did you realise such a project ?
Did you know these musicians for a long time before?
Steve Hawkins : Yes, it is wonderful to be able to perform on stage with such great musicians. To be honest, the project more or less realised itself, or wasn't preconceived. Various shows were recorded of the various band member configurations that appear on the disk. The recordings were not made with the intent to release an album. They were intended to be for the musicians that played on the tracks, or rather, for our own archives. The recordings were made on stage with a stereo DAT recorder with a stereo microphone. A feed from the console was also used to help capture the vocals. I was simply capturing the sound or the way we heard the sound on stage. About a year after we released the Georgia Jam disk, I read where the band Little Feat had released a CD recorded with the same intent, to capture the live performance as it sounded on stage. Of course, because it was Little Feat, theirs was quoted by critics as a landmark live recording, because they recorded the on stage sound instead of a conventionally produced live recording. How and ever, upon reviewing the DAT tapes in our editing suite one day, Charlotte Hannon of Atlanta Music Group heard them and suggested we release some of the recordings. We did, and the CD has been very well received both in Europe and in the United States. We have also had sales in Japan.
With regard to knowing the musicians, Wayne Sauls and I met in the summer of 1974. EQT were working on their GRC Records release at Bill Lowry's studio at the time. Wayne and I played together from late 1999 until around fall of 2003. We recorded one album together with Paul Hornsby in Macon, GA. We will be recording and playing together again later in this year. Spencer Kirkpatrick and I played in a band together in Atlanta for nearly 11 years, 1985-1996. Made the acquaintance of Kerry Creasy in 1985, we have played together with several artists since then. Barry Richman, I have known for about 10 years. All of them are fabulous musicians.
RTJ : At the beginning of this album, the song 'Rebels Yell' is in a kind of heavy blues style, a little bit like Dust my Broom. It reminds me of seventies Southern Rock with a lot of blues. Is this your favourite musical style?
Steve Hawkins : Rebels Yell came off as a fusion of Elmore James, Charlie Daniels Band and Barefoot Jerry influences. A fun tune, co-written with my lady, and making music with my lady is absolutely my favourite kind of musical style! I would have to say the late sixties and early to mid seventies music is probably my favourites to play.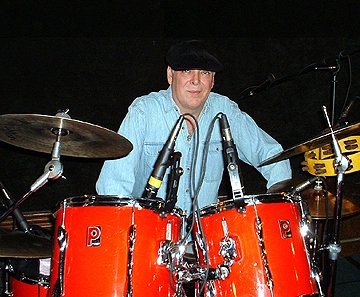 RTJ : There are some jams in this album, like the Allman Brothers do. Is it a particular choice to be back
at a seventies atmosphere? For instance, Kerry Creasy bass parts on Georgia Jam or Locomotive 22 are
a kind of symbol of this atmosphere.
Steve Hawkins : Absolutely! Seventies oriented jams in the style of the Allman Brothers allows total freedom of musical expression, there are no boundaries. Within the seventies jam style, a musician has the freedom to explore the realms of rock, blues, jazz, latin, country and soul. A structured or rehearsed song can take on several different new (unstructured) lives or (movements) within it. Examples of what I am talking about could be "Mountain Jam" and "Whipping Post" from the Allman Brothers Filmore recordings. However, everyone on stage must possess what I call (sensing abilities). In other words, when a drummer senses where the guitarist is headed with a solo or passage and spontaneously, they both land in the same direction, etc. If not, the music and musicians who possess sensing abilities will have constrictions or limitations, and the possibility for what musicians call a (train wreck) happening is immanent playing with someone without sensing abilities. Thereby, the whole piece can completely fall apart or fail to climax before it ends. That is one reason I love playing with Spencer, Wayne, Kerry and Barry, they possess the sensing abilities and the music can go where it wants, and simply happen as it pleases. The original lineup of the Allman Brothers were masters at sensing and playing off one another. Letting the music chart its own destiny.
Seventies or retro oriented music is also the direction for our Emphasis Records label. We are working toward building somewhat of a new Capricorn Records model. Filling a void for an older generation of music lovers. If the youth market picks up on the music too, then all the better. We are focused upon releasing music that is not necessarily mainstream, rather music that is good and performed by live musicians. Focused on Southern Rock, Blues, Classic Rock and Soul. None of the product on the Emphasis label will contain loops and beats as is common in today's mainstream market. Most of product will have a retro sound as well. In other words, capturing live performances in the studio or on stage,
and letting the music produce itself, without processing the music to death with EQ, compression, etceteras in post production. Emphasis Records is obviously in a growth stage, but we shall evolve as a valid entity and resource for good music in the future. Our latest release is a new live album by the legendary Southern band, "Eric Quincy Tate".
The tracks were recorded September, 2006.
RTJ : Can you tell us how did you compose the songs on this album?
Steve Hawkins : By e-mail, with a simple text program, and my trusty Mac computer! (laughs) The songs on Georgia Jam happened on stage as they are on the album. All of the instrumental pieces were created on the spot (unrehearsed), i.e., (Dancing Bear, Grits And Gravy, Locomotive 22, Georgia Jam, Jeremiah's Mountain). One of the guys would pick a key, I would set the groove and tempo, and we simply began to play and let the music spirits chart our course. The lyrics were written by Charlotte Hannon and myself and were adapted to the tracks that have vocals.
The only tunes on the CD that were pre-structured is the tune with Reddog "Honest Man", and the Eastern raga "Ajia", which is a piece I composed for a film score in 1996. Although, originally a jam track, background vocals were added later to "The Dazed And Confused" for embellishment.
RTJ : You play the drums and you sing in the same time. How did you choose to do this?
Steve Hawkins : I didn't have a frigging choice, the other guys couldn't sing! (laughs) Seriously, I began playing and singing simultaneously as a young lad around the age of 8. Doing both just came natural to me.
RTJ : You also play on Hydra live album. Can you tell us about this reunion? I met by chance on the Net Spencer Kirkpatrick four years ago and I made an interview too. I'm glad to see that this band is back.
Steve Hawkins : Yes, Hydra is a great band and nice guys. Spencer telephoned to inform me of the May 5, 2005, reunion show. After the conversation ended, I thought how great it would be to record the show. Had a discussion with Charlotte Hannon, label A&R person, about recording the show. I then telephoned Spencer to enquire about the possibility of recording and producing the band and the show? He cleared it with everyone except Wayne Bruce, and said let's do it. Wayne was totally unaware we were recording until after the show. The band listened to the tracks and were excited and very pleased. They requested recording a second show, which we did, and the new CD is a compilation of the two shows. The band performed for a packed house at the second show. Wayne stated regarding
the new CD; "This is the first time Hydra has ever been recorded to sound like Hydra is supposed to sound".
The CD landed second place in the 2006 Bands of Dixie/France readers poll.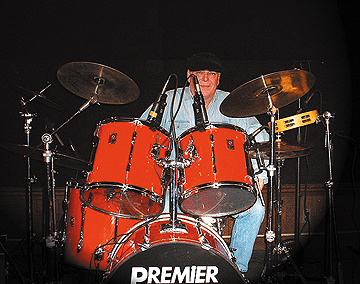 RTJ : Can you tell us some words about James Brown. I've notice that one of the songs is titled
'Tribute to James Brown'
Steve Hawkins : Mr. James Brown and his music has influenced not only myself, but thousands and thousands of other musicians, and he has touched the lives and inner spirits of people globally. Mr. Brown's dynamic music and showmanship will remain timeless. I decided to do a tribute song to man while he was still alive. Glad that I did in light of his recent passing, instead of coming off as a bandwagoner. To give a brief overview of his history, Mr. Brown was born 1933 in Barnwell, South Carolina, his first band was the Gospel Starlighters in the early 1950s. The Gospel Starlighters was a quartet led by Bobby Byrd. The Starlighters evolved into a Rhythm and Blues sound. With that transition, the group assumed the new name of The Avons. The group later became known as the Flames. The band members of the original Flames were; James Brown, Bobby Byrd, Doyle Oglesby, Nash Knox, Sylvester Keels, Fred Pullman, Roy Scott,
and Nafloyd Scott later played guitar. James Brown played drums for the Flames.
In 1956, the group assumed the name of the Famous Flames and were signed to Federal Records that same year. "Please Please Please" became their first hit single on Federal, which sold over a million copies. At this point, James Brown was regarded as the leader of the group. In 1958, the band landed its first number one record, "Try Me". In 1962, James Brown recorded "Live at the Apollo". James financed the recording of the record himself, because King Records executives did not think the record would sell. A year later, the record was released, reached number two on the R&B charts, and the rest is history. James continued to evolve as a musician, which led to the creation of a new musical genre termed, Funk. James Brown and The Famous Flames performed together for the last time in 1964. James Brown then formed the James Brown Revue, complete with dancers, an emcee and a new band called the J.B.'s. The new band included Bootsy Collins on bass, horn players, Fred Wesley and Maceo Parker. James' new band developed a new rhythmic sound that brought James Brown to the forefront of the R&B market. Mr. Brown's fans loved the new sound, which formed the legend behind the magic of the J.B.'s. The list of influential musicians that have worked with James Brown over the years is extensive. James Brown was also a humanitarian. Some of his contributions to the community include: Providing Thanksgiving turkeys to thousands of people in his hometown of Augusta, Ga. Playing Santa Claus in red leather suit and cowboy boots and providing thousands of Christmas toys to underprivileged families. Not only did Mr. Brown give his own time and money, he involved both local merchants and prominent Georgians in donations that reflect the true spirit of the holidays. He provided support for the elimination of violence in schools. His was not only of the challenge, but also the willingness to take time to contribute to the solutions. The term "soul music" is accurately linked to that part of humanity that shares a universal inner reality. James Brown had a profound understanding of not only soul music, but also soul living, contributions that enrich the quality of the entire world. James Brown is known by many names, but his achievements speak for themselves.
To quote Mr. Brown; "Die on your feet, don't live on your knees."
RTJ : Do you think it could be possible that you take all the Georgia Jam musicians on tour in Europe? For instance, Tishamingo often come in Italy and the Italian band W.I.N.D. is famous and called here the European Gov't Mule.
Steve Hawkins : We would love to do a tour of Europe. (Have someone call us!!!) The people of Europe are the strongest supporters of our music and record label. Especially, the people of France. I have recently been contacted about taking Georgia Jam to play a jazz/blues festival in Israel by the Red Sea this coming October 2007.
RTJ : Can you tell us about your last CD High Time?
Steve Hawkins : The High Time album is a solo project that departs from Southern Rock. This is truly a fine album with a mix of blues, soul, R&B, funk and rock music. Music that I love to play and sing. We decided to take the music back its roots. The songs have a retro or authentic sound and feel, live instrumentation to include horns, instead of the current modern day sound. The project was fun, and was done just for that, fun! Anyone who digs soul music and blues from the late sixties to early seventies will most likely groove to this album. Songs from the album have been receiving frequent radio airplay throughout Europe.
RTJ : Last and traditional question on Road to Jacksonville: if you have to spend the end of your life on a desert island, what 'd be the albums you take with you?
Steve Hawkins : To be honest, I would have to be allowed to take them all, because I love so many different types of music, and have too many favourites to list here!
Thank you Stevie.
Thank you Philippe, and thanks to everyone who believes in our music.