Copyright © 2007 Road to Jacksonville
Webmaster : Patrice GROS
Tous droits reservés.
Design par Zion pour Kitgrafik.com
HOGJAW - Jonboat Jones Interview
By Philippe Archambeau & Yves Philippot. ( February 2011)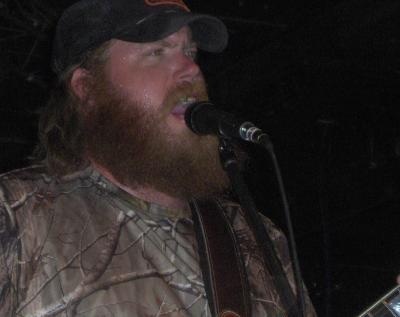 Hello Jonboat Jones, thanks for accepting this interview for ROAD TO JACKSONVILLE, site dedicated to southern rock.

Can you tell us where your forename Jonboat comes from?
it is a nickname I adopted actually, I got the name some time ago because I always had my fishing boat (a 12 ft flat bottom jonboat) strapped to the top of my truck because I would go fishing every weekend. I just left it up there all week long with all the gear and motor in the camper shell. the guys at work, and others kinda gave me that name, and it stuck I guess. I generally just go with "JB" nowadays.

Can you also tell us where the band's name HOGJAW comes from?

When we were all trying to think of a band name and had a list going, a picture from an old National Geographic magazine spawned the whole thing. It was a picture of some good ole boy in an eating contest somewhere, holding up a sign that said "Hogjaw's my name, and eating is my game!" - something to that effect. We liked the way it sounded, and we like to cook and eat good food, so we took it.

Can you tell us where you come from and how the band set up?

I was born in North Carolina, and was raised throughout the southern U.S. (Georgia, Tennessee, Florida, Virginia) Dad was in the Air Force, so we moved around quite a bit when I was growin up. My family moved to Arizona in 1988, and I have lived here in the desert ever since. I met all the guys in the band back then, in High School, and we have been friends all this time. The band actually started in late 2006 as a fun way to just jam some tunes on the weekends and have a few drinks and BBQ. I guess we got carried away, because the next thing we know, we were playing shows, and trying to tour. haha

Can you introduce to us each member and your musical background?
Elvis DD is bass, Kwall is drums/vox, Kreg Self is Lead Guitar, And I (JB) am vox/Guitar. I, as with all members of the band, have been playing these instruments since before our High School years. I am pretty much self taught and I like to play by ear. I can't really read sheet music to well, but I can figure out guitar tabs , haha....I would need to let the others chime in here for to explain their backgrounds, cause we all did it our own ways.

How did you become the singer of the band? Did you have to fight to be chosen?
I almost fought not to be chosen! lol No, really, in the beginning of the project we were trying to find a singer for the band, and had some people do it. But, the guys kept telling me I should just do it because they thought my voice was different and I was writing lyrics and singing them anyway. I had never sung before, so I did not think i was going to be any good at it, but they talked me into it, I practiced, and in 2007, I signed on as singer and the band was officially complete.

Is Arizona a southern rock land? Is it a favourable place to play music?
AZ has a bunch of metal bands for sure, but there is certainly enough good ole boys roaming around the desert with skynyrd and marshall tucker band coming out of the speakers to keep it alive! There is a vast scene here, and we enjoy the diversity. We may have even carved a little spot in the ground for ourselves to sit awhile.

You released a demo in 2007 (« Cheap Whiskey »), distribute at your gigs,
then « Devil in The Details » was recorded, can you tell us more about its recording?

Cheap whiskey was intended to be a demo to hand out, but we kept on writing new stuff, and decided to go ahead and put 4 more songs together and just make the whole thing our first full length record. The Cheap Whiskey demo/EP had 4Lo, Elcamino, The Fog, Swamp, Junga, and Cheap Whiskey (which is the first recording Hogjaw ever made) We went back into sessions to record Before Monday Come, Gitsum, East Bound, and This Whiskey. When those were done, we had Devil in the Details.

Who composes, how do you do it? Is it a collective work?

We generally all have a hand in it nowadays. Early on, Kreg and I had some existing tunes that we brought to the table that got us a jumpstart, I started writing lyrics like a mad man, Then we found that Jamming as a band was even more fruitful to the writing process, and now, it has become a group effort to sift through the riffs and make new songs happen.

Can you tell us more about your new record « Ironwood »? Where did you record it?
Ironwood was recorded with Byron Filson at Villain Recording just as with the first record. Some of the songs on Ironwood were written during the same time songs were being written for DITD, but we shelved them for various reasons. We got to bring those songs back on the new record, and we were ready to finish them. Others came about right before we went into studio to record the album. We also tried some new things on Ironwood, and brought in guest musicians to add to the sound of it.

What can you tell about your guests, especially on the tune « Flathead »?
Everyone who joined us on the record are friends we have met in other bands around town here. We have played shows together, and we have fun helping each other out. On flathead, Steve Larson and Rob Toner jumped in to help tell the story of catfishing as we wanted to portray it. Steve has been out fishing with us before, and we had good times on the water, so it was easy for him to sit right in. Rob, who we have played many shows with, also had the perfect attitude to bring in. The song couldn't be done without them. I remember when I told the guys in the band that I wanted to write a song about catfishing and have 3 different people singing, they said "OK, how do we do that?" At the time, I said "I don't know, we'll figure it out though" It took awhile, several bottles of whiskey, and a bunch of jamming but in the end, it all came together the way it was envisioned.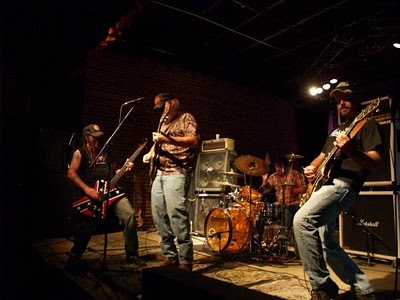 The first tune of your album, dynamic and full of rock'n roll energy, sounds a little like an old Molly Hatchet. Is it a kind of tribute? Did this band influence some of you?

Rollin Thunder does have a Hatchet vibe to it, and yes, we could say they are an influence. We actually do a cover of "Flirtin with Disaster" when we wanna cut loose. I can't say it was intended as a tribute, but if people want to make that connection, thats cool. Hatchet Rocks, and they always had the baddest album covers!
What are the HOGJAW lyrics talking about?
I think we try to put as much personal experience into them as we can, and keep them simple as can be. Like taking a page out of Ronnie Van Vant's book on how to write lyrics. People can connect on a more personal level this way, and that is what we as songwriters always wish for.

If you have to present your two records to a new fan, what are the différences?

I think the biggest difference is is the growth as a band that can be heard between the two records. Some have said that Ironwood at times is a little mellower than the first, but I don't know. There is some good storytelling going on too. I'm too close to both of them to be a good judge on that question.
Your tune « The Fog », full of ardour, comes close to a band like Murphy'z Law,
is it your bravura in concert?
I am unfamiliar with that band I'll have to check them out, as far as playing "The Fog" live, people certainly like us to play it,but I don't know if its our most impressive live tune, but I have seen it get lighters in the air - lol... I like playing County line. We have like a 10 minute solo jam section at the end that we improvise almost every time we play it. Double leads and harmony parts...Thats Fun stuff there...

Could you speak about the VIDEO clip of the fog ??? ( in the snow )

We shoot all of our own videos - I am and editor during my day job, so its works out well to get videos made. As far as the snow in the video for the fog, it was deeper than we thought it was gonna be, and we got 2 trucks stuck for 4 hours. We had a show that night too, so it was a busy day making all that happen.

How would you describe your music? More modern?
Bordering stoner with your heavy rhythm section meeting Blackfoot?
I think it is represented pretty good with that statement. I have always had a tough time describing our sound. I usually go with what people say when it comes to that, they are usually pretty accurate and see it in a different light than I. We just pour all of our influences into it.

You're part of the new southern rock generation, like for example BLACKBERRY SMOKE,
do you know them?
Not Personally, but a mutual friend introduced Kwall and I to Charlie Starr, and some of the other guys at a show when they came through phoenix last year. I dig their tunes too. It would be neat to someday play a show with them.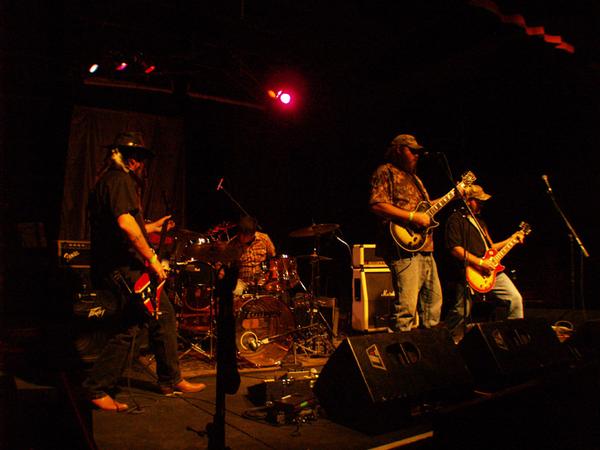 An actual time question: with the illegal downloading, it becomes always more difficult for the bands to sell their records. How is it for you?

Well I'm sure it has an effect on our potential pocketbook, but at least our music is out there. Maybe we should just release vinyl from now on..LOL But seriously, we are doing pretty good, folks still like to get physical copies, because they can see all the artwork, lyrics, and stuff like that. The way we see it, the freedom of the internet is what got us out of Arizona and into the world, if illegal downloading is the fuel to ride this train, we already bought our tickets, so fuel up everybody!! LOL Just come see us at live shows, the internet cant take that away...

What are your best memories on stage? For which famous band(s) did you open?

Free drinks coming up and seeing people singing along with me and the lyrics I wrote while staying up too late drinking ...haha. As far as famous bands we have played with, lets see, Jackyl, Ratt, Jimmy Van Vant, Helmet, Cowboy Mouth, Fu Manchu, Valient Thorr, And some others I think..

What are your favourite bands, and if it's not done, for which one would you like to open?

I wanna open for Hank Jr, or CDB, or MTB, or Skynyrd, maybe Metallica, Iron Maiden, or Volbeat...

Here in France, we are still speaking about southern rock, and the rebel flag, do you associate both of them?
I think that is now best left to the Skynryd boys, they did it first, and can get away with it. We thought it a good tribute at first, but we learned that too many folks associate other bad things with the rebel flag, and we caught flak about it. That is up to the individual to determine. I still do associate the two, but thats my opinion.

Of course we are very happy in Europe, because you come in France for your first tour (end of April-beginning of June). Can you tell us how you decide of your set-lists ?

I think we are going to play off the people at shows to make set lists. I mean, we have certain songs we always play, but you can tell when a crowd wants something and we try to deliver. There is always a vibe about that.

A part from the tour, what are your projects? A DVD ?
Writing new songs and a third record is in the forefront, but yes, as we go along, we gather video footage and at some point we will do a whole DVD thing. That is something that is completed as we go along this ride.

A traditional question: if you have to finish your life on a desert island, what are the 5 records you want to bring with you?

Hank Williams Jr, greatest hits - Marshall tucker, Country Tucker - Skynryd, second helping - metallica, master of puppets - Iron Maiden, Piece of Mind

"Hogjaw touring Europe: April-May 2011"