LITTLE TEXAS
Michelle LaRose talks to Duane Propes for Road To Jacksonville
Photographs by Michelle LaRose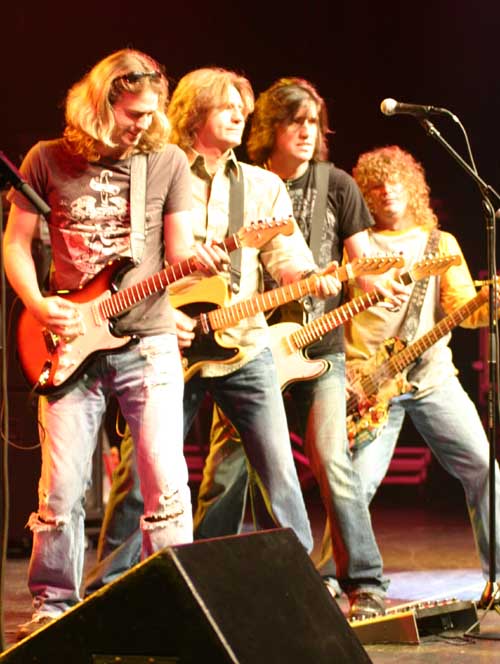 Little Texas isn't so little. They have won numerous awards from the Academy Of Country Music, Billboard, CMT and have also been Grammy nominees.
Their songs have reached the Top Ten on the country music charts and they have just released a new single, 'Your Woman'. Their new album is set to be released at the beginning of the year and they are currently on the road promoting the new album.
We were able to chat with bassist Duane Propes to find out about the new album, cruising through the Caribbean and giraffe love.
RTJ: Little Texas just released the single, 'Your Woman', from your new album, which is due
out at the beginning of the year. Can you tell us about the new album?
Duane: Well, it's almost done; it's what we're going to be doing for the rest of the month pretty much, finishing it up. It's probably the most honest Little Texas album ever. It's heavy guitars;
it's basically what we always wanted the band to be. Very aggressive, very strong songs,
rock and country. We designed this album to make you drive too fast.
[Both laughing]
RTJ: What is left to be finished on the album
Duane: We're just going to cut through more songs.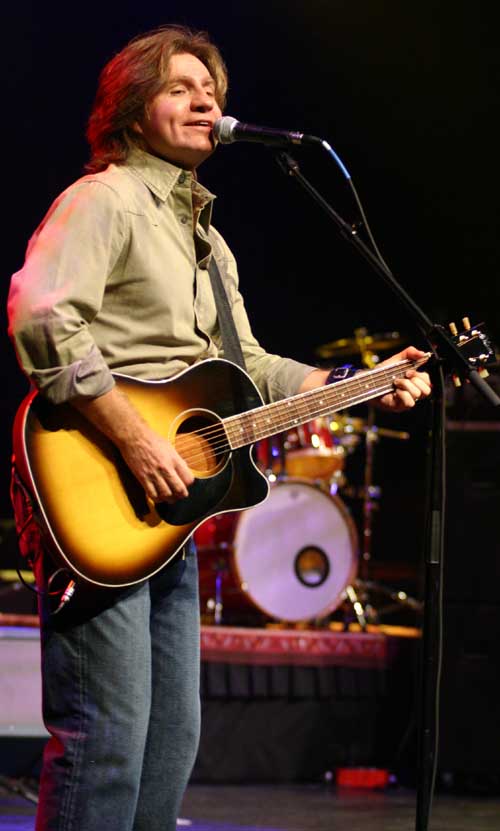 RTJ: Do you have a title for the new album ?
Duane: It's tentatively entitled 'Missing Years'.
RTJ: You actually have a song called Missing Years.
Duane: Mmm-hmm. It's a single.
RTJ: We heard that you're also shooting a video for 'Missing Years'. Have you done that yet ?
Duane: We already shot it. It's really cool. It's a lot of performance. There's a story line kinda' like what might have been. Something that will just grab you by the heart and pull your heartstrings.
RTJ: You also just shot the video for 'Your Woman'. When you were shooting the video you had bee issues. What happened?
Duane: They stuck us out in this field, like a vacant lot and it's just full of big and tall weeds and the bee's were all over it.
RTJ: Did anybody get stung ?
Duane: No. None of us did. I think one of the grips or something might have got stung.
Yeah it was a miracle that we didn't because they were everywhere! Everywhere!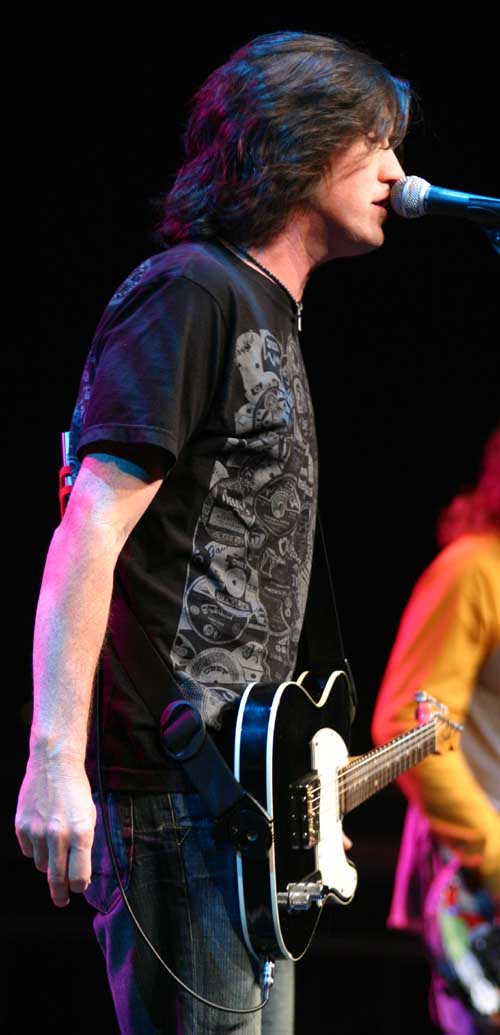 RTJ: You're also releasing a live album at the beginning of the year. Has that been recorded?
Duane: The live album is finished. That's going to be out in January. It's called 'Live And Loud - The Best Of Little Texas'. It's a lot of fun. I'm really happy with the live album. It really catches the energy of the show, which you noticed. You know what we do. We've always wanted to do a live album, we just never did. Warner Brothers never was into that. Now that we kind of run our own show we said we were going to make a live album. In fact, Montage, our label, that was one of the first things they wanted from us.
RTJ: So this is your first live album.
Duane: Yeah.
RTJ: Was it recorded at a variety of different shows ?
Duane: It was recorded over about seven different shows. We just took the best cuts from every night and put them on there. You really feel the energy. You feel like you're there. When I was growing up my favorite album was 'Kiss Alive!' I said, "We really need to capture the same kind of feeling that that album did." I think we were pretty successful. It doesn't sound like an arena.
It's more like you're in a small place, intimate.
RTJ: The band broke up for a while. Do you feel that taking an extended break like that helps you come back with a clearer vision of where you want things to go?
Duane: Yes. Absolutely… and a bigger appreciation for everything, for the other guys that you work with, for your fans, for the ability to be able to do it again. You don't know what your are going to deal with in working with other people until you are forced to do that. We found out that this band has something that's really unique. We can't have that with any other bunch of people.
RTJ: Little Texas did one of those cruise lines gigs this year. Can you tell us about that ?
Duane: We went out with radio station KFDI out of Wichita Kansas and a bunch of fans on this cruise package and we had an absolute blast! We went to Grand Cayman and Ocho Rios.
RTJ: Would you do another one if presented with the opportunity ?
Duane: Yeah. We're thinking about doing one with a radio station out of Houston.
RTJ: Your web site says "In memory of Carey Rice." Who was Carey Rice ?
Duane: Carey Rice was our fan club President, she did our web site and she was a fan since she was a teenager. She was one of our very best friends. She was tireless at trying to get the web site going and get the fan club going and working with those people. She unfortunately passed away at a very young age. The fan page will always be dedicated to her.
She is the biggest fan we ever had.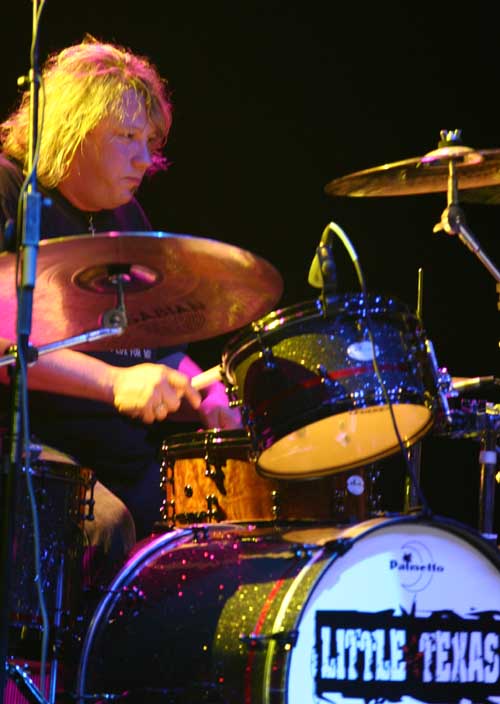 RTJ: You had a side project called The DeVilles, are you still working with The DeVilles ?
Duane: [Laughing] That's funny because three of the four are sitting here on this bus right now! Ya' know… we don't know what we're going to do. The album is done. It's been done for a few years now. We just don't know what to do with it. Maybe just put it online and say, "Here.
Take it! Just download it and enjoy!"
RTJ: Can you tell us about The DeVilles ?
Duane: Yeah it was a rock project. It basically sounds like the classic rock we all grew up with.
We only did two or three shows. Basically what it was was a Tuesday night excuse to get out of the house. Just four friends, who wrote songs and played rock and roll, had a good time, drank beer and laughed a lot. Some people go bowling, we went to band practice!
[Both laughing]
RTJ: Your web site shows you getting friendly with some giraffes. Can you tell us about that ?
Duane: We were at the YO Ranch down there in Mountain Home Texas doing a benefit that they do every year there. It's a huge party and this ranch is on forty thousand acres. It's primarily there for hunters to go for really exotic game. They also keep some exotic animals there to just have and bring kids through and let them look at them. They have three giraffes. We were out there in a truck. They came over to visit us and they said, "Stick a carrot in your mouth. They'll take it right out of your mouth." We're like, "Well o.k." We did and they stuck their little tongue in our mouth and got slimy green stuff on us!
RTJ: [Laughing] So giraffes aren't the world's best kisses then!
Duane: No. They were sweet though. It's not every day that you get to love on giraffes.
[Both laughing]
RTJ: Thank you so much for speaking with Road To Jacksonville today.
Duane: Hey no problem! I glad we did!
http://www.littletexasonline.com