THE MARSHALL TUCKER BAND
Michelle LaRose talks with Doug Gray for Road To Jacksonville
Photographs by Michelle LaRose


Marshall Tucker is one of those bands with a thirty-plus year reign that needs no introduction. Having had seven gold albums, three platinum albums and number one hits such as
'Heard It In A Love Song' and 'Can't You See', Marshall Tucker has become a household name among the Southern Rock sect. Marshall Tucker gleaned their name from a key ring belonging
to a previous tenant of a warehouse they were renting and the rest, as they say, was history.
We were able to sit with lead vocalist Doug Gray and talk about Marshall Tucker the man,
Marshall Tucker the band and Marshall Tucker on eBay.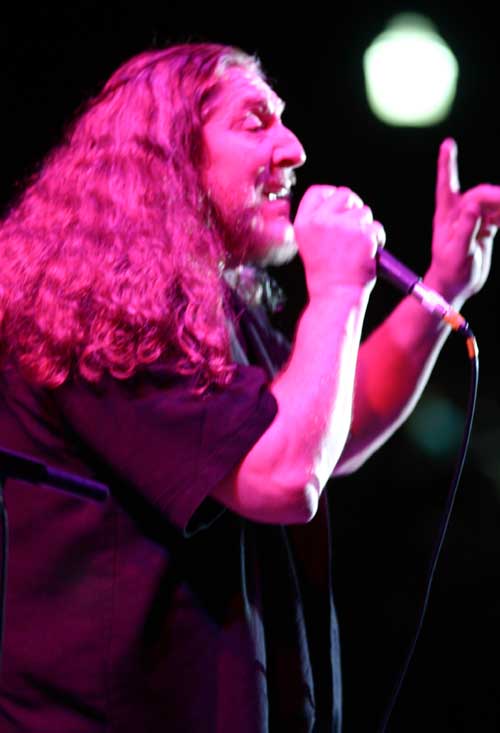 RTJ: The number one question on your fans minds is… how are you feeling ?
Doug: Oh I feel great! I'm gonna' be stickier than an owls ass! It's fine! My vocal chords are doing great. I'm at about eighty percent. I've got a ways to go. I had almost two solid months off.
We'll be in the studio so I won't have to sing until the very last period of time. We're going to have a new record out but I don't know what it's going to be called yet.
It'll probably be Make It Right! Make It Right! Back It Up!
RTJ: You're in the middle of working on a new album right now ?
Doug: We're picking songs right now. Picking the songs means there will be at least three hundred songs we have to listen to. Seriously. We do all that we can to make everybody be happy.
RTJ: So when might we see the new Marshall Tucker album ?
Doug: Whenever you open your eyes really, really wide and you close your mouth and somebody sneaks up behind you with your eyes shut and you don't know what it feels like except it feels good all over, you'll know that The Marshall Tucker Band is ready.
RTJ: O.k. he's a sarcastic smart ass. I'm in love.
[Both laughing]
RTJ: Do you know what ever happened to Marshall Tucker? Did he ever try to reach you ?
Doug: CBS did a special. They recorded him and me meeting at a restaurant. We sat there and had a great time together. It was just unbelievable. After being around for so long and not meeting the guy you named the band after, it was cool. It had been almost twenty-five years. He didn't care. He had done all the interviews he wanted to do. He was old. I mean I'm old! But he's real… I'm fifty-eight years old… but this motherfucker is old! He's like ninety years old. It's really good. He's still blind, can't you see ?
[Both laughing]
RTJ: I would think it's wild to have a band name themselves after you and they get huge.
It'd be like someone calling themselves the Doug Gray band and they got really huge.
I'd freak out.
Doug: That would be fine. I would do Brittany Spears first. You know what I mean ?
RTJ: [Laughing]
Doug: I gotta' say I love the way she sings. I've taken my daughter to see her before. It's pretty cool. She would have never got to where she is if she would have been with me.
RTJ: [Laughing]
Doug: You know? Because it would have been on the wall or somewhere else.
[Both laughing]
RTJ: You've just released an album, "Live On Long Island'. That show was actually simulcast at the time. Why is it that the people who recorded the simulcast are hearing a bit of a different show than what's on the album?
Doug: Well because we didn't have all the tapes. When they simulcast it they were putting in commercials. We never stopped playing. We never stopped so we have the master tapes. We just let the master tapes run in order that the original show was instead of them going back to the simulcast with the commercials where they played out and we continued to play. So those people who have those different recordings from a long time ago usually have straight ahead commercials in them. All the ones that you see on the Internet and on eBay. I'm a big huge fan of eBay because I'm still buying stuff that I never saw before with Marshall Tucker except for the golden underwear. The spiked underwear, I never saw that. Long tongue disguises. You know, Marshall Tucker Band long tongue disguises; you know I never saw that.
RTJ: [Laughing to tears] Now wait a minute. Back up. What is that ?
Doug: Don't say back up too long!
RTJ: [Continuing to laugh]
Doug: You put on some tangerine lip-gloss…
RTJ: [Roaring with laughter] You're scaring me now Doug!
Doug: All right!
RTJ: Can you take us back to that show on Long Island, April 18, 1980, what do you remember ?
Doug: What I remember… those were the days that we were all high. O.k.? I mean seriously. We were totally stoned out of our brains. We had something to look forward to. We had all the people there, all the people that meant something to us. We never knew the next week or so that Tommy would be gone. We never knew that the day after we got home that he would have got in his accident. I may tonight, on the way back to the hotel, just fall down and break my leg and come down with some sort of infection all over my body and die and a toenail falls off. You don't know! We never knew that on that night. As I went back and remixed and digitized all that stuff it brought back memories that made me be the stupid crazy person that I am now. I remember what I would do during a particular part of the song. I'd go back and get me a little drink when something was going on. We just made it as good as we possibly could, Toy's gone too so with all of those guys gone you have to make it as good as possible. We were family. Actually we did go to the same high school. We were just punks. You smoked smoke. You had to go to the smoking ring back then and now they've abolished the smoking ring and I don't even smoke! That pissed me off! I really wanted to be able to have a smoking ring. You know what I mean? I mean they ought to have a smoking ring everywhere.
RTJ: [Laughing] We can start one now !
Doug: Yeah baby !
RTJ: You have also just released 'Where A Country Boy Belongs'.
Can you tell us about this album ?
Doug: That album is basically a lot of the country things that we knew were up-tempo rock and roll. We don't depend on any radio to play The Marshall Tucker Band, especially southern Florida. They didn't ever play The Marshall Tucker Band that much. Not where we are now. West Tampa and all that played us like crazy and they still do! In Jacksonville they played us too. We were always played there but when you go to southern Florida you couldn't hear a Marshall Tucker song.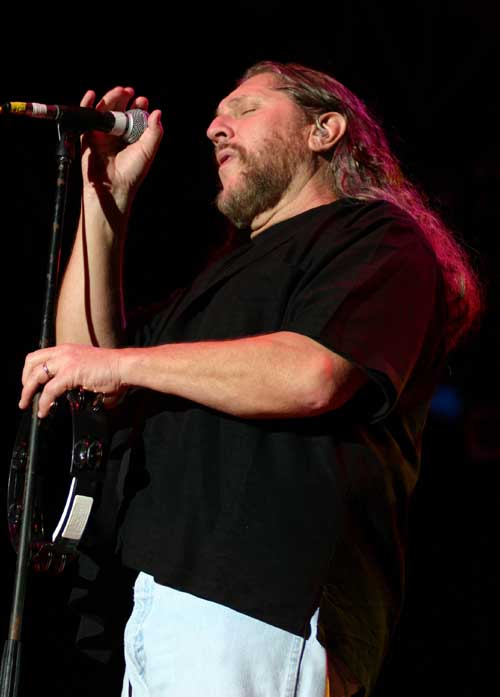 RTJ: You were inducted into the South Carolina Music and Entertainment Hall Of Fame in 1995. What was that night like for you ?
Doug: You know it was kind of amazing. It'd be just like going into the Hall Of Fame. You just go out there and play. We have some special people. Listen, being in the Hall Of Fame, I still don't know what I'm doing here. My kids look at me and say, "Daddy, you've been doing this for so long, what else would you do?" I said, "Well I learned to pump gas before I ever got in a band so I can still pump gas now but there's no place to pump it." So what do you do? I'm not going to fill you full of shit! I'm going to fill you inside with something that feels good! I'm very happy with what we do. I'm ready to go play. When we step out of the car, bus or airplane we can go… [Sniff, sniff] "Smells like Crown Royal… It is Crown Royal!"
RTJ: [Laughing] You're killing me here ! You were working on an autobiography a while back.
Was that ever finished ?

Doug: Actually we got so far but I'm still going. Stuff is still going and we're just adding. What's happened is I'll last another year and so he comes in and writes that all down. That's with Michael B. Smith the Gritz publisher. Michael… I published his first book, I started a publishing company. Nobody would pick his book up and I said, "Damn! If I can do a publishing company for music,
I can do a publishing company for books!" And it's a lot harder because I didn't know anything about it.
RTJ: That was my next question…what is 'Carolina Dreams: The Musical Legacy Of Upstate South Carolina' ?
Doug: There's something in the water in Macon Georgia and also up in Philadelphia in the Motown places. There's something there that makes people want to come and play there. You'll hear Chris Hicks tonight. Chris's record is coming out next April when ours is coming out.
RTJ: He did a solo album ? I know he's with Deep South now.
Doug: He's not really with them. That's the part that has been a misconception all the time. They only got together for a couple of dates and decided to form it that way. Chris is not going to leave the band. My record company is going to be putting him out on Sony so it would be real hard for him to want to leave. That's just something that's a promotional thing. With Chris, his record sounds good.
RTJ: Your daughter sang on the Gospel record with you. Have any of your children chose music as their career ?
Doug: My oldest daughter is twenty-four. She got out of college. She sang on the Christmas record as well. I'm putting her on one of the new records. She's got a song, "That's The Way I Love You', she's going to be doing that. It's not rock and roll, it's a ballad. People will cry. She's such a nice person. She gave up her modeling career to finish college. She started that at twelve or fourteen. She was too young to sign her own contract. She told me, she said, "Dad I'm tired of it. I don't want to be a singer", except she went to a music college but she didn't want to be a singer. She didn't want to learn theory she didn't want to do any of that. So I talked her into coming over and singing on the Christmas record and I talked her into doing different things.
RTJ: Plug her! What's your daughter's name ?
Doug: Gabrielle Gray. She just got married. She's cool.
RTJ: Like Dad.
Doug: Well she's a lot prettier. She'll be o.k.
RTJ: Can you tell us about Ramblin' Records ?
Doug: Ramblin' was started by me and my partner, who is Ron Rainey; he's my business partner and has been for the last fourteen years. We started buying Marshall Tucker stuff up. We already owned all the masters. So we bought all that stuff up. We did a deal with Sony to put all of our stuff out remixed and remastered. So there's about thirty-one pieces of product out there right now that people can get. We're having to pull some of it off because people get really confused. It's like having a lot of stuff out there and you don't know what to do with it. It's very successful.
RTJ: What is your affiliation with Shout! Factory ?
Doug: We're partners with them, they are co-partners with us in distribution with Sony. We'll continue to be there with them because we're buddies.
RTJ: Your fans are speculating that you will be touring with The Outlaws in 2007. Are they right ?
Doug: Well I can't really say that because I don't know. The contracts aren't signed yet but I bet within a week everybody will probably know. But I'll tell you, I would say that there's a lot of speculation around and it won't be just us and The Outlaws. It'll be something that a lot of people have heard before. It'll be a package that people will appreciate and it will draw huge crowds everywhere we go. Charlie Daniels is my best buddy. We go on down the road so it keeps going.
I can tell you that as long as this is not coming out before a week from now. That's kind of secret stuff because Blackfoot may very well be on that show too… and maybe Hank Jr. or somebody else tops that show in larger venues. It's something that I've wanted to do for a long time.
RTJ: Thank you for speaking with Road To Jacksonville.
Doug: Work it baby!!!!!
[Both laughing]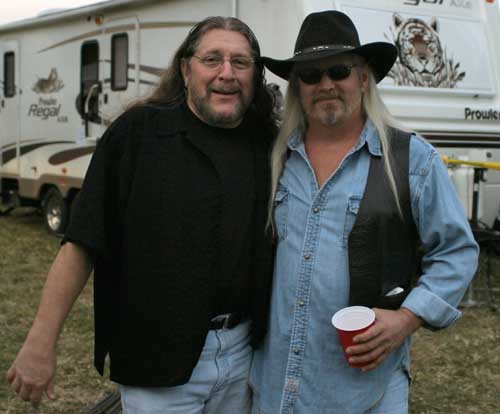 LITTLE TEXAS
Michelle LaRose talks to Duane Propes for Road To Jacksonville
Photographs by Michelle LaRose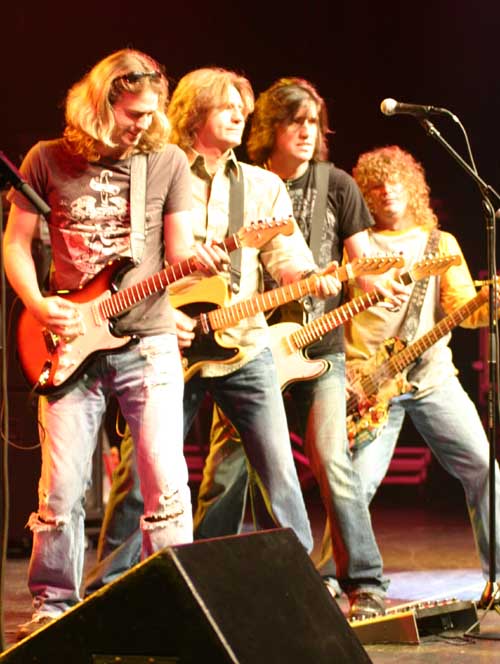 Little Texas isn't so little. They have won numerous awards from the Academy Of Country Music, Billboard, CMT and have also been Grammy nominees.
Their songs have reached the Top Ten on the country music charts and they have just released a new single, 'Your Woman'. Their new album is set to be released at the beginning of the year and they are currently on the road promoting the new album.
We were able to chat with bassist Duane Propes to find out about the new album, cruising through the Caribbean and giraffe love.
RTJ: Little Texas just released the single, 'Your Woman', from your new album, which is due
out at the beginning of the year. Can you tell us about the new album?
Duane: Well, it's almost done; it's what we're going to be doing for the rest of the month pretty much, finishing it up. It's probably the most honest Little Texas album ever. It's heavy guitars;
it's basically what we always wanted the band to be. Very aggressive, very strong songs,
rock and country. We designed this album to make you drive too fast.
[Both laughing]
RTJ: What is left to be finished on the album
Duane: We're just going to cut through more songs.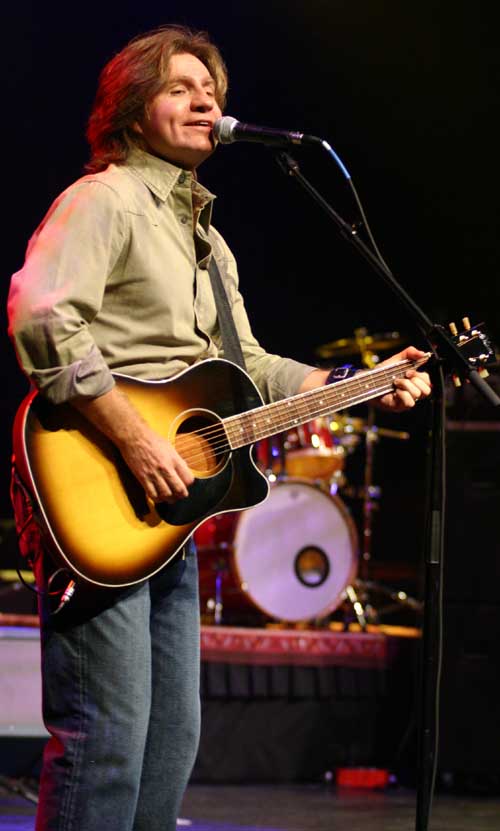 RTJ: Do you have a title for the new album ?
Duane: It's tentatively entitled 'Missing Years'.
RTJ: You actually have a song called Missing Years.
Duane: Mmm-hmm. It's a single.
RTJ: We heard that you're also shooting a video for 'Missing Years'. Have you done that yet ?
Duane: We already shot it. It's really cool. It's a lot of performance. There's a story line kinda' like what might have been. Something that will just grab you by the heart and pull your heartstrings.
RTJ: You also just shot the video for 'Your Woman'. When you were shooting the video you had bee issues. What happened?
Duane: They stuck us out in this field, like a vacant lot and it's just full of big and tall weeds and the bee's were all over it.
RTJ: Did anybody get stung ?
Duane: No. None of us did. I think one of the grips or something might have got stung.
Yeah it was a miracle that we didn't because they were everywhere! Everywhere!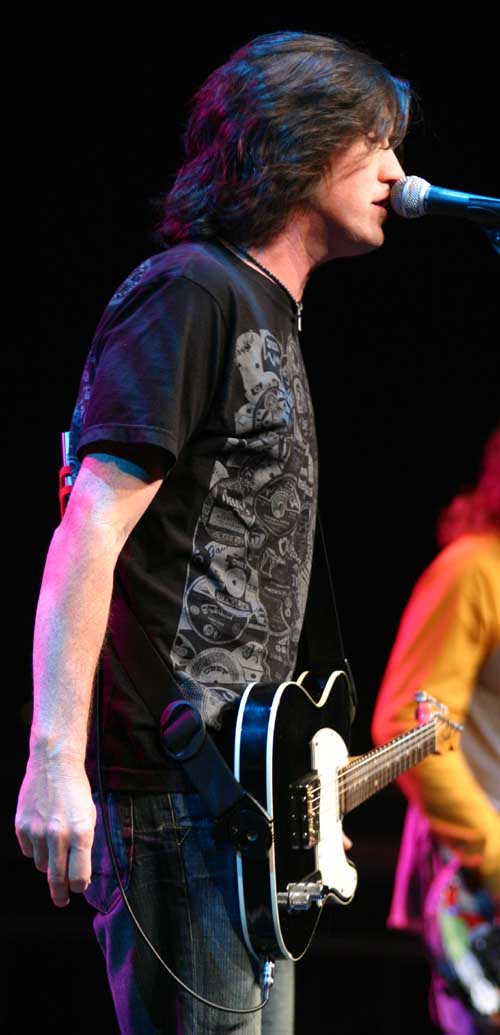 RTJ: You're also releasing a live album at the beginning of the year. Has that been recorded?
Duane: The live album is finished. That's going to be out in January. It's called 'Live And Loud - The Best Of Little Texas'. It's a lot of fun. I'm really happy with the live album. It really catches the energy of the show, which you noticed. You know what we do. We've always wanted to do a live album, we just never did. Warner Brothers never was into that. Now that we kind of run our own show we said we were going to make a live album. In fact, Montage, our label, that was one of the first things they wanted from us.
RTJ: So this is your first live album.
Duane: Yeah.
RTJ: Was it recorded at a variety of different shows ?
Duane: It was recorded over about seven different shows. We just took the best cuts from every night and put them on there. You really feel the energy. You feel like you're there. When I was growing up my favorite album was 'Kiss Alive!' I said, "We really need to capture the same kind of feeling that that album did." I think we were pretty successful. It doesn't sound like an arena.
It's more like you're in a small place, intimate.
RTJ: The band broke up for a while. Do you feel that taking an extended break like that helps you come back with a clearer vision of where you want things to go?
Duane: Yes. Absolutely… and a bigger appreciation for everything, for the other guys that you work with, for your fans, for the ability to be able to do it again. You don't know what your are going to deal with in working with other people until you are forced to do that. We found out that this band has something that's really unique. We can't have that with any other bunch of people.
RTJ: Little Texas did one of those cruise lines gigs this year. Can you tell us about that ?
Duane: We went out with radio station KFDI out of Wichita Kansas and a bunch of fans on this cruise package and we had an absolute blast! We went to Grand Cayman and Ocho Rios.
RTJ: Would you do another one if presented with the opportunity ?
Duane: Yeah. We're thinking about doing one with a radio station out of Houston.
RTJ: Your web site says "In memory of Carey Rice." Who was Carey Rice ?
Duane: Carey Rice was our fan club President, she did our web site and she was a fan since she was a teenager. She was one of our very best friends. She was tireless at trying to get the web site going and get the fan club going and working with those people. She unfortunately passed away at a very young age. The fan page will always be dedicated to her.
She is the biggest fan we ever had.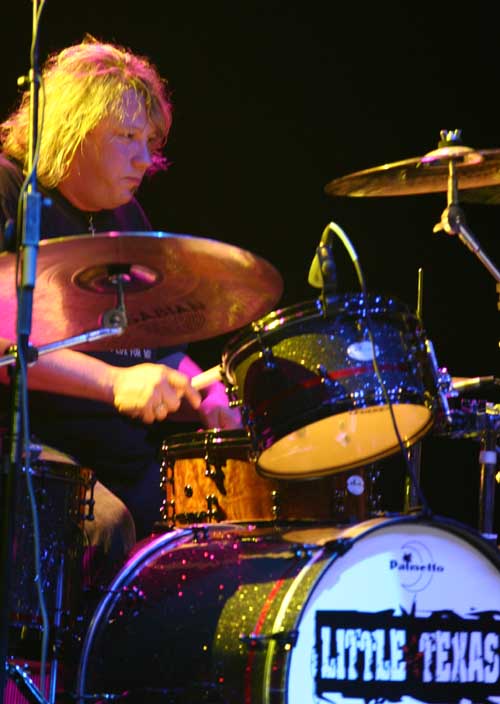 RTJ: You had a side project called The DeVilles, are you still working with The DeVilles ?
Duane: [Laughing] That's funny because three of the four are sitting here on this bus right now! Ya' know… we don't know what we're going to do. The album is done. It's been done for a few years now. We just don't know what to do with it. Maybe just put it online and say, "Here.
Take it! Just download it and enjoy!"
RTJ: Can you tell us about The DeVilles ?
Duane: Yeah it was a rock project. It basically sounds like the classic rock we all grew up with.
We only did two or three shows. Basically what it was was a Tuesday night excuse to get out of the house. Just four friends, who wrote songs and played rock and roll, had a good time, drank beer and laughed a lot. Some people go bowling, we went to band practice!
[Both laughing]
RTJ: Your web site shows you getting friendly with some giraffes. Can you tell us about that ?
Duane: We were at the YO Ranch down there in Mountain Home Texas doing a benefit that they do every year there. It's a huge party and this ranch is on forty thousand acres. It's primarily there for hunters to go for really exotic game. They also keep some exotic animals there to just have and bring kids through and let them look at them. They have three giraffes. We were out there in a truck. They came over to visit us and they said, "Stick a carrot in your mouth. They'll take it right out of your mouth." We're like, "Well o.k." We did and they stuck their little tongue in our mouth and got slimy green stuff on us!
RTJ: [Laughing] So giraffes aren't the world's best kisses then!
Duane: No. They were sweet though. It's not every day that you get to love on giraffes.
[Both laughing]
RTJ: Thank you so much for speaking with Road To Jacksonville today.
Duane: Hey no problem! I glad we did!
http://www.littletexasonline.com