Interview HENRY PAUL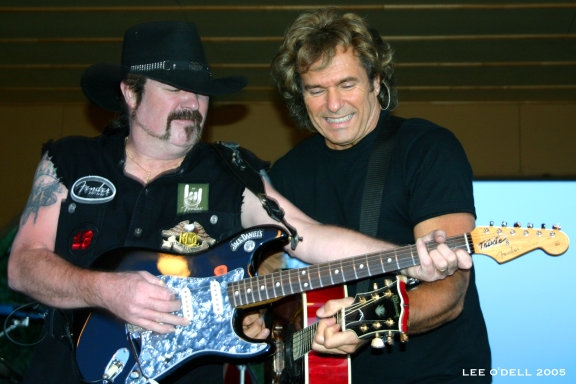 Photo: LEE O'DELL


Hi Henry, I think you understand that, like many fans, we were happy when we've seen that, with Hughie, you decided to give a new life to the Outlaws. For many fans, the Outlaws are one of the top bands in Southern Music (with Skynyrd, Allman and Molly Hatchet), and even us in France, so far away from you, we really see like a great feeling with such news. That's why we'd like to ask you some questions for our website 'Road to Jacksonville', to give fresh news, in French and in English, to the fans, and I thank you for your cooperation.
First, we'd like to know how you decided to create again the Outlaws. Did you talk a long time before to do it, or did you decide it very quickly ?
Monty ,Hughie, David Dix, and I met with Charlie Brusco (our manager) in Atlanta last spring and over two days agreed to reform the group in the musical style of the original band.
What does mean for you this reformation ?
To me it's an opportunity to play again with my old band mates that I started out with some
thirty five years ago.
Has it been done only for money and the music business, or can we hope that it has been done to give the Outlaws his real place at the top of the Southern bands ?
Of course there is always the issue of money but I think we in the band all look forward to
re-establishing the band's musical identity and cementing it's place in history.
Can we know why did you leave the Outlaws some years ago ? Are you still in the same musical way than we you left the band ?
I left the Outlaws in 1977 after the band's music was headed in a direction incompatible with my vision for the group. There were also internal struggles for control and my leaving seemed to satisfy those who wanted to move forward without me.
When you play with Blackhawk, are you in the same musical feelings ?
Blackhawk is more of a folk rock vocal group who's musical identity is devoid of electric instruments and a more organic sound.
For us, in France and in Europe, the Outlaws have a real Country Southern Rock identity.
Is it the same in the USA ?
The Outlaws country rock musical identity although secure in the minds of most fans is in the process of being redefined and reinforced along the country rock lines of musical.
First shows you made seem to have been really good and well received , don't you think ?
The shows are a faithful retrospective of the music that made the band great.
The band 's line-up is incontestably the heart of the Outlaws (we just have a thought for Franck O'Keefe and Billy Jones), but why didn't you think to Harvey Dalton Arnold and Freddy Salem ?
Freddy Salem was omitted from the bands line up because his musical style didn't fit in to the band's original sound. Harvey was omitted because we needed a bass player with a high harmony voice to complete the band's vocal scheme.
How will be the Outlaws future ?
The plans are for the Outlaws to move forward with a new record and an ongoing career international in scope.
Is it possible to believe to a new start, a little bit like Skynyrd in 1987 ?
The plans are for the Outlaws to move forward with a new record and an ongoing career international in scope.
In your set-list, you play a lot of famous and old Outlaws songs. Wouldn't you like to play some 'younger' songs, like Henry Paul Band or Hughie's songs ?
Our current set list includes both So Long, and Grey Ghost from the Henry Paul Band.
Hughie's songs in the show are all from the band's records.
I'm afraid it will be hard to see you on stage in Europe. So for us, a live dvd should be a great present. Do you think it's possible you record one soon ?
the DVD issue was covered in answer 9.
Do you think that the Outlaws is a real Southern Rock band ? Do you understand and do you appreciate when fans give you such a title ?
I think the term Southern Rock is something that was used to market those bands from the south in the 70's and being a part of that musical phenomena, I feel the term applies.
In Southern Rock, which are the bands you still enjoy ?
My favorite bands in their original form were The Allman Brothers, and The Marshall Tucker Band.
Can you give, to all you fans that sure will soon read this interview, a little message ?
I'd like to thank the fans for keeping us in their hearts and for all the memories associated with our fans throughout our career.
Last and classic question on 'Road to Jacksonville' : if you have to go and finish your life on a desert island, what will be the five cds you take with you ?
1 The Allman Brothers "Live at The Fillmore" 2 The Buffalo Springfield "Retrospective" 3 The Byrds "Turn Turn Turn" 4. Bob Dylan "Highway 61 Revisited" 5 Poco "From The Inside"
So Henry, thank you again to answer us, and we wish you the best in the future, and for Hughie, Chris and the others too. Hope to see you soon, keep on Country Rockin' .