GOING DEEP WITH FABIO DRUSIN (W.I.N.D.)
by Philippe Archambeau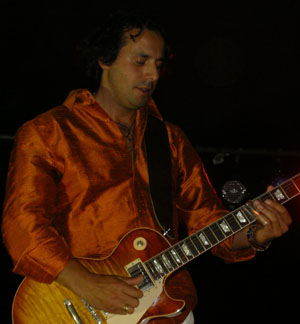 RTJ : Can you tell us how did you choose the name of the band and what does it mean ?
Fabio Drusin : Well..it was long time ago, in the beginning with the old band our name was simply WIND, before our first cd release we decided to change our name in W.I.N.D., to give to the name more mystic sound and mean...what W.I.N.D. means you will know to our forth studio release...Probably will be the title of the cd....
RTJ : For our readers, can you remind us of where do you come from, with who did you already played and tell us about W.I.N.D. career
Fabio Drusin : I'm from Udine, north east of Italy, just one hour from Venice, Jimi is also from Udine, and Sandro is from Trieste.
I was raised and born in Udine, but I've traveled a lot.. Lived in L.A. for some months, N.Y., London...I like to travel and see new places, new faces, new feelings form my music...
We played and shared the stage with so many bands.. Joe Cocker, Blues Brothers, DR.Feelgood, Animals, Canned Heat, Yardbirds, Steppenwolf, B.B. King, we jammed with John Mooney, Johnny Neel.. With some musicians in Nashville, I jammed last month with Tishamingo, I was on tour with them for two weeks in Europe..Jimi joined us also in Austria and played with Tish for a couple of songs. We became friends,I had a lot of good times and great memories on tour with them.. We lived together for two weeks..Hotel, tour bus, soundcheck, restaurants, hotel again..Cameron, Jasse, Chuck and Richard are great persons, with a lot of personality and talent...I love those guys! I also jammed with Brian Lee from New Orleans, a very good blues rock guitar player, he's blind but he can see everything in music..
RTJ : Which are your main influences ?
Fabio Drusin : Well..I listen a lot of music, everyday...I was born and raised listening music. As a singer and songwriter I like different styles of music, I love soul, the gospel, blues, classic rock, jazz....I could stay here for hours and talk about my favourite artists and the kind of music I love...I started with rock when I was young, Led Zeppelin,Sabbath,Cream, Free, Pink Floyd, later I discovered the blues and the roots of my music, Robert Johnson, Son House, all the jazz guys, John Coltrane, my favourite, Miles Davis, Charlie Parker, Cannoball Aderly, Sonny Rollins...The Allman Brothers Band, I love Beatles too, David Crosby, The Band, Blind Fate, Traffic... I like some of progressive bands,like King Crimson, the old school of English rock, Indian music...songwriters like Dylan, Van Morrison of "Astral Week", Otis Redding, Bobby Bland, James Carr....all the soul music for the singers, they are my favourite..Howling Wolf, Sun Ra, the New Orleans bands like The Meters, Fats Domino..Sly and the Family Stone...I love new bands also, like Ray Lamontagne, his first cd "Trouble"is always on my car, Black Crowes, Randall Bramblett, Galactic, some of new bands from the "Jam"world...As a bass player I love Jack Bruce, my main influence on bass...Berry Oakley, Paul McCartney, John Porter Jr, Charles Mingus, Felix Pappalardi, Andy Freaser of Free...All the melodic bass players, the old school of bass..The "thunder school"...
RTJ : In 2006, with this Charmont show, there is the re-edition of your first album, on which we can listen Free Bird cover.Why the idea to do such a cover ? I think that this song was recorded in the same time than the album..
Fabio Drusin : Yes, it was recorded in '99, for the session of the first cd, totaly recorded live, Freebird was just a jam to check the sound for our producer Stefano Amerio, after six years we decided to put that song on the reissue of our first cd, probably out in the market in December or January...
RTJ : What does figure Lynyrd Skynyrd for you ?
Fabio Drusin : A rebel band, rebel kind of music, in the seventies they was a new mix of rock, country and swamp music, with a strong attitude in the rock'n'roll world.
RTJ : What are your favourite bands ? I guess that you like Gov't Mule.
Fabio Drusin : Most of my favourite bands comes from the past, but like I said before I listen a lot of kind of music..One of my all time favourite band is The Allman Brothers Band, so of course, I like Government Mule music because is open mind music and always different, like in our music you can hear a lot of progressions of different styles..hard blues, rock, jazz, ballads..and a lot of improv jams, always with strong melody lines.
RTJ : One of your songs, Lucky Man, is on the official Burg Herzberg DVD and on German TV. I watched it, could we get once the opportunity to watch the full show on a DVD ?
Fabio Drusin : Rockpalast filmed only a couple of songs for every band,they made an amazing good work on that dvd, they are the best.. Some of our fans filmed all the full show, so we'll have a kind of bootleg dvd of that show..Our fans are always so gentle and they record and film every W.I.N.D.show, so sometimes they send to us their dvds and their "instant live"..We appreciate and respect our fans, some of them drive for hours and hours to see us live..Here, today two of them drove for 1.300 km from Italy to see us play. Amazing...
RTJ : Can you tell us how did you meet Johnny Neel?
Fabio Drusin : It was in New York, Irving Plaza, March of 2000...He was playing with Gov't Mule, and I was there on the backstage, so I met him and talked about music. Later, after a couple months I sent him a promo copy of some Hypnotic Dream songs, he liked 'em and ivited us in Nashville in his studio to record that songs with him...An amazing experience that we'll never forget...
RTJ : Can you give us a definition of W.I.N.D. music ? Is it still Southern Rock?
Fabio Drusin : It's not easy to give only one definition to our music..We can rock, we can jam or play blues or play some "jazzy" tunes and we can play melodic ballads..Always with the taste of the old school of rock...I like what Gregg Allman said: "we are not a jam band, we are a band that jams"
RTJ : What is for you Southern Rock ? Is it a great family ?
Fabio Drusin : Southern Rock is a kind of name that some writers gave to the bands that came from the south on the seventies..It's for the kind of lyrics, proud to be from the south, a big care for the family, traditions..it's country and hard rock, with rebel attitude, dual lead guitars...To me bands like Molly Hatchet, Blackfoot, Lynyrd Skynyrd, Doc Holliday are tipically southern rock, but not Allman Brothers, I mean, not now.

RTJ : Do you earn your living in playing music now?
Fabio Drusin : Yes, we're starting now living in playing music, our cds are selling pretty well everywhere,Groovin Trip is now on the forth re-print and soon will be fifth and Hypnotic Dream sold very well also, we have a good record distributor in Italy, the same of Gov't Mule and Allman Brothers we have a good booking agency that works for us in big festivals shows and good clubs..
RTJ : For our bass guitarist readers, can you tell us what kind of amps and guitars you use on stage ?
Fabio Drusin : I'm a vintage freak, so I love vintage basses...I got 14 basses at home..I love old gibsons, I got a Les Paul Triumph from '72, and old EB3 from '71, an EBO from '68...You know, that old dirty boomy distorted sound that I love...I got a Fender Jazz from '62, my oldest one, scared to bring with me on the road!!I love Thunderbirds too...Epiphones.....I'm a short scale lover. As amps I use Ampeg SVT..But I love old Marshalls and old Fender Bassman too...Ampeg is the best for me, SVT change the bass sound on history of rock'n'roll.
RTJ : What are the best moments you had with W.I.N.D. ?
Fabio Drusin : Ohh...We got a lot....This is a good moment for us also, to be here in France, for the first time...with all this good people..When we played and recorded with Johnny...When we open for B.B.King....We got a lot of good memories, some wild, some crazy, some funny, some very intense...We could write a book!
RTJ : In some hours you will be on stage at Charmont Festival. Do you prepare some surprise for the French fans ? Cover songs?
Fabio Drusin : We usually change every night the set list..We like to change and put into the set some cover or some"tease jam"..You know, some Coltrane riff or melody. Usually we like to play Whipping Post and explore into the song new orizons..I think Jimi will have some "France" surprise for you on his slide guitar solo...
RTJ : At the end ,the tradition of Road to Jacksonville is to ask that if you have to end your life on a desert island, what five albums you would take with you?
Fabio Drusin : Well....Five is not enough for a music lover like me....I'll try...."Live at Fillmore"(Allman Brothers Band)..."The definitive Otis Box"(Otis Redding)..."If I could only remember my name(David Crosby)..."Olé Coltrane"(John Coltrane)..."Kind of blue"(Miles Davis)...but if you will ask me again tomorrow probably I would change something again... I forgot some of my heroes, Son House, Bobby Bland, Little Feat, Led Zeppelin..Aretha Franklin...Van Morrison of Astral Week....Traffic...what a great band!
RTJ : Have you anything to say for the fans on Road to Jacksonvill e?
Fabio Drusin : I want to say Thank you very much for your love about W.I.N.D. music, we appreciate a lot..We want to say thank you to the bands of this festival, Plug&Play and Natchez and all the festival staff. We love France, we love your Champagne!! And your spirit and soul for the music...We'll see you soon!
Thank you!
Interview MEDICINE HAT
By John MOLET
Hello Mark, it's John from the website "Road to Jacksonville", ( www.roadtojacksonville ) we are French and have a passion for Southern and Classic Rock, we discovered Medicine Hat a few years ago, but the release of your new album and particularly the DVD made us want to know more about your band in order to enlighten the French readers ( and in the world because our site has an English version !! ) who will surely be very happy to discover and enjoy you. So here are a some questions to introduce you to the site's readers.
1/ First of all, can you tell us when and how Medicine Hat started ??
1.Medicine hat the band formed around the end of 1992.Myself and the guitarist Steve Love dog were writing songs together and we got some players to take it out live . Originally Steve saw me doing some country songs and said we should do those songs, but heavier, and as southern rock
is amixture of country , blues, and hard rock it sounded it sounded southern, though we just share the same influences.
2/ Does the name Medicine Hat have a special meaning ?
2.Medicine hat is Native American Shamans headress. To me being a Spiritual person it symbolises freedom and your God given right to think your own way. It is also a Canadian town which has a Rock and a country station,no pop thank God.
3/ In your opinion, do you agree with classifying Medicine Rock in the Southern Rock category ??
3.People can call us what they like, and often do.My favourite band is Blackfoot
I think that says it all.
4/ To be honest with you, I can tell you that a lot of Southern Rock fans will be pretty surprised
to learn that you are English, without under estimating Great Britain , we're not used to hearing that style of music coming from over there anymore ??
4.Well Philippe,Im from New Zealand originally the rest of the guys are from the U.K....
its not their fault .
5/ Songs from your last album ( From nowhere to here ) like : "If you believe", "Sweet Mama", "Lightning", etc …..seem to carry the characteristics of the Southern spirit, what can say
about that ??
5.Like i said my favourite band is Blackfoot so its bound to rub off on me when everyday i play southern rock. I reckon i can probably sing evry Blackfoot lyric off by heart.
6/ In comparison to "Bone dry" your previous recording, it seems to me that you've taken a big step forward with "From nowhere to here", can you measure it ??
6.When Bone dry was done we hadnt added our new bass player and keyboard player so
musically weve grown.As a singer ive really progressed over the years .
I just think we are a better band now.
7/ I love the way Stephen and Mark bring on their lead guitars in certain songs like "Stay by you" or "Too far gone" they even make me think of people like Jeff Carlisi of 38 Special !!
Who are they inspired by guitar wise ??
7.Steve loves 38 special,youve given him a real compliment.He also loves Blackfoot as well
as Van halen and some metal stuff as do we all.Mark is a bit more left field and likes Albert lee Roy Buchanan and a bunch of pickers.He also likes the Sex pistols and Frank Zappa, go figure!
8/ During the concert (DVD ) your wearing a Blackfoot T-shirt, you surely realize that all
Southern Rock fans would notice it !! Are you a big fan of Rickey Medlocke ??
8.Funny you should say that!. He has been a huge influence on my life .We got to hang out together for a week in 1990 and it was party central!. He is a very genuine guy .Some guys were chasing my girlfriend in the holiday inn and in the fight he was right there with me.
That was one of my best memories, hed also tried to steal her afew nights before.
I said ricky,every man should know. Fantastic
9/ On this new album you've marvelously adapted "Old Time Rock 'n' Roll", is it a tribute to Bob Seger or just a nostalgic feeling due to today's Rock music ??

9.The record company wanted us to do it. We didnt mind, Segers great.
10/ You generally end your concerts with "Sweet Home Alabama", coming from Englishmen it's a bit surprising ….., might that mean you are Lynyrd Skynyrd fans ….., or what ??
10.I've been playing that song for audiences for twenty years!. Every time we dont play it people say after the gig,why didnt you play sweet home tonite?. I dont want to be a killjoy.
It's a great song
11/ Is being a member of Medicine Hat your full time jobs ??

11.Well, weve been up and down sometimes we have to do stuff we dont like,but its our choice .
Id rather make music all the time but i have to work too. I reckon its good for the music, because youre not divorced from reality like celebrities. I come home with dirt under my fingernails
Hell yeah!
12/ Is it easy for you to play gigs regularly in England with this style of music ??
12.Ha ha , No.
13/ What are Medicine Hat's best souvenirs today ??
13.Our memories.
14/ In spite of all these questions, I may have omitted important facts that you would like to add in this brief interview and share with all future fans who will be discovering your band through our website, if so, be my guest !!

14.You know,we really are all blue collar rock'n'roll bands, Skynyrd , blackfoot , 38 special and
all the other great musicians out there.Medicine hat is in that blue collar working man tradition.
I think work is something to be proud of, and i know Medicine hats music will sound great in
50 years time. We had good teachers.
15/ Now our traditional last question in a RTJ interview : If tomorrow you went to live on a desert island and could only bring 5 albums along, which ones would you choose ??
Well, Mark, thank you so much for devoting me some of your time and I truly hope that very soon we'll be hearing and talking all about Medicine Hat in our sweet homes.
Thanks again and Keep on rockin' !! John
15.a] Marauder....Blackfoot b]the muscle schoals sessions....lynyrd skynyrd c]greatest hits ....Glenn campbell d]wild eyed southern boys....38 special e]highway to hell ....AC/DC

BEST REGARDS MARK JACKSON.