GHOST RIDERS
An interview with Steve Grisham
By Michelle LaRose ( website http://phantomphotography.com )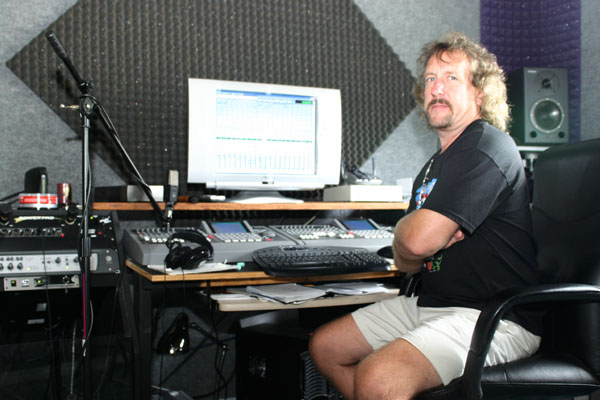 Many know Steve Grisham as the man who wrote the Top 40 hit Keepin' Our Love Alive for the Henry Paul Band and many know him as the guitarist for The Outlaws.
Steve is currently known for spearheading Ghost Riders and Mira Vista Studios.
Steve has surrounded himself with accomplished musicians whose resumes include the likes of The Knack, The Henry Paul Band, Pure Prairie League and The Levon Helm Band.
Dividing his time between Ghost Riders and Mira Vista Studios, Steve remains busy but found a moment to chat with Road To Jacksonville.
RTJ: The show you did last night was very different for you. Can you tell us about it?
Steve Grisham: It was a tribute to Elvis show with The Jordanaires, the original singers that backed up Elvis.
RTJ: Did you have to learn all the Elvis tunes?
Steve Grisham: Yeah. Actually I learned the first set about fifteen minutes before the show. I sat around the piano with the piano player and charted them out. We had a rehearsal for the second set which was a short one. When I lived in Nashville I did a lot of session work so I know how to write charts and read them real quick. It was a lot of fun!
RTJ: Can you give us a little background on Ghost Riders?
How did Ghost Riders come to be?
Steve Grisham: Ghost Riders started out originally when I opened the studio in my brother in law's garage. Me and the drummer Pug got together and recorded a song for a customer, his name was Don Campbell. We did a song called Shotgun Run for Don it was a paying session and we just built on that. We got a hold of Barry next, then Pug brought in Phill. Phill and Pug had played somewhere at a jam together. Pug had been playing jam nights with Jimmy Bennett. So Pug brought in Jimmy Bennett and Phill Stokes. I brought in Barry and we put it all together.
RTJ: Ghost Riders have been together for about four years now?
Steve Grisham: Yeah about three and a half. March of 2003 was our first gig.
I think it was March 9th or 19th.
RTJ: What is the toughest part of getting your music and name out to the fans when you're starting a new project like that?

Steve Grisham: One of the hardest things right now is the market is really flooded in the United States and North America. There's a lot of new avenues to take your music. Staying focused and picking where you really want to put your time and energy into, weather its iTunes, CD Baby or sales at the gig, if you want to get an indie label or if you want to get a major label. I started the studio as a way to record the band so we could record it and produce it ourselves. So we are kind of our own record company in that respect. We signed a small major label deal for the first record which didn't go so well. We're into the second CD now and we're shopping that to a couple of different labels.
RTJ: You're a singer, songwriter, producer and engineer. Which is the hardest hat to wear and why?
Steve Grisham: The engineer is probably the hardest because of all the new technology, you've really got to stay up on it. Things break and there's always something to fix and there's always something that's not working right. You have to be a computer expert really to be an engineer these days. The engineers in the old days, he was always a separate guy that would come in with a tool bag and get behind the board and take a soldering gun and fix whatever needed to be fixed. I actually looked for a tech person for my studio and was unable to find one. [Laughing] So I had to just keep plowing through it myself. That's really a headache. A lot of that has been worked out now. I have a couple of systems in place and everything's holding for now.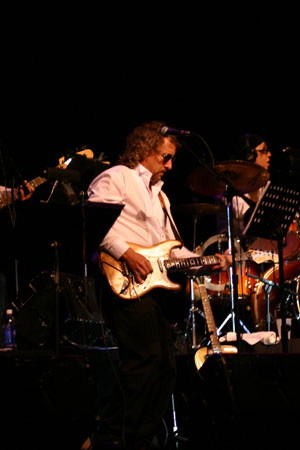 RTJ: You wrote Fallen Hero for Disney/Touchstone's Can't Buy Me Love.
Did you write that song specifically for the movie?
Steve Grisham: No I didn't. It got in the movie by way of a friend of mine who was the key grip on the movie. He was playing it at work one day and the producer heard it and he liked it. They had originally wrote an entire scene around the song but the scene was too long and it wound up on the cutting room floor but just a little bit of a piece of the song stayed in.
RTJ: The last time Road To Jacksonville spoke with you, you said that you were working on footage for a DVD. Has anything become of that?
Steve Grisham: We took the footage, a set for the DVD which was supposed to have been done by the first indie label that we had and they kind of failed us and we've since parted ways.
That ended up being what's normally called a promo video. It's a sample of three songs.
That's pretty much what happened to that.
RTJ: As you mentioned, you are currently in the studio recording a new Ghost Riders album. What is the status on that?
Steve Grisham: The CD that won't get done! [Laughing] It never ends! The CD that never ends! The nearing point to this CD is really gonna' come pretty abruptly here. Hopefully in the next couple of weeks then I'm going on vacation. We've struck a deal with a German label for Europe called Phoenix Records out of Hamburg Germany. They're going to distribute our record in Europe. As I was saying before, the market is really flooded in the United States. They're a little bit more open to southern rock in Europe and newer bands. We're going to take our energies and put them into that avenue for a while. About the only place we can go in the United States, the only place a southern band can go is on the country charts. We just don't really feel at home there.
All though we may end up there. We're both, we are country and we're rock. It's difficult to explain. Back when southern rock started there was no southern rock genre. It's something that somebody just made up and decided they'd call it that. Hopefully in the end we can transcend the boundaries of genre and hopefully get a hit on the rock charts as well as the country charts.
RTJ: Can you tell us a little bit about the new album?

Steve Grisham: The new album is sort of a mixture again of different styles. It's definitely full of surprises. It's not going to be what you would probably expect. It's going to be a little bit heavier on the guitars. Sort of stretching some of the rock roots that we have.
RTJ: Who wrote the songs for the new album?
Steve Grisham: Everybody in the band writes. So just like the first record, everybody will have at least one song written on there. We have five people in the band. The writers will be all over the board.
RTJ: Is there a title for the new album yet?
Steve Grisham: No. We haven't decided on one for sure. I've been kicking around a few in my mind but we haven't decided yet.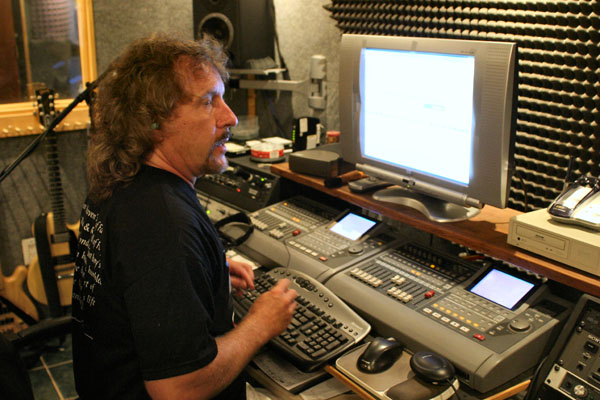 RTJ: You released a solo album in 2000.
Do you think you will do more solo work in the future?
Steve Grisham: I'm actually working on restoring a project of a band that Barry and I started called One Eyed Jacks back in the early '80's. I'm going to restore that and put it out on the Mira Vista label. After that's done I hope to start on another solo project.
RTJ: Tell us about Mira Vista Studios.
Steve Grisham: Mira Vista Studios is in about the sixth year now. I started out in my brother in law's garage. I rebuilt that and moved to Largo for a while. I'm in my second house now that the studio's been in. Eventually the studio will wind up on the Withlacoochee River. [Laughing] To the final resting place I call it. After we're through here, my wife still works in the area so… As soon as we can find some work up there we'll probably move the studio up on the Withlacoochee River.
RTJ: What are your goals for Mira Vista Studios?
Steve Grisham: When somebody comes along that I like or if somebody in the band brings them in like the project we're working on right now is Pete Dorian. He's a friend of Pug's. Pug brought him in; he's got great material. I don't really have an open door policy at the studio.
If there's somebody that I like and they want me to produce them and or engineer them then
I'll take on the project.
RTJ: We'd like to thank you for taking time out to talk with Road To Jacksonville today Steve.
Steve Grisham: I want to thank you guys so much and in finishing, we need everybody's support.
I can't tell you how much a new band really needs for the fans to go to bat for us and go to iTunes and download the songs. If you don't have any money, just spread the word because that's what it really takes. It really takes everybody saying, "Wow this is a good band" and keeping it going. It takes a band three to six years to be known and we're in our third, fourth year now so hopefully we'll start gaining some popularity in the next couple years. Keep rootin'! [Laughing]