Is it real esay to be a southern rock band from California ?
Yes, to be a southern rock band in L.A. is tough. Since southern rock isn't a trendy type music. But with all the groups jumping on the flavor of the week trend here in L.A. with 4 or 5 band per club a night, and lots of clubs here, a good southern rock will stand out. There are so many people in L.A. that there are still enough southern rock fans to fill a club. In some parts of California we have a huge fan base. Even young people like to slap a cowboy hat on and raise hell and party. We have a good time and don't take ourselves "to" serious, which people tend to like. Lot of people don't know what to think at first. They look at these 5 long haired American rednecks, with attitudes, and think is this in or out ? But after 10 minutes we give them that same redneck, party attitude. We could paly with Limp Biscuit type bands, because our songs can be just as mad and rebellious in a different sound than any of those bad boys.

What is the reason why signed a contract with a german label ?
We have a label in Germany because they believe in Southern Rock. They believe in good music, no matter if you're Instink or Brittney Fears, Backdoor Kids or Lincoln Park. I think Halycon understands that there's a mature audience out there that likes classic rock bands, but could appreciate new bands with that classic rock sound. You've either got the music for the kids or Country music. Where is in between ? It's nice to have freebird played on radio, but wouldn't it be nice to have a brand new group that recreates a similar sound. This is what Halycon is doing. ( thanks Volker! ) America only wants the newest trends in music. So they sign 500 korns, or 500 Instinks and so on.They sign young bands and tell them they must pay their dues. ( you know , work free ) They can get 'em cheap, and if they flop, they aren't out much. After you pay your dues they don't want you because you might ask for and advance. Internet is helping great musicians get their music to the public. Halycon has been very fair and understands what type band we are. We are appealing to the mature party animals, that might have kids, but still believe in a good party once a week. We give 'em the party, and intern they feed us more gas to keep rockin.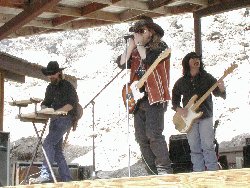 John, Gary, Doug




On this album, there are many references to Louisiana. You seem to be inspired by this state...
I lived many years in the swamps and bayous of Louisiana. I love the land and the attitutes. It has a party atmosphere. They have a great blues scene and a lot of great musicians that not to many people will ever hear. I've been very fortunate to have had the opportunity to use some of their influences in my style today. They play for the love of the music, not the money. Louisiana has a certain darkness to it love. The cemeteries, the alligators. WOW ! What great slider players, that sit on their front porches and just jam. Totally broke, whiskey drinkin players taht have had a hard life and have the true definition of the blues. The heartache comes out in their music. Louisiana is a poor state, but the people proud and still hold their heads high. So I was very inspired by" Louisiana Livin".

Can you tell us a bit about your lyrics topics ?
Most of our lyrics are true stories from our lives. For instance " Voodoo Spell " was written about my dads life.His mom was burnt to death in a fire when he was 5 , he never knew his daddy. He was raised by a moonshiner named Franky in Elisabeth Town Kentucky. Minnie Carol was his teacher who taught all students from grade one to eight and cooked their food on a pot belly stove. Franky dropped my dad an his brother off in a town when they were 14 and 15 and gave em ten dollars and said see ya. My dad is a very amazing person. " Rose Thorn Bed" was inspired when my wife was tired of my being on the road and said she wished she'd married an attorney and what I'm saying is maybe the attorney sounds better now, but hell he might have lots of money to wine and dine other women besides his wife. With every relation comes a thorn, now and then. " Shiner" is about that bad ass moonshiner from Winnsboro Louisiana that is the true definition of "Bad Ass", his stills are surrounded by bayous and alligators, not countin the double barrel shot guns that are guarding the area. And yes the locallaw O.J. Simpson trial.We felt he was guilty and having the money he had, bought him freedom. Would you call that money " Blood Money" ? I could go on and on with each song. Our music is true to life.

In which states, Alligator Stew is the more popular ?
In the Midwest United States we do really well. Indiana, Ohio, Illinois, Kentucky, Michigan, in these areas, they play Alligator Stew, as Much as Lynyrd Skynyrd or Korn.We sell shows out very quickly in the midwest. The poor to middle classes factory workin people love us. They aren't into bullshit, just the real thing. They aren't into trends, just real music with a meaning they can relate to.Southern Rock seems to be making a good comeback in these areas.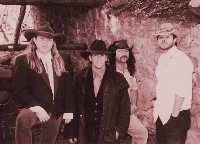 Current band



Which bands did you play with before joining ALLIGATOR STEW ?
I'm thankful Southern Rock is still going in, and I' m glad I can be a part of it. In 91, I was signed to Virgin Records with a group called Asphalt Ballet. We had video's on MTV, the press called us 4 crazy metal heads from Hollywood with a southern rock singer from Louisiana. Well our cd was released the same day Nirvana released " Teen Spirit", Pearl Jam had "Ten", and grunge changed the sounds. All of a sudden my label wants me to be like Kurt Cobain or Eddie Vedder, I was a southern rock singer. I couldn't and wouldn't change. I left the band and they got a grungeier singer. They dropped the group in 3 months. I 've got another southern rock band I sang with several years back called The Regulators which just got signed to Halycon Record about 2 months ago. I sing 4 songs on their new cd "Bar and Grill". It is a great cd. I sing above The Law, which became the most resquested song on MP3. Southern Rock is a heartfelt style that is real. Once again I'm glad I'm a part of it.

Waht do you think of the actual southern rock scene ?
There is a lot of blues influences in Southern Rock music. A lot of real lyrics about the good and bad things in life. The parties and the hell raisin. Something the poor and middle class relate too. A little blues, a little rock, and a little country, a little attitude, a big desire and a passion for music. Your heart must be into it cause it ain't a sound that will make you rich. But damn it sure is fun!!!!!! It was inspired by Lynyrd Skynyrd, The Outlaws, Blackfoot, Molly Hatchet, Bob Seger, John Lee Hooker.

Tell us about the future of Alligator Stew ?
I will do another cd with Alligator Stew, which we have all the songs ready to start cuttin. And many more Alligator Stew cd's I will continue writing more songs every other day. I just put a cd on cdbaby.com with a group of brothers from Louisiana. We recorded on L.A. The band is called CoupDeVille, check it out. I haven't even told my label about this cd. But it is good and was fun. I would like to do a cd with lots of differents players from different areas. I will have a banjo picker, a fiddle, accordian, a metal guitarist, and be very versatile. I just love playing and writing music. I would do a cd every 3 months if I had the money.

What do you expect for Alligator Stew ?
For one of our songs to get as big Freebird, by Skynyrd. For people, to except Alligator Stew as the new southern rock band, of the new millineum. To continue enjoying to play together for a long time. To do bigger shows and record 20 more cd's .

Which albums do you like the most ?
The first Lynyrd Skynyrd " Pronounced Lehnerd .. Skenerd ", Blackfoot ...."Live", any album from the Oultlaws, Bob Seger "Live bullet", Molly Hatchet "Flirtin' with disaster".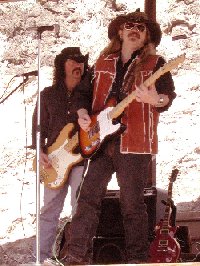 Gary, Doug