WARREN HAYNES INTERVIEW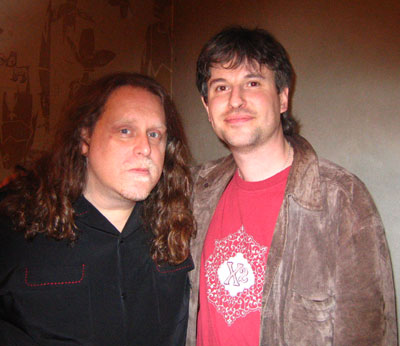 Questions : Christophe LEPABIC
Traduction : David ANDRE
What did you do before joining the Allman Brothers Band and playing
with the Dickey Betts Band ?
I played with Dickey Betts Band for three years. Before that I was doing studio work in Nashville Tennessee and before that I played with David Allan Coe, that was my first professional gig.
I started playing with David Allan Coe when I was twenty years old.
That was the first famous gig.
You have played with the Nighthawks from Washington DC, How does that happened ?
For two weeks only. They were using a lot of different guest guitar players.
Before me was Elvin Bishop, no before me was Stuart Smith and after me was Elvin Bishop.
I did only two weeks.
Did you play with "Wendell Adkins" a country player ?
A short extract exist on video, it must be from 1988.
Yeah that was me.
Why did you quit the Allman Brothers Band in 1997 ?
To pursue Gov't Mule 100% For make Gov't Mule full time operation . And we felt like as long as we stayed in the Allman Brothers Band that Gov't Mule would be considered as a side project and at that point in time we didn't considered it as a side project anymore. And also because The Allman Brothers at that time were fighting and there was no writing and no creativity, it was all no recording, no rehearsing, everybody just goes separate. And Gov't Mule was very tight and rehearsing and writing and recording and at that time more important.
How would you describe the music of Gov't Mule, the sound of the band ?
Rock and roll, I mean we have a lot of influences: We have Rock influences Blues, Jazz, Soul Music, Rhythm and Blues, Folk Music, it's all an influence, but we are very much a rock band.
Could you explain the name of the band: Gov't Mule? What does it mean ?
Jaimoe the drummer in the Allman Brothers Band, the black drummer in the Allman brothers band made a statement Gov't Mule in reference to the size of a woman's ass.
That's what he was referring to. A slang term. So we named our band after that.
Why does it takes so long for you to come in Europe and play in Paris?
Well we wanted to come over here, before Allen woody died. In the very beginning we couldn't afford to come here because it's too expensive, but as the band got bigger and bigger eventually we were trying to come here and then when Allen died everything change. So it has taken until now, but now that we are here we want to keep coming back.
People say that it's difficult to work with Dickey Betts, Is there any truth in that ?
Yeah, is there truth in that, but Dickey Betts and I are still friends and we still get along fine.
It's hard for the original members of the Allman brothers band to get along.
It is sad, but it's like a family, when family members don't get along. It's their business,
I stay out of it.
Is there anyone you have not played with, that you would like to play With ?
I still have not played with Eric Clapton or Jeff Beck or Jimmy Page. I met all three of those people and I haven't played with BB King, but the list of people I have not played with
is much much larger.
We enjoyed your recording of Lynyrd Skynyrd's "Simple Man" Do you really appreciate southern rock band like Molly Hatchet or Marshall Tucker Band?
I like Marshall Tucker Band, the original version, The Original version of Lynyrd Skynyrd.
I like Wet Willie, I like some Elvin Bishop records, some of the Outlaws records,
but I like many many others type of music also.
Do you like new bands from the south like Sevenmoore or Tishamingo ?
Oh Tishamingo, I haven't heard but I hear good things about them.

They're like harder, but kind of like Lynyrd Skynyrd, But a little harder, Right ?
And Savoy Truffle ?

Yeah I like that band. I like Savoy Truffle, but to me they remind me of Free.
They are a very good band. We played with them in Japan.

You are working with a lot of bands, You are very busy.
How can you manage to do all those things ?
Yes I'm very busy, but it's fun and I love to play music you know so it's worthy.
Why don't you do Instant live recording like the Allman Brothers Band ?
We have a download website. We like the Muletracks.com. We like that.
We thought about doing Instant Live but at the moment we are very happy with Mule tracks.

How did you choose the set list as it's different songs each night ?
We keep a log of every set list and when we go to a certain city, we see what we played the last time and the time before and make sure that it's very different from that.
Also tonight very different from last night and tomorrow night.
And other than that it's just Whatever we felt like playing.
Did you write songs while you are on tour or in the recording studios ?
I write some songs on tour, but I'm more comfortable writing at home,
when the tour is over. I write some in the studios, but mostly at home.

Is there studios outtakes with Allen Woody that should be released ?
No, there is a video tape that is not very good quality.
You played at the Nescafé Festival in Sao Paulo Brazil and you could use it as
it's a very good quality.
Oh really, I would like to see those tapes. But you know it's different, different recording.
So it has to be transferred.
Unfortunately the Only studio outtakes from the studio are the same songs.
Only alternate takes ?
Yeah, we recorded "Blind man in the dark" and "No need to suffer" for the first album but they didn't make it. So there's alternate recordings of these two songs, but to me they are not as good as the album version.
Maybe you could use it later in a box set ?
Maybe, maybe so. But the last fresh song was "Since a good man's broke"

Who have been your biggest influences ?
Well as a songwriter, I'm influenced by great songwriter. As a guitar player by great musicians you know, but saxophone, piano, trumpet, but as a singer by great singers so three different groups.
You know, my favourites guitar players when I started out, my two favourites were Eric Clapton and Jimi Hendrix,In the very beginning, then Johnny winter, then the Allman Brothers Band but I'm speaking Chronologically not in order of importance, they are all very Important. But you know I listen to everyone: David Gilmour, Roy Buchanan, Leslie West, Billy Gibbons, Jeff Beck is one of my very very favourite. Peter Green I love. You see I also listen to a lot of Jazz, Wes Montgomery, Coltrane, Miles Davis & Sonny Rollins, also to Elvin Jones.
Do you like Mahavishnu Orchestra ?
Very much, I love John Mc Laughlin!
I love Steve Howe. But as a singer: Otis Redding, Ray Charles, BB King, James Brown,
The Four Tops, The Temptations. You see there's very many, Elmore James, many many singers.
All my favourites white singer are the white singers that sounded like black singers, like Paul Rodgers and Greg Allman and Lowell Georges, I love Van Morisson, I love Steve Winwood. Son House is one of my all time favourite. But as a songwriter you know it's very different. I love Roger Waters, Neil Young, Tom Waits, Elvis Costello, Rickie Lee Jones, Joni Mitchell, because I think you have to respect the people who are the best at what they do.
What was the first concert you went to?
Edgar Winter group in 1972 in Ashville North Carolina. Marshall Tucker Band was the opening act and nobody knew them. No one had heard Marshall Tucker Band.
The first record was not yet out, but they were very good even then.
What was the first record you ever bought ?
It was all soul music: James Brown, the Four Tops, The Temptations.
In France Southern Rock is always related to Racism, What do you think of that ?
Well not the music only the rebel flag and sometimes the connotation that comes
with the term southern rock.
Do you think you're playing Southern Rock ?
No, we play Rock and Roll, but I'm from the south and I'm very southern as a person and I'm very proud of where I'm from. But I'm not proud of the racism that is very strong in that area or used
to be very strong.
You're playing o lot of Led Zeppelin songs in concert,
What is your favourites Led Zeppelin songs ?
Many, many, many! "No Quarter" I love "Since I've been loving you" "Kashmir"
"Dazed and confused" "Over the hills and far away"
What's your amps on this tour ?
Today Soldano and Diaz. Diaz I had for a long time. The Soldano and Diaz have been my favourites amps for a long time. In the Allman Brothers Band I used a Marshall instead of the Soldano.
Did you have good memories of the Allman Brothers Band concert in Paris in 1991 ?
Yes it was a very good concert. I enjoyed that very much. La Cigale!!

Was it the first time you were playing in Europe ?
I played here with David Allan Coe in 1983. I think we played in Paris then yeah.
Will you come in Europe this summer with the Allman Brothers Band ? In Europe ?

I hope so. Well we'll see I don't know, I hope so!
That's it !!
Thank You.