When and how did you start BINDER?
BINDER really started to come about when I was living in Phoenix Arizona a few years back. I had done a CD entitled. Leanne Binder and The Steel City Blues Band. I had a different writing partner who was also my bass player. His name was Gregg Horvat. He is an incredible talent. The first CD was recorded at the Salt Mine studios in Mesa and it was received very well on the east coast which prompted a move back east. Luckily some of the musicians I had flown in to record my first CD were living on the east coast so it was a very natural thing that when I moved back that I ask them to do the next album with me. I still needed a bass player and another guitar player, so I started looking throughout the clubs and that is where I found Butch and Rajma. That was the original line up for BINDER and the 2 Drinks Til Midnite CD.


Tell us about the BINDER band members
Rajma -plays Lead Guitar, Acoustic Guitar, Fiddle, Mandolin, backing Vocals
Dave Wilson- Drums and percussion
Butch McCracken- Bass (on CD)
Marc Fontanarosa- Bass ( touring player)
Rick Young- Lead Guitar & Rhythm (on CD)
Rajma and I make up the core of BINDER. He and I are writing the next album and we also play as an acoustical duet. The rest of the members of the band change at times, depending on who is available to travel.


As a vocalist, who were your main influences? While growing up, which kind of music you listen to?
My main influences.......that is a tough one. I have always been a huge Queen Fan. I studied Opera since I was 13 and I think that Freddie Mercury had the first voice that I connected with. I am also totally into Janis Joplin, Robert Plant, Steven Tyler, Meatloaf and Heart. I just really love melodic singers with soul in their voice. The bigger the voice the more I like it.
While growing up I listened to a lot of different music. My Mom always had classical music in the house and I fell in love with "Wagner" She also had a lot of folk music, Peter Paul & Mary, some Johnny Cash, Roger Miller, Cat Stevens. I think that is where I fell in love with story telling in music. I found rock and roll somewhat on my own but remember listening to Queen & Deep Purple, Elton John , all those kinds of bands for hours in my basement.






Leanne Binder




When I first heard your voice, I instantly thought about Janis Joplin and Dale Krantz-Rossington ? What is your opinion about these two "great voices" ? Did they influence your singing ?
I am a huge fan of Janis and Dale. I do get a lot of people linking Janis' vocal style and my vocal style together, but Dale, this is a first and I am very flattered. I love strong women. I think Janis Joplin was ground breaking. I found Janis a little later in my life and I think when I did, it changed my perception of women in rock. I had always listened to male artists because I liked the power in their voices. Then I found Janis and Ann Wilson. I had found kindred spirits!


Do you play cover songs in concert? If yes, which ones?
Ya know we do some cover tunes in concert. I like performing good songs no matter who the original writers are. I have always done some Janis. Bobbi McGee, Piece of My Heart, Cry Baby, Mercedes, which ever one feels right at the time. We have done some Skynyrd ........( it is tough to play bike rally's and not play Sweet Home Alabama!) I have done some Heart.....Dog & Butterfly, Barracudda. All of the members of the band have played in cover bands throughout our career so ya never know what may happen in Concert. I have done everything from Zeppelin & Deep Purple to Humble Pie & CSNY. I am a fan of music........I love to sing all kinds of songs. But to narrow all of this down. Probably the only covers we do every night is a little tribute to Janis........People really respond to it.......and I love to sing the songs.


What is your major memory as a band ?
I think all the guys would say recording in Minneapolis Minnesota. It was really exciting. We were surrounded by great talent.......the studio was incredible, and at the time we were recording their was a huge music festival occurring in the city, PRINCE was playing with Larry Graham. We were awe struck...........Prince live in concert was incredible! When we returned to our hometown we did a huge concert. There were a couple of thousand people at the outside show. That was great! Hometown crowd....hometown rock and roll!


As a band, who would you like to perform with ?
I would love to see the band do something with Skynyrd, Aerosmith, Hank Jr, Charlie Daniels.......Really we are such fans of so many bands that hey, anyone looking for an opening act............give us a call !!!


As a vocalist, who would you like to perform with as a duet?
I hope you don't mind if I pick more than one.......I would love to sing with Steven Tyler.......Meatloaf.....Ann Wilson.....Joe Cocker.....and of course Sir Elton John.


Can you tell us about your writing process (lyrics first, music first,....) ?
Ya know that is one of the hardest questions.......I really don't have a set way of writing.......I usually light some candles.....turn off all the gadgets that are making noise in where ever I am and just try to relax with either my guitar or my piano around.......Rajma and I do a lot of writing together and a lot of times we just start messing around with an idea and the music comes out. As far as lyrics, I guess it depends on what is going on in my life......sometimes something happens and you immediately have something inspiring to say. Other times it is more subtle and the thoughts come to page very slowly. But usually, I am like a flood gate.........if I get onto something I really like......it all comes out rather quickly. Rajma and I wrote The Legend of Ann Beau in about 15 min. We were sitting in his apartment drinking wine and luckily I told him to make sure we were running tape. He had this guitar part that I thought was really cool and next thing you know the lyrics were on paper and I handed it to him and said.
Ok.......it's done, here ya go......the lyrics were never changed at all in that song and I don't believe the music changed either. They are recorded exactly as they came out that night. As far as music or lyrics first.........It changes all the time. It just depends on what part of the song wants to be born first.


How is life on the road?
Life on the road at this point in our career is not the most glamorous place to be. We share rooms.........which makes being the only girl in the band a little bit of a pain in the ass. We converted a school bus into a tour bus and we put all our equipment in the back and travel in the front. We all laugh because Rajma, Brian and I painted it black thinking it would look better and now it looks like a prison bus. We get pulled over all the time by the police. It truly is like a traveling circus with all of us and my dog cramped into this thing but we have such a great time! We spent thanksgiving eating hot-dogs in a truck stop in Kentucky, I thought that was great because at least I didn't have to cook! Not that the guys would eat my cooking anyway. I do enjoy seeing all the different places and meeting great people, that makes being away from our loved ones tolerable. Rajma tends to get me into trouble.....good trouble if ya know what I mean.......and we always seem to be laughing and goofing off so on the whole it is always an adventure.We are really looking forward to playing in Europe. We have never been to any of the countries and can't wait to get something booked!


What is your opinion about the future of southern rock in USA?
A few years ago I would have said that I think southern rock was in some trouble. It seemed like the alternative and rap stations were overpowering anything the southern rock and blues rock people were doing. The market was just not right for us. But now with the emergence of Jonny Lang, Kenny Wayne Shepherd, Shannon Curfman, Susan Tedeschi, and wow......who would have though Kid Rock and Hank Jr.would be doing a show on CMT together. I couldn't be more pleased. There is room for all music and it is great to see that people again have some great southern rock acts to listen to!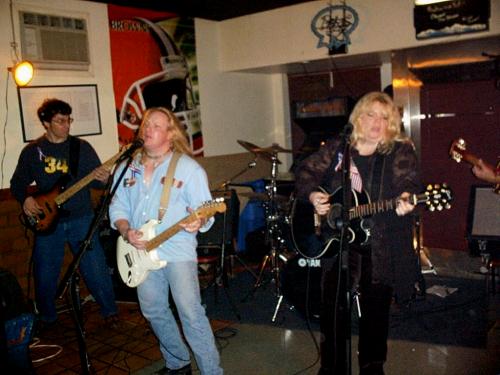 Rajma and Leanne Binder




What kind of music do you mostly listen to?
I get blamed for having old ears. I tend to like a lot of classic rock stuff. But I like a certain singing style and today in music there are not a lot of great singers. I find myself listening to everything from Parliament Funkadelic to Nickelback. It really depends on the mood I am in. At the moment I have been listening to a lot Etta James. SHE was a tremendous singer!


Do we have any chance to see you in France in the next few months?
I would love to come and play in France. I have contacted some booking agencies here in the states and have just sent out information on the band.
So we are currently looking for someone that can make playing over there a reality. I am not sure how fast things can be lined up but I am going to really try and get something together as soon as possible. I will let you know as soon as dates are confirmed.


Your album is not distributed in France. Can you tell our readers how they can purchase it?
At the moment you can order our album on our web site. It is www.binderocks.com. Come check it out and pick up a CD! You can also email me personally at Binderocks@aol.com. I would love to hear from everyone!


I've read you were also performing with Rajma as a duet. Will you play the same songs as you do with the complete band ? Did you write songs for this duet?
Rajma and I do a lot of performing together, but the duet plays mostly cover tunes. I play acoustic guitar in the duet and Rajma plays electric so we can cover a lot of different types of songs. We still do the Joplin and SRV. It is a money making venture so we pretty much will play whatever people would like to hear. We do some of the songs from the CD, like The Legend of Ann Beau and Blues Around Midnight. And we also do some of the new songs we are writing for the next album. We actually have one duet that we wrote called " Good To Be Gone" and we perform that acoustically.


Tell us about your future album and projects? When is it going to bereleased?
Well, currently we are in the middle of writing the songs for the next CD. I have just spoke with a producer that we are interested in and we are going to be setting up some studio time soon. I am not sure of the exact release date although I am shooting for a new album the fall of 2002.


Last question. If you had to live the rest of your life on a desert island, which albums would you bring with you?
Ok..........jeeze.......can I bring all of them?! This is too hard,
Ok........seriously.......um.....If I had to pick say.....5 albums it would be.....
1. Queens Greatest Hits
2. Aerosmith " Toys in the Attic"
3. Zepplin 4
4. Meatloaf "Bat Out Of Hell"
5. Jesus Christ Superstar ( Original Broadway Cast)
Chances are I would have a few more stashed away somewhere!