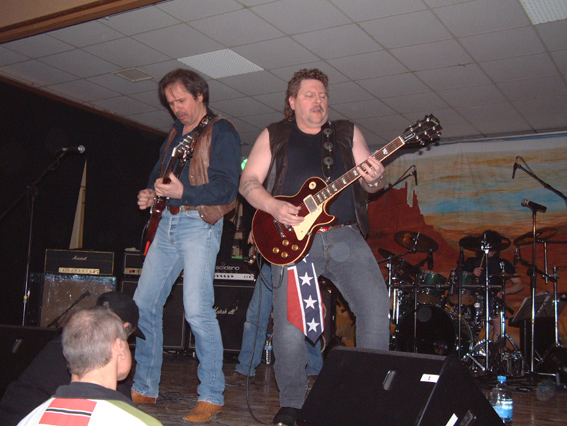 French southern rock does exist ! Obviously, the french musicians that play this kind of music are not on the musical magazines front covers, but they are always on the road and playing live everywhere, even in the bikers meetings, in the country. Rock 'n Roll has to be performed live, not in the parisian TV shows. With Calibre 12, the real music fan
does know what kind of music he's going to listen to.
"Big mouth" John Molet, great guitarist, tells us about Southern Music made in Touraine
CROSSROADS : Can you tell us, for the new fans, about Calibre 12 history ?
John Molet : OK gringo ! All the story began a long time ago. I'm going to resume, or it will be too long. Jean-Marie, the other guitarist, plays with me for thirty years. In the 70's, we played in the clubs with our group named Avalanche. We made Ted Nugent, Deep Purple, Status Quo and Aerosmith covers, big stars of the seventies. And one day, we've listened to a Lynyrd Skynyrd record. It has been like an electrochoc. And we are still hanged to this music. And this year, Calibre 12 is sixteen years old, all these years in Southern Music. In the group, with Jean-Marie and I, there are Laurent Montero (Bass Guitar and Jack Daniels) and "crazy" Fred Moreau on drums…
CROSSROADS : There is a new compilation out now (A l'Ouest rien de nouveau… ou presque).
Why did you make such a cd, after only two records ?
John Molet : These two records are no more on the market, and we wanted that the kids can find some material at the end of the shows. So to make such a compilation was the best solution. I've made myself the choice of the tittles. I began to write a new cd, but my band mates seem to be a little bit lazy (laughs).. so I don't know when it will be recorded.
CROSSROADS : I know you're a Southern Music die-hard fan.
What are, for you, the main elements of this kind of music ?
John Molet : Ronnie Van Zant had a very good life philosophy : to live everyday on the edge, and to be a simple man : and don't forget to stay proud and free. Musically, Southern Rock sound is unique and is really made with the guitars. There are many different guitar riffs, playing all together in the same direction. All the chorus are played with guitars in harmony. And don't forget Rock-country feelings, with some swamp blues. Vocals come from everyday's life, without forgetting the roots.
CROSSROADS : Isn't it an anachronism to sing Southern Music in french ?
John Molet : I guess it is ! At the beginning, I thought it was a good idea, because the vocals were about real life experiments. But after playing in Germany, England and the USA, I've changed my mind. I think that the french language is not, with some exceptions, good enough for Rock n Roll.
CROSSROADS : Southern Rock has a bad reputation, especially in France. What do you think about it ?
John Molet : Many people have written and told bullshit about Southern Rock musicians. Some fuckin' journalists have written that Southern Music means Racism. It is really pity ! These kind of journalists should have done their real job, instead of writting such stupidities. Lynyrd has recorded "Sweet Home Alabama" with black chorists. The song "The Ballad of Curtis Loew" is a kind of hommage to an old black bluesman. There are many different examples like this. Calibre 12 plays a southern flag on stage. It is our way to give an homage to this kind of musical style and culture. If some people don't understand that, that's pity !
CROSSROADS : Calibre 12 often plays in Bikers meetings. What is there in common between Lynyrd Skynyrd, Budweiser and Harley Davidson ?
John Molet : Hey, it is a weird question ! Bikers universe is close to the seventies spirit so it is logical that they do enjoy this music. Free wheeling, big motorcycles, and great guitar sound, that's the secret !
CROSSROADS : Europe (France, Germany, Scandinavy) do have very good groups in this kind of music.
So do have the Japanese with Savoy Truffle. What do you think about this worldwide expansion ?
John Molet : I think it is a real good thing. Every country has many musicians that enjoy this kind of music, because it is authentically and real music, with many different feelings.
CROSSROADS : If the old famous bands are still alive and well, like Lynyrd Skynyrd, Molly hatchet and the Allman,
it seems that there are not many young groups. What do you think about that ?
John Molet : On this point, I'm not really optimistic. To be on the same level than the groups you told me seems to be hard for the young groups, even if they don't have a major company behind them. Major company don't give a shit about Southern Music…for a long time now. There are sure good young bands in the USA or anywhere else in the world. But it's hard for them to be known and famous.
CROSSROADS : What is the future of Calibre 12 ?
John Molet : I'd like to create a new record… Until this moment, we are still on the road to play everywhere we can, and to meet fans and drink a beer with them !
CROSSROADS : As a conclusion, can you tell us what are, for you, the top five cds of Southern Rock ?
John Molet : I guess I've already heard such a question (laugh). I could give you fifty records titles … but if I've to choose, I'll tell Second Season (Point Blank), Last Rebel (Lynyrd Skynyrd), Flirtin' with Disaster (Molly Hatchet), Wild Eyed Southern Boy (38 Special) and Rides Again (Doc Hollyday).
CROSSROADS : OK John, thank you. I'll give you Blackfoot's Marauder and the Allman's Live at Fillmore East …