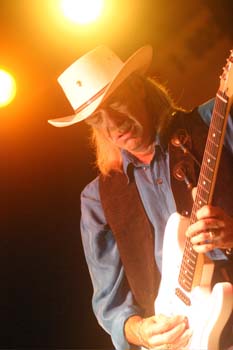 RTJ : First, before talking about your today's group and your next album, can you remind us how did you begin in the early eighties with the Dave Chastain Band, and who played with you ?
DC: Dear Philippe:
First of all, thank you so much for your interest in my music. It's an honor to do an interview with you.
I moved to Peoria, Illinois in 1976, looking to put a band together. I heard about some guys auditioning for a guitar player. I got the gig and found out they also needed a singer. That became the first version of the Dave Chastain Band. We entered a radio contest called "Best in the Midwest" with my song "Highway Man" and won the contest. "Highway Man" received a lot of air play in the midwestern states, was released as a single and eventually led to recording "Rockin' Roulette".
The band consisted of myself (lead, slide guitars and vocals), Mark French (guitar and vocals),
Bud Pruitt (bass), Tom Jernigan (drums), Tom "Nip" Beer (keyboards) and Randy Wickert (saxophone).
RTJ : Can you tell us more about your album Rockin' Roulette, recorded in the eighties and that we do consider now as a chef d'oeuvre, quite in the same musical approach as Marshall Tucker Band. How did you record such
an album ? For our fans, I just want to say that this album was published, lp and cd, on the Akarma label.
DC: "Rockin' Roulette" was a collection of songs that I had written, plus a Steve Gaines (Lynrd Skynrd) tune. My manager, at the time, once played in a band with him, called "Smokehouse". The tune was "
One in the Sun". We recorded "Rockin' Roulette" in six days. This was done in the back of a clothing store, in Morton, Illinois, with a mobile recording unit, and the band just played live, as we would on stage.
RTJ : Do you still play on stage now songs you created in the eighties ?
DC: Yes, occasionally. Currently, the only song in our present set list is "Highway Man", as we are recording a new version for the upcoming CD. Also, "Breezin'" is featured on the DVD.
RTJ : In 1992, you have recorded a cd even more blues. What did happen to you between Rockin' Roulette
and this blues album ? Who did you play with in this period ?
DC: In the early 80's, pop and disco music took over the music scene. The popularity of Southern Rock died down quite a bit, to a point where I could hardly keep working. That's when Stevie Ray Vaughn came along. As a guitar player, I have always been influenced by the blues. That's why I love the Allman Brothers (Southern blues rock), so I went in that direction. We played a lot of blues festivals and clubs throughout the states and Canada. We played shows with Johnny Winter, Buddy Guy, Albert Collins,
John Mayall, etc. I worked mainly with three pieces (bass, drums, guitar).
RTJ : I have seen, as I was searching on the Internet network, that you have recorded a dvd. I thought it has been made by Dave T Chastain, a more hard rock guitar player, but it appears that you really did this dvd.
Can you tell us more about this recording ?
DC: Yes, I know a lot of people get myself and David T confused. Although I have never met him, we talked on the phone once. People were bringing his albums and posters to my shows for me to sign and visa versa, I assume. After a show, one night in Indianapolis, Indiana, I called him, and we had a
big laugh about this. He's a nice guy and a great guitar player. We recorded the DVD at the Contemporary Arts Center here in Peoria, Illinois. The idea was conceived two or three days before the show.
There was no preparation, whatsoever; just show up with the cameras and recording gear.
The DVD was just what you heard and saw at the show; no remixes or anything.
RTJ : How will your new album be looking ? More blues, in a Stevie Ray Vaughan way, or more in a southern way ? (I know you are in the studio at this moment, recording this new cd)
DC: The new album will feature 10 new original songs, a remake of a Leon Russell song, recorded by Freddie King, called "I'd Rather Be Blind" and an updated version of "Highway Man" from
"Rockin' Roulette". Although I realize people feel they have to label music into certain categories,
it's just my music. Call it what you like, but I would say it is somewhere between Southern Rock
and blues.
RTJ : Who plays on this album and do you have some guest musicians ?
DC: The current band is myself, Larry Wigand (drums), Jamie Jenkins (bass), Mike "Bear"
Graham (keyboards/vocals). Yes, we will have some friends lending a hand: Doug Daniels on saxophone,
Rusty Hall will be adding some extra keyboard work and Mark French from the "Rockin' Roulette"
album is doing some guitar work on the new version of "Highway Man", as well as Dennis Bosley,
a killer harmonica player. There will probably also be some ladies to sing some background vocals.
RTJ : Who has written the titles ? How do you record ? Did you record the songs before coming to the studio,
or do you do everything in the studio ?
DC: On "Rockin' Roulette", I recorded the Steve Gaines tune. On "Something For the Pain", I recorded "Hey Joe" by Jimi Hendrix. On the new record, I recorded the Leon Russell song, "I'd Rather Be Blind".
All other songs are mine. I wrote the songs for the new album. The band rehearsed the material to get
the rhythm tracks. Everything else is being created in the studio.
RTJ : For our webzine fans, can you tell us how did you begin to play guitar and what did you record before ?
DC: When I was 5 or 6 years old, I would attend church services with my family. I saw a traveling evangelist. His name was Johnny Little, and I believe he was from Texas. He was playing a Fender Telecaster guitar through a Fender Champ amplifier, and man could he smoke that thing! He had the whole place dancing and shouting. Those people thought they were in the spirit of the Lord, and they probably were, but they were also under the spell of that guitar player. I started asking for a guitar, because that was the moment that I knew what I was going to do with my life.
My dad bought me a little Stella acoustic guitar, and I have been playing ever since.
Incidentally, my dad and my older brother, James, are also guitar players.
As far as recording is concerned, "Rockin' Roulette" was my first release.
RTJ : Do you think you are a southern rock artist ?
DC: I AM from the south. I grew up in the state of Arkansas about 90 miles from Memphis, Tennessee.
I consider myself a guitarist, singer/songwriter, as well as an entertainer, I enjoy all styles of music.
I don't even consider what kind of label one might put on it.
RTJ : What kind of music do you listen to ? Who is for you a kind of musical inspiration or influence ?
DC: As I said, I enjoy all styles of music, particularly blues and jazz. As far as influences, there are so many. As far as being a guitarist, I would have to say Jimi Hendrix, Duane Allman, Dickey Betts,
Stevie Ray Vaughan and my older brother James are my main influences.
RTJ : So you have a new album, which will be soon out, but did you plan to record a southern dvd soon ?
DC: We have no plans for another DVD at this point in time. We are concentrating on the new CD,
which we hope will be ready for release in a few months.
RTJ : At the end of this interview, as we do it for each interview, can you tell us if you have to go on a desert island, what will be the five albums (and 1 or 2 paintings if you want) you take with you ?
DC:
1. Live at the Fillmore East - Allman Bros Band
2. Electric Ladyland - Jimi Hendrix
3. Spectrum - Billy Cobbum
4. Inner Visions - Stevie Wonder
5. Texas Flood - Stevie Ray Vaughan
and........... any issue of Playboy magazine!
RTJ : Thank you to answer to our questions, and we do hope to see you soon on stage in Europe. Thanks.

DC: My pleasure! Philippe, we are very interested in performing in Europe. We would like to find out more about European record labels and booking agencies. Any help would be appreciated.
Thank you for the interview! Hope to see you soon!
We be reached at:
thedavechastainband@hotmail.com
We also have a website:
thedavechastainband.com
We would love to hear from you.