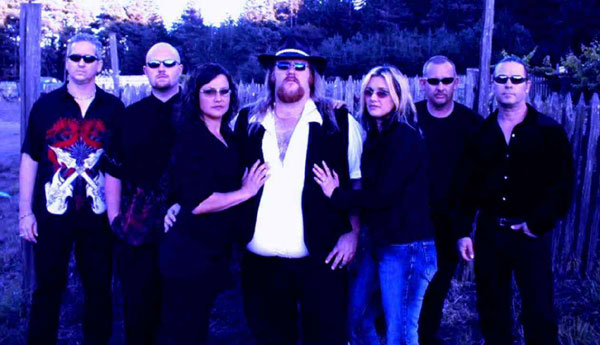 David Verno (Jackson Stone Band) interview by Philippe Archambeau
RTJ : Hi David, Thank you to accept to answer to Road to Jacksonville, French southern rock webzine.
Your new album has been like a real bomb in southern rock universe
(just have a look at www.roadtojacksonville.com)
Before talking about the other members of the band, let's talk about you. Where do you come from ?
How did you begin to play music ? Who did you play with ?

David Verno : I grew up in a small town on the north coast of California called Timber Cove.
I began playing music around a campfire and in school with friends of mine when I was about 11 years old.
We started a band and played gigs for local parties, school functions, as well as community events.

RTJ : You come from North California, can you introduce the group and its history ?

Jefferson Davis (Drums) resides in Las Vegas, Nevada he has played for me off and on since 2001.
Jackson Parrott (Bass Guitar) grew up in Humboldt County, he has played with me for a year.
Brian West (Keyboards) from Mississippi now lives in Fremont, California he has played with me for 6 months or so.
It seems that you play in a southern rock spirit. Does it come from you or from the whole band ? How did you begin to play in such a style ?
It comes from the whole band. I am definitely the one who is choosing the style but the band is making it all happen. Jeff and Brian are well versed in Southern Rock. Jackson Parrott influences are Motown, Funk, Country, Blues & Rock. I met Jackson in Fortuna and quickly recognized him to be a natural and hungry for everything to do with music. He wanted out of that small town though it's his hometown, but he was ready to get out an on with his music. I can totally relate to this coming from a small town. We became fast friends.
What are your main influences ? Your favourite groups ?
Well Lynyrd Skynyrd of course.
I love ABB, 38, ZZ Top, Gov't Mule, Gary Moore is one of my favorites, along with David Gilmour ( Pink Floyd) many more influences Jimi Hendrix, Stevie Ray, all the great guitarist Pat Travers, Rick Derringer, Johnny Winter.

RTJ : Is it easy to play southern rock in the United States now ?

Southern Rock is never gonna die its respected by anyone who has heart.

RTJ : Do you earn your living in playing music ?

Yes, music is our main source of income.

RTJ : We discovered you two years ago with two two-title cds. You've been soon famous, so why did you wait so long to record this cd ?

This CD took sometime to finish for a few reasons. We stay on the road pretty consistently.
The CD was recorded at Prairie Sun Recording Studios where a lot of big bands from all over the world record.
Our touring schedule made it difficult made it difficult for us to spend more than a couple of days in the studio.
So a lot of blood an sweat went into this CD.

RTJ : You did include the two-titles cds on this album. Have they been rerecorded ?

Yes they were included not rerecorded.

RTJ : Many bass players played on this album. Was it hard to find the good one ?

No, they were all good players. However I realized Jackson Parrott was a rare find. His loyalty and devotion plus his natural ability and stage presence set his mark in the Jackson Stone Band . We became fast friends, more like brothers, with a great deal of respect for each other that has created a tight bond.

RTJ : There is a great sound on this album, like famous southern bands have, especially for the drums. Can you tell us how did you record this album ? Who helped you and how were the recording sessions ?

Prairie Sun Studio's world famous drum tone can be heard from such artist as Huey Lewis and the News, Tower of Power, Santana, Damn Yankees just to name a few. The biggest impact on this CD was "Mooka" Mark Rennick. You couldn't ask for a better producer he just has away of getting you to get the performance. His descriptive energy and vibe helps you through those times when your right on the edge of something really awesome but are kind a stumped at the same time. His way of drawing the best out of you onto 2 inch tape is his gift. The board we tracked on is a 36x8 vintage 70s NEVE Mixing Desk Previously owned by Pete Townsend of the WHO. And recorded on a 827 Studer 24 track 2inch Tape Machine. Using Vintage European Tube Microphones. Mooka goes for a very punchie realistic drum tone and uses no samples or profools toolery.

RTJ : We can hear two female chorists, a little bit like Lynyrd Skynyrd !!

The Jackson Stone Band secret sauce Twanna Turner, Marissa Mendenhall, Dallis Craft, Linda Dalziel. Dallis Craft recorded all of the parts on Take Me Back & Risin' High. She is truly an incredible singer. Twanna Turner & Marissa Mendenhall together at the same time recorded Sympathy & Seven Days. Twanna & Marissa recorded separately on Call Up The Doctor. Gimme The Wheel & Throwing It All Away was Linda Dalziel & Marissa. I absolutely love the female back up singers. I have always been a big fan of female vocalist. Something happens to me inside when I hear a female just get down and dirty with her voice. It captivates me. Every one of these singers give me chills when I heard them sing.

RTJ : Can you tell us about the texts of your songs, what are they about ?

I write a lot about what I have lived, feel, and survived.

RTJ : I tried to find musical influences, but Jackson Stone plays Jackson Stone, and sometimes some Skynyrd or Molly hatchet touches. Which is the song you are the proudest ?

Seven Days.

RTJ : It seems you've been open act for many great southern bands. What is you best souvenir on stage ?
I think the interpretation of this question is what is my favorite show?

I'd have to say my most memorable experience was with Tom Fogerty (Credence Clearwater) at a Peace Quake Show in San Francisco in front of 22,000 people, when I was only 15 years old.

RTJ : What is really for you the meaning of "southern rock" ?

Rock music from the heart of a country boy.

RTJ : What will be Jackson Stone Band future ? A new cd or a dvd ?

We have plans for both, and we would love to see a trip to FRANCE!

RTJ : What do you enjoy in life, except music ?

Harleys and Hot Women.

RTJ : At the end, like every time on Road to Jacksonville, the same question : if you have to go on a desert island and you have the right to take five albums, what would be the cds you take with you ?

Lynyrd Skynyrd, "One More From The Road Road," Gary Moore, Gov't Mule, ABB "Hittin' The Note"
Thank you again David. I think it may be hard to see you one day in France, but can you tell us something for the French southern rock addicts ?
We have lots of new songs in the cooker and we are ready and willing to come rock for you LIVE. Jackson Stone Band would like to thank all who support "Southern Rock Music"
We hope to see you all soon. "Keep On Rockin'" Thank You Philippe for your time an for furthering
the Jackson Stone Band's career on the European scene.