NTERVIEW DIXIE PEACH Janvier 2004 ( par Philippe Archambeau / John Molet / Traduction : Dominique Turgot )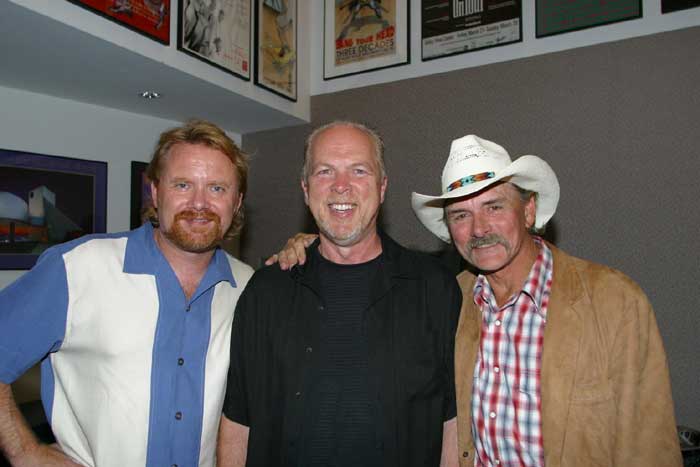 Hi Ira, thanks a lot for this interview. First of all, the Dixie Peach band is not very well known over here in France. So, can you tell us about the band history, how it was born, its members, etc.
It is my pleasure to talk with you about the band. I had played guitar in bands since I was a kid. After seeing the Allman Brothers Band in 1970, I was so impressed with their approach to music that I decided I wanted to put together a band doing something similar. I contacted a couple of former band mates, Steve Williams (keyboards) and Mike "Roscoe" Rousculp (Bass), and we began looking for drummers. About that same time, a friend of Steve's, Tony Paulus had just returned from service in the Army. I knew he was an excellent keyboard player but he had not played guitar. We added Tony and he picked up the guitar very quickly. We settled in with another former band mate, Jerry Barnhart, on drums. Dixie Peach spent months rehearsing in my basement before we played a gig. We toured the south extensively from 1972 until we br oke up in 1975. We also played concert venues as an opening act for some major artists like Joe Walsh, Blue Oyster Cult, Ted Nugent, Roy Buchanan, Canned Heat, and others. The band has the same personnel today with the exception of drummer Steve Benson who joined us in 1998.
I've finally been able to listen to your first album from 1975. It has now become a collector. Do you know if it's gonna be re-released as a cd ?
IThat album is very hard to find. The record label no longer exists. We produced a small number of that album as a cd to give to friends and family at a reunion show we did in our hometown a few years ago. We are considering a re-release some time later this year.
Can you tell us a bit more about this album ? What were your hopes back then ?
I S : Our hopes were to express the passion we had for this type of music. The blues-rock and southern-rock music that we played was high energy. We tried to mix some of our original material with some arrangements of other songs. We recorded the album in late 1974/early 1975. One very unique song was our version of the movie theme song from "The Good, the Bad, and the Ugly". We worked a month on that arrangement. It is an instrumental and has many changes in tempo, solos, etc. Another song is my brief tribute to Duane Allman titled "Skydog" which was his nickname. It's just slide guitar and drums. A couple of original songs, "Take A Look Around" and "Out of Money (Out of Gas)" did get some radio airplay.
Musically, you seem to be real close to the Allman Brothers. Did you ever meet them ? Are they your main influence ? In the little southern rock community, are there other bands you admire ?
The Allman Brother Band was definitely our main influence. But, Eric Clapton, Leon Russell, and the Grateful Dead were certainly influential as well. We never met the Allman Brothers Band as a group. We played many clubs in the south that they played when they started. I've been fortunate to meet and talk with Dickey Betts on a few occasions. I consider their tour mystic, Kirk West to be a friend and a brother. I admire any band that carries the torch of southern rock. But, the Allman Brother Band is the number one band. My favorite guitarist and solo artist is Lee Roy Parnell. He is so good that he can play this style in his sleep. He is known for his success in country music; but, he plays some great southern rock on his cd "Tell The Truth".
What do you think of the future of this music ? Do you see any new bands able to carry on the torch ?
There are definitely some musicians committed to carrying the torch. I sat in with Lee Roy Parnell at a jam in Macon Georgia this year at GABBAfest and heard some great southern rock. Grinderswitch is playing again and the Mark May band sounds great.
What have you been doing since '75 ? Did you play with other bands ?
After Dixie Peach broke up in 1975, I quit playing music. I finished college and got a business degree. I started a career as an accountant and focused my time on raising my children. I sold all my musical equipment and did not touch a guitar for eight years. One night in 1983, I went to see some friends play at a local club. They asked me to sit in and play. After that experience, I decided to start playing again as a hobby. Over the time since then, I've played in a few bands on and off and played many different styles including blues, fusion jazz, etc. But my love for southern rock and Dixie Peach was still in my heart.
What was the reason to record an other album after all those years ?
Back in 1997, Steve, Tony and I were talking about the band and the good times we had. We were still getting friends and fans asking us if we might ever play music together again. We had the idea that we would get together and play one last time. So, in the summer of 1998, we rehearsed to play our "Final Appearance" gig. The response was overwhelming. The show, at a local concert club was sold out. The music was great and the crowd was very gracious. The response to the revival of Dixie Peach has inspired us; we knew then that there was some more music inside of us that we had to get out. Over a period of six months we worked part time on the album. It was released in October 2002.
With this new album released and sold in the best places, what do you expect for Dixie Peach ? Is Dixie Peach back on the road ?
We are back on the road on a limited basis. We're being very careful not to overexpose the band and we are picking some select venues for performing. We recently played for Gibson Guitars NAMM show party in Nashville and at the Rock and Roll Hall of Fame in Cleveland, Ohio. We want to continue our mission of writing and recording our style of music and playing to the people that enjoy ourstyle of music.
How did you choose between new songs and covers ?
Most of the time, the songs chose themselves. The original material is written with the band in mind so those songs usually work. For covers, it is important to find songs that will showcase our abilities but allow us to put our signature on them. For example, on the cd, we did a hard-driving cover of Clapton's "Blues Power" featuring slide guitar. We also did Ray Charles' "Unchain My Heart" with some focus on the keyboard solos.
Is it easy for you to find gigs in the USA ?
We have always been fortunate to find gigs when we wanted them here in the USA. However, since our cd has had some success in Europe, we would like to schedule some dates on your side of the Atlantic. We are trying to make contact with someone in France to discuss a summer tour but we have not yet found someone to work with us.
Which gear do you usually use on stage and in the studio ?
On stage, I'll use historic reissue Gibson Les Pauls for regular lead guitar and a Gibson SG for slide guitar. My amp will either be a Dumble Overdrive Special or a Fuchs Overdrive Supreme. Either of those amps will drive two 12 inch Celestion Vintage 30s. I don't use any pedals except an occasional wah-wah. Selecting studio equipment can be fun. I'll use my stage gear but will also use other amplifiers. On the cd, I also used a Bogner Shiva, a Mesa Boogie Mark IIB, a Carvin, a Gibson GA 15, and a Line 6 Pod in addition to my stage amps. On a few songs, I used a Fender Stratocaster guitar as well as my Les Pauls. My motto is that you can never have too many guitars or amps.
For you, what does the label "southern rock" means ? Is it, as some may think, a kind of trademark ?
Musically, it means blending musical styles such as blues, gospel, rock, and some jazz. When the style developed, I also think it had a meaning in terms of lifestyle. It means doing what you like without compromise. In other words it meant you wouldn't sell out your ideas for material gain. It also meant accepting people as your brother and respecting their ideas.
Do you keep good memories of all those years with Dixie Peach ?
The memories are great. Roscoe kept a diary of every gig we played including the city and how much we were paid. We were a bunch of young guys traveling the country playing music - it doesn't get any better than that. One amusing memory was playing a week-long gig in Tampa Florida and barely making enough money to pay our bar bill at the end of the week. It sounds like the "Blues Brothers" doesn't it ? Another fond memory is a place we played in Charlotte North Carolina. The place was called the Lizzard Creek Ballroom. We played there frequently and they dared to bill us as "the best in southern rock". That was quite a tribute to us and we were humbled by that tribute. We had our share of fights, stolen equipment, stolen money, and encounters with strange people. Would I do it again ? The answer is yes!
Last question. If you had to spend the rest of your life on a desert island, which five albums would you take with you ?
It's hard to limit it to five; but, I'll try:
1. Allman Brother Band at the Fillmore East
2. Derek and the Dominoes Layla album
3. John Mayall and the Bluesbreakers with Eric Clapton
4. The Paul Butterfield Blues Band (first album - Mike Bloomfield is incredible)
5. Taj Mahal The Natch'l Blues
Once again, Ira, thanks a lot for answering these questions. And may be someday we'll meet when you'll play over here.
I'll look forward to meeting you and my fellow southern rock brothers and sisters if we can arrange a trip this summer. Tu dira bien des choses chez toi. It is my pleasure to talk with you about the band.