EDDIE STONE
(interview by John Molet)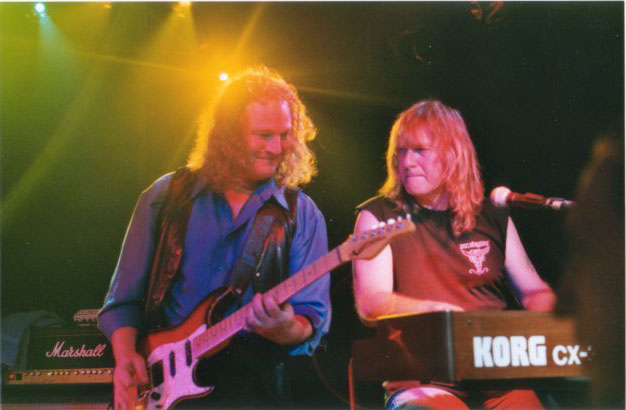 RTJ : Hi Eddie, Thank you to accept this little interview for Road to Jacksonville, French southern rock webzine. Can you, for our readers and before talking about Eddie Stone and Friends, tell us about you, your musical career. When and how did you begin to play ?

EDDIE STONE : First, Thank you for allowing me this interview. I first started to play in 1964 after seeing The Beatles on TV. I then decided that I would really like to try that.

RTJ : What is your best souvenir with Doc Holliday ?

EDDIE STONE : My best souvenir with Doc Holliday would be all the memories that I have from all the tours and all the places I have visited. And the bands that we toured with.

RTJ : Are there different ways in the musical approach between Doc Holliday, Eddie Stone and Friends and Grinderswitch ?

EDDIE STONE : Yes each one is different. For Doc Holliday it starts with an idea from Bruce and goes from there. We all may inject some input, but basically Bruce is the captain of the team. For Grinderswitch it is basically the same we all rally around Dru and we take it from there. And for Eddie Stone and Friends,
It's pretty much what I come up with. I Write or choose the songs that are best suited for the project. Although as producer of the cd Bruce had a lot of input. I think we made a very good team!

RTJ : For you, what are the most important and indispensable things necessary to play southern rock ?

EDDIE STONE : First like any other music you must have a good song. You must have a drummer and bass player who understand soul, country, rock and roll, and rhythm and blues. You need at least one hot guitar player, maybe 2, Keyboards would be nice also. but bottom line, you can have any instrument and make it work as long as you have a bit of the south in your heart and soul. Also I forgot you need a vocalist with all of the above.

RTJ : Is it easy for you, and how to you do, to play in the same time in Doc Holliday, Grinderswitch and Eddie Stone and Friends ?

EDDIE STONE : It sometimes becomes difficult, but it is something I love very much. "Doc" is my first love and I will always have time for that. Grinderswitch is also a "Labor of Love". Doc Holliday used to tour with Grinderswitch in the 70's, they were very good to all of us. also Steve Miller(Grinderswitch keyboardist), pretty much taught me how to play the style of organ that I play today(along with Booker T,Gregg Allman,and Bobby Whitlock). After Steve passed away, I was honoured when Dru ask me to participate in the reformation of Grinderswitch. Eddie Stone and Friends is what I do with any time and or songs I have left over. Having said that I am deeply indebted to both Dru and Bruce, both are 2 of my best friends in the world.

RTJ : We've waited for your album for quite one year. How can you describe it ?

EDDIE STONE : It is very southern in the feel, but it also has bits of blues, country, and Americana music in it. It is an extension of what I do in Doc Holliday. It also has many of my best friends in the music business playing on it. Members of Marshall Tucker, The Outlaws, Molly Hatchet, Stillwater, the Atlanta Rhythm section and of course Doc Holliday. There were many other people that were supposed to participate, but as usual time and schedules conflicted. Oh well there is always cd number 2!

RTJ : How and where was the music composed ?

EDDIE STONE : The music was composed over the last couple of years. It was recorded at The world famous, historic Capricorn Studios, (Where the Allmans, Tuckers, Skynyrd, Wet Willie, Charlie Daniels, and just about any body else in southern rock recorded). Also a lot of the recording was done at Bruce Brookshire's Spirit Song Studios. It was also mixed there by Bruce.

RTJ : How did you record and produce that album ?

EDDIE STONE : The cd was recorded between gigs and Doc tours and was lovingly produced by Bruce Brookshire.

RTJ : You came to Europe for some gigs last November. How was that tour ?

EDDIE STONE : The tour was fantastic! We traveled a lot of Kilometers in a very short time. I had a fantastic band that consisted of Chris Berner and Wolfgang Rosner, of the southern rock band Lizard, on Guitar and drums.
Also my old friend John Samuelson on bass, from Doc Holliday. I played guitar, acoustic guitar, and keyboards.
Plus I did the vocals. I was pretty busy! It was a very good 4 piece band!

RTJ : Do you earn your living in playing music ? Is it easy for southern rock musicians to play today in the United States ?

EDDIE STONE : I do earn my living playing music. And no it is not easy for the old southern rock guys to play in the United States. We have to work very hard for the gigs that we get.

RTJ : How can you give us a definition of what is for you Southern Rock ? What does it really figure for you ?

EDDIE STONE : Like I said earlier Southern Rock is a musical feeling, a state of mind. When you hear a southern song it makes you think of good times, bad times, going fishing, drinking with the guys(and gals). Love won, love lost and everything in between. For me it is a way of life. It is how I've lived for the past 35 plus years. I think I've been playing southern rock that long.

RTJ : Can you imagine that Southern Rock is now a special way of life ? Why is it become such a way of living ? I think I answered that in the last question.

EDDIE STONE : For you, what did Doc Holliday miss to be a real southern music top group ? For us it was a matter of economics. We came very close. We were on the same label as 38 Special, who the label had lots of money invested in. And it just wasn't our turn. when it was southern rock wasn't very popular anymore. (Another place another time). I think then and now Doc Holliday is one of the best southern rock bands around!

RTJ : I was really happy to see that Tim Brooks played on you album. I sent him some questions and he answered me two years later. Do you know where does he live and what is he doing now ? He was a real gifted slide guitar player, I hope he soon gives us a new album.

EDDIE STONE : Tim lives in Gray, Georgia and is doing well. He is still working with his band as well as running his studio. Yes he is a very gifted slide player as well as a great person.

RTJ: Do you know the new southern rock groups, like Florida's Tishamingo for instance ?

EDDIE STONE : I've never heard of them although I would really like to hear them or any one keeping the music alive. I am familiar with the Drive By Truckers and they are very good.

RTJ : For what I know, Doc Holliday never came to play in France, and my friends had to go to Belgium to be able to see you on stage (Spirit 66).

EDDIE STONE : That is true.

RTJ : You do have many fans in France, do you know why you never came to play here ?

EDDIE STONE : I really don't know. We have had some gigs scheduled and they were cancelled, for reasons I don't know. also we were on a French label at one time. I would really like to come to France sometime. Be it with Doc Holliday, Grinderswitch, or Eddie Stone and Friends.

RTJ : Do you know if we can soon have the happiness to get a Doc Holliday or Eddie Stone and Friends dvd ?

EDDIE STONE : I do know that we are working on a Doc Holliday dvd shot live in Europe in 2003. But I do not know the release date. I also would like to do an Eddie Stone dvd, but the second cd will come first.

RTJ : At the end, like every time on Road to Jacksonville, the same question : if you have to go on a desert island and you have the right to take five albums (and 1 or 2 paintings if you want), what would be those you take with you ?

EDDIE STONE : The cds would be The Beatles "Rubber Soul", The Allman Bros, "Live at Fillmore East", Gram Parsons "Grievous Angel" Lynyrd Skynyrd "Street Survivors" and anything by Ray Charles and Merle Haggard.(maybe I'll take 6). As for paintings I'm don't know alot about art, I do like it. My daughter is an artist so I'd choose paintings by her.

RTJ : Have you anything else to say to our readers ?

EDDIE STONE : Thank you for supporting southern music, the music i play and love. also please support live music. i hope to see you this summer either with Doc Holliday, Grinderswitch, or Eddie Stone and friends.

RTJ :Thank you for this interview.
EDDIE STONE : Thank you very much for taking the time to interview me. Also thanks for keeping southern rock alive over there, I hope to see you soon. God bless you,