First of all, how are doing ? How is your health ?
I feel really good (as you can see in the picture). The doctors put me on the "inactive" waiting list for a new heart. I'll need one some day, for not now.

When did you start playing guitar ? Was it your first instrument ?
I took piano lessons very early...8 years old. I didn't like the piano so I quit...I wish now I hadn't.
I took up the guitar in 1961...a very-hard-to-play Kay acoustic. I learned all of the popular Southern California surf tunes at the time.

Did you study guitar all by yourself or did you get lessons ? Did you work a lot on your guitar ?
I took lessons for 3 months. When the teacher had me play a recitar ("Beautiful Brown Eyes") I quit. I practised just about non-stop from '62-'67.

How did you develop your "staccato" style ? Who were your main influences at that time ?
I can't answer that...my guitar heroes were James Burton, Lonnie Mack & Duane Eddy.

How did you start playing slide guitar ? How did develop your slide guitar style ?
I played a bit of slide in the late '60s, but it wasn't very "cool" .... until Duane Allman made it popular.
I saw Duane play 10/9/71 and 10/13/71 ... he was killed 10/29. I learned a lot by watching him play. Though NO ONE can EVER measure up to Duane...oh wait....Ry Cooder can. Ok...it's Duane and Ry. But that's IT. I don't listen to any other slide players, not even me.

What kind of music do you listen to today ?
Oldies. '50s & '60s. The last great rock album was Brothers In Arms by Dire Straits. After that, nothing strikes me. I really like to listen to the stuff I grew up on.

What is your favorite gear (guitars and amps) ?
I always loved old Gibson Les Paul...but they're a very one-dimensional instrument. The Fender Stratocaster or Telecaster are what I play the most. There are many great amplifiers out there. I used a Paul Reed Smith solid state amp for MANY years and LOVED it. He doesn't make them anymore, but they were outstanding. I played over 400 shows with the one I had and it never needed servicing.

Is there people you 'ld really like to play with ?
I always wanted to play with James Burton and I had that chance at the Dallas Guitar Show in '94. It was myself along with Greg Martin (Ky Headhunters), Brian Setzer, Seymour Duncan and Burton. We did "Hello Mary Lou" and we each took a solo. I knew Burton's solo "note for note", so I really got off on that. When it came time for Burton to take his solo, he played something totally different. I suppose he's allowed to do that, isn't he?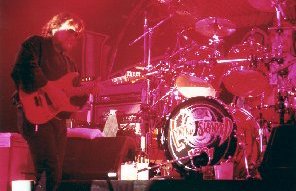 Ed King in Paris, '92
Photo by John Molet




Imagine you can start the band of your dreams. Who would be in that band ?
Leon Wilkeson on bass...Jerry Edmonton on drums...Pete Townsend on rhythm guitar and me in the background somewhere. Oh yeah...Ronnie Van Zant on vocals.

While you were touring with the Lynyrd Skynyrd band, which bands did you like as an opener for your show ?
Charlie Daniels always. Later, in the '90s, I thought Ted Nugent and Skynyrd worked great together. Nugent is great....I can't stand his music but I think he's a great character!!

If you did not have this successfull musical career, what would have been your life ?
The same thing I am now....a bum and a recluse.

During your career, did you have the chance to meet all the musicians you wanted to ?
I never really felt I HAD to meet anybody....but I think I DID meet all of heroes, except for Lonnie Mack.

What was your life between '75 and '87 ? Were you in the musical business ? Which projects did you work on ?
I invested in some real estate and did some computer programming...nothing, of course, can beat playing a guitar for a living.

What is your feeling about southern rock today ?
Do you mean the current Southern bands? Outside of the Drive-By Truckers, I don't really listen to anybody. The Truckers are pretty good !

Are there musical styles you really don't like ?
I never cared for Detroit soul music. I like Philly soul....love Memphis soul...Chicago soul is great. For some reason, never got off on the Detroit thing. Oh yeah...you can add rap music to the styles I don't like.

If you had the opportunity, would you like being on the road ?
I love the road...it doesn't like me.

What do you think about the southern rock bad conotation (often assimilated to racism) in some countries ?
I'm from Los Angeles...I don't get the whole southern racism thing at all. The whole business about the Confederate flag....I mean, "So What?"

How did you react to the Sept 11th events ?
"The End Is Near".

We were very sad when we learned you stopped your "Bonnie Blue Band" project. Is there a chance you start an other superband ?
I may have wanted to get on with that, but Jimmy Hall didn't seem interested so I figured we're ALL probably too damn old to deal with this.

We've talked with a lof of french fans and everybody were sad while learning your departure from the band in '95. Most of the fans think the Lynyrd Skynyrd 's music changed since you left the band (the songwriting and the arrangements are not as rich as when you were in the band). What do you think of their music ?
I haven't really listened to Skynyrd since I left the band. I'd say, without hearing it, that the music would HAVE to be radically different without me there...but even MORESO without Leon Wilkeson. If something happens to Billy Powell, you can just forget it.

Did you have relationship with some band members after your departure ?
No.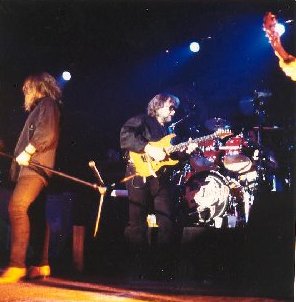 Ed King and Johnny VanZant in Paris, '92
Photo by John Molet



Don't you think they should have ended the Lynyrd Skynyrd band after Leon passed away ?
No...Gary Rossington has most certainly earned the right to do whatever it is he cares to do with the name Lynyrd Skynyrd. I hope he tours til he drops...it's his right.

What is your life today ? Do you still write songs ? Is there a chance you'll release an album on the future ?
You saw the picture I sent you! I'm really happy and as content as I have ever been. I have a bunch of tunes I've recorded in my home studio over the years. When and If the band ever gets into the Hall of Fame, then I'll release some of it.

If you had to spend the rest of your life on a desert island, which albums would you take with you ?
Who's Next. That's the only one. Maybe a Beach Boys greatest hits collection.

If you could 're-start' your life, are there things you would change or would not do ?
The ONLY thing I would "change" : I would've been a little more aggresive in the music business and taken my talent more seriously. I should've moved to San Francisco and joined a band in the 60s. But, judging how things have turned out, I can't complain.