Before we talk about the new SRA album "Danger Zone", can you remind us the greatest moments of your career with Molly Hatchet ?
Well, recieving our fisrt gold and platinum albums. That was very special. Touring with the Who and the Rolling Stones, and selling out six shows in three days at Madison Square Garden.

We had the great pleasure to see the original band (well, almots) during the "Jammin for DJB" event. It was so emotional. While hearing your comments during the show, it seems Molly Hatchet will always be in your mind. Can you elaborate ?
We are all great friends. We grew up together and have known each other all our lives. Yeah, it's emotional when it comes to those guys.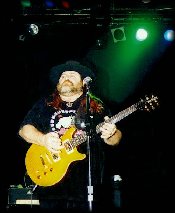 Do you gave any news from Danny Joe Brown ? He's doing the best he can. He wishes everybody out there the best.

The New Molly Hatchet performed in France during the last two years. Of course, Bobby Ingram was asked about the New Molly Hatchet's authenticity. He gave us his version. What do you personnally think of the "new band" ?
Good band. As long as they continue to play well together, I'll live forever. As far as authenticity goes, well, it speaks for itself.

Did you see them live ? Did you play with them ? Do you like their albums ?
Yes, I've seen them, and yes I did sit in on several shows with them. As far as liking their albums, I have not listened to any of them enough to really have an opinion.

Last about Molly Hatchet, but you may like to know that you, Duane and Steve are considered, by the french fans, the real guitar players in Molly Hatchet, and we really appreciate the name and the legend still live on.
I'm very grateful for that. I consider Steve, Duane and myself the true triple guitar threat from MH, because WE ARE. And always will be, no changes in lineup will ever change THAT fact.

Tell us about this new album "Danger Road ?
Thanks for asking about it. It was a lot of fun making that record. I thought everyone in SRA played really well and went above and beyond themselves on it. I personally like listening to it!

Did you approach this new album the same way you did with the first album ?
No, the first album was well under way when I came onboard, I just put a little touch here and there. The new record was a group effort from the start.

I've seen there are many guests starts on this albums. Can you tell us a bit more about working and playing with them ?
I only played with a few of them. Most of them were added as they became available. The ones I got to play with, were great!

I've seen you many times playing a "strat", don't you like anymore the Les Paul and Explorer's sound ?
I like strats, but Jay won't let me play 'em! He says I suck on strats! All kidding aside, I have found that the Hamer studio model fits me just fine.

What do you think of the future for southern rock ?
It looks good! It is by no means the dead issue that people have been saying it is. Funny thing about fashions, and music. They both go in a circle.

Do you still love bands such as Lynyrd Skynyrd, Allman Brothers, 38 Special ? What do you think of Gov't Mule and the "new bands" ?
Of course I still love 'em. Great bands. As far as Mule, it's really too bad that Warren can't play slide huh? JUST JOKING!!! I think they are a great band.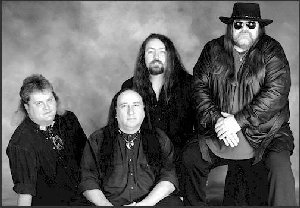 Left to right - SRA - Jay Johnson, Jakson Spires, Charles Hart and Dave Hlubek



Last question, I remember seeing you performing in France, in Sept '79 in Paris (for the recording of the music show "Chorus"), and in '83, again in Paris with the Outlaws (as you can see, I'm not that young anymore !!!). Is there a chance we might see you in France with SRA ?
There's always a chance. We've dicussed the possibilities of going overseas again. I know we are looking forward to it. When it does happen, look us up!