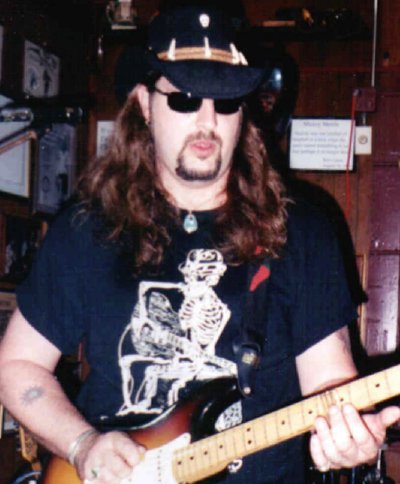 Hi Jay, we"re french and we're working on a southern rock webzine (both french and english) which is called "Road to Jacksonville". We really appreciated your last album and we'ld like to ask you a few questions for you to be more popular over here in France.

First of all, as not so many people know you in France, can you introduce yourself, your band members, your musical career, your guitar playing style and the way you approach music ?
I'm Jay B Elston, I live near New Orleans, Louisiana ,in a town called Slidell on the Bayou. My drummers name is Rory Faciane, I have a new bass player since the my last cd was released, his name is Dr. Porkchop. I started playing guitar at age 8. I was raised on a farm. I bought my first real guitar ( a Les Paul Gold Top ) by selling a cow my Dad gave me. Played all over the USA for years touring in different kinds of bands. I've had my own band " The Jay B. Elston Band " for about 5 years now with two cd's out as of right now. I always loved blues and Southern Rock. So thats what I guess I do. But I listen to, and love all kinds of music. My guitar style is blues with a rock additude. I approach music by doing what I want to do, and what moves me. What makes me feel a certain way.

While surfing on your website, I noticed you worked with many southern rock great acts. Can you elaborate on this work, was it collaboration, opening shows ?
Mostly opening shows. But what a great time working and meeting with my idol's. Such as Marshall Tucker Band, Molly Hatchet, Skynyrd, Charlie Daniels, Allmans, Willie Nelson,Foghat, James Cotton, Gate mouth Brown and on and on. I have played on stage jamming with Willie, Molly, Tucker, Gatemouth, James Cotton (etc.) Getting to look them in the eye up on stage while your jamming with them. What a high !! I jammed with Danny Joe Brown lead singer of Molly Hatchet , one of the last shows he did.

Who influenced your style while growing up ? and now ?
Man, Thats a hard one, Were do I start. My Mom listened to 50's and 60's American rock n roll. My Dad listened to Country music. When I was very young. When I started playing guitar. It was Eric Clapton, Jimi Hendrix, Jimmie Page, Skynyrd, Outlaws, Marshall Tucker, 38 Special, Duanne Allman and the Allman Brothers, The Stones, Black Sabbath, Foghat,and old blues players Muddy Waters, Elmore James, Robert Johnson. And other stuff, like Queen, ELO, Bowie, Kiss, Deep Purple, AC/DC, Bob Marley, of corse Zepplin. I can go on and on. I guess just about everything.

How would you classify your music ? Southern Rock ? Blues Rock ? Southern Blues ?
All of the above. You know when I write songs it just comes out of me the way it does. I don't try to write any kind of way. So I guess from all my influences threw the years its just a gumbo. All kinds of stuff. With blues being the main ingredent. Some call it ,Swamp Rock or Biker Blues, anyway you look at it, its blues with Southern Rock n Roll.

Do you live by the music or do you need to get an other job ?
I have made my living most of my life by playing just music. But these days I do have another business just like other musicians do. Even very rich and famous musician's have other things going on to help pay the bills. I don't punch a time clock. Music comes first. The other business works around my music.

It seems you particularly appreciate slide guitar. Can you tell us more about it ? How did you start playing it ? Who are your influences ?
Yes, I do love slide. I just always wanted to be the best I could at that. I started playing in a standard tunning. Copying Joe Walsh, Rod Price of Foghat, Billy Gibbons of ZZ Top. Then I discovered the whole open tunning thing from Robert Johnson, Elmore James, Ry Cooder. And then Duane Allman. And I can't forget Aussie slide master Dave Hole, I learned alot listening to him. I play now in all types of tunnings. Mostlly open G and D and standerd too.

Is it easy to play this kind of music in the States ?
Well, we stay pretty busy. But its not the most popular music I guess. Its more underground. But who knows things always are changing, the music industry is looking to find something different right now I've been told.

To which southern rock legend do you feel close (Lynyrd, Molly, 38 Special, Allman Brothers,...) ?
I guess Skynyrd, and then the Allmans, and all the rest too. Tucker, Charlie Daniels, 38, Molly and don't forget Wet Willie, Blackfoot and the Outlaws. I love them all !!

I enjoyed your cover of "Mississipi Kid" on your last album ? Do you play many covers on stage ? if yes, which ones ?
Yes I do. " Mississippi Kid " is the only cover tune I ever recorded on a CD. But live shows I throw in cover's here and there around my songs. Like old ZZ Top, Heard it on the X and Just got Paid. Robin Trower, Day of the Eagle,Bridge of Si, Skynyrd tunes, some CCR and Hendrix( etc). And of corse I know many tunes by the blues masters , Muddy, Howlin Wolf, BB King and the rest of the Kings, and so many more.If I choose to pull them out I do. Live I don't go by a list. I try to read the people and see what there into. And go from there.

Which are your greatest musical memories ?
Playing on Stage with Willie Nelson and Molly Hatchet was really cool. Standing on stage and jamming with James Cotton ( Muddy's Harp Player ) was a dream. Gatemouth Brown lives about 1 mile from me and I visit him often. We jamm and feed the gator that lives under his house, thats always great too. I've also played many big concerts in front of 1000's of people. I really have had to many to mention.

Are your records distributed in Europe and France ?
Yes, theres a German company Baerchen Records, JC Music News in France have sold some for me, and I've been talking to Compact Dixie. But I'm open to anyone and everyone else out there who would like to do business. You can buy my cd's also at my web-site www.jaybelstonband.com or www.cdbaby.com .

Do you have any plans for a european tour ?
I would love to. But I haven't had any offers yet. If theres anyone who is interested in booking a tour contact me jelston4@bellsouthnet. In the mean time if ya'll like great Southern Rockin Blues get my cd, make copies for your friends and spread the music !!!

Imagine you have to spent the rest of your life on a desert island. WHich albums would you take with you ?
Layla , Derek and the Domino's,Outlaws 1st three records, Skynyds live record. My 2 cd's, The best of Muddy, Elmore, (etc.) Once again I can go on and on. How many can I take ?

Thanks Jay for answering these questions. If you wanna add something special to the french fans, feel free to do so. Keep on Rockin'
Once again thanks so much, to you and the French people. I hope ya'll love my music and spread the word to everyone. I would love to come jamm for ya'll someday.