Can you remind us the Natchez history and introduce the band members ?
The name Natchez was born in april '87. It was kind of the logical following of the band "Silver Oldaxe band" where my brother was the lead singer. Back then, we were eight people in stage. In '89, there were only 5 people left, and only four of us were still there in '91. Now the band members are myself on guitar, my brother Thierry ("Babach") on lead vocals, André Dufour ("Dédé") on bass for the last eleven years and Benjamin Proy ("Ben") has been behind the drums for the last five years.

Which are the favorite bands and influences for each of you ?
Manu : mmy favorite bands are Lynyrd Skynyrd, 38 Special, Allman brothers band, Black Crowes and Molly Hatchet.
Dédé : Cream, Led Zeppelin, Jeff Beck group, Faces, Black Crowes.
Babach : Lynyrd Skynyrd, Allman brothers band, Black Crowes, Free.
Ben : Maceo Parker, Queen, Aerosmith, ZZ top and Steve Vai

What is your best memory as a band ?
Well, it's kind of difficult, there are so many of them, such as opening for Molly Hatchet in Lille, the show for our fifteenth birthday with Stocks, and the recording of our two last albums...and many more.

And on a personal level ?
Manu : Meeting the Hatchet band.
Dédé : A great talking with thr rhythm section from Rory Gallagher in front of a few red wine bottles....
Ben : the recording of the "Brut" album.
Babach : our first tour in Brittany back in '93

As a band, which is your craziest dream ?
To get a better promotion of our albums so we could get a better national recognition.

And on a personal level ?
Manu and Babach : Opening for Skynyrd !
Dédé : being on tou with an international class act.
Ben : get more gigs and be on the road !!!!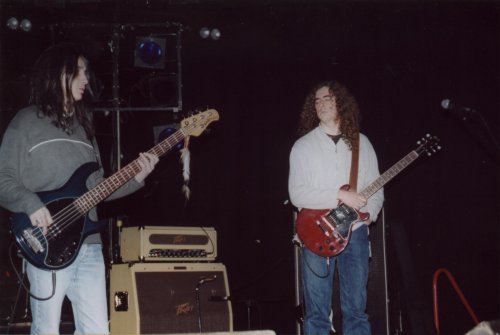 Dédé and Manu



How do you work in the studio ? do you record live or each one at a time ?
In the studio, we play and record live till we like the drums parts. Then, everyone records his own parts and we finish with the voice. Sometims, the bass and the drums are recorded live. I think we'ld really like to use live takes but the studio we're recording are not built for this type of recording.


Did you record some unreleased material ? If yes, when are we gonna get an album with only unreleased material ?
Unfortunately, we never get extra songs. I'ld really like to be abkle to record twenty songs and choose the best ones but we never get enough times so.....

The song "Rentrer à la maison" is your first ballad. Why did you wait for such a long time ?
We've written cool songs such as "L'homme des hautes plaines", "Je m'imagine", "Bienvenue" and now we have "Rentrer à la maison" but I think this is the one we realized the best.

"Paradis avec toi" reminds me a lot of "Travellin' man" from 38 Special. Is it something you wanted ?
When I wrote this song, I wanted it to sound a bit like a "Bad Company" song, but you're right, in the arrangements, I borrowed some stuff from "Travellin' man". Let's say this is some 38 Company made by Natchez !!!!

Which song are you the proudest ?
Manu : It depends on the moment. Right now, I'ld say "Paradis avec toi".
Dédé : "Bacchus te protège", we worked a lot on it at home and I really like the way the songs evolved.
Babach : "Rentrer à la maison" is a song I really love, with deep and personal lyrics.
Ben : I'ld say "Toujours-là", I liked working on it and it got some kind of class.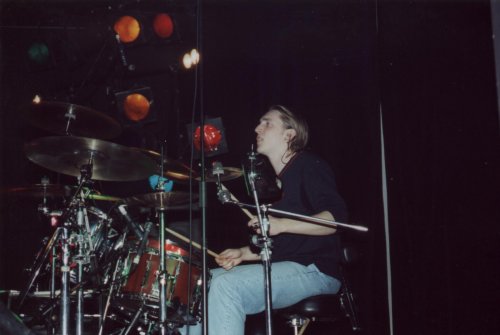 Ben



Do you write brand new songs all the time or are threy written right before you enter the studio ?
When we're about ti record a new album, we take a two months break and we write new songs. It's a kind of "vicious cycle".

Does everyone work on the arrangements or is it a specific person who takes care of them ?
Everyone of us has his ideas and if everyone likes, there's no reason for us not to use it.

Wouldn't you like to work with other people for new songs ?
Il'd really like it. We already thought about it. May be for the next album, we'll have songs written by other people .

Who would you like to have as a guest on your next album ?
Close friends such as John Molet from "Calibre 12", Alan and Christophe from "Plug & Play", Fred Chapelier, among others.

If you had to record a cover albums, which songs would you play ?
Songs we like to play on stage such as "Gimme 3 steps", "Tush", "Up around the bend", "I know a little", "It's all over now", "Ramblin' man", "All right now", "Rock'n'Roll", "Hard to handle", "What ever you want", "China grove"...

When you play a cover song, you usually play the solo note for note. Wouldn't you like to improvise ?
Generally, I play the main line of the solo, not exactly note for note. I don't like to transform. When we cover a song, it's because we like this particular song and the solo....In fact, if the crowd can't recognize the song, I don't see a reason to cover this song.

Which band or album did you get a balst on recently ?
Dédé: "King of Leon" by King of Leon.
Ben : "Machinhead" by Deep purple I recently saw for the first time on stage.
Babach : Savoy truffle (the japanese band).
Manu : The Black crowes is the only band I have a blast when I listen to them.

Do you consider yourself as a southern rock band or as a rock band influenced by southern rock ?
A rock band influenced by southern rock and mostly by the rock music from the seventies.

For each one of you, what are your five favorite albums ?
Dédé : the first Lynyrd Skynyrd, the first Black crowes, the first Led zeppelin, "Truth" by Jeff Beck group, "Live at the Filmore east" by the Allmans Brothers.
Babach : "First & last" by Lynyrd Skynyrd, "Tres ombres" by ZZ Top, "Amorica by the "Black crowes, the first Molly hatchet and "who's next" by the Who.
Ben : "Funk overload" by Maceo Parker, "Rhythm & business" by Tower of power, the third album by Extreme, the first album by Keb'Mo and "A night at the Opera" by Queen.
Manu : "Spécial force" by 38 Spécial, "Street survivors" by Lynyrd skynyrd, the first Molly hatchet, "3 snakes and 1 charm" by the Black crowes, "Brothers and sisters" by the Allmans Brothers band.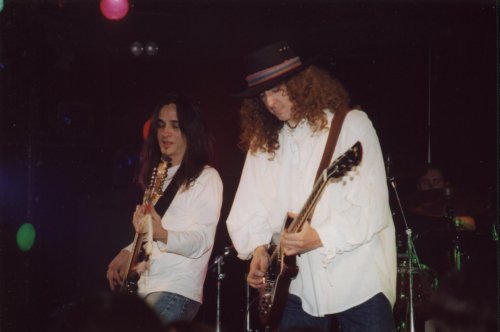 Dédé and Manu