Can you introduce us the band members ?
Well, there is Alfie, our singer. Great voice, cowboy looks and a lot of humor and fun. Then Kay, the axeman. He plays all kinds of guitar, switches from rhythm to soloing and back...a real wizard. Arne is our keyboard player. Honky tonk piano, Allman style organ or jazzy e-piano, he plays it all. I am the bassplayer, backing vocalist and sometimes acoustic guitar player. And Johann is our drummer, always working on some intrigueing drum tricks.

When you started NOCTURN BAND in '94, did you cover southern rock bands ? if yes, which ones ?
Well, we had only a few originals, so we also did covers. Among others, we did Allman Brothers Band, Lynyrd Skynyrd, ZZ Top, but also Robben Ford and Stevie Ray Vaughn.We still have some cover tunes mixed in our live-shows nowadays, tunes from Doc Holliday, Molly Hatchet and 38 Special mix with our own self-penned stuff.

You have recorded an unplugged album. tell us more about it.
Well, it's not a full-length album. Originally, we just wanted to record a trailer for our Debut live-show at Radio Hamburg, the biggest commercial radio station in our town. But then there was some studio time left and we recorded an acoustic version of our "hit" CAROLINA as well. There's only these two tracks on that CD and we never sold it officially. Kind of a rarity, haha...

You recorded your first demo back in '96.( name is Southern Rock ) Was it original covers songs ?
We did two original songs, CAROLINA and GETTIN' RESTLESS AGAIN, and a cover tune, MAYDELL.

You were about to open for 38 Special, but finally you opened for Molly Hatchet. Do you have good memories of this show ?
Hell yeah, we have!! Not only that the Molly Hatchet band are great, friendly and down-to-earth guys, but also we rocked their audience, who didn't know us but gave us great response! Also it was the biggest audience we had played for until then, so it was a blast.

For your album, who wrote the songs ? How was the recording process ?
Besides MAYDELL, a song by Warren Haynes and Johnny Neel that made it to the album, we wrote our songs all by ourselves. Our guitarist wrote five songs, colaborating with the respective singer, who had to come up with the lyrics and some of the melodies. I wrote six songs, handling both music and lyrics with the exception of GOOD AS GONE where Alfie added some of his lyrics.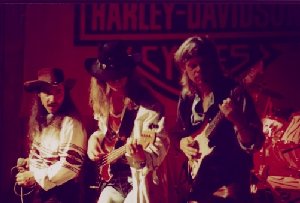 Photo provided by Nocturn Band
How was the recording process ?
We first recorded the tracks playing live and together in the studio. Drums, bass, keyboards and rhythm guitar. Then we overdubbed the other stuff: vocals, lead guitars, keyboard solos and stuff like that.

Did you plan to tour in Germany during summer ?
During last summer? No, we didn't do that much touring during summer, we had a row of shows in the fall. This year we hope to do some open airs in northern Germany, let's see.

What kind of Music do you listen ?
Besides all the Southern Rock stuff, like Allman Brothers, Skynyrd, Hatchet, Doc Holliday, 38 Special and all the other bands, I sometimes like to listen to some Heavy Metal stuff, like Iron Maiden. Steve Harris is an influence on my bassplaying. I also like Jazz.We all like Southern Rock. Our singer listens to Hard Rock, our guitarist to blues, soul, jazz and hardrock, our keyboarder to jazz, soul and blues and our drummer to jazzrock, funk and stuff like that.

What do you wish for NOCTURN BAND in the future ?
Well, we know Southern Rock is not a big seller in Europe these days, so we won't expect any MTV heyday.. :-) We just want to play good gigs, sell some of our CDs and maybe record more CDs, because we have over 20 more original songs in our setlists.

Last question. If you had to last your life on a desert island, which albums would you bring with you ?
Wow, this is difficult! How many can I take? I think Allman Brothers live at Fillmore East (1970), and Seven turns (1990); also Skynyrd live, maybe One more from the road (1976) or live from steeltown (1998). If I could, I would like to bring ALL my LPs and CDs with me! :-)