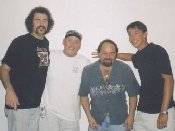 When and in which conditions was The No Exit Band created ?
Tyler - The whole concept of the project was started by Lead Guitarist, Peter Penebre, and myself back in 1996. We had played music together since we were 13 and grew up listening to all of the greats - the Allman Brothers, Lynyrd Skynyrd, Marshall Tucker etc. Over the years we both got caught up in the band circuit thing and a bunch of session work and realized that with growing up and maturing as artists, we had lost the internal focus on what type of music we really wanted to play. In fact the name No Exit goes back to the first band we had together when we covered all of our favorite music and even wrote some originals. We had a blast playing this type of music and wanted to recapture this love for what amounts to be real American Rock & Roll. It couldn't have come at a better time. There is a real resurgence of the real rock happening now in this country. Will it ever hit mainstream America ? Who knows. A lot of bands in the past have done real well and didn't have to follow any sort of New York or Los Angeles trend!! That is what we're fighting for.

Where do your main influences come from ?
Tyler - All over the place. Guitar-wise, I'm a huge Les Dudek, Toy Caldwell, Allen Collins, Hughie Thomason Don Barnes freak. I really get most of my writing influence from Gregg Allman, Ronnie Van Zant and Toy. Pete loves Billy Gibbons from ZZ Top, Jeff Beck, Gary Rossington, Duane Allman and Ed King. Then there's Ronnie...
Ronnie - I listen to a bunch of rock guys and get a lot of my writing and playing influence but I also listen to R&B and soul. If I could nail down the rock I'm listening to now I'd say the Doobie Brothers, Beatles, Neil Young, Outlaws, Stevie Ray Vaughn, Smithereens, the new ELO CD.The list never ends.

Could you present the Band ? Who compose the songs ?
Tyler - The band as it stands today is a four piece. It was a five piece with a real southern rock Three Guitar Army until Peter decided to stay at home and focus on his recording. There is no doubt in my mind that he'll be back once the world gets to know who we are and starts supporting our cause.Ronnie and I sat down a long time ago and decided that a four piece was the way to survive. It really is a Marshall Tucker type of approach.
Ronnie - Marshall Tucker always kept their live shows as a five piece and their studio work was more elaborate. For their recordings they would always have other instruments to make the "studio" recordings fuller. Paul Hornsby, the Capricorn Records producer who played with Gregg Allman in the Hour Glass and also produced all of the great Charlie Daniels records, would play the Rhodes keyboard and Hammond organ. They'd get Jaimoe, Dickey Betts and Chuck Levell at different times. Charlie played some fiddle. The Memphis Horns etc. etc. Recording for them and us is a time for a more melodic approach and our stage act is much more Rock & Roll.
Tyler - The band right now is Ronnie and myself on Lead Guitars and Vocals, Brian Prewitt on Bass and Josh Fallin on drums and percussion. Ronnie and I are the main songwriters. Our ideas seem to mesh real well. We usually compose most of a song's structure individually and then introduce it to the other guys.We call Ronnie the "melody man". He always seems to come up with a great melody for a tune.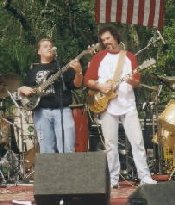 Brian Prewitt and Tyler Roe



Do you live by the music ?
Ronnie - There ain't no other way.

Is your style of music appreciated in your country ? Do such bands as your exist in your country ?
Tyler - Recently we have had success in France. The publication, Bands Of Dixie heard about us through our tour with Artimus Pyle of Lynyrd Skynyrd and wrote some nice things about us.We would really like to come over and rock Europe!
Ronnie - There are a lot of southern rock bands popping up in the south over the last few years. It is real nice to hear real rock again. The Winter Brothers and The Jimmy Van Zant Band to name a couple. And you can always still catch Skynyrd, the Allmans, .38 Special, Marshall Tucker, Black Oak Arkansas, The Atlanta Rhythm Section, Molly Hatchett and the real boys in The Southern Rock Allstars, Southern Rock Rebellion and The Artimus Pyle Band.

Do you feel a "Southern Man" ?
Ronnie - We all are.We know what 98% of this country has to deal with.We don't agree much with what the big city folks think. Just give us our family, friends, music and spirits and we'll get by.We don't much care if we make millions of dollars playin' music.We just want to play and share the joy of what it is.

Have you already opened a concert for a great band (as Lynyrd Skynyrd or Molly Hatchet) If no, do you hope doing it and for who?
Tyler - One of the reasons I asked Ronnie to join us is because he is a seasoned veteran. Before joining The No Exit Band, Ronnie played for years in a popular band in the Southeast named the Tremors. These guys opened for everybody from Wet Willie to Bad Finger and everyone in between. The No Exit Band recently played a bunch of dates with Artimus and through that stretch we signed with TNT Management agent, Tony Saldano has booked all of the greats and has us lined up with Marshall Tucker, .38 Special, Artimus and Molly Hatchet for a big show in April of 2002. We also plan to do a bunch of individual dates with these guys in the future.

Is The No Exit Band music released in Europe ?
Tyler - Bands of Dixie is now selling our first CD "New For '76" on their website, in their magazine and through Compact Dixie.

In your opinion what can we hope to have from The No Exit Band in the future ?
We just started tracking for our next release "Where You Been?". It is kind of a play on words. It is the title track of the CD but is also asking all of the great Southern Rock fans to come out of the woodwork and kick the boy band fans back into the Stone Age!! We also want to tour Europe in the very near future.Screw the fear of flying and all of that crap. I just wish I could have my six-gun at my side so I could show the terrorists a little Southern Justice if you know what I mean.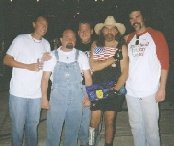 No Exit and Artimus Pyle