Can you introduce the band members and how you met them ?
Monji Kadowaki is the singer, Yoshihiro Ogasahara plays bass, Taizo Takafuji and Taro Takagi are playing drums and I'm playing guitar Taizo and I were classmates at highschool. The other guys each performed their own band. We met as we were rehearsing the same studio and one day, we formed "THE SAVOY TRUFFLE".

Savoy Truffle started as a band back in '90. Is it still the same lineup ?
No. Our bass player Yoshihiro and drummer Taro joined us before we had recording session for our first CD in 1995.

What kind of music did you play before the recording of "The higher ground", which to is is Gov't Mule oriented ?
We played like the British Rock Music, for example "LED ZEPPLIN","FREE", "HUMBLE PIE".

Is there a southern rock scene in Osaka ? It seems you're performing a lot ?
No. But there're some CD store,which have many selection of southern rock CDs.

We discovered you in Europe as you've been announced to perform at the Sweden Festival 2002. You've touring in the States a few times. It seems you've assimilated southern rock music so much we've wondering if you've been living there ?
No. We live in Osaka.

What were the conditions for the recording of your live album "Live ! On Our Way" ?
We recorded only one show. The CD was no over dub.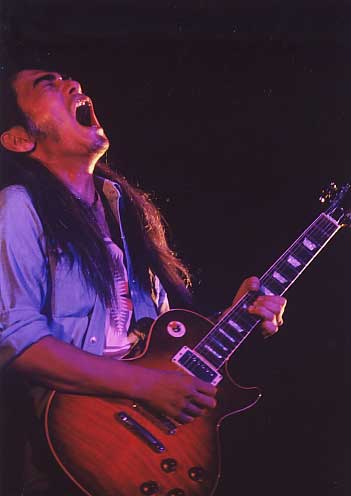 "Give Me Tempation", with the singing and the guitar sound, reminds me of Gov't Mule. What does this band represent to you ?
When I wrote it,Gov't Mule didn't appear in the world, but our live CD's guitar style was influenced from Warren Haynes's guitar style, because we made it after we opened for them in Japan.

Tell us how it was to open for Gov't Mule on April 25th and 28th in Osaka ?
We have many episodes. For example, When we finished our performance ,Warren helped me go to back to our dressing room. Specially they were very kind.We'll never forget Mr.Allen Woody.

Are southern rock music and Gov't Mule very popular in Osaka ?
There's some hard core southern rock fans in Osaka, but southern rock isn't popular in Japan, unfortunately.

Did you plan touring the States ? Europe ?
We want to have a tour in both US & Europe. We 're always ready to go on road in both US&Europe if a promoter makes our tour happen.

What kind of music do you usually listen to ?
We usually listen to The Allman Brothers Band,Gov't Mule, great blues and funk music.

What is the future of Savoy truffle ?
We hope to perform for thirty years long like The Allmans.

Imagine you'll spend the rest of your life on a desert island. Which albums would you take with you ?
"Live at Fillmore","Life before insanity" and more.