Tim Brooks
Interview by Dominique Turgot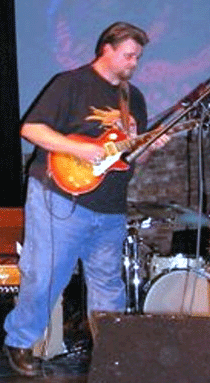 RTJ : For our readers, can you remind us your musical career ?
While growing up, what kind of music did you listen to ? When did you start playing guitar ?
Tim Brooks : My sister was 4 years older than me and the first song. I ever remember hearing and digging was "HOUND DOG"
by none other than Elvis! My sister played this record day and night. I was too young to understand why I liked it, but it just went straight to the good part inside me. I was about 4 years old then. but I clearly remember it!
RTJ : Who were your favourite bands at that time ? And now ?
Tim Brooks : Then, of course we all listened to pop radio in the early '60s-you know;"doo-wop", early Motown stuff, and all that.
It was during this period that I was first turned on to classical music and show tunes too, via the records that my parents had.
All that sunk in pretty good too. But nothing prepared me for the Beatles !!! I was totally mesmerized !I mean, I was 11 years old and I dug the clothes and hair and all, but the music just sounded so fresh and vibrant. Their chords and vocal harmonies are still on my mind to this day when I'm writing new songs.
RTJ : Who were your favourite bands at that time ? And now ?
Tim Brooks : I loved all the British bands in the '60s also. Then in 1969, when I was 16, my sister threw a party for some of her college friends. I was there and a guy with very long blonde hair and typical hippie attire put a record on the player. I heard the first 5 notes of "Don't Want You No More" on the Allman's first album and it knocked me to my knees ! And when Gregg comes in growling the vocal to "It's Not My Cross To Bear", Imean W H O A ! ! ! I was hooked for life!
I also loved Jimi, Eric Clapton, etc., but something about Duane and Dickey's playing was just more
original and powerful. Anyway, all those and other influences lead to the jumble of styles in my head.
I barely listen to the radio anymore, but through my 18-year old son I do occasionally hear something new that I like, for instance, they have nothing to do with Southern rock, but I think one of the most clever and original bands going these days is INCUBUS.
RTJ : How did you develop your style on slide guitar ? Who were your references at that time ?
Tim Brooks : My style on slide guitar came about from listening to Duane. I didn't even know what slide guitar was until a friend of mine said he had seen Johnny Winter play with a test tube on his finger ! So, I got a guitar and a test tube and began making some awful racket ! Of course then it's your typical story-practice, listen, watch, steal licks, etc. Pretty soon you develop a style pretty much your own, even though I'm still proud when people tell me they know I learned from Duane. And reading about Duane made me listen to Ry Cooder, Robert Johnson, and, Oh Man!-BLIND WILLIE JOHNSON !!! That's the scariest dude ever!
RTJ : What do you think of the "new slide masters" like Warren Haynes ?
Tim Brooks : Warren Haynes, first of all, is one sweetheart of a guy. His notoriety has NOT gone to his head. And he is as intimidating a player as there is! I had the exceptionally good fortune of sitting in with GOV't MULE at their very first gig ! So, the end of that show was Warren, Derek Trucks, and me all
playing slide on "Wang Dang Doodle". It was a trip man!
RTJ : Do you have any memories from your tour in France back in 94 ?
Tim Brooks : I very much remember our gigs in France back in '95. I remember playing Copenhagen, then riding 16 hours to Bordeaux ! We had a night off the first night we were there, and we walked to every sidewalk cafe we could drinking all the "vin rouge" we could! Then we went to the club and drank with some really cool cats that were to do the shows with us, GENERAL STORE.
RTJ : Do you remember General Store, the band which opened for you when you played in
Bordeaux ? What were your impressions ? Blues rock fans heard about these two dates in Bordeaux
a long while after it occurred ? Were these dates scheduled a long time before ?
Tim Brooks : These guys rocked !They were great to hang out with too. By the way our band and theirs drank ALL of the red wine the club had that night! I think our first European tour was scheduled well in advance, I'm not sure for how long though. And if I'm understanding your question correctly, the tour was planned not by us, but by our record label at that time through an agency in Norway and one in Amsterdam
RTJ : Did you come back in Europe since this time ?
Tim Brooks : We HAVE been back since then. Our good buddy Mathias Schneider in Germany booked the last tour which took place in March & April of 2001.We only played dates in Germany, Holland , and Switzerland. We had a GREAT time, but we would have liked to have played France again, but it just didn't work out.
RTJ : Did you plan touring Europe, or France ? Do you know the club "House of Live" in Paris ?
It's a club where many bands come and play in Paris while touring Europe ?
Tim Brooks : I don't know of the "House Of Live", but I would definitely love to play there. You see, we were in such
a hurry to get to Bordeaux in '95, that we all saw Paris just sort of "zoom by" as we flew down the road.
RTJ : What do you think of Europe and France regarding music ?
Tim Brooks : As far as Europe and France in regard to music, two things strike me immediately :
1-The people are so much more appreciative of bands like us than most people in our own country,
and you guys tend to fill all the clubs and halls to capacity.
2-The radio in Europe sucks as bad as it does in the USA!!!(mainstream radio, I mean).It was terrible
listening to the radio on those long drives. Also, as we were warned before our tour, a lot of the people in your French service industry,(i.e., waiters, hotel staff, etc.), were indeed very rude and impatient with us. HOWEVER, the "regular folks,
(people in the clubs, on the street, etc.), were EXTREMELY nice and hospitable. But I imagine that could be true of any country. And by the way, DAMN THE POLITICIANS!!! Let's rock and roll!!!
RTJ : Do you like band like Molly Hatchet, Lynyrd Skynyrd, or Point Blank, which play a less bluesy
and less jazzy music than the All man Brothers Band or you ?
Tim Brooks : I like Molly Hatchet, especially "FLIRTING WITH DISASTER", and I especially like Point Blank. Lynyrd Skynyrd I liked mostly because of Ed King and Steve Gaines' guitar playing. However, their music seems to me to relentlessly drive on hard without much of a break for anything as ethereal as "Dreams", my favourite ABB tune.
RTJ : On your last album, you added some "country atmospheres" on song such as "Back in the game"
or "Southern maiden". Is this kind of music part of your musical influences ?
What do you think of "new country" and people like Travis Tritt, Montgomery & Gentry, Tim Mc Graw ?
Tim Brooks : I don't care for the "new country". For me, give me George Jones and Merle Haggard and a beer to cry into !
RTJ : Is there any video of Brothers Brooks or Tim Brooks ?
Tim Brooks : There are a lot of videos of us, but most of them are pretty terrible in terms of visual and audio quality.
RTJ : Do you prefer playing small clubs or big arenas ?
Tim Brooks : I actually prefer to play smaller clubs because of the intimacy factor. We've played huge venues where I was you know, maybe 100 meters from Kenny, my bass player, and that weirds me out. In a club everybody's groovin' right there in the same space and there's a vibe there that is lost in a big hall.

RTJ : For many people around the world, Sept 11th will always be in their memories.
How did you react to these terrible attack ? Did you play some tribute for these events ?
Tim Brooks : Okay-9/11-My blood froze as I watched that on television that morning. I can't believe that there
are people, (really, ANIMALS), that could do that to anyone. Unfortunately those cats are cowards and they won't meet you out in the open. They sneak in to attack, and that gets my Southern-Fried, Georgia Red-Neck temper flarin' !!! We did, for a long time after that day, play a tribute song or 2 every night, like, "America the Beautiful". Now it's down to weeding out these scum and getting them before they kill any more innocent people.
RTJ : If you had to spend your life on a desert island, which album would you take with you ?
Tim Brooks : No question about it- on a desert island I would have to choose "RUBBER SOUL" by the Beatles. That's probably an answer that won't be liked by die-hard Southern rock-only fans, but that would be my choice, and DAMN THAT'S A HARD QUESTION!!!
Phillippe, God bless you, and have much success with your e-zine and your other endeavours.
Hope to see you soon!