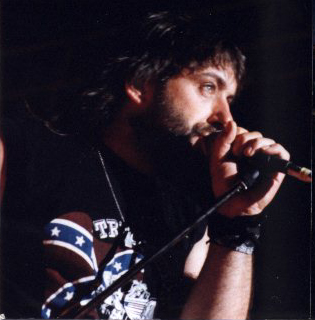 TRUCKERS
http://members.aol.com/TruckersA/Truckers/index.htm
RTJ : Hi Chico. First thank you for this interview for Road to Jacksonville, southern rock website. Before talking about your last cd, can you tell us about Truckers career since your first lp, Leave Me Alone ?
Chico : The first album has been realised in 1995, just for fun about to be like a conclusion to a seven years concerts time everywhere in France. Surprising us, the first album has been sold at more than 1500 copies, and it allowed us to realise two others albums that got a good selling. This is why the record company Bluebird gave us the opportunity to create a new cd.
RTJ : In January 2005, we'll the luck to get Wonder of Spirit, your new album. Before talking about this new album, let's introduce us to the members of the band.
Chico : Prib on guitar, JP on bass guitar, Michel drums, and I. We play together for now quite seventeen years. For the last two years have joined us Pascal on guitar and Nicolas on keyboards.
RTJ : Can you tell us what did happen to Truckers since Crossroads, your last album ?
Chico : Since Crossroads, we have played many shows in our area, and we got some relationship with people such as Philippe Manoeuvre and Laurent Baffie (French TV journalists) that heard about Truckers. It was a nice story, but Michel got sick and was obliged to stop for one year. We have worked a lot during this time, waiting for Michel's return. We have prepared Wonder of Spirit and the song So Long tells about Michel illness.
RTJ : Can you tell us where and when has been recorded Wonder of Spirit ? Who did write the songs ? Was it a different album than the others ?
Chico : Wonder of Spirit has been recorded in Guebwiller in Alsace area (near Germany), with the same engineer than for the other albums. Writing the songs obliged to work a lot with Jessica, our American friend, and her sister from Florida. This album is different of the other ones because of its dark side and because of its meaning. You know, being obliged to start again from the beginning when you think you made it is not an easy feeling. You need to have faith in your music and that gives you the strength to start again and a new inspiration for the vocals writing. I've tried to give the sadness of the moment in this album and to give the feeling we had when we where recording this album.
RTJ : When we listen to this album we can hear a great rock n' roll sound, close to bands such as Molly Hatchet, Coperhead (1992 band, not the other one) or famous Boyzz. Did you make in on purpose when you recorded that album ?
Chico : You know, Truckers music tries to copy no one, and we write songs without asking us too many questions. It's nice if our music can recall you of such bands, and it is a great honour for us to be compared to these groups.
RTJ : I have seen a Rolling Stones influence, on the songs I Wanna Tell You Something and Premonition. Was it done on purpose ?
Chico : Rolling Stones was a band we listened to when we grew up. It was a dream to see them on stage at the Paris Stade de France on their last tour. What a great moment ! We probably have been influenced, they will always be present in our lives, but Premonition is a John Fogerty cover. We play this song our way, so you can think about other bands. However everything is such happiness.
RTJ : There is a really fascinating song, called So Long, that looks a little bit like Molly Hatchet Edge of Sundown.
Chico : Yeahh !!! So Long, so many people tell me about this song !!! It's funny because when I wrote it, I worked hard about it (this song is about Michel illness), and the other members of the band, except JP, didn't like it at all. I am really pleased that you enjoy this song because it is the one that has the highest emotion. If I have to keep only one, I take this one for sure, even more if you think it looks like Molly hatchet Edge of Sundown. It such an honour !
RTJ : The Key of the Clock brings us to Thin Lizzy. Do you enjoy this group ?
Chico : The Key of the Clock has been written on the Corsica Island. I wanted to write a song with special sound and feelings, and it is true that, maybe, we can think to Thin Lizzy when we listen to it. But, once more, even if I am a Thin Lizzy fan, when we write songs, we try to have our own style. We try to do some Truckers music.
RTJ : On stage, what will be your set list ? Will you play songs from Wonder of Spirit, like Congratulation and I Need You So at the end ? I am happy I can see you on stage with such good and powerful songs.
Chico : Sure ! Last album will have the priority, but we'll play two hours, so we can also play songs from Crossroads and songs like Truckers or Leave me Alone of the other albums.
RTJ : What will Truckers do in 2005 ?
Chico : First, the official release of the album in January, and we play in a nice place that our town's mayor rent us, a nice place to play. Then we will be on a promotional tour that our label is setting now. We sure have a very busy year (if everything's alright obviously), and we are ready for a fifth album that will be realised in 2006. Maybe in October 2005, we realise a compilation album, with three live and two new songs, this has to be confirmed.
RTJ : Can you tell us about the shows you made in Corse, like every year in autumn ? This year has been published, for this island, a special collector of your new album.
Chico : Corse is such an extraordinary place. We play there for three years and we do have many friends there. It is like to be pilgrims to go back in this place. We have a lot of friends, we play, and we enjoy a good beer… It is quite like heaven !!!
RTJ : Since I listen to Truckers, I have the feeling that you can have a good audience in Germany, where they enjoy bands such as Molly hatchet. Can you tell me if your new album will be sold there ?
Chico : This album should be sold in Germany. Bluebird Productions told us about that, and they hope they can do it.
RTJ : Last traditional question, in our rock webzine, if you have to stay on a desert island the last days of your life, what will be the albums that you take with you ?
Chico : It's a hard question, but I think I take with me "Lightning Strikes Twice" of Molly Hatchet.
RTJ : Thank you Chico. Have you anything else to tell to our readers ?
Chico : You are more and more to enjoy Truckers. I want to thank you a lot for that, and tell you that, after seventeen years, we do enjoy to see you very close to us. We hope you do enjoy this new album and take you on the Rock n' Roll road. Take care of you and we hope to see you soon.