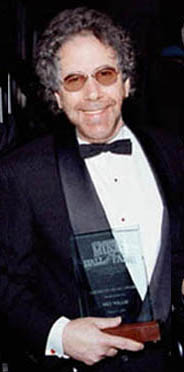 Photo provided by Rick Hirsch



Before Wet Willie, you were performing with Fox. How was it to change from a band to an other ?
Actually, Fox was the group that preceded WW. All the original members of WW were originally in that group.

What were your first impressions when you started working with Wet Willie ?
We were all very young at the time (1969) and were quite captivated by the blues rock genre that was so prevalent in "underground" music then. We bonded instantly. When we struck the very first chord, a C7minor/major blues that eventually became Macon Georgia Greezy Hambone Blues, it was electrifying. We knew with that first chord really that we were all on the same page musically.

How did you get the contract with Capricorn Records ?
We got our deal with Capricorn through a college mate of mine (Frank Friedman), who had been dealing with that record company for a time trying to land his own group a deal. His group fell apart and he called me and said if he could participate in the band, he could get us a contract.
Frank had written some pretty solid songs that seemed to fit right in with us and he also played a little guitar, so we agreed to let him join us for that first album. After that was settled we still had to go to Macon, Ga. to audition for Capricorn live (as we were still living in Mobile, AL at the time).
Frank Fenter, V.P. of Capricorn, came down to listen to us jam in an old warehouse in the town part of Macon. He signed us instantly.
Frank is now deceased, but I would like to note his great importance in his role with Capricorn. He was truly a great gentleman who encouraged us to do things we needed to do in order to be successful.

Who came up with Wet Willie name's idea ?
Good timing! Frank Fenter came up with the name Wet Willie.


From your first album, you made a success of an inimitable fusion of Soul, Rythme & Blues, and Country ? Who first came with this idea ?
Yes, well that is certainly an accurate description of what we were doing. It was strictly a product of the chemistry among us as players and writers. It was a collective conciousness and not attributable to any single member. We were all playing off of each other and being inspired by each other.

Back to these days, what kind of music did you listen to ?
Personally, I was very much into raw blues, and getting involved with some jazz and certain R&B as well.
My influences were eclectic to the extent they included the spectrum of music that was being created historically by Black people. That meant anything from Robert Johnson, Elmore James, BB King, to Ray Charles, Curtis Mayfield, Marvin Gaye, Donny Hathaway to Miles Davis. The list is much to long to list here.

Who designed your first album's cover ?
Right, I get asked that one a lot. Athens Art Co-op and Wonder Graphics of Athens, Ga. I wish I could remember the artist's actual name, but I don't have that one for you today. He was a very nice spacey character who lived in a woodsy area in North Carolina. Definitely influenced by the light of that era.

You covered Shout Bamalama from Otis Redding on your second album. Did you particularly like him and his music ?
Yes, well, Otis was certainly telling life in his own original way, both in his songs and his stylized singing. He and his family (wife, Zelma and children) lived right there in Macon and he was partner to the president of Capricorn Records, Phil Walden. We admired the late great Otis immensely. I will always remember the transformation you felt when hearing a song like These Arms of Mine (his first major hit in our region).

You recorded your live album in New Orleans on Dec 31st, '72 ? Do you have any special memories or details to tell the fans ?
Hah! Yeah, but you can't print them for public consumption. We were probably oblivious to the excitement surrounding that gig and more into the music and getting up on that one of a kind stage on Tchoupatoulis Street at the Warehouse (the name of the venue.). By that time, we were pretty sure of ourselves and were rapidly attaining maximum power as a rock band. Hey, we loved being there. The best city in the world, New Orleans on the best night of the year, billed with the best band, the Allmans.... It didn't get much better than that. I guess that energy must have showed up in our playing because I get more email about that one album than anything else we did.

Jaimoe, from the Allman Brothers Band, played percussion on Red Hot Chicken. Did you have that same jam spirit or approach ?
I turned around and saw Jai Johnny back there on Red Hot... I had no idea he was going to do that.. He loved Lewis Ross' playing and they really got off jamming together. I don't think you could really compare us to the Allmans as far as a jam band goes. Because we weren't into the extended jam thing except on one or two songs. But the jam spirit is either with you or it isn't and on that night, I think it was there.

To my knowledge, your only TV appearance occured in '73 on the "Don Kischner Rock Show". Do you have any idea about a possible release of this recording ?
Yeah, we did all those '70's TV shows. Don Kirschner, Midnight Special, American Bandstand, etc. The only one I know is still around was called Saturday Night in Macon Georgia, produced by a fine gent named Steve Binder. I may have that one around here somewhere.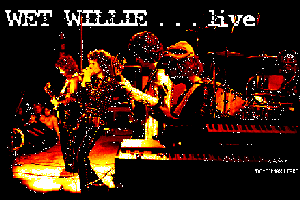 Photo provided by Rick Hirsch
Left to right : Rick Hirsch, Jimmy Hall, Jack Hall, John Anthony, Lewis Ross
How was Jimmy Hall on stage ? was he static or did he move and jump all around the stage ?
Static? Hardly! Jimmy is probably the most dynamic front man I have ever seen. He really kept the audiences' attention. The only way I can describe him is, it is like you can see this guy light up with electicity when he works. There are not many Jimmy Hall's around.

The legendary Tom Dowd, who worked with Eric Clapton and the Allman Brothers, produced "Keep on smilin'". How did you meet him ?
Frank Fenter brought in Tom Dowd after he did the Allmans sessions and Derrick and the Dominoes.

How did you decide to work with him ?
We were very fortunate that he agreed to produce us. I always say, I've only met two geniuses in this world, and Tom is one of them.

How was the work and atmosphere with him ?
Very very organized and brilliantly fun. He was positively one of the most interesting producers I have worked with in 30 years. He just knew how to solve problems... and fast.

You had a hit with a reggae song. Did you listen to that kind of music at that time ?
We were checking out the Wailers a bit, but not a lot of Reggae. The people who actually influenced that song (Keep On Smilin') moreso were probably Van Morrison and Donny Hathaway. I know that sounds strange, but it is the truth. I'll break it down for you someday.

Tell us about the song "Everything that cha do". Who composed it, how you decided and worked on the arrangements...
That was one of mine. I pretty much had it written and arranged when we went in to record one night. The track you hear on Wetter the Better is the first take. I think the strings were the only overdub. I don't even think we ran down the song once, or rather they recorded us running the tune down and just kept that.

Which kind of guitars, amps and stuff did you use ?
I've always been fairly traditional insofar as my instruments were concerned. Les Pauls, Strats, Teles, tube amps and minimal effects.
My main axes are a '59 Les Paul Sunburst and a '63 Fender Stratocaster. I do own around 20 guitars, acoustics and electrics and a couple of very beautiful mandolins. My first few amplifiers were Fenders in various models, Ampegs (on the Drippin' Wet LP), and the one that is still with me as my live gig amp today, a '73 Mesa Boogie purchased from Randy Smith almost 30 years ago.. (whew!). He transferred all the components of that amp into a new chassis for me a few years back, but otherwise it is exactly as it was purchased and rocks.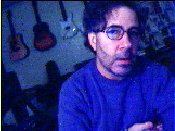 Photo provided by Rick Hirsch
Can you tell us about your musical career since you left the band in '77 ?
I left WW at the end of '76 to pursue an opportunity offered to me to play with Gregg Allman as part of his solo band and also as part of the group he put together for he and Cher, his then spouse. This entailed a move to Los Angeles, where I still live today.
Since that time, I've recorded and toured with several artists, including Joan Armatrading, Bonnie Raitt, Bonnie Bramlett, and Billy Vera and the Beaters.
I have also kept up my writing and have had some fortunate covers by various artists (eg Alabama, Bonnie Raitt).My main thrust has been to write for TV and film which I have done via my studio, In Sync Music, built in 1987. We have had music placed in various programming venues, NBC Sports, ABC Sports, ESPN and TV specials.
I have been blessed to be able to play music for a living and I am always cognizant of and thankful for that. This is a very trimmed down resume, but I find listing every artist and record or program or film I've worked on to be cumbersome and boring at best!

Were there any reunion or plans in the 90's ? with or without Jimmy Hall ?
WW was honored by the Alabama Music Hall of Fame in March, 2001. We did a reunion gig during that time and had a blast.
It was all the original members of WW plus the guys who came afterward as well. I love doing that and hope that we can do a few more in the future. I think the current version of the group is preparing to release a new CD soon.

Is there a chance to see Wet Willie on stage again ?
They still perform around the Southeastern US, sometimes with Jimmy Hall and sometimes not. The band sounds great, so if anyone listening has a chance to catch the live set, you'd have fun.

What are your current and future musical projects ?
I am currently preparing to do the score on what will be my first feature film. Also, I may be touring with David Gates of Bread for a while in the future.

Last but not least, which album did you take with you if you had to last your life on a desert island ?
Impossible question.... But probably In A Silent Way (Miles Davis) I don't think I would ever find that boring.