Copyright © 2007 Road to Jacksonville
Webmaster : Patrice GROS
Tous droits reservés.
Design par Zion pour Kitgrafik.com

News January 2019
Ted Nugent releases a new album called "The Music Made Me Do It". Release in November.
Skinny Molly annonce un nouveau disque pour 2019.
Blackberry Smoke was recorded the 13th of October 2018 for the program Rockpalast. Will we see the release of a DVD ?
ALLMAN BROS. OFFSPRING FORM NEW GROUP
After a successful year touring as The Devon Allman Project with special guest Duane Betts, the sons of Gregg Allman and Dickey Betts have announced that they are joining forces to form The Allman Betts Band. The new ABB includes Devon Allman, Duane Betts, Berry Oakley Jr. (son of original Allman Brothers Band bassist Berry Oakley), Johnny Stachela (slide guitar) and Devon Allman Project percussionists R. Scott Bryan (Sheryl Crow) and John Lum.
They will kick off 2019 with a new Allman Betts Band album and a Worldwide tour in March and perform throughout 2019 at festivals, theaters and historic venues featuring new music, songs from their solo projects and classic Allman Brothers and Gregg Allman tunes in honor of the 50th Anniversary of The Allman Brothers Band. The new album, slated for release in the Spring of 2019, will be recorded at the legendary Muscle Shoals Sound Studios and will be produced by Matt Ross-Spang (Jason Isbell, Margo Price, John Prine and Elvis Presley). Former Allman Brothers Band keyboardist and current Rolling Stones keyboardist, Chuck Leavell will guest on the new album with Peter Levin (Gregg Allman's keyboardist) handling keyboard duties for the rest of the record. The Allman Betts Band will launch a World Tour.
OTIS and ALLMAN BETTS BAND will play on the Burg Herzberg Festival (25 - 28 July 2019).
Soon a live album of the Kentucky Headhunters !
The Winters Brothers " Dennis & Donnie" were back free at the The Gold Rush Nashville TN Monday October 29th - 8 till 9 pm - Writers Round playing songs from their New CDs and Classic Winters Brothers.
The 2019 Southern Rock Cruise has all of your favorite Southern Rock legends in one place with Lynyrd Skynyrd (special appearance 1/8), Blackberry Smoke, The Marshall Tucker Band, The Devon Allman Project with special guest Duane Betts, Molly Hatchet and so many more.
On October 20th (particularly symbolic date), the Truckers celebrated their 31 years on the stage of La Démocrate in Charquemont (25). The band played several tracks of the next album in preparation (released in the fall of 2019).
Didier Céré, the well-known leader of Abilene and the Bootleggers, has just released his first solo album "Deep South", with many prestigious guests.
On December 1, Abilene played for "Santa is 1 Biker 2018" at Moutete, Orthez.
News September 2018

The world of southern rock is in mourning: the legendary guitarist Ed King died on August 28, three weeks before his 69th birthday.

The documentary film about Lynyrd Skynyrd "If I leave here tomorrow" was released this August 18: rush into the cinemas that take the risk to broadcast it.
A tour in Europe for Devon Allman with Duane Betts in the last days of August.

Rock and Roll and Blues Hall of Famer Elvin Bishop and his Big Fun Trio -- Bob Welsh on piano and guitar and Willy Jordan on cajón (a hand-played Peruvian drumbox) and vocals -- will celebrate the release of their new Alligator Records album, SOMETHING SMELLS FUNKY 'ROUND HERE, with a live performance as part of the12th Blues and Rock Night in Thusis, Switzerland on Saturday, September 1, 2018.

Jack Pearson released two CDs, both on July 21st. A brand new recording in the studio titled "Are You Listening?" and a set of 2 discs entitled "LIVE". Together, these discs last 3 hours and 25 minutes of music. To order, use this link http://www.jackpearson.com/index.php?pg=store.

Former Allman Brothers founding member Dickey Betts (74) postpones several concerts on his US tour after suffering a "mild stroke". 3 to 5 weeks of forced rest.
News April - May 2018
The line-up of Doc Holliday that will tourin Europe in June 2018, at the Sweden Rock amongst others : Michael Gilbert, Chris Forbes, William Gerbich, Eddie Stone and Tim Elliott. Too bad that Bruce Brookshire stopped, while he plays regularly in churches.
The band of Kurt Custer, former drummer of Lynyrd Skynyrd will take the name of Valley Sons and a record will be released.
Blackberry Smoke will be touring Europe at the end of the year and will be at the Cabaret Sauvage in Paris on October 31, 2018. Hopefully we'll hear some solos, and we can still wonder why the band is only a date in France moreover in a room still modest in capacity while the group triumphs in the UK.
Molly Hatchet will be in Paris on December 18, 2018, let's hope that the band will come with two guitarists.
We're still waiting for a new record by Molly Hatchet.
Dickey Betts is expected back on stage this summer in the USA.
Michael B. Smith releases a new album available in mp3.
"Turbo" Joe Osborne the historic Lynyrd Skynyrd technician amp has passed. He was looking forward to go to Skynyrd's "Last of the Farewell Tour Survivors" in Dallas.
Ed King (22nd of April, 17:54) : pre op tomorrow in prep for lung surgery May 1. Yet again!
Let's remember that Ed suffers from lung cancer.
The DEVON ALLMAN Project would come to Europe at the end of the year with a special Guest Duane Betts.

Eric Doidy has released a book at "Le Mot et Le Reste" entitled "Buried Alive in The Blues, The History of American Blues Rock". I would only quote a rather strange phrase about Southern Rock, I quote: "Skynyrd in particular, whose formula is modeled on that of the Allman..." He then often talks about Elvin Bishop which is not very common in our country, but good for you to go leaf through the book. Let's say that for 23 euros, you can also buy a Southern Rock record, and among others SILVER TRAVIS BAND will release a highly anticipated album in the coming months. It's up to you, dear readers!
News February 2018
LYNYRD SKYNYRD has announced a FAREWELL TOUR from May to September 2018 where many guests will join among others KID ROCK, MTB, Hank Williams Jr, 38 Special, Bad Company, and more .... Well, if the tour lasts like the one of the end of Scorpions ...
A Gary Rossington's little update, who said that the famous Farewell Tour would last at least two years, time enough to visit all the places the band had played. He also mentioned the possibility of the release of a new album, and sporadic events thereafter if all goes well. Not sure that the thought of a new record is good news, I filed the last one directly in my discotheque ...
Death of Floyd Miles who played with Gregg Allman, and was close to the Allman.
After 18 years in the Outlaws Chris Anderson leaves the band that is expected to release a new studio album this year.
Death of Craig McGregor the bassist of Foghat.

Lynyrd Skynyrd will replay the Volunteer Jam in 2019, a homecoming.

Death of Scott Boyer of Cowboy.
26/02/2018 : Original Drummer Bruce Campbell founding member of The Winters Brothers Band,suddenly passed away.
News January 2018
GOOD AND HAPPY YEAR 2018 to all. May 2018 bring you many new Southern CDs and concerts.
Didier Céré announced that Xavier the guitarist of the Bootleggers had left the band shortly before Christmas. Didier must also revive Abilène his first southern band, let's wait to learn more.
Doc Holliday will be at the Sweden Rock in June 2018.
Blackberry Smoke would return to Europe in 2018 and Gov't Mule goes to Australia in March.
Stocks will celebrate its 40th anniversary on February 8th in Marcq-en-Barœul. It will also be at the Retro Rock Festival.
News October 2017

The PETER ALEXANDER BAND will be at the Étoiles, October 20 in tribute to Lynyrd Skynyrd who crashed in plane exactly 40 years before.
RIP - Larry Steele who co-wrote tunes of 38 SPECIAL and played with Allen COLLINS is deceased.
RIP- Dave Hlubek of Molly Hatchet. Tribute to come in RTJ.
Already 10 years that Hughie Thomasson left us.
Rocky Athas will release a new album Shakin' The Dust.
Molly Hachet will be in Europe in December and December 21 at the Trabendo in Paris.
Medecine Hat will be in concert on November 11th in St Dizier with Redneck opening.


News September 2017
Natchez played in Czech Republic in the end of May 2017, perhaps one day will we do have un live recorded over there ? It proves that our French bands can be exported.
Kofi Burbridge has just suffered from a heart attack which he fortunately survived …
Death of Jimmy Nalls, Sea Level's guitarist. He fought for years against the Parkinson's disease... Another big one of the Southern rock that leaves us. RIP !
Hogjaw will play in Orléans at the Blue Devils the 22th of October 2017.
Call to a fund raising to help Jimmy Farrar who suffered three heart attacks since May 17, 2017 to pay his medicine. https://www.gofundme.com/jimmy-farrars-homecoming-and-recov His surgeon performed a quadruple bypass on May 23rd, 2017. It was a success.
Hellsingland Underground played in the Azkena Festival, maybe one day will we have the opportunity to see again the band in France ?
Death the 13th of August 2017 of Mica Mayes-Moore, daughter of the Point Blank's guitarist Michael "Mouse"Mayes and married with the bassist Nate Moore following a long fight against cancer.
To her family and the whole band Point Blank we offer our most sincere condolences.

Xavier Gomez decided to set up again Mainstreet, band of the Southern of France playing Southern Rock and New Country covers. Mainstreet released two CDs in 2006 and 2010.
On the other hand, after 10 years of good and faithful service, three albums, an EP and a DVD, the members of the Blues-rock and Southern Rock band of Rouen Gang decided to split.
Mike Estes (Skinny Molly, ex-Lynyrd Skynyrd, ex-Blackfoot) get married with Crystal. All our best wishes.
News March 2017
Information has surprised and shocked: Butch Trucks legendary drummer in the Allman Brothers band had committed suicide, maybe for financial reasons.
Please just read Oliver Aubry's report in a kind of tribute in RTJ main page.

Southern Rock Cruise 2 is scheduled January 2018 between the 20th and the 25th. Artists that should be present are 38. Special, Marshall Tucker Band, the Outlaws
, Molly Hatchet, ARS and many others, so most of our favorite bands.

Gov't Mule will be back in Europe in July, especially in Bilbao, Spain. Just look at the tour schedule.

Gregg Allman is going to do a new album produced by Don Was, and will be named Southern Blood.

Donnie Winters has issued a Country record called Real Country, Real Family.

Whiskey Myers will be on stage in Paris May the 30th.

Bootleggers Southern Roads new album will be issued in May.

Hogjaw shares his Hogshop Sessions 1v2 here: https://www.youtube.com/watch?v=bWqVvw-mK4s
A new album will appear at the end of the year.

Joey Alves has just passed away. He was the rhythm guitar of Y&T between 1974 and 1989. Dave Meniketti is the only original member of the band.

News January 2017
First a Good Year 2017 for everybody.
The year 2016 had a bitter end this 24th of December with the passing of Rick Parfitt, Status Quo's guitarist.
The first manager of the Beatles, Allan Williams, passed at the age of 86 the 30th of December.
Allan Williams took the Beatles under his wing and let them rehabilate his Liverpool club where they then performed. Overall he sent them in 1960 to Hambourg, in Germany, where they get through him their first real job and where they performed then more than 280 concerts in total. Thier collaboration ended up in 1961 and the Beatles turned then to Brian Epstein.
The release of a new Elvin Bishop record is announced for February 2017.
A new Donnie Winters record is released, his title is Real Country, Real Family.
Truckers will open for ZZ TOP the 16th of July 2017 in the Nord. The band prepares a new record for its 30th birthday.
31st of May 2017 : Whiskey Myers in concert in Paris at Les Étoiles.
Will the Allman Brothers Band come back for some dates in 2017 ? That could be on of the surprises of 2017.
Ray Davies, the Kinks' frontman, had been made a knight by Queen of England.
Paul Horsnby released a new record. Long live the Boogie. Long live 2017.
News November 2016
Legacy Live, the brand-new Outlaws double live CD, is scheduled for release on 11 November 2016 (US/Canada: 18 November 2016) on Steamhammer/SPV.
Legacy Live consists of two CDs, full to the brim with classics such a ´There Goes Another Love Song`, ´(Ghost) Riders In The Sky`, ´Green Grass & High Tides Forever` and ´Freeborn Man` as well as more recent material like ´It´s About Pride`, ´Hidin` Out In Tennessee` and ´So Long`. A total of 20 songs.
Former Black Crowes keyboard player Eddie Harsch died Friday morning (Nov. 4) at age 59. He joined the Black Crowes in 1991 before the release of their sole No. 1 album, 1992's Southern Harmony and Musical Companion. He also appeared on 1994's Amorica, 1996's Three Snakes and One Charm, 1999's By Your Side and 2001's Lions.
According to an interview in the San Diego Union-Tribune, Allman's bassist Burbridge said, "I think the original guys have been talking. We'll see what happens." He also talked about being open to reprising his role in the band, saying, "Oh, yeah, I'm always waiting for that call… Gregg (Allman) texted us not long ago, saying: 'Hey, maybe we should start thinking about getting something together in 2017.' I said: Hey, man, I'm here! Holler at me!'"
Trucks and Warren Haynes both pushed for the end of the ABB to work on their own projects, so perhaps a reformed Allman Brothers would have a different lineup from the one that toured throughout the 2000s. Only time will tell.
According to Charlie Brusco, Theresa Gaines, widow of Steve Gaines that died in the Skynyrd plane crash, has passed Saturday the 5th of November.
News July 2016
21/07 : Announcement Came Last Night Via Lynyrd Skynyrd's Facebook
Scary news out of Lynyrd Skynyrd's camp this morning as we report that founding guitarist Gary Rossington is under a doctor's evaluation after experiencing chest pains, prompting his bandmates to cancel tonight's show at Artpark in Lewiston, New York with the possibility of future shows being canceled as well until Gary is cleared by medical professionals.
For Rossington, chest pains are not to be taken lightly; the guitarist underwent a quintuple bypass in 2003 and last October suffered a major heart attack, requiring surgery to add and repair previously inserted stents.
The Lynyrd Skynyrd band is canceling or rescheduling the next 2 weeks of touring, while Gary Rossington recovers at home from heart surgery to repair blockage in his arteries," the group announced on its Facebook page. "Currently, the band hopes to resume touring on August 4 in Woodlands, TX. The band has rescheduled Boston, MA at Blue Hills Bank Pavilion to September 23 and moved Big Flats, NY at Tag's Summer Sound Stage to the following day, September 24. We are continuing to work on other potential re-scheduling, as well."
Robbie Morris : A rumor is circulating that Johnny Van Zant is in the hospital with a heart attack or pneumonia. NOT TRUE. He has bronchitis and is at home.
You can discover the new Blackberry Smoke unedited single"Waiting For The Thunder" from a new opus 'Like an Arrow,' to be released the 14th of october http://www.rollingstone.com/country/premieres/hear-blackberry-smokes-new-song-waiting-for-the-thunder-w430229
Produced by the band themselves and recorded at The Quarry Recording Studio in Kennesaw, GA, Like An Arrow will feature 12 tracks, including an appearance by Southern rocker Gregg Allman on a song called "Free on the Wing." This new album will be released on the quickest turnaround for an album since the band formed in the early 2000's, and for good reason. The appetite for their Southern rock has never been stronger, and we may be witnessing Blackberry Smoke hitting their stride.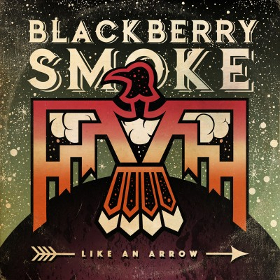 "This album is the self-produced culmination of 15 years of trying to plant our flag in the musical landscape. We couldn't be more proud of it," says frontman and songwriter Charlie Starr.
Our sincere best wishes for a quick recovery to Leon Russell in the wake of his recent heart attack.
Oteil Burbridge says Gregg Allman texted him about a potential Allman Brothers Band reunion in 2017
April 2016
Gregg Allman is preparing a new record.
Death at 62 of Jimmy "Soybean" Henderson, Harvey Jett's substitute from 1975 to 1979 in Black Oak Arkansas.
George Martin, the BEATLES' producer, died at 90 the 8th of March 2016.
Keith Emerson deceased the 10th of March 2016 : in depression for some time, he suicided by a gunshot to the head.
The pianist and singer Jimmie Van Zant, cousin of the three Van Zant brothers Ronnie, Donny et Johnny, has passed away today holding his wife's hand the 8th of April 2016 in Florida at 59 from a liver cancer after entering hospice a few days before accompanied by his wife Zohra. He released three albums during his career:
"The Jimmie Van Zant Band" (1996), "Southern Comfort" (2000), and "Feels Like Freedom" (2012).
Brian Huffman the talented Laidlaw guitar player and songwriter passed away the 04/04/2016
January 2016
First a very good year 2016 for all the Southern rockers and blues-rockers and also for all the others. May 2016 bring us a lot of nice records to listen to.
BLACKBERRY SMOKE will be at the Azkena Festival in the Basque Country the 17th of June 2016. We can notice that the band will also play in Australia in March, it works for the band.
Death of Lemmy Motorhead's bassist-lead vocalist.
Death of Gig Michaels Swampdawamp's lead vocalist.
Death of Pierre Boulez the master of the contemporary music.
Death of Glenn Frey, Eagles' vocalist, guitarist and pianist.

November 2015
Calibre 12
After about 20 years of good and faithful service, Laurent, bassist of the band, decided to leave the band.
One more time, Calibre 12 found itself having one of its main members amputated but didn't give up and Etienne, a bassist from Tours, came and join the family. After a huge work to integrate very quickly, he allows the band to be operational for the 21st of November at the Miam's (American style restaurant) in Tours.
Rusty Burns et Point Blank
Rusty Burns wouldn't be anymore in Point Blank !
Extremely ill since June when he was diagnosed with lung cancer (in August the surgeon removed 2 of the lobes of his right lung and many lymph nodes, very difficult and painful surgery), his recovery has been very slow.
My health has been quite fragile for the last 2 months but I am finally healing from this horrible ordeal.
Before his surgery Rusty and John decided to dissolve the band (and so did also Rusty for his blues band Big Wampum with Neil Drennan Davy Crockett, and Kirk « Powers » Burkhardt, former Point Blank bassist). But we have noticed on Facebook that Johnny and Larry Telford (keyboards) were clearly announcing the recording of a new Point Blank CD, we were very pleased to lern it and it seemed logical that once Rusty has recovered, he would come and add his guitar parts.
Rusty's version is completely different : according to him, Johnny has decided to regroup the band which he said he would never do and our guitarist found out he did on Facebook which was very disappointing from his point of view. As the originator of the band, he actually named the band but of course that name was stolen from my possession by management, as it so often happened at that time.
Rusty told us that he no longer speaks to the band due to the feelings of betrayal.
Big Wampum
The 19th of October Neal Drennan officially announced Big Wampum's dissolution. It was the blues band of Rusty Burns, Davy Crockett, and Kirk « Powers » Burkhardt, ex-bassist of Point Blank. In principle, Rusty Burns finds itself without a band.
Gary Rossington
According to his family, Gary Rossington had a close shave ! The Lynyrd Skynyrd guitarist seems to recover quiet well from a heart attack on Thursday the 08th of October. The surgeons went in to repair and unclog the two stents they did previously in the year which had a blood clot, added a third stent to one vein and in two weeks we will need to go in to do a fourth stent in one of his bypassed veins from 12 years ago.
Allen Tous­saint
During the evening of the Monday, 9th of November, in Madrid (Spain), Allen Tous­saint, emble­ma­tic figure of the New-Orleans music died from a heart attack. He was 77 and just began an European tour.
Manu Aeschbach et Skinny Molly
Manu Aeschbach, also lead guitarist of Natchez, a French Southern Rock band, seems to have brilliantly done the job inside Mike Estes' Skinny Molly being the substitute of guitarist Jay Johnson for the main part of the European tour. Jay Johnson had unfortunately to stay at home. Some videos of Manu with Skinny Molly are available on YouTube and the social networks.
A well deserved and beautiful recognition for Manu that rains down both upon his band Natchez and all the French Southern Rock stage.
Manu couldn't be free for the English dates of the tour, so Skinny Molly called the guitariste Pawel X.
after the recovery of his leader Mike Estes from a voice loss.
Août 2015
Buddy Buie has passed away. Buddy produced Stillwater, Atlanta Rhythm Section & many others. He composed many of the ARS tunes. He was Roy Orbison's road manager also. RIP.
Allman : Mama A, Gregg and Duane's mother Geraldine Allman passed away the 26th of July at the age of 98.RIP.
They say time heals all wounds and that just might be the case for longtime bandmates Gregg Allmanand Dickey Betts. The pair haven't shared the stage together since Betts was famously removed fromThe Allman Brothers Band in 2000, but in an interview with the Wall Street Journal Gregg indicated he's ready to jam with his old mate once more.
The Wall Street Journal's Alan Paul asked Gregg about his recent intros to his solo band's version of "Southbound" in which Allman notes Betts' role in writing the song. "He should be credited for writing a very good song! Like they say, time heals. I haven't seen him in a very long time and would be very open to it. In fact, I would love to play with him again," Gregg said. Allman clarified he isn't looking to form a band with Betts, "...just to jam! I love my band and I'm pretty set for guitar players, but I'd love to see Betts. We had our ups and down and all our demons. We had our problems, our ins and outs and our public embarrassments on both sides. But that's all way behind us now. There's nothing at all wrong with forgive and forget."
Dickey's last words on the Allmans weren't kind as he said the group had turned into a tribute act on the verge of their October '14 finale. He did mention Gregg has a "golden voice" in the same interview.
Betts, who lives in Sarasota County, is responding.
"I have no problem with Gregg, never have," Betts said in a statement. "Sure, it would be fun to play with him again. We'll see where it goes."
David Spero, Betts' longtime manager, told Ticket Sarasota the 5th of August that Betts seemed quite pleased that Allman is playing "Southbound". "As far as Dickey's concerned, he's retired until he's unretired, and I don't know when or if that time will come.", Spero said.
News Tahoma Souls Alive
When the summer season was booking, the drummer of the band needed to go off and get his life together, but left Tahoma Souls Alive in the position of turning down a lot of offers for playing live. So the band is searching for a new drummer and doesn't have much on the books at all but is trying to pick up some things.
Billy Moss is recording an acoustic tune he wrote with his mother, in an americana style, called "The Mysteries Of the Old Kudzu" (!), probably for the next Tahoma Soul Alive album that should be released for the spring of 2016.
Point Blank :
GREAT NEWS FROM THE SURGEON'S OFFICE! The lymph node, outside of Rusty Burns' lung, is NOT CANCEROUS, according to the biopsy test results!
The band is recording a new album to be released in 2016.
Swampdawamp just released a new album « That Easy ».
Gregg Brooks, singer and brother of Tim Brooks, famous slide guitar player who passed away a few weeks ago, died from a cancer at the age of 59. He recorded "The Brothers Brooks" with his brother in 1994.

April - May 2015
FROM THE ROAD the tribute band of Lynyrd Skynyrd from Belgium will play the 14th of November at the Noyer Le Val Music and Bike.
Dates from the coming BLACKBERRY SMOKE tour
Jun. 04 - Copenhagen, Denmark - Amager Bio
Jun. 05 - Solvesborg, Sweden - Sweden Rocks Festival
Jun. 06 - Oslo, Norway - Rockerfeller
Jun. 09 - Zwolle, Netherlands - Hedon
Jun. 10 - Hasselt, Belgium - Muziekodroom
Jun. 12 - Edinburgh, UK - Liquid Room
Jun. 13 - Aberdeen, UK - Garage
Jun. 14 - Derbyshire, UK - Download Festival
Oct. 17 - Madrid, Spain - Sala Arena
Oct. 18 - Barcelona, Spain - Bikini
Oct. 20 - Paris, France - Trabendo
Oct. 22 - Milan, Italy - Alcatraz
Oct. 24 - Vienna, Austria - Flex
Oct. 26 - Berlin, Germany - C-Club
Oct. 27 - Hamburg, Germany - Gruenspan
Oct. 29 - Stockholm, Sweden - Debaser Medis
Oct. 30 - Lund, Sweden - Mejeriet
Nov. 01 - Amsterdam, Netherlands – Paradiso
THE POINT BLANK FAMILY IS PROUD TO WELCOME CHRIS GIPSON TO OUR FAMILY AND OUR STAGE! CHRIS WILL BE TAKING OVER THE BASS POSITION WITH US IMMEDIATELY! THIS MUTI-TALENTED MUSICIAN WILL BE A GREAT ASSET TO OUR BAND AND OUR FANS. WE WISH KIRK POWERS THE BEST OF LUCK AS HE MOVES TO OTHER FACETS OF HIS CAREER. (Johnny O'Daniel)
A new French Southern Band to follow : Southern Wind with Alex Lacourie (lead vocals-guitar) - Jimmy Lynx (guitar-backing vocals) - Fred Lebled (guitar) - Laurent Montero (bass) - Thierry Capdeville (drums-backing vocals). Some of the musicians are already well known in the French Southern Rock.
J.C. CINEL Band - 2015 European Summer tour – France/Belgium/Holland
5 June Venlo - Holland
6 June Peer - Belgium
7 June Asten - Holland
11 June Deinze - Belgium
12 June Arras - France
13 June Noyers le Val - France
14 June (Private Party) - Belgium
Macon guitarist Tim Brooks dies at 60
A longtime fixture of Macon's music scene died this week, the guitar player Tim Brooks. BIbb County coroner Leon Jones said Brooks died Wednesday 20th of May at home of congestive heart failure. He was 60.
Brooks recorded extensively over the past 40 years, both as a solo artist, with his brother Gregg and with other artists. He also appeared regularly with his band, Tim Brooks and the Alien Sharecroppers. He sat in with other big-name artists, like the Allman Brothers.
March 2015
REBEL STORM return with a new cd, listen here the new single https://soundcloud.com/rebelstormband/coming-home-single
Shanytown is proud to announce that ROBBIE GAY formerly of the Johnny Van Zant Band is now a member of Shanytown, reuniting with Robbie Morris who was
the drummer for the Johnny Van Zant Band. Welcome Robbie!! Line up: Ronnie Morris, Duane Johnson, Kevin Williams, Charles Moody, Robbie Morris.
Medicine Hat Tour dates to be announced soon, get ready..
So we have to begin with bad news, namely RTJ's death notices : passing of the original drummer of Doc Holliday Band Herman Nixon, passing of the guitarist
Jack Holder who was a member of Black Oak Arkansas, and passing of the drummer of the band Rambler James Porreca.
The Amberson Baggett Band takes from now on the name of Dixie Kin Band.
Charlie Daniels organizes the next 12th of August at the Nashville Bridgestone Arena the 40 years of its famous Volunteer Jam, let's notice amongst others Travis Tritt, Montgomery Gentry, and The Outlaws as guests…
Galloway & Kelliher release Wild Dog a new very blues record.
Michael B. Smith releases a new book Rebel Yell and carries on with his webzine KUDZOO. http://kudzoomag.com
Let's remain that Lynyrd Skynyrd comes back in Europe and will be at the Palais des Sports of Paris the 25th of August 2015, and that Gov't Mule will be in concert
at the beginning of May in Paris.
Let's remind, the Royal Southern Brotherhood changes its line-up : after Mike Zito's departure, Devon Allman leaves the band and Tyrone Vaughan, Jimmy's son,
replaces him.

January 2015
The Road To Jacksonville team wishes everybody a great year 2015.
Lynyrd Skynyrd To Film Live DVD In Jacksonville
Lynyrd Skynyrd are booked play the Florida Theatre in their hometown of Jacksonville on Feb. 12-13, 2015, and will perform their first two albums in a pair of special concerts, '(Pronounced 'Leh-'nerd 'Skin-'nerd)' on the first night and 'Second Helping' on the second. The rest of the sets will be comprised of their many classic songs., FL. The shows will be recorded for a television special and a live DVD. "We've been wanting to go back and recreate these live records for a long time," singer Johnny Van Zant told the Florida Times-Union. "We decided to come back to our hometown, Jacksonville, and play at the legendary Florida Theatre. Can't wait to rock it."
Tickets will go on sale on Monday at Ticketmaster. Prices range between $49.50 and $99.50 for the 1,900-seat capacity venue, which was built in 1927 and re-opened in 1983 after an extensive renovation. The Florida Theatre is listed on the National Register of Historic Places.
Read More: Lynyrd Skynyrd To Film Live DVD In Jacksonville | http://ultimateclassicrock.com/lynyrd-skynyrd-live-dvd/?trackback=tsmclip
Greg T. Walker (ex-Blackfoot/Lynyrd Skynyrd), Brad Sayre (ex-Messendger), Tommy Curiale (Ex- Johnny Winter) et Jimmy Sexton (Artimus Pyle Band) just set a brand new band : Two Wolf.
Skinny Molly releases a CD called 'Here for A Good Time'.
Blackberry Smoke releases a new CD in February 2014 : 'Holding All The Roses'.
Point Blank made the cover of Buddy Magazine, The Original Texas Music Magazine Dallas for January.
November 2014
Mike Zito's substitute in ROYAL SOUTHERN BROTHERHOOD is Bart Walker.
Gary Lee Jeffries : Lookin forward to finishing up this new Southern rock CD with John Rehmel, "Southern Thunder"... Its gonna rock... Check out Chris Walker and also the band Otis.
The Black Crowes drummer Steve Gorman spoke with us and hints the band may near retirement.
TOUR BUS SLIP FORCES ZZ TOP TOUR SUSPENSION
ZZ TOP bassist Dusty Hill slipped and fell on his hip while aboard his tour bus last night. As a result of Hill's injury, which requires immediate attention, ZZ Top performance dates have been temporarily suspended while he recovers. Tour dates affected by the suspension include all of the scheduled concert bills shared with Jeff Beck through September 13.
LYNYRD SKYNYRD comes back in Paris the 25th of April 2015, in the Palais des Sports.
Saturday the 25th of October : Jack BRUCE, bassist and singer of the British band Cream, featuring also Eric Clapton (guitar) and Ginger Baker (drums), died at 71. from a liver disease, revealed his family. Jack Bruce underwent a liver transplant in 2003.
July 2014
Releases expected of Let It Go, Jay Boy Adams' new record, and Monarch Jubilee, second album of the Moss Brothers Band.
Warren HAYNES was invited on the tune « Breaking Up Somebody's Home » of the last album of Kenny Wayne Shepherd Goin' Home.
Jimmie VAN ZANT, suffering from a liver cancer, is waiting for a transplantation.
38 SPECIAL has to do without Larry Junstrom its bassist who has a serious problem with one of his hands (that needs an operation) and keeps him from playing. Let's remind that Larry Junstrom was the first bass player of Lynyrd Skynyrd as the band wasn't yet called with this name. Barry Dunn stands for him by 38 SPECIAL. Let's add that Donnie Van Zant, who is healing damages in the inner ear, can't either perform with the band on stage. So 38 SPECIAL is now amputated of two historical members.
Billy CRAIN has broadcasted a live show on Internet the 10th of July for the release of his CD.
Let's remain that BLACKBERRY SMOKE will be in concert in Paris in the Alhambra the 24th of October 2014.
Paul Goddard, ATLANTA RHYTHM SECTION's bassist, passed away at 68. He had to fight for monthes against a cancer. He joined back the ARS in 2011. Of course it's again a huge loss for the Southern Rock.
DOC HOLIDAY rides again ! Around Eddy Stone (keyboards, guitar, vocals), the new line-up of the band gathers Rob Walker (guitar), Daniel Ford (bass), Michael Gilbert (guitar), and Leroy Wilson (drums).
Jean-Pierre Grandgirard, the TRUCKERS' bass player, had to undergo a serious emergency operation at the beginning of July. He begins to recover. RTJ wishes him a quick and complete recovery.
The release of the next PLUG'N PLAY CD is planned for the 10th of November.
Greg Hokanson is back behind POINT BLANK's drums kit.
January 2014
BLACKBERRY SMOKE will be in concert in France the 15th of March 2014, in the Nouveau Casino of Paris. For those who want more, other dates are planned in Germany and United Kingdom.
Waiting for a new JUDGE PARKER record, the Pearsons release an album made of covers of Country songs.
ROYAL SOUTHERN BROTHERHOOD released a CD/DVD.
ZZ TOP will perform the 28th of June 2014 in the Festival de Nîmes.
The album od the TRUCKERS "Travelin' Man" was released in December. The review is on line on RTJ.
"Nine", the next Point Blank album, should be released in the coming weeks.
October 2013
Jack Pearson has a fractured vertebra, it's called T-5. We wish him a quick recovering.
The new CD by "THE PEARSONS"
Here is the track list of songs:
1. The Highwayman
2. The Hand That Rocks The Cradle
3. The Ride
4. Goodbye Time
5. I'm No Stranger To The Rain
6. Gentle On My Mind
7. Wichita Lineman
8. Rodeo Preacher
9. Born To Die

On August 8, 2013, Cowboy Jack Clement died at his home in Nashville, Tennessee
Jack Henderson Clement (April 5, 1931 – August 8, 2013) was an American singer, songwriter, and a record and film producer.
Nicknamed 'Cowboy' Jack Clement, during his student days he played steel guitar with a local band, and in 1956 became part of one of the seminal events in rock and roll history when he went to work as a producer and engineer for Sam Phillips at Sun Records. There, Clement worked with future stars such as Roy Orbison, Carl Perkins and Johnny Cash. But most importantly, he discovered and recorded Jerry Lee Lewis
Jack Clement wrote a number of highly successful songs that have been recorded by singing stars such as Johnny Cash, Dolly Parton, Ray Charles, Carl Perkins, Bobby Bare, Elvis Presley, Jim Reeves, Jerry Lee Lewis, Cliff Richard ("It'll Be Me"), Charley Pride, Tom Jones, Dickey Lee and Hank Snow. He was inducted into the Nashville Songwriters Hall of Fame in 1973.
Jack Clement was inducted into the Rockabilly Hall of Fame and the Music City Walk of Fame. On April 10, 2013 it was announced Jack Clement would be inducted into the Country Music Hall of Fame.
Rod Barthet, the bluesman from Franche Comté well known by the connoisseurs, will play as guest on the next album of the Truckers, Travellin' Man, that should be released at the end of the year 2013 and is now in the mix step.
REVEREND BLACK NETWORK : the new drummer of the RBN is Jean-Loup KALINOWSKI (Shakin' Street), he stands in for Patrice Pillon.
Larry Pearson (Judge Parker) wrote a tune ("Sweet Delta Water") for the new Black Oak Arkansas record.
BLACKFOOT SPECIAL WITH GREG T. WALKER ON RICH DAVENPORT'S ROCK SHOW
The second hour of the show features an hour-long Southern Rock Special, in which former Blackfoot bassist and founding member Greg T. Walker charts the band's history through the period which saw the release of the classic albums "Strikes", "Tomcattin'", "Marauder" and "Highway Song Live", all of which have been newly re-released in remastered form through Rock Candy records Greg selects two songs from each of the albums, and recalls the highlights of the band's peak years.
July 2013
After Billy Crain stops touring because of his health, Steve Grisham returns in The Outlaws almost 30 years after his first stay in the band.
What will become of the Ghost Riders?

A Blackberry Smoke DVD recorded in Winston Salem the 12th of April 2013 will be released at the end of the year.

Marshall Tucker Band will go in Jamaica from the 20th to the 24th of January 2014. Do you know what you have to do? Take a ticket for a plane and a swimsuit.

The Simple Man Cruise will see on its bill the Outlaws, Molly Hatchet, Blackberry Smoke, ARS, Black Stone Cherry, etc....

We're waiting for the releases of records from Judge Parker, Hydra and Point Blank.

The Truckers, the band from the Franche-Comté led by Chico, are in studio. A new album is planned before Christmas, in principle around November.
The cover of this next album is created by their friend Jacky, and was approved by the band.

Following the sudden decease of their guitarist and leader John Molet, the members of the band decided to continue Calibre 12.
They proposed the place of guitarist to Jules YENTOMA (aka Julien), guitarist of the Fusebrakers (the other band of Laurent, Calibre 12's bassist) who accepted.
John Molet estimated a lot Julien and had incidentally contacted him to play a part in a tune of the recent album.

March 2013
RIP Bryan Cole
Bryan Cole, former Mose Jones drummer, died a few hours ago at the hospital at the age of 61 years.
After Mose Jones, Bryan worked as a studio musician, songwriter and producer, especially for Ichiban Records and studios Kala in Atlanta.
He had to retire at age 50 due to serious health problems. It is these problems that bring back him to the hospital a few days ago for surgery.
Scott Boyer (ex-Cowboy) has serious problems with his health because of an arterial blockage causing all the trouble. From Jack Pearson,
Scott lives a difficult recovery following surgery.
Hellsingland Underground is going to tour in Spain at the end of this summer:
SEPT. 12TH. BILBAO, Azkena
SEPT. 13TH. MADRID, La Boite
SEPT. 14TH. GIJÓN, TBC
SEPT. 15TH. CANGAS DO MORRAZO, Sala Son
SEPT. 16TH. Free day!
SEPT. 17TH. CADIZ, Supersonic
SEPT. 18TH. ESTEPONA, Louie Louie
SEPT. 19TH. VALENCIA, Loco Club
SEPT. 20TH. BARCELONA, Rocksound
SEPT. 21ST. ZARAGOZA, La Ley Seca
Hogjaw is about to take its fourth ride with its upcoming release, "IF IT AIN'T BROKE…" which will be released this summer June 18th, 2013. Expect the album to be just that - short for, "if it ain't broke, don't fix it". There is a great cover for this that Brian Warner who did artwork/design on first two albums is working on,
we will unveil it soon.
Medicine Hat will be releasing a 4 track single in March titled 'Hearts Gone Crazy'....also included on the CD will be a cover of ZZ top's « Sharp dressed man »...
all recorded with the new line up!
Beatles collaborator Tony Sheridan dead at 72
Sound engineer Steve Hoffman has just announced that the English vocalist and guitarist, Tony Sheridan, has passed away. Sheridan was a popular entertainer in Hamburg and was teamed with The Beatles as his backing band for a 1962 recording session. In recent news, it was reported that Tony was struggling with his health.
Let's remain the major influence of the Beatles and their career on many southern musicians like for example Leon Wilkeson (Lynyrd Skynyrd) and Bruce Brookshire
(Doc Holiday), and the many southern covers of their tunes (Potliquor, Doc Holiday, Black Oak Arkansas, Georgia Satellites …)

Nandha (Max Arrigo) : the new cd "Black Strawberry Mama" is almost ready (end of March).
http://www.playcrossroads.com/u/NANDHA/support Please vote for the band to give us a chance to perform @ Eric Clapton Crossroads Festival in April 2013
The Bootleggers will play with Skinny Molly the 28th of June 2013 in Montalivet (33).
The legendary band Ultra comes back and told us:
At this point, we're no longer with Monster Records. We are currently independent, but we're looking for a label. We're also working on a new EP. If you know and could recommend a label there in the EU, it would be greatly appreciated. Our current CD does well internationally on iTunes and other outlets. We're a Southern Rock band out of San Antonio, Texas and play all original Texas / Southern Rock. Please check out our Reviews, CD, and Bio at www.ultra-rocks.com. We have a great story and a great history playing and touring in Texas and the southern USA.
The Calibre 12 CD is on sale: the price is 14 euros.
Dan Toler
It is with great regret and sadness that our dear friend and loved one, Dan Toler, former guitarist of the ABB and also known as "Dangerous Dan Toler", passed away peacefully in his sleep last night victim of a amyotrophic lateral sclerosis. Please keep Debbie and the family in your prayers. The Toler family thanks you for all your love and support.
Dan came to fame with the Dickey Betts' Great Southern in 1977 then the Allman Brothers Band in 1979. He also accompanied Gregg Allman and played in various bands amongst them the Toler Bros., set together with his brother Frank, TGZ, Brothers Of The Southland, Toler-Townsend Band or more recently the Toler-Tucci Band.
The Hellfest 2013's bill let less place for the southern bands than last year. We can notice the presence on the bill of ZZ Top the 22th of June.
The other French dates of this very "Zénith" tour of the Texans :
18/06/13 : Paris (75) Zénith
19/06/13 : Rouen (76) Zénith
20/06/13 : Dijon (21) Zénith
12/07/13 : Epernay (51) Millenium

November 2012
Ghost Riders just released a new CD in Germany (Phoenix Records).
Natchez on the bill of the Festival of La Chapelle St Luc, the 10st of June 2013. Be ready to go !
In 2013 Judge Parker will release a new CD, and Point Blank will also record and release a new CD. The Texan band would have linked again with Bill Ham, who was the band's manager at the band's beginnings beside his work with ZZ Top.
Medicine Hat
The new line up is :
Mark Jackson, lead vocals & acoustic guitar
Jonny Brown, original bassist
Rich East, Black Lightning guitarist
Chris Borsberry, guitarist
Eric Lavansch (drummer who is half French!)
Pics and a website shortly

Lynyrd Skynyrd has rerouted their fan cruise due to Hurricane Sandy. The Simple Man cruise set sail on Saturday (Oct. 27) from a port in Miami, Fla. and headed to Cozumel and not Key West and Great Stirrup Cay.
THE MARSHALL TUCKER BAND DEPLOYS TOUR TRUCKS TO AID HURRICANE SANDY VICTIMS
Nashville, Tenn. (November 7, 2012) - The Marshall Tucker Band is seeking donations for items to be delivered to Hurricane Sandy victims in the Northeast.
This Thursday in Spartanburg, South Carolina, the legendary Southern rock group will dispatch its tour truck to collect donations that will be transported to hurricane victims. The Marshall Tucker Band tour truck will be parked outside of the Spartanburg Memorial Auditorium from 4:30 to 7:30 PM. Additional trucks are also in the works to be stationed in Anderson and Chesnee, South Carolina.
Lead singer Doug Gray, along with other members of the Marshall Tucker Band, will be on hand to thank those wishing to help.
"People in that part of the country have supported the Marshall Tucker Band for over 40 years," says Gray. "We've made a lot of friends up there, have watched people's families grow and have grown with them. So, on a personal level, I know a lot of their pain."
"Palmetto Sound Works in Spartanburg has been kind enough to help with aiding the hurricane victims ... they will also be sending several trucks." Gray notes.
"One wonderful couple from New Port Richey, Florida has already donated 4,000 blankets."
The band asks that people not bring cash donations.
Gray adds, "If you want to contribute cash, please contact the American Red Cross. We're primarily looking to collect coats and blankets since it's starting
to get cold up there."

KUNIO KISHIDA
New live album "LIVE IN JAPAN VOL.2" CaneHedge Records Alabama CH-10100506
On sale 20th Nov. 2012 in Japan.
MUSICIANS :
KUNIO KISHIDA: GUITAR & VOCAL
JERRY WASLEY JR.: BASS & CHORUS
HIDEKI KOYAMA: KEYBOARD S
UDAPONY: DRUM & CHORUS
13 original songs :
01 WITCH FACE
02 ALABAMA BOY
03 AT MIDNIGHT
04 MISS YOUR DIMPLES
05 DON'T LEAVE ME PLEASE
06 WHAT WILL BE WILL BE
07 I'LL LEAVE MY HOME
08 LIVE IN HOPE
09 BETTER DAYS
10 STILL IN TIME
11 NORTHERN SONG
12 TWO CIRCLES
13 SLIDEAWAY
August 2012
We just learned that the very respected Stuart Swanlund, Marshall Tucker Band's guitarist since 1988, passed away.
His way to play slide guitar was universally recognized. RIP Stuart.
LYNYRD SKYNYRD will tour in Europe (or should I say in England...) in November 2012 :
Nov 11, 2012 The Sage
Newcastle UK
Nov 11, 2012 The Sage
Tyne and Wear UK
Nov 12, 2012 Shepherds Bush Empire
London UK
Nov 13, 2012 Roundhouse
London UK
Nov 14, 2012 UEA
Norwich UK
Billy Crain will release an album, Créole Shoes.
Judge Parker is working on a new cd to be released for the beginning of 2013.
The French Southern Rock Band Calibre 12 should begin to record in studio in September. A new album should be released in 2013.
Great GOV'T MULE gig (I know it's not southern rock) in Paris at the Trianon in the beginning of July, 3 h 30 min, with Kenny Wayne Sheperd as special guest. Sadly,
we were not here, so we content ourself with those two lines. Musically, the current band isn't really like when it started out, I confess that I'm switching off even
if Warren Haynes is still a phenomenon.
We weren't at the concert of DICKEY BETTS in Barcelona (Spain). He stills seems to propose an excellent alternative closer to the 70's
than the official version of the Allman Bros.
Lynyrd Skynyrd's Gary Rossington to be honored in songwriting category at the 34th Annual Georgia Music Hall of Fame Awards
Show and Concert Scheduled for Sunday, October 14 On-Stage at the Cobb Energy Performing Arts Centre
and Live GPB Broadcast

ATLANTA, Ga. (July 31, 2012) – Lynyrd Skynyrd founding member Gary Rossington will join a distinguished roster of Georgia performing artists and music industry leaders in accepting awards on-stage at the 34th Annual Georgia Music Hall of Fame Awards Concert and Show, scheduled for Sunday, October 14 at the Cobb Energy Performing Arts Centre. Rossington will be honored in the Songwriter Category having written well over 120 songs throughout his career including classic iconic songs like "Sweet Home Alabama," "Simple Man," and "What's Your Name." Lynyrd Skynyrd release their new album, Last of a Dyin' Breed, on August 21, 2012.
Songwriter – Gary Rossington: A founding member of the legendary band Lynyrd Skynyrd, Gary Rossington has contributed to the group's 30 million+ worldwide album sales, three 2x Platinum records and a position among the 100 Greatest Artists of All Time by Rolling Stone magazine. He has created songs that cement him as a cultural icon, including "Sweet Home Alabama," "Simple Man" and "What's Your Name" among many others.
Non-Performer – Alex Hodges: A native Georgian, Alex Hodges is CEO of Nederlander Concerts and started his career as an agent at Walden Artists where he introduced Georgia's Otis Redding and other R&B legends to the world. As principal at Paragon Agency and later Empire Agency, he guided the illustrious careers of stars including Stevie Ray Vaughan, Gregg Allman and groups such as Lynyrd Skynyrd. The Police, The Allmann Brothers Band, Atlanta Rhythm Section, The Outlaws, Sea Level, The Marshall Tucker Band and The Charlie Daniels Band, among others.
Group – 38 Special: Bringing a strong Southern Rock influence to American music, 38 Special's breakthrough hit "Hold On Loosely" has been followed by #1 Billboard albums and hits including "Back Where You Belong" and "Second Chance.
Of course Wet Willie is holding an upcoming CD release party at an outdoor venue. It's a live album that was recorded at an outdoor venue. "Miles of Smiles" was recorded on what bassist Jack Hall has described as a hot sweaty day at a Georgia festival last August. The album was released in the spring by Hittin' the Note Records. It's an expansive set that includes many of the group's best-known songs, such as "Street Corner Serenade," "Country Side of Life" and "Grits Ain't Groceries." But it also features some fresh treats, such as a cover of Taj Mahal's "She Caught the Katy" propelled by a deep blues growl from Jimmy Hall. Other good stuff includes strong takes on "Lonely," "Lucy Was in Trouble" and a rippling "Too Tall to Mambo."
Earlier release parties included an April appearance at the Flora-Bama, but band members indicated at the time that they also hoped to put together something closer to Mobile. After all, Mobile is where the group got its start, before moving on to Macon, Ga., and Southern rock fame.
The party takes place Saturday, Aug. 11, at Moe's Original Bar B Que, 6423 Bayfront Park Dr. in Daphne.
JC Cinel...Tour
04th August of 2012 - Jack Bikers - Vigevano – PV
18th August of 2012 - Festa della Birra "Acoustic Lips" - Ottone, PC
27th August of 2012 - Festa Rugby - Fiorenzuola, PC

April 2012
Lynyrd Skynyrd - Johnny Colt (Black Crowes) would succeed to Robert Kearns on bass.
Swampdawamp will be appearing at the Blue Peers festival (Belgium) on the 16th July.
Peach Music Festival : The first huge Festival with several stages organized by the Allman Brothers the 10, 11, 12 of August in Pennsylvania, USA !
Only great artists the bill : The Allman Brothers Band, Zac Brown Band, Warren Haynes...
More informations on http://thepeachmusicfestival.com/
Johnny Neel's Every Kind of Blues project is looking to raise funds to promote to radio, Internet, and magazines. This project will only be funded if at least $2,500
is pledged by Monday May 14, 9:41am EDT. http://www.kickstarter.com/projects/1766798063/johnny-neel-every-kind-of-blues
Before the pre-sale of the new album Full Throttle begins, Don Ray brings you on Tweeter the song title "All Get Together" written by Don Ray and Jonathan Armstrong.
February 2012
The Simple Man Cruise is sailing October 27th – 31st, the Halloween weekend, on the Pearl, Norwegian's newest and luxurious bigger rockin' party ship,
from Miami to Key West and Great Stirrup Cay! Lynyrd Skynyrd, Doobie Brothers, Outlaws, Blackberry Smoke will play on this Simple Man Cruise 2012!
The Allman Brothers with a very Dickey Betts accepted Lifetime Achievement Award at Special Merit Awards.
Brian Jeffries : « Check out www.troublecreekband and listen to the audio section. Might sound a little like Rebel Pride Band. We will put a new cd together soon.
I will keep you posted. »
According to Mike Estes, who had him on phone, Ed King's health, that broke up, would become more comforting since an operation. Ed finally got a new heart.
38 SPECIAL will play on the ROCK LEGENDS CRUISE in December.
Skinny Molly, Mike Estes et Jay Johnson's band, went into the studio this Thursday, the 23rd of February for the next few days...
Hogjaw : a video for « Hells Half Home of Mine » is coming soon.
December 2011
That's up, Greg Walker :
Blackfoot
Just so everybody knows, the Blackfoot era that existed for the last seven years will cease to exist January 1st. The entity that owns the name Blackfoot have elected to put out a version of the band with four new members that doesn't include any of the original band members. Former original member of Blackfoot will be doing shows
on the Monsters
Of Southern Rock tour. Thanks for all the fan support the band has had since the beginning
Rob Tognoni just released his new "Energy Red" CD, now available for pre-release download at http://www.robtog.com/music.htm
The Jazz, Blues and Soul singer Etta James, well known around the world for her song "At last", is "in the final stages of leukemia" said her manager and her doctor.

Simple Man Cruise 2012 is setting sail next October! Lynyrd Skynyrd will be here, of course, but we can also notice the Doobie Brothers on the bill.
The new GENERAL STORE album « Somewhere In The Middle » will be available friday the 2nd of March 2012 !
Some tunes are available in streaming on https://www.reverbnation.com/generalstore
and on http://www.myspace.com/generalstoreband .
September 2011
MOLLY HATCHET will be back in Europe in December 2012. Les dates are available on the Molly Hatchet's site.
The words of come back are used about FLYNVILLE TRAIN in France in the beginning of 2012, after the great gig given at the end of July in Craponne
Didier Céré's Bootleggers are in studio for their new album to be released at the end of 2011 and for the 4 title EP available at the end of September.
38 SPECIAL releases a new record Live in Texas.
GANG is in studio to record its second cd.
Some Lynyrd Skynyrd members are at the moment composing with Tom Hambridge in Nashville for a new album planned to be recorded at the end of the year!
To be continued…
Charlie Hargrett left Blackfoot after the last European run in July. It was a personal decision that had nothing to do with other members of the band or the music.
An old friend of Mike Estes', Randy Peak has stepped in.
May 2011
Gary Jeffries (ex-Alligator Stew) releases his record Middle Class Man the 14th of May, it will be available on cd baby.
The new ATLANTA RHYTHM SECTION record With All Due Respect available on amazon, is postponed to end of May.
The General Store new record's release is planed for the next autumn.
Let's remind that Doc Holliday will be in concert in Paris at the Réservoir wednesday the 15th of June 2011.
Tommy Talton will be in concert in the Luxembourg the 9th and 16th of July 2011.
Powder Mill will give a free entrance concert in St Agrève (Ardèche) the 13th of August 2011 for the french festival Equiblues.
Great bill the 16th of July 2011 from 19h30 in the château de Goncourt (Marne, France) with Calibre 12, Plug'n Play and Point Blank!
March 2011
DOC HOLLIDAY will tour in Europe in June 2011, here are the dates. Great news, France isn't forgotten, well when we live in the east of the land!
There's a last chance for the west for the 16th of June.
FRI 10 S-SÖLVESBORG - Sweden Rock Festival
SAT 11 D-LAUCHHAMMER (BERLIN/DRESDEN) - REAL Music Club
MON 13 D-HAMBURG - Rock´n´Roll Warehouse
FRI 17 F-LYON - Rail Theatre
SUN 19 F-VITRY-LE-FRANCOIS (REIMS)- Chateau de Goncourt
MON 20 B-VERVIERS - Spirit of 66
WED 22 D-ASCHAFFENBURG - Colos Saal
THU 23 D-BOCHUM - Zeche
FRI 24 D-HANNOVER/Isernhagen - Blues Garage
SAT 25 D-HAMBURG - Hamburg Harley Days
SUN 26 D-NÜRNBERG appearing w/ ZZ Top tbc
MON 27 D-STUTTGART/Reichenbach - Die Halle
FLATMAN will play live at Ancerville the 2nd of April, it will be the first and perhaps the last time you can see this german band play in France.
Gregg Allman will be in concert in the Grand Rex during the month of June, take note, enthusiasts. For me when it reaches 75 euros I switch off.
It will be without me (notice that the prices for the same gig are much less expensive abroad, take note people from the boarder).
ZZ TOP will be in Cognac in July. Great if you didn't see them last year or the year before; notice that the setting is absolutely beautiful.
Just to inform you, as Randall Bramblett didn't answer to our mails, I therefore bought his excellent album, you will find out his cd's review soon or in May,
or in September, or perhaps in 2012 or 2013. Or perhaps never ? After all, in those revolution times, an album more or less...
Let's remain that HOGJAW will be in Bergerac the 4th of May and in Cognac the 5th of May.
Notice that a ROCK LEGENDS cruise will start in the beginning of December in the Bahamas, with among others Dickey BETTS, The OUTLAWS, and The Marshall Tucker Band. Don't hesitate to make a reservation.
Doug Gray releases in April a soul music album recorded in 1981. It will not move the southern rock world deeply.
December 2010
Darren Stanford, CATAWOMPUS' singer, died in a car crash.

HOGJAW, the southern discovey, will be the 4th of May at the Rocksane (Bergerac, France).

BLACKFOOT will play the 12th of April in Paris at the New-Morning and the 15th of April at La Poudrière in Leffrinckoucke (Nord).
October 2010
Mike Estes is currently playing with Blackfoot because Bobby Barth is ill once again.
In the Spring of 2010, Barth needed emergency back surgery. (Bobby is progressing well and expected to make a full recovery.)
This time Greg and Charlie called former Skynyrd guitarist/vocalist Mike Estes who, along with new drummer Kurt Pietro, was an old friend and had played with them on various all-star gigs all over the USA. This line-up is currently gigging and tearing it up!
Richie Hayward, Little Feat's drummer died the 12th of August, at the age of 64 from a long time illness.
He was one of the founder members of the band.
POINT BLANK
European tour! The main dates open to the french fans :
Oct. 06, 2010 The Moods Monaco
Oct. 09, 2010 Bobino Paris, France
Still for the Point Blank, but also Big Wampum fans, you can get all the news about Rusty Burns here : http://www.rustyburns.com/ .
Tonight Mr. Charlie Brusco is being inducted into the Georgia Music Hall Of Fame.
In the early 70's, Charlie discovered and managed The Outlaws, who were the first rock act signed to Clive Davis' Arista Records in 1973. His work with this multi-platinum southern rock giant paved the way for his relationship with classic rock radio legend, Lynyrd Skynyrd, so he was putting together the first Lynyrd Skynyrd Tribute Tour in 1987. His successful revival of Skynyrd's career brought other classic rock acts to his door such as Bad Company, Peter Frampton and Styx.
Coach Leonard Skinner died this morning at 2:30 am.
He was the reason we had a band called Lynyrd Skynyrd. Alzheimers has invaded his brain. Thoughts and prayers go out to his family.
Kunio Kishida is doing on short Japan tour now. His new dobro album "Still in time" is just finished mastering.
August 2010
Lynyrd Skynyrd - The Country Music Tribute To Lynyrd Skynyrd www.lynyrdskynyrd.com
ERIC CHURCH, RANDY HOUSER, SHOOTER JENNINGS, JAMEY JOHNSON, UNCLE KRACKER, RANDY MONTANA, ASHLEY RAY AND ELI YOUNG BAND
PAY TRIBUTE TO LYNYRD SKYNYRD WITH NEW CD"SWEET HOME ALABAMA -
Wet Willie Backup Singer Ella Brown Avery Dead at 62
Just before Jo Jo Billingsley, another golden voice in the history of Southern Rock has been silenced.
Ella Brown Avery, 62 died on Friday, June 11, 2010 in Warner Robins, Georgia after a long illness.
Ella sang backup for Jimmy Hall as one half of "The Williettes" in the band Wet Willie, performing alongside Hall's sister Donna.
Point Blank will be in concert in the Bobino hall, Paris, saturday the 9th of Octobre 2010 with Robin Trower.
Paul Riddle.
June - July 2010
Gregg Allman, the Allman Brothers Band musician and singer who has had chronic health problems related to Hepatitis C, had liver transplant surgery on Wednesday morning June 23 at the Mayo Clinic in Jacksonville, Fla., according to Lana and Rowland at the official ABBwebsitethe band announced. "I feel pretty good, considering everything that's happened," he said in a statement.
Mr. Allman, 62, had been on a waiting list for the new liver, and the band has canceled concerts in the past because of his health. In 2008 the band canceled its annual shows at the Beacon Theater in New York while Mr. Allman underwent treatment. To allow Mr. Allman time to recover, the band is not appeared as scheduled at Eric Clapton's Crossroads Guitar Festival in Chicago on Saturday.
The southern rock's world is plunged again with another decease : JoJo Billingsley White, 58, former Lynyrd Skynyrd's Honkette (backing vocals), died after a several monthes battle with cancer on June 24, 2010. There was a memorial service for Jo Jo Billingsley White at Spirit Life Church of God in Cullman, Alabama on June 27th at 2 PM.
REBEL PRIDE is currently recording a new CD at PANDA STUDIOS (Clearwater, Florida). THE RELEASE DATE IS TBA.
The new VDELLI studio album is called TAKE A BITE and will be released on September 10th through German label Jazzhaus Records.
Mai 2010
The DEREK TRUCKS BAND will release on June 22 a double live album recorded during the Already Free World Tour in 2009.
Frank FRAZETTA who gave a great contribution to MOLLY HATCHET with his famous covers died at the age of 82.
French Southern Rock !
After several stand-by years, the original members of the band CALIBRE 12 met recently and decided to bring out again the amps very soon (just for fun !). Stay tuned!
It would seem that the Simple Man Cruise in next January may be the last one in our little world of southern rock.
Very bad news once again : RONNIE JAMES DIO deceased as we sadly learned.
«Today, my heart is broken. Ronnie died at 7:45 am the 16th of May», announced the singer's wife, Wendy Dio, on her internet site. The information has since be confirmed in Los Angeles by the artist's agent, Maurren O'Connor. Treated in the Houston hospital, in Texas, the singer suffered from a stomach cancer. However, the official cause of his death wasn't given. Gone at only 67, Dio let behind him an admirable career. Supporting Deep Purple in 1972 with his band El, Ronnie Dio is then recruited by Ritchie Blackmore, the guitarist of the most popular british band in hard rock in a new band, Rainbow.
In 1979, he joined Black Sabbath, first heavy metal band, to stand in for Ozzy Osborne.
With his powerful voice, Dio carried hard rock and métal's message, in particular with the band Heaven And Hell, and was the instigator of the two horn-like fingers, gesture still very popular and symbolic today. He will also stay very well known by the general public by singing "Love is all" from Roger Glover, accompanied by a toon.
Lynyrd Skynyrd : LIVE FROM FREEDOM HALL CD/DVD SET TO BE RELEASED ON JUNE 22.
LAST CONCERT RECORDED WITH LONGTIME MEMBERS BILLY POWELL AND EAN EVANS.
New York, NY: Lynyrd Skynyrd will release Live From Freedom Hall on June 22 as both a CD/DVD set and as a stand-alone DVD. Live From Freedom Hall not only captures the band in its most natural state – on stage- but is also one of the last concerts to be recorded with longtime members Billy Powell and Ean Evans, both of whom passed away last year. The release is a tribute to and a celebration of Skynyrd.
April 2010
Already back (really!) : Blackberry Smoke comes back in June 2010 in Europe and in France.
09/6/2010 Solvesberg - Sweden @ Sweden Rock (open air)
10/6/2010 Stockholm - Sweden @ Debaser
11/6/2010 Sala - Sweden @ Rockland
12/6/2010 Lillehammer - Norway @ Kvitfjell Car & Rock meeting Kvitfjell
13/6/2010 Oslo - Norway @ venue tba
14/6/2010 tba
15/6/2010 Amsterdam - Holland @ Paradiso
16/6/2010 tba
17/6/2010 Olen - Belgium @ Crossroads
18/6/2010 Uden - Holland @ De Pul
19/6/2010 Sliedrecht - Holland @ Tuinfeest Festival (open air)
20/6/2010 Toul - France @ Chez Paulette (with Natchez)
21/6/2010 Selestat - France @ Fête de la Musique (open air)
22/6/2010 Frankfurt - Germany @ Batschkapp
23/6/2010 Ensisheim - France @ Caf' Conc
24/6/2010 Verviers - Belgium @ Spirit of 66
The Allman Brothers called off some dates of their traditionnal run in New York because of domestic reasons.
POINT BLANK should play at the Sweden Rock Festival in June 2010.
BIG WAMPUM, Rusty Burns' band when Point Blank doesn't play, made a gig with special guest Bill Ham on guitar and vocals.
Rusty promised screaming guitars before the gig. So, it seems that Bill is also a serious guitar player.
Michael Buffalo Smith, "The Ambassador of Southern Rock", is still healing from complications from eye surgery.
Remember that Smith founded Gritz and has opened shows for Blackfoot, Marshall Tucker, Charlie Daniels, Artimus Pyle Band, Molly Hatchet,
Southern Rock Allstars, Pat Travers, Grinderswitch, Johnny Paycheck, Dr. Hook and The Medicine Show, Little Texas,
Tommy Crain and The Cross Town Allstars, and others.
January 2010
New album of MOLLY HATCHET: "Justice" arrive.
Molly Hatchet signed worldwide deal with SPV/Steamhammer again New studio album will be released on May 31st, 2010
The motto of the new Molly Hatchet release, Justice, was coined by guitarist Bobby

The motto of the new Molly Hatchet release, Justice, was coined by guitarist Bobby Ingram years ago. "Southern rock ain't no fake or hype!" was his comment on the basic philosophy of the band from Jacksonville/Florida. This basic honesty, which runs like a thread through the band's career, remains one of Molly Hatchet's outstanding features to this day. In 2010, the group's six musicians play every single note with lifeblood and conviction, giving their countless fans hand-made rock music that operates totally without computers or digital samples.

Recorded in December 2009 and January 2010 by engineer Tommy Newton and produced by Bobby Ingram in Germany, Justice consists of 12 songs in total and is a representative cross-section of over thirty years of band experience. Cornerstones on this album is the title track according to Ingram a successor of epic songs like
"Fall Of The Peacemakers" and "The Journey" and the song "Fly On Wings Of Angels" which the band wrote for young murdered victim Somer Thompson .
For him, Justice is a very special album as it reflects the most important aspect of a rock act : "We do what we have to do: we play music and take it on the road."
Here are some pics and the report of the concert with GENERAL STORE and NATCHEZ that took place the 3rd of October 2009 in BLUES EN VO. http://france.metal.museum.free.fr/lives/0025_General_Store_Natchez/
LYNYRD SKYNYRD will be live on stage in Europe in 2010 :
26/02/2010 Berlin, Germany - Max Schmeling Halle
27/02/2010 Leipzig, Germany - Haus Auensee
01/03/2010 Karlsruhe, Germany - Schwarzwald Halle
02/03/2010 Essen, Germany - Gruga Halle
04/03/2010 Birmingham, England - LG Arena
05/03/2010 Cardiff, Wales - Cardiff International Arena
06/03/2010 London, England - HMV Hammersmith Apollo
-----------------------------------------------------------------------------------------------
The Simple Man Cruise 2010 will give you the opportunity to see Blackberry Smoke, 38 Special, Molly Hatchet and the Outlaws
The release of a book about Lowell George called Rock & Roll Doctor is announced.
Also announced the release of a book about the musical Macon scene called Street Singers, Soul Shakers, Rebels with A Cause :
Music from Macon. A site to order : http://www.streetsingersandsoulshakers.com/
The big house where the Allman Brothers Band wrote the most part of its classics between 1970 and 1973 will turn into a great museum next December.
We will find again in particular more than 300 000 documents that will recount the band's work. The museum will also offer rock music classes and a space
to organize open air concerts around this house set in Macon (Georgia). http://www.thebighousemuseum.org/
We are saddened to report that Gates Nichols of Confederate Railroad has lost his battle with pancreatic cancer.
Gates passed away August 14, 2009, at his home in Georgia. He was 65.

One of the most famous guitar inventors and players of all time, Les Paul died today, August 13, 2009. He was 94. According to sources,
Paul died at White Plains Hospital in New York surrounded by family. Paul's multitrack recording changed the face of modern record engineering forever,
and his Les Paul electric guitars have been the gold standard for musicians for decades.
Brooks and Dunn split but a new album called : "1's...And Then Some" will be released on the 8th September of 2009.
POINT BLANK's new record, "Fight On!", will be released on the 24th September of 2009.
Jim Dickinson, North Mississippi Allstars' musicians Luther and Cody Dickinson's father, pianist,
and singer who fronted, among others, the Memphis based band, Snake Eyes, died on Saturday Aug 15, 2009 following triple bypass heart surgery at 67...
He worked with a lot of people, from Aretha Franklin to the Replacements, including Bob Dylan, Big Star, the Rolling Stones, Green On Red, Ry Cooder,
the Cramps, Bob Dylan, Calvin Russell, Screamin' Jay Hawkins, Mudhoney, Petula Clark, Tav Falco, Arlo Guthrie, les Flamin' Groovies, Primal Scream,
Jon Spencer Blues Explosion and many others.
Molly Hatchet will be back in Europe the 20th of November 2009 in Stockholm. Let's not forget that ZZTOP tours in June in Germany. What a nice year to see the bands live since Blackberry Smoke will come in December in France for many concerts.
"Gods & Guns" : that's the title of the next Lynyrd Skynyrd's album that will be realised next September.
Chris HICKS left the Marshall Tucker Band (he isn't in the band's members anymore on the band's Web site). A wind of change in the MTB : Doug Gray's multi-talented nephew, Clay Cook, left the band in March to tour with Zac Brown, but Stuart Swanlund has returned to his post as slide guitarist for MTB, and the group welcomes new member Rick Willis on guitar.
The french magazine ROCK HARD publishes a two pages review on the ALLMAN BROTHERS live in Oakland the 12th of May 2009.
A member of the Muscle Shoals "Swampers" has died. Producer and Muscle Shoals Rhythm Section keyboardist Barry Beckett, 66, died Wednesday, June 10, at his home in Hendersonville, Tenn., after years of struggling with various illnesses. Beckett had previously been diagnosed with prostate cancer and later with thyroid cancer. He had also suffered several strokes.
Mississippi Kid Festival

Ean Evans, bass player for Lynyrd Skynyrd, is currently battling cancer. Ean has always helped people in need and now is a time for his fans to show their appreciation for all he has done. Close friends of Ean's have gotten together and are now hosting a concert in Ean's honor.
WHERE: Columbus Fairgrounds
Hwy 69 South
Columbus, MS 39701
WHEN: April 19, 2009
Gates Open - 8:00 AM
Concert -2:00 PM - Until
WHO: Members of 38 Special, LynyrdSkynyrd, Blackberry Smoke, Marshall Tucker Band
PRICES: Adults $10
10 & Under $5
-Bring Lawnchairs
-Coolers & Bags Not permitted
-Vendors will be onsite for concessions and t- shirts.
*****************************************************************************
Lynyrd Skynyrd announces the signing with Loud & Proud/Roadrunner Records and the band is in Nashville finishing the album. Let's remain that last year the band recorded six songs with Billy Powell. The album is to be released for the end of 2009.
Lynyrd Skynyrd announced its involvement with KID ROCK in the "Rock and Rebels Tour 2009" kicking off the 26th of June in West Palm Beach (Florida).
June will be terrific for the rockers' finances. Let's remain that WHITESNAKE will be the 4th of June in Paris' Zénith,
LYNYRD SKYNYRD will be the 5th of June in the same Zénith, but we will also have JOURNEY in Paris, a real event,
Y1T the 16th of June, FOREIGNER the 17th of June, but also the HELL FEST with MOTLEY CRUE, EUROPE, etc…
and we don't count the southern evenings planned from the next 4 April in Ancerville.
Georg Bayer, singer and frontman from the best southern rock band Lizard died Friday evening (the 20th february of 2009) from a heart attack in his car on the way from
his Stuttgart office to his Koengen home. Georg, like Lizard in general, was worthy of southern rock in Germany, in Europe. His friends and fans loved him owing to his friendliness and no one to our knowledge will forget him forever. The european southern rock will miss Georg so much.
EAN EVANS, Lynyrd Skynyrd bassist since 2001, has been diagnosed with cancer. Of course, it's another hard blow for the band.
ZZ TOP will tour in Germany in 2009 :
27.05.09 Leipzig - Parkbühne
29.05.09 Berlin - Zitadelle
30.05.09 Hamburg - Stadtpark
07.06.09 Mainz - Zitadelle
09.06.09 München – Zenith
DEREK TRUCKS will be back in France with his band the 30th of April 2009 in the Alhambra in Paris.
Here's the occasion to see live the one who, from month to month, is establishing himself as the rock music's rising star. Derek Trucks also releases a new cd in the beginning of January, that will be reviewed in RTJ in the beginning of February.
DENNIS YOST, Classics IV former member, passed the 7th of December 2008, we have also to note DELANEY BRAMLETT's death the 27th of December 2008.
The Southern Rock and Blues community has lost another brother, Wayne "Bear" Sauls, guitarist for Eric Quincy Tate.
Wayne passed away at 12:04 am, November 26, 2008 due to existing health complications.
Wayne was born in 1948 and by the age of thirteen, the beginning of the sixties, he was performing professionally.
In his career he has had the opportunity to share the stage with such greats as the Allman Brothers, Charlie Daniels, Warren Haynes, David Allan Coe, and the Nighthawks,
to name a few. Bear, was one of those fortunate musicians who lived, played, and survived through the birthing of this new sound in music.
As lead guitarist for the Eric Quincy Tate band he rode the wave of some of the greatest years of rock and roll. He joined the band in 1973 and performed nationally as well as recording on such labels as Atlantic, Cotillion, Capricorn, SLI Records and Chikin Scratch Records. In the early eighties he formed the Stone Mountain Band with long time friends Lou Thorpe and Ray Jarrell. The band played southeastern venues opening for artists such as Bo Diddly, Johnny Winter and Frank Zappa. Through the remainder of the eighties, he played lead guitar for one of the hottest country acts of the day, David Allan Coe. Bear traveled internationally with Coe's band until the late eighties when he formed what's known today as the "Bear Facts Band." Bear Facts performed in southeastern venues, such as the World Famous Iron Horse Saloon since their move from Daytona to Ormond beach. The "Bear Facts Band" brought to their audiences and fans the sound of a time when Rock and Roll, Rhythm and Blues, wailing guitars and soulful vocals touched the hearts of a generation.
In 2001, Wayne, along with bassist Kirk Plunkett and drummer/vocalist Stevie Hawkins, recorded Wayne's last studio CD in Macon, GA at Paul Hornsby's studio. Hornsby lended his talents on the recordings playing Hammond B3. In 2005, Wayne appeared on the Georgia Jam CD, released on the Emphasis label. In 2006, Eric Quincy tate reunited for what would be their last reunion with Wayne. The recordings from that reunion were also recorded and released on the Emphasis label.
Wayne was a great person, a true friend to many, a fabulous guitaist, and a teacher and mentor to many musicians over the years.
We will all miss you BROTHER, Wayne "Bear" Sauls.
MOLLY HATCHET play in France the 19 December 2008: Chez Paulette http://www.paulettepubrock.com/ near Nancy.
COWBOY's original bassist George Clark died at home this 21st October 2008, he was 60 years old.
Regarding the good news, Christophe Marquilly (the famous Stocks' guitarist) just confirmed us the release of his new album called :
"Rien n'est joué" that you can buy in the begining of 2009.
Among the people that, in France, deserve the enthousiasts' support, he's at the top of the list, and the only thing we can do is to wish
Christophe the best success for this album!
During the New Year's evening, Lynyrd Skynyrd and Trace Adkins will follow one another on two different stages,
one in Pickville, Kentucky, the other in Nashville, Tennessee.
Rusty Burns is currently working on the finishing touches of the new Point Blank's album.
It seems that this new studio recording gives the band's musicians a real enthousiasm. Here, we are very impatient to listen to it.
The Brothers Of The Southland's CD release, planed the 17th of october 2008, could be postponed shortly in 2009. [Source: SRA-Eigenmeldung]
Good news : as I write those words, MOLLY HATCHET announces an european tour.
Dates to be confirmed of course.
7th December 2008
Munich (München)
8th December 2008
Nuremberg (Nürnberg)
9th December 2008
Aschaffenburg
10th December 2008
Sarrebruck (Saarbrücken)
11th December 2008
Bonn
12th December 2008
Brême (Bremen)
13th December 2008
Berlin
14th December 2008
Londres (London)
Dickey Betts has broken his wrist ad had to call off his shows in August. Concerts' resumption in September.
Amazing news about Lynyrd Skynyrd, here is it :
Lynyrd Skynyrd just spent several monthes to write an new album in concert with John 5, a guitarist recognized for his work with Marilyn Manson and Rob Zombie. This association could seem to be strange, but Rickey Medlocke from Lynyrd Skynyrd explained it declaring :
"While everybody thought, "My god, you are going to write with this guy? How is that ever going to work?" But this guy came in and is really multitalented in all genres."
The next Lynyrd Skynyrd is expected for the beginning of 2009.
Tribute to the Lynyrd Skynyrd's dead members: a tribute tablet in memory of the guitarist Steve Gaines and his sister, the choir singer Cassie Gaines, will be unveiled soon in Okla, near Miami, their native town. Let's remind that Steve and Cassie were two Lynyrd Skynyrd's members that tragically died in the terrible plane crash that also took away the band's singer, Ronnie Van Zant, the 20th October 1977.
ZZ TOP is back : Billy Gibbons, ZZ Top's guitarist, is impatient to work in studio with the producer Rick Rubin to begin the recording of the band's next album. Gibbons knows this producer for twenty years and there is a true togetherness between them. Gibbons should hit the studio soon. Meanwhile, the band released an expanded 25th anniversary "Eliminator" (Collector's Edition) on Aug. 26.


Dave Muse has left the Marshall Tucker Band. Muse, who rose to national fame as a member of Firefall, has held down sax, flute and keyboard duties with Tucker since 1996. Muse will be working with his band The Dave Muse Band. Stepping into Dave's spot with the Tucker Band is Marcus James Henderson, formerly of the band
King Johnson of Macon, Georgia.
Jimmy Farrar is in the hospital, following stroke last week. He has limited control over his left side and arm, but with a lot of work, they expect a full recovery.
Jimmy was the second lead singer of Molly Hatchet (Beatin' the Odds) and later joined The Southern Rock Allstars. He is currently front man for Gator Country.
Lynyrd Skynyrd touched once again. In Nashville, Tennessee, Billy Powell, one of the original members and keyboard player for Lynyrd Skynyrd, has underwent an emergency partial revision hip replacement surgery in Jacksonville, Florida on Wednesday, May 21. Billy will be recovering over the next 3-6 weeks and will have to wear a hip brace for the next 3 months. It is expected that Billy will re-join Lynyrd Skynyrd on tour sometime in July. The band will tour with an interim keyboardist in the mean time, while Billy recovers.

Also to remember: Dickey Betts gave a 2 hours 45 minutes show at Barcelona's Bikini the 12th of March 2008. His son Duane Betts played one of his own songs
et they were joined on stage by some guitar players present in Barcelona in the same time for a big final jam. Enclosed two pics of the show.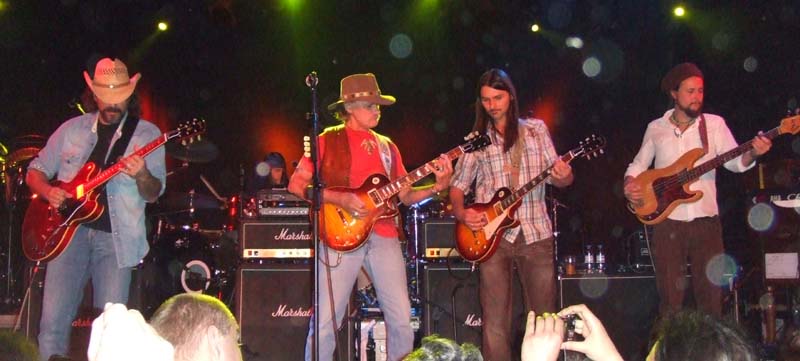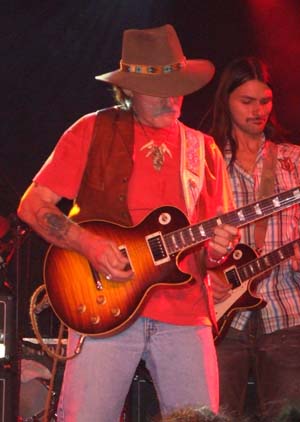 KID ROCK et LYNYRD SKYNYRD announced the ROCK and REBELS TOUR during August 2008. Here are the dates :
8th August 2008 - Oklahoma City, OK - Zoo Amphitheater
9th August 2008 - Houston, TX - Cynthia Woods Mitchell Pavilion
14th August 2008 - Cincinnati, OH - Riverbend Music Center
16th August 2008 - Indianapolis, IN - Verizon Wireless Music Center
22nd August 2008 - Camden, NJ- Susquehanna Bank Center
23rd August 2008 - Mansfield, MA - Tweeter Center for the Performing Arts
25th August 2008 - Toronto, Ontario - Molson Amphitheatre
31st August août 2008 - Hartford, CT- New England Dodge Music Center
Again LYNYRD SKYNYRD, with the follow-up of "The Love Boat": a 2009 version will happen with among other bands Molly Hatchet, Marshall Tucker Band, Blackberry Smoke, Jupiter.
For the next Lynyrd Skynyrd and Hank Williams JR's "Rowdy Frynds-Tour", LYNYRD SKYNYRD want to revise their GREATEST HITS' usual set-list. So, songs of the Rossington-Collins Band, Donnie Van Zant and Blackfoot should appear in the shows' bill.
ZZ TOP, the venerable band from Texas, will tour in France in July 2008 with among others a date in Carcassonne.
ZZ TOP again, obviously still having pride of place, with the release of a DVD ''Live from Texas'' the 6th of June. Anyway, like all the true fans, I'd like to see the release in DVD of more than three minutes of "Live at Largo" 1976 existing in a professionnal version.
POINT BLANK will make an european tour in June 2008, and called for it Mouse Mayes as second guitarist, because Buddy Whittington is busy with John Mayall.
Event in Europe with the LITTLE FEAT's tour in July. Here are the dates :
08/07/08 Dublin, Irlande - Academy
09/07/08 Wolverhampton, Angleterre - Civic Hall
11/07/08 Greenwich, Angleterre - IndigO2
12/07/08 Peer, Belgique - Rhythm & Blues Festival
13/07/08 Weert, Pays-Bas - Bospop-Sportpark Boshoven
16/07/08 Copenhague, Danemark - Amager Bio
18/07/08 Bronnoysund, Norvège - Rootsfestivalen
19/07/08 Pori, Finlande - International Jazz Festival
20/07/08 Pori, Finlande - International Jazz Festival
23/07/08 Nuremberg, Allemagne - Der Hirsch
25/07/08 Trowbridge, Angleterre - Trowbridge Festival-Stowford Manor Farm
26/07/08 Cologne, Allemagne - Rocknacht Tanzbrunnen
27/08/08 Wiltshire, Angleterre - Festival in Reading-Charlton Park
28/07/08 Edinbourg, Ecosse - The Queens Hall
31/07/08 Notodden, Norvège - Notodden Blues Festival
01/08/08 Notodden, Norvège - Notodden Blues Festival
DICKEY BETTS & Great Southern will be on stage the 13.07.2008 for the dutch Bospop-Festival. The band appears again the 19/07 as Willy DeVille Tour's VERY SPECIAL GUEST in Bonn, Museumplace.