THE CRIPPLE CREEK BAND: Bonafide (2017
http://www.thecripplecreekband.com/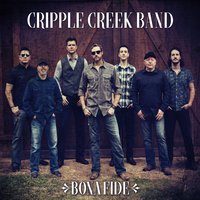 Pour ceux qui trouvent un manque de bavardage de grattes chez Blackberry Smoke ou un « Southern Country Rock » trop éclectique et moderne tout à leur honneur chez Whiskey Meyers, essayez donc un antidote venu de Sacramento (Californie), vous ne serez pas déçus. Formé en 2012, The Cripple Creek Band assène dans « Bonafide », son second album dix titres, un « Southern Country Rock Honky Tonk » mélodique tout en étant vigoureux, prêt à faire la pige aux Sudistes. Leur univers musical se revendique d'influences qui font mouche comme les Allman Bros, Skynyrd, Charlie Daniels Band, The Band, The Eagles, Merle Haggard, Hank Williams Jr, Waylon Jennings. On pense à l'avenant au Dallas Moore Band, ou encore à l'album le plus sudiste de Montgomery Gentry « You Do Your Thing » datant de 2004, griffe que l'on retrouve sur ce « Bonafide » titre album qui démarre le skeud. À son écoute, on est tout de suite conquis, on retrouve la subtilité élaborée dans le « Powder Keg » de 1987 du Charlie Daniels Band : du « Southern Country Rock » de haute volée, avec en plus dans le son ce côté moderne où règne la tonicité, mis en batterie par des combos comme les Blackberry Smoke, Shooter Jennings, Flynnville Train, Cathouse Prophets... Le suivant, « Bud Light Night », swingue comme un beau diable avec un bottleneck qui couine et son allègre piano entre Skynyrd et Charlie Daniels Band. Un souffle chaud à la Eagles se propage sur le « Country Rock » « Cold In California ». On pénétre la Mason Dixon Line avec en intro au violon l'hymne de la confédération Sudiste « Dixie » ! « I Heart The Music » monte petit à petit en intensité pour, au final, resplendir de grâce, puis une bonne reprise de The Band avec l'inaltérable « The Weight », et on repart sur du convaincant avec « Steady At The Wheel » où les guitares s'agitent, idéales pour les oreilles culottées à Skynyrd, Charlie Daniels, Outlaws... Une accalmie avec du « Country Folk » dylanien aux relents Blackberry Smoke sur « Stand My Ground » avant que le boogie « Outlaws Rebels And Me », proche de Hank Williams Jr, donne bien la bougeotte. Plus de retenue avec le superbe mid-tempo « All About The Music » et ses éclats d'harmonies de guitares, final punchy sur « Comin' in Hot » toujours dans ce style « Country Rebel » cher à Hank Williams Jr et David Alan Coe. Il est bon aussi de vous communiquer que sur leur premier album datant de 2015, The Cripple Creek Band reprend avec beaucoup de talent le « Four Walls of Raiford » de Skynrd via l'album « Legend » de 1987, à recommander vivement.
Jacques Dersigny